Delicious breaded chicken, baked in the oven and then topped with fresh tomato bruschetta makes for an amazing meal! This Baked Bruschetta Chicken recipe is the perfect way to use up tomatoes when they are in season.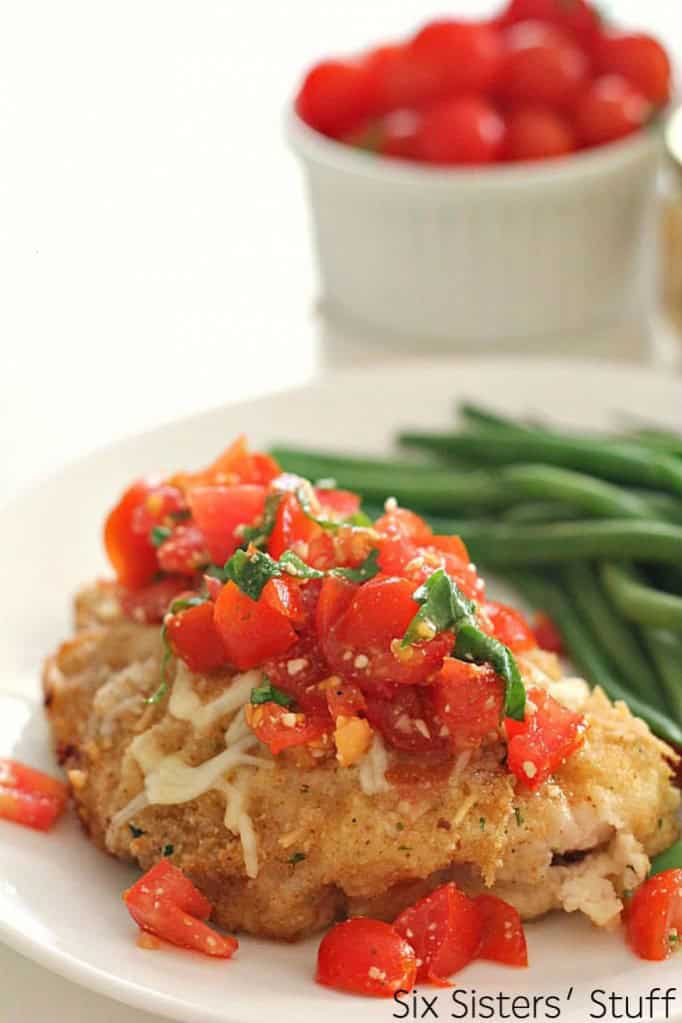 Our family loves fresh bruschetta and we make it often. I love the flavors of tomato, basil, and balsamic vinegar all mixed together and decided that instead of serving it on bread, I would try a Baked Bruschetta Chicken Recipe!
Even my kids gobbled this up, so it was a big hit with everyone!
This Bruschetta Chicken is a healthy dish with amazing flavor!
This time of year, I love all the fresh produce that is available. With bruschetta, it's loaded with fresh ingredients that are good for you: tomatoes, garlic, a little bit of olive oil, and basil.
The chicken is lightly coated in breadcrumbs (I used whole wheat breadcrumbs) and instead of deep-frying the chicken, it is baked in the oven instead.
How to make Baked Bruschetta Chicken in the oven

:

Sometimes oven-baked chicken gets a bad rap for being dry or over-cooked. If you follow this recipe, your bruschetta chicken should turn out perfectly tender and moist every time!

The first step in preparing baked breaded chicken is to dip each chicken breast into flour.

From there, dip the coated chicken breast into the eggs. The eggs are going to act as the "glue" that holds the breadcrumb mixture in place while it cooks.

The eggs and breadcrumbs will also help to keep the moisture inside, keeping your chicken from drying out.