When you need a favorite picky eater recipe, this Instant Pot loaded Mac and cheese recipe will be your go to recipe. It is so creamy, and filled with cheesy, bacon goodness, what is there not to love?!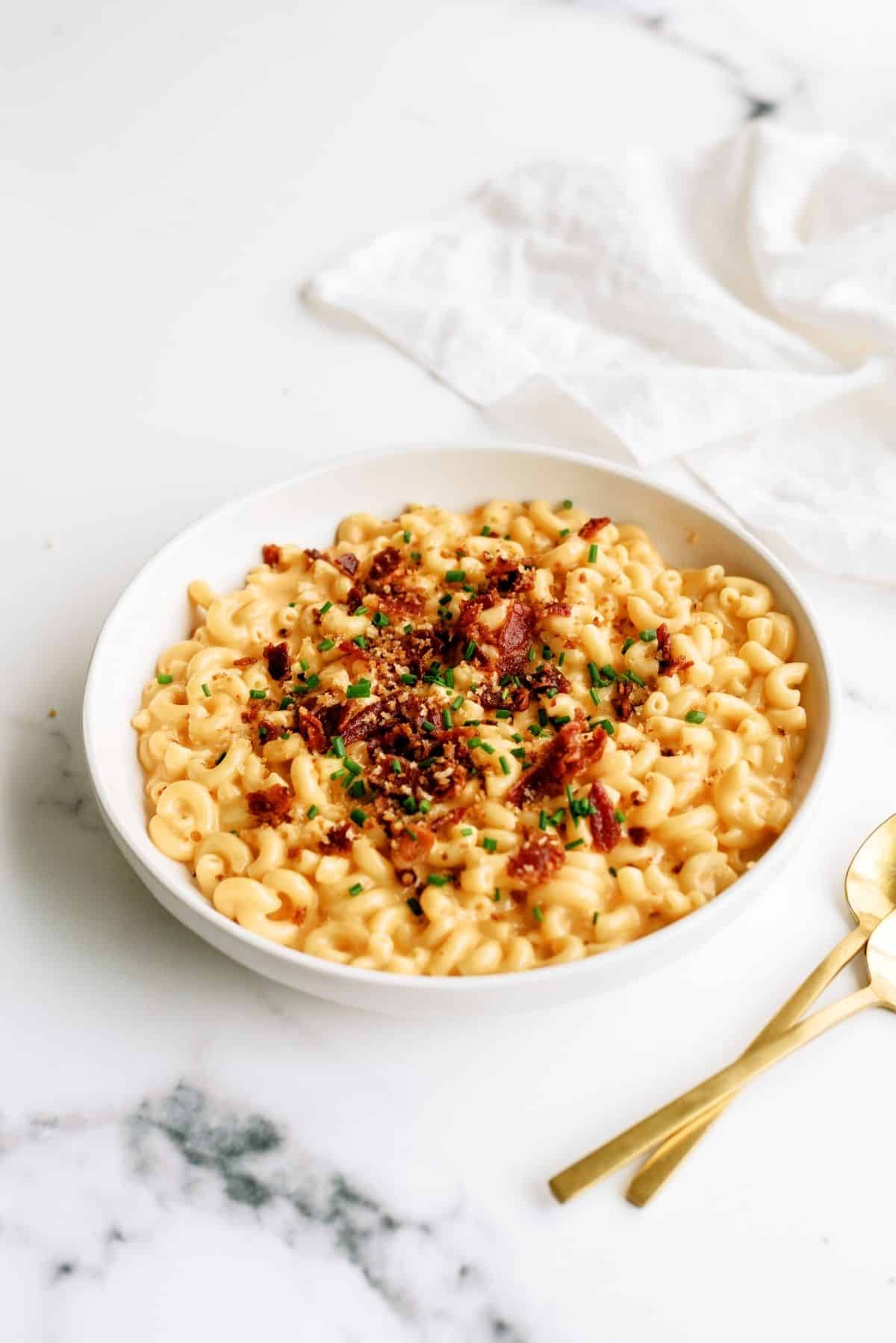 Instant Pot loaded Mac and cheese recipe is probably the best Instant Pot recipe in town. Not to mention that it is an easy family dinner recipe you can make up and know everyone will enjoy.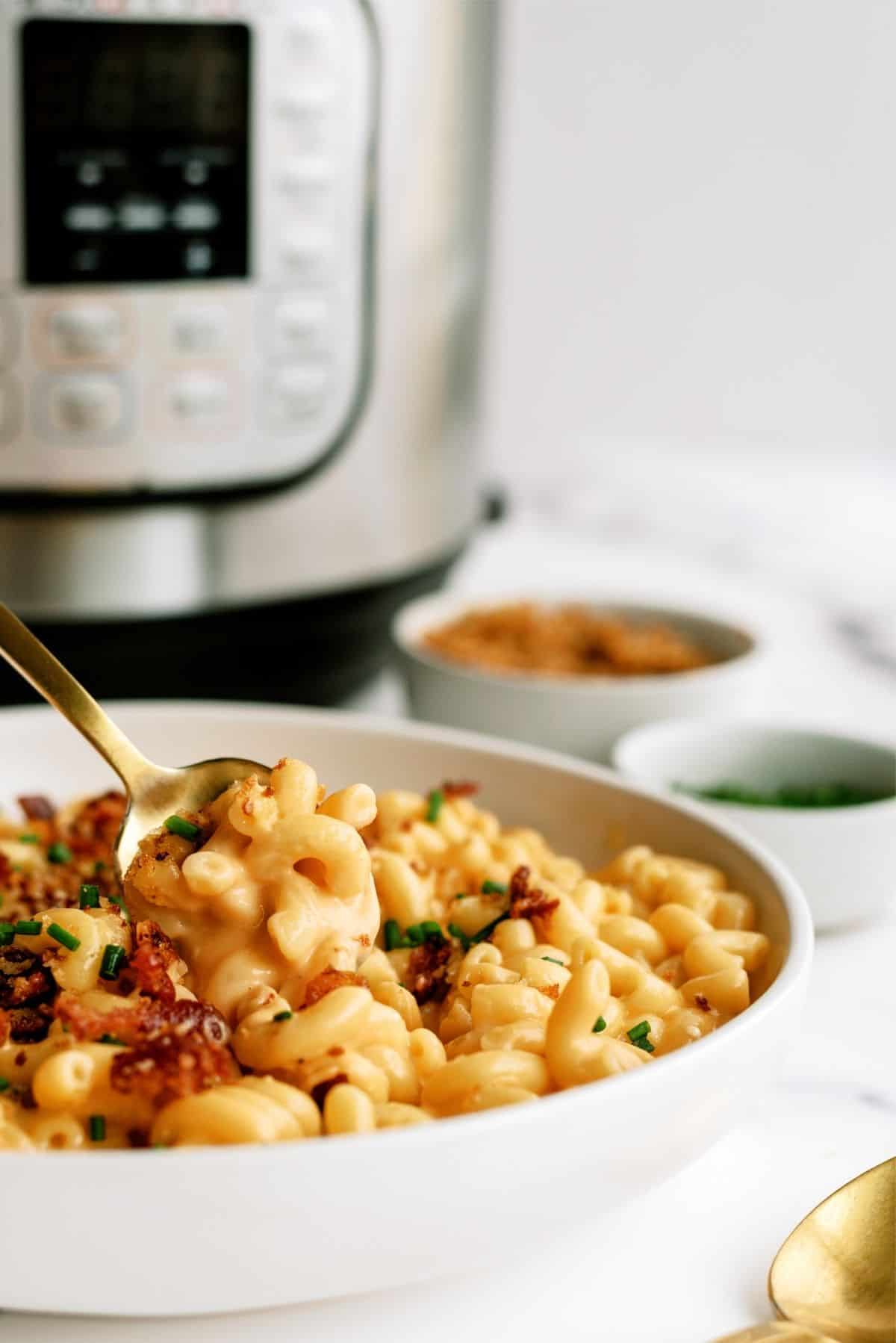 Don't just me too much, but sometimes I plan my meals based on if I feel like fighting with my kids to take 3 bites before they can have their peanut butter and jelly sandwich. And let me tell you, this is not a recipe I have to fight anyone on. Everyone digs in as it's being served.
Plus you can top it off with bread crumbs and bacon, maybe a little green onion for the adults to make it "fancy" and then you have yourself a restaurant quality meal at home. It is perfect for those in the go nights where you know your going to be busy and you need to be able to make a good meal in less than an hour.
Plus this Mac and cheese Instant Pot recipe goes really well with our Instant Pot green beans (yes I do have a second Instant Pot and you should too!), or oven roasted green beans if you don't have a second Instant Pot. And then of course some delicious easy no bake peanut butter bars for dessert.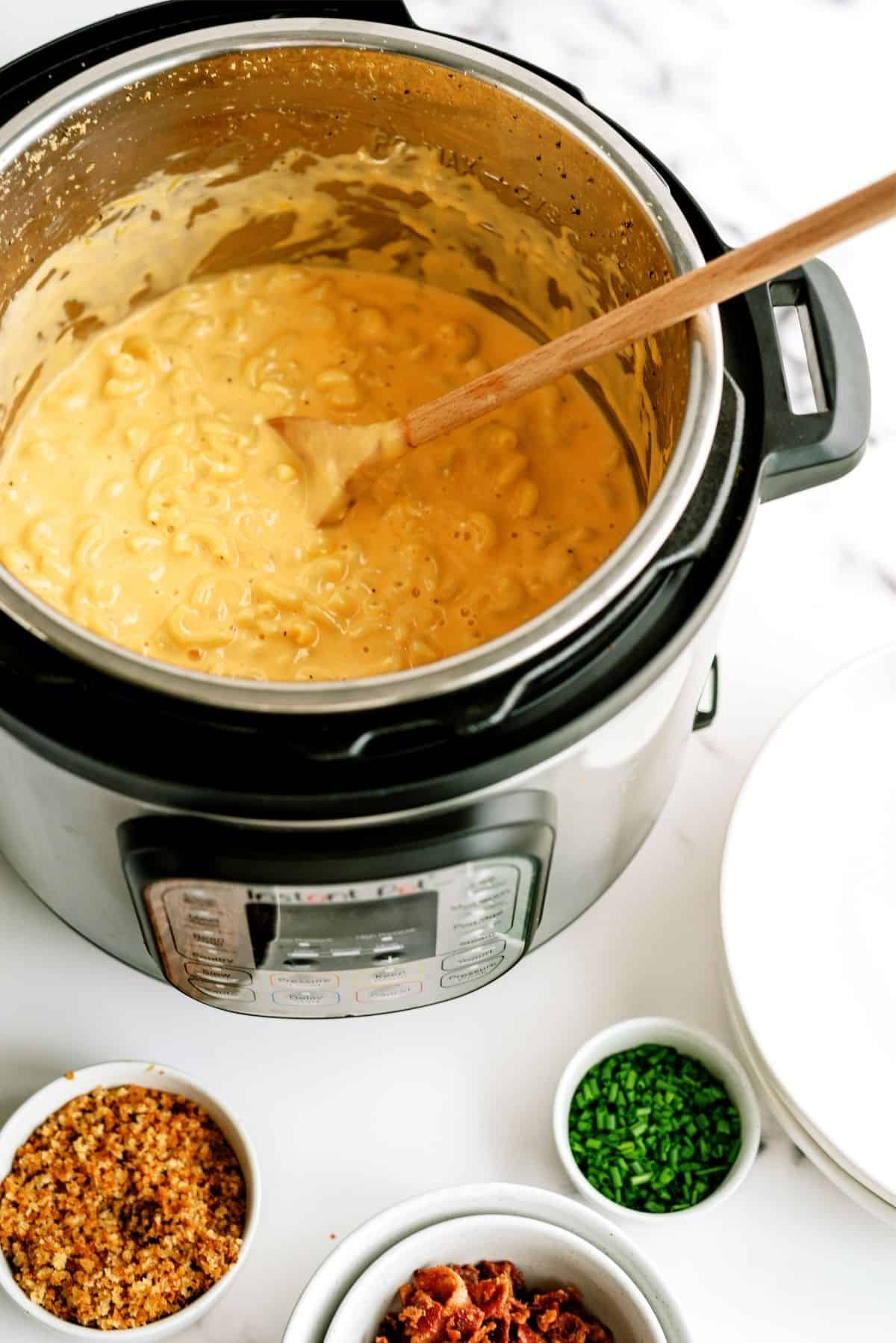 Ingredients You'll Need For Our Instant Pot Loaded Mac and Cheese Recipe:
Elbow macaroni
Chicken broth
Onion powder
Dry mustard
Seasoning salt
Pepper
Cream cheese
Butter
Milk
Shredded cheddar cheese
Panko bread crumbs
Chives
Bacon crumbles
How To Make Our Instant Pot Loaded Mac and Cheese Recipe: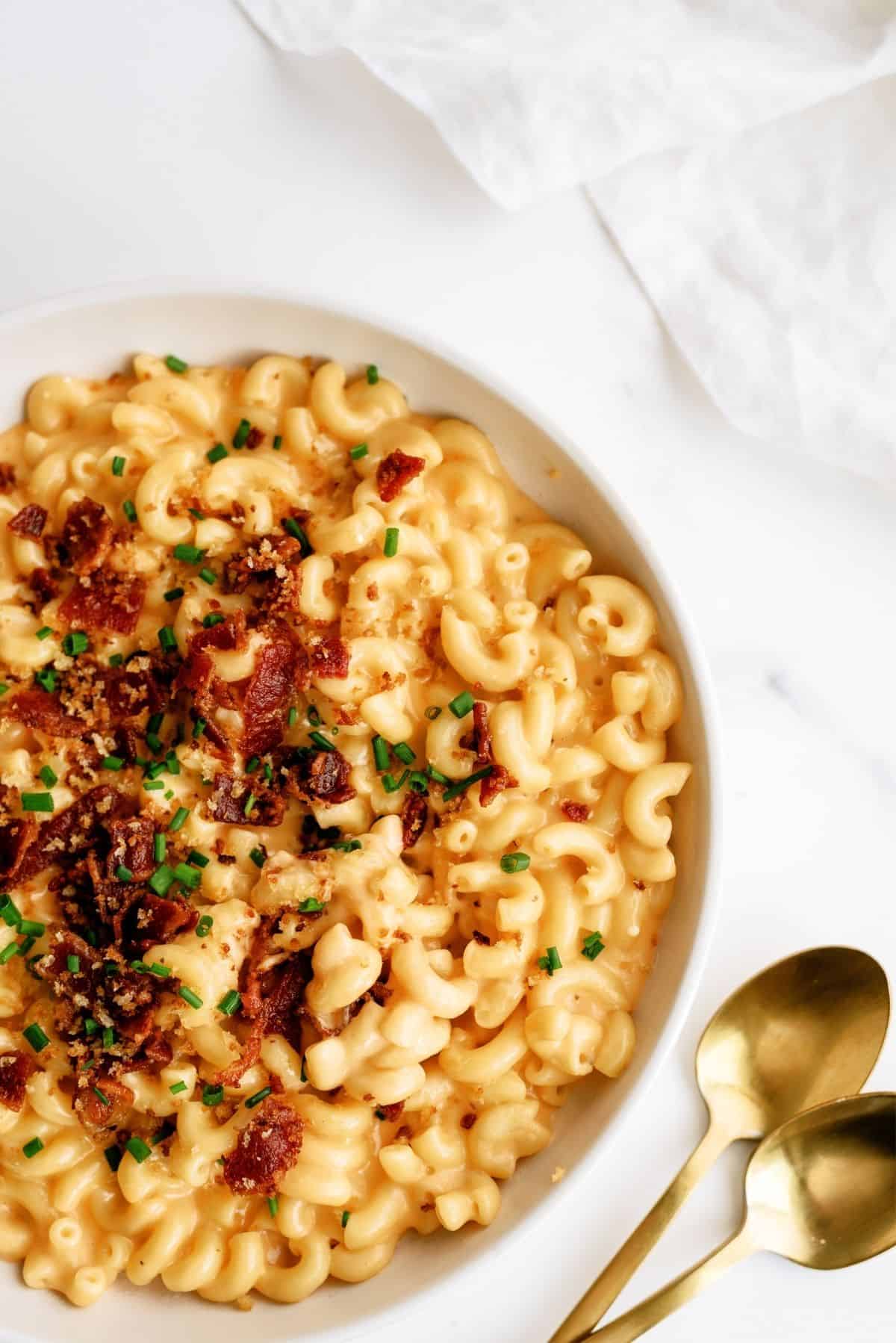 To begin making this delicious Mac and cheese, start by getting out your Instant Pot.
Then add in the elbow macaroni, chicken broth, dry mustard, onion powder, pepper, and seasoning salt.
Once all of that is in there, place the lid on the Instant Pot and turn the valve to the SEALING position.
Now set the timer for 5 minutes on high pressure.
After the time is up do a quick release of the pressure and move the valve to the VENTING position.
Remove the lid from the Instant Pot and add in butter and cream cheese and stir it all together.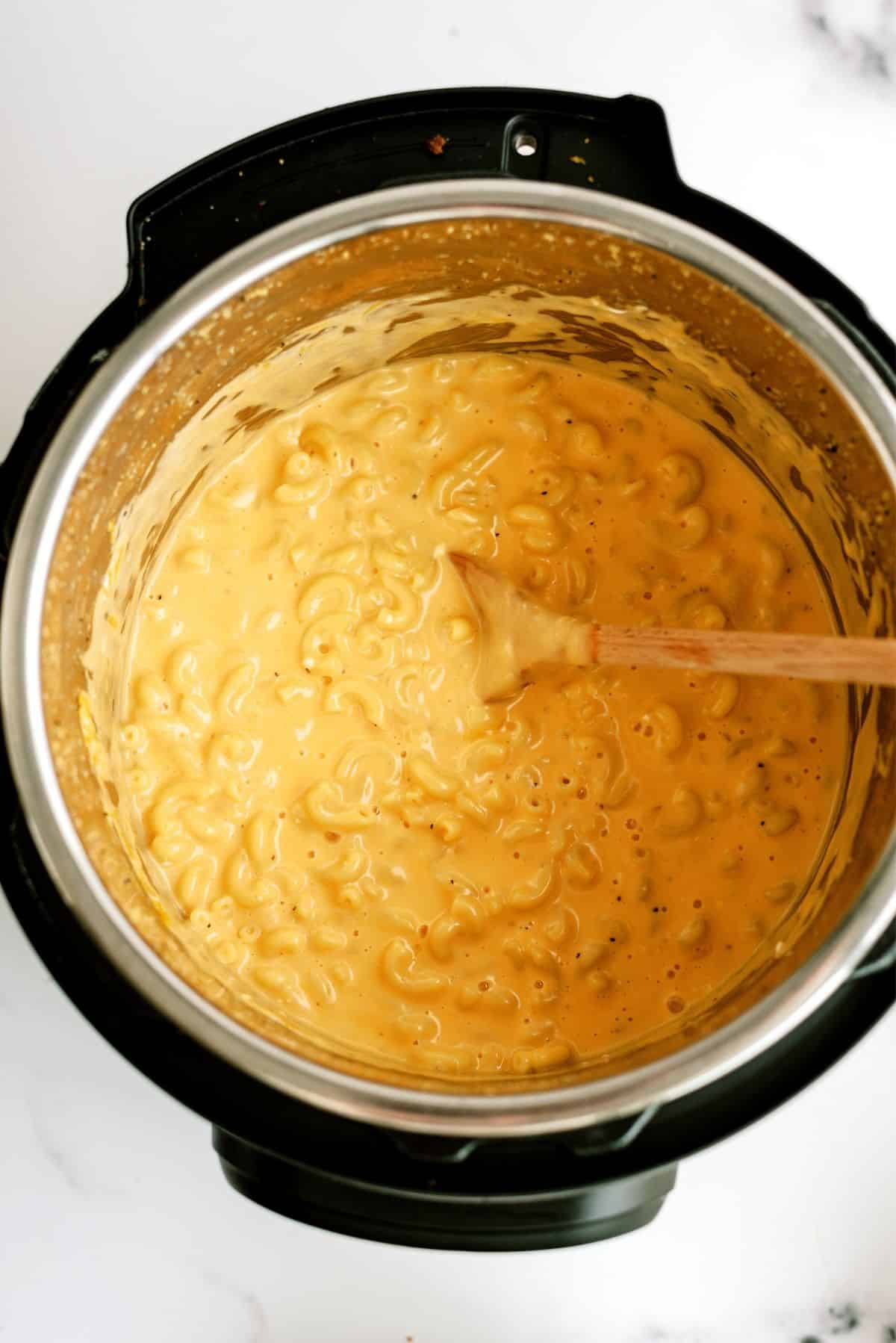 Once that is melted, add in the milk and cheese and continue stirring it together and then the noodles are good to go!
To make the crumble, mix the panko crumbs and butter in a medium pan for 2-3 minutes stirring it constantly until it becomes a light golden brown color.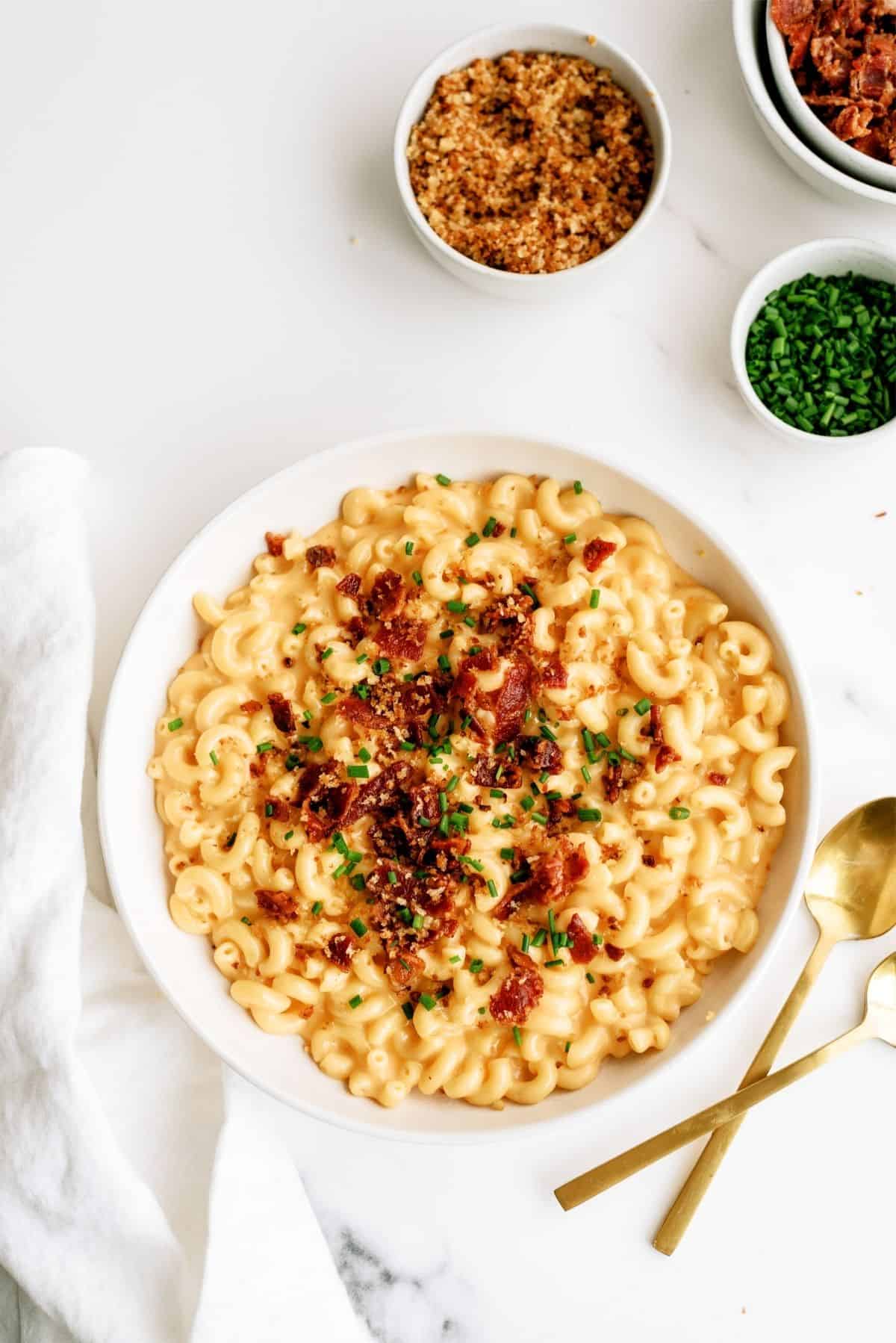 Then just serve your macaroni in a bowl with the bread crumbs topping, crumbled bacon, and chives on top. Or leave them off for your pickier eaters. Either way is completely delicious!
To Make Instant Pot Loaded Mac and Cheese You Will Need:
Instant Pot (THIS is our favorite one!)
Wooden spoon
Small pan