Instant Pot Cheesy Beef Taco Pasta cooks in your pressure cooker and is ready in less than 30 minutes. It will be a family-favorite recipe.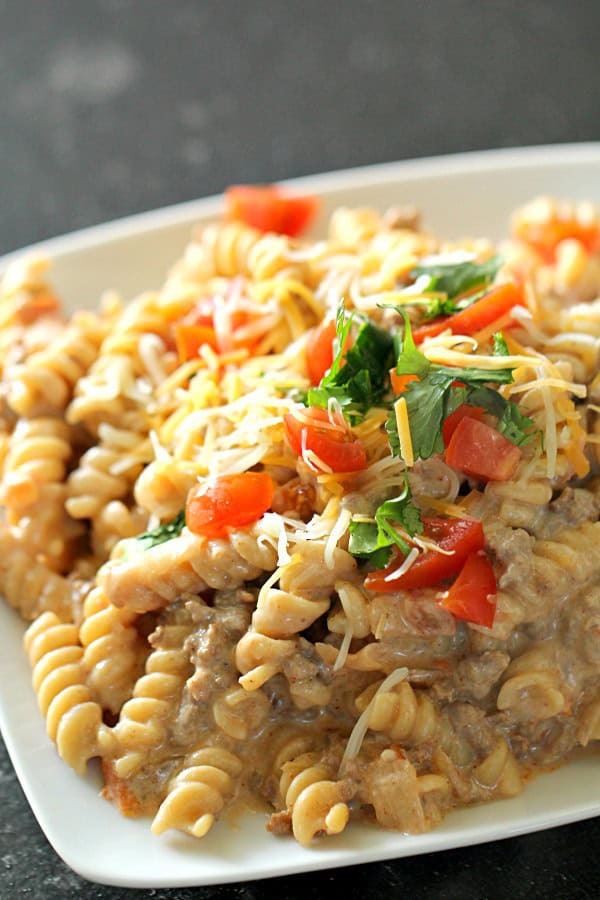 Looking for an easy family-friendly Instant Pot recipe? This Instant Pot Cheesy Beef Taco Pasta is one of our favorites!
I have only owned my Instant Pot for a short amount of time and this is the second recipe that I am sharing on our blog that is for the Instant Pot (even though my sisters have been sharing tons of Instant Pot recipes!).
You can check out the first Instant Pot recipe that I shared HERE.
Up until this point, I have been the slow cooker queen (that is a self-given title) and have posted over 150 slow cooker recipes on our blog personally.
I LOVE my slow cooker.
However, this Instant Pot has earned a spot on my kitchen counter – I am LOVING how quickly it cooks my meals, which means I can have dinner on the table in a matter of minutes!
Today's recipe for Cheesy Taco Pasta is no different – this is such an easy recipe and it's ready in 30 minutes flat.
If you love this instant pot cheesy beef taco pasta, you'll want to try our Instant Pot Dr. Pepper Pulled Pork!