This Instant Pot recipe is one of my favorite ways to use my pressure cooker - by melting the chocolate in the Instant Pot, you have the perfect fondue for dipping all your favorite foods. This chocolate fondue recipe will feed a crowd and is great for parties and entertaining.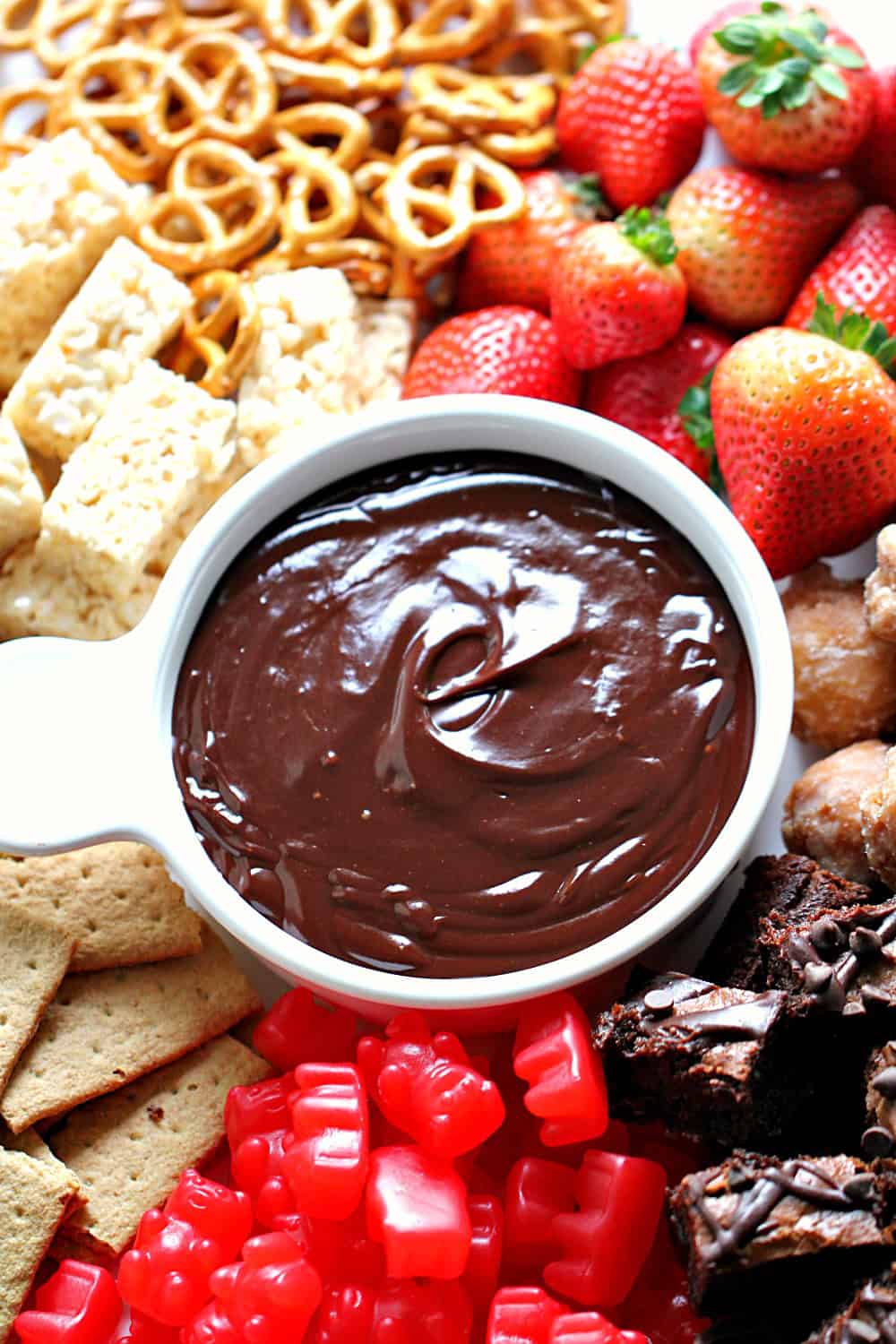 When you hear people talk about the Instant Pot, do you immediately think of dinner as most people do? Well, this absolutely delicious Instant Pot chocolate fondue will change your mind!
Have you ever wanted to learn how to make chocolate fondue? Enjoy dipping tasty treats and fruit in chocolate? Then this is recipe for you!
You all know how much we love the Instant Pot, and we are here to show you all the different things you can do with your Instant Pot. It is very versatile and makes so many great things!
Speaking of versatile, you have got to check out the other amazing and unexpected Instant Pot recipes! Starting with our to die for Instant Pot Fudgy Brownies, then the moist Instant Pot Snickerdoodle Bread, and finally our amazing Instant Pot Churro Bites.

What you need for melting chocolate in an Instant Pot for dipping:
Ingredients to make chocolate fondue for a crowd:
Water
Semi-sweet chocolate chips
Milk chocolate chips
Heavy cream
Vanilla extract
Salt
Items for dipping!
If you don't happen to have any heavy cream on hand, you should try this great recipe from Just A Pinch for homemade heavy cream.
Love fondue? Be sure to check out our Slow Cooker Rocky Road Fondue!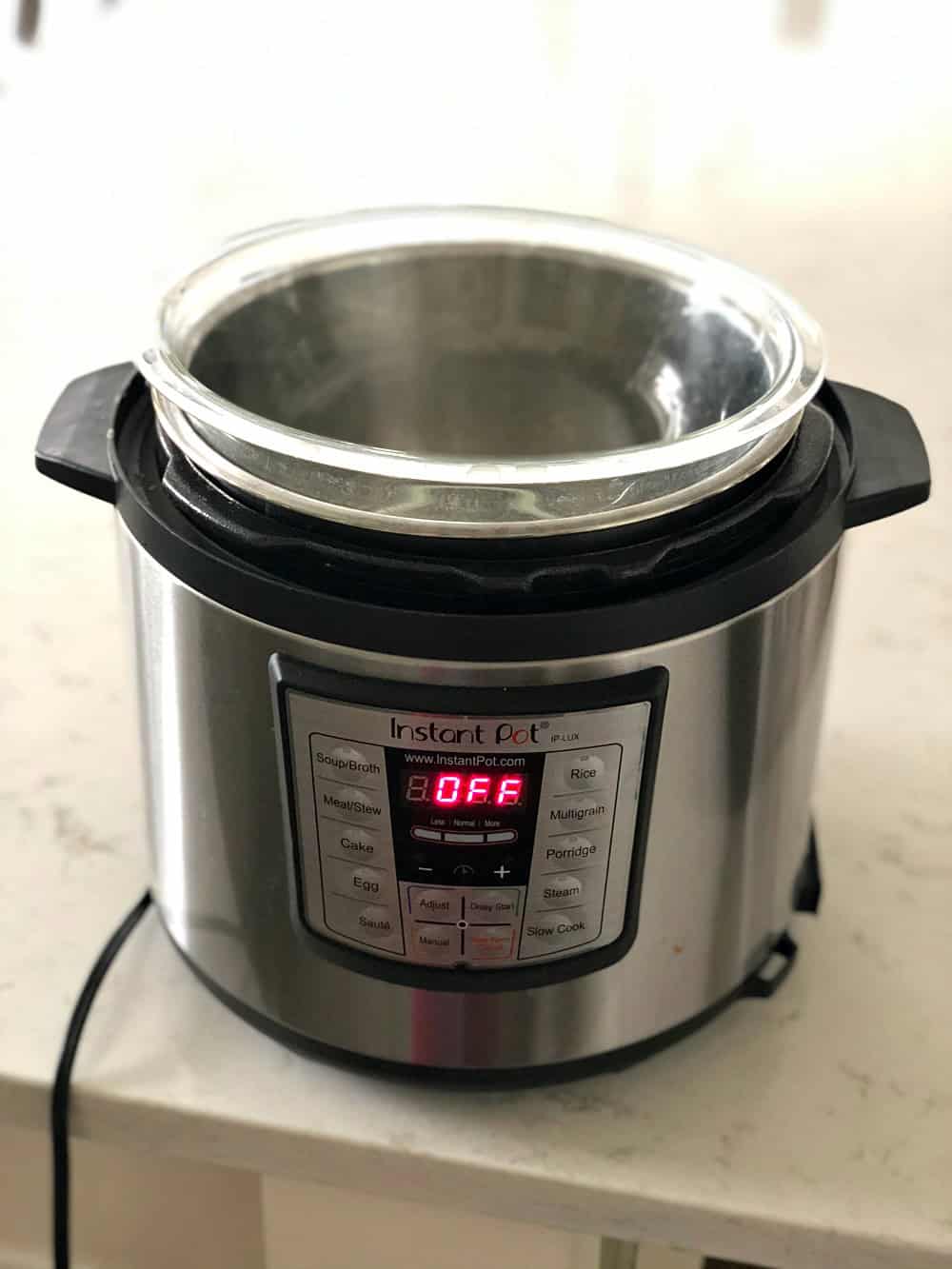 Other necessities to make fondue in the Instant Pot
Instant Pot
Large glass bowl with a "lip" (like THIS one)
Fondue sticks (THESE work great)
Rubber spatula
Looking for another delicious Instant Pot recipe? Check out our EASY Instant Pot Cinnamon Applesauce!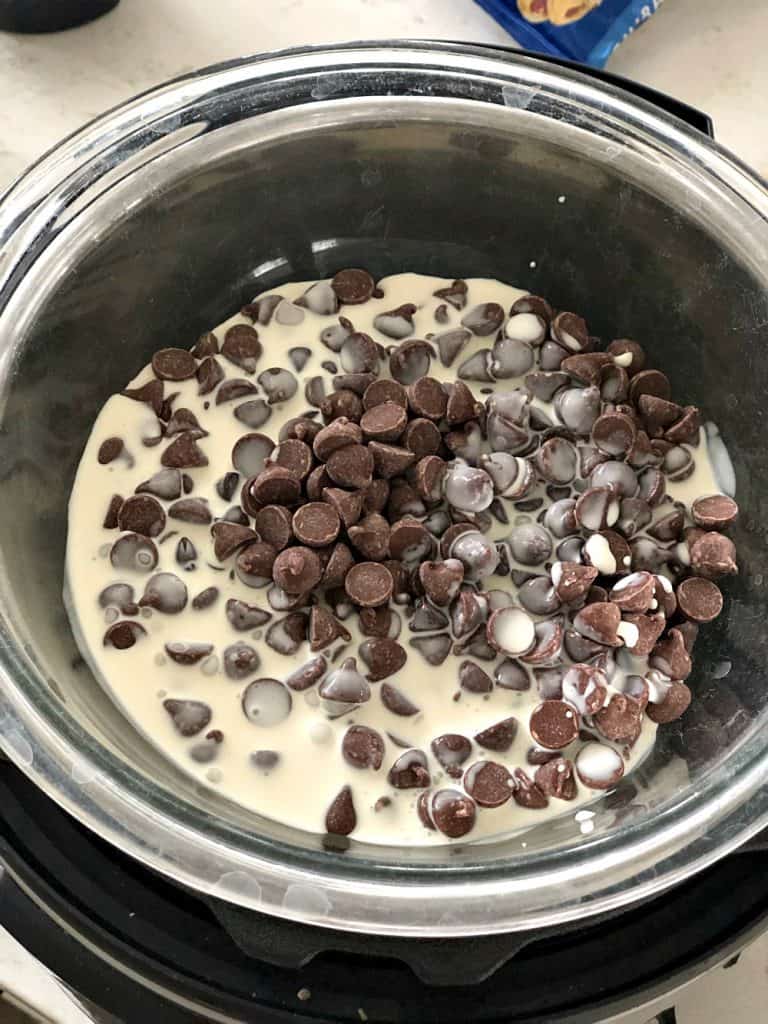 How to use an Instant Pot as a fondue pot:
To begin making the fondue, pull out your Instant Pot and place the Instant Pot liner inside.
Then, pour in the 2 cups of water into the bottom of the Instant Pot liner. Once the water is in the bottom, place the large glass on top of the Instant Pot liner.
You will want to try and find one that has a "lip" on it so that it will easily sit on top without the bowl slipping in. It also makes it easier to stir in when the bowl fits comfortably. I used this bowl.
Now, you will need to pour the chocolate chips, heavy cream, vanilla, and salt in the glass bowl. Then, press the "SAUTE" button on the Instant Pot. This will begin to heat up the water in the bottom.
Begin to occasionally stir the chocolate and heavy cream together as the water heats up and the chocolate begins to melt.
Continue stirring the chocolate and cream mixture until it has fully melted and is smooth. This should take about 8-10 minutes.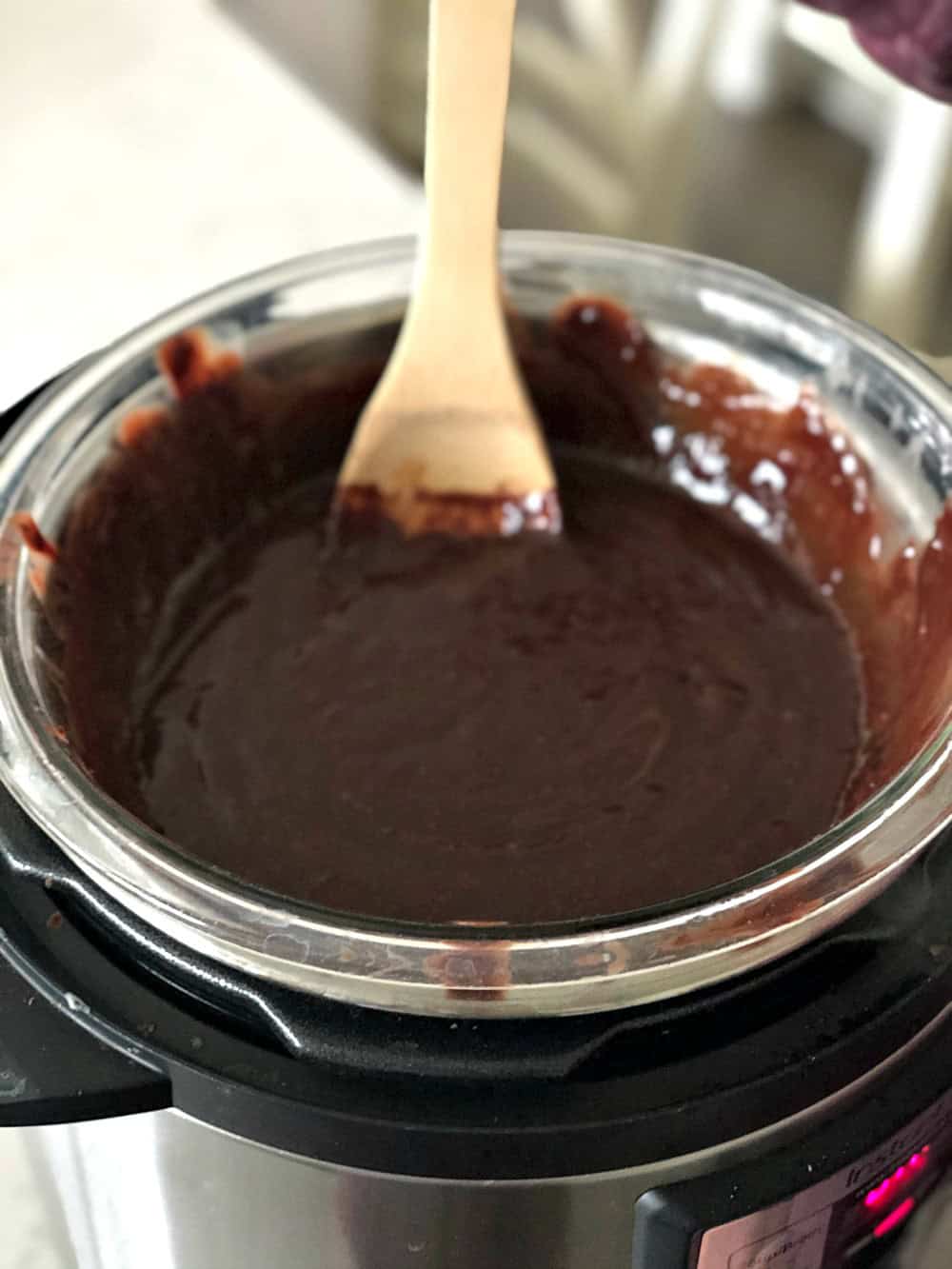 After the chocolate fondue mixture has completely melted, you need to press the "CANCEL" button and then the "KEEP WARM" button. This will keep the water warm enough to keep the chocolate hot.
You will want to occasionally stir the chocolate fondue to make sure the chocolate continues to be smooth for dipping your favorite food!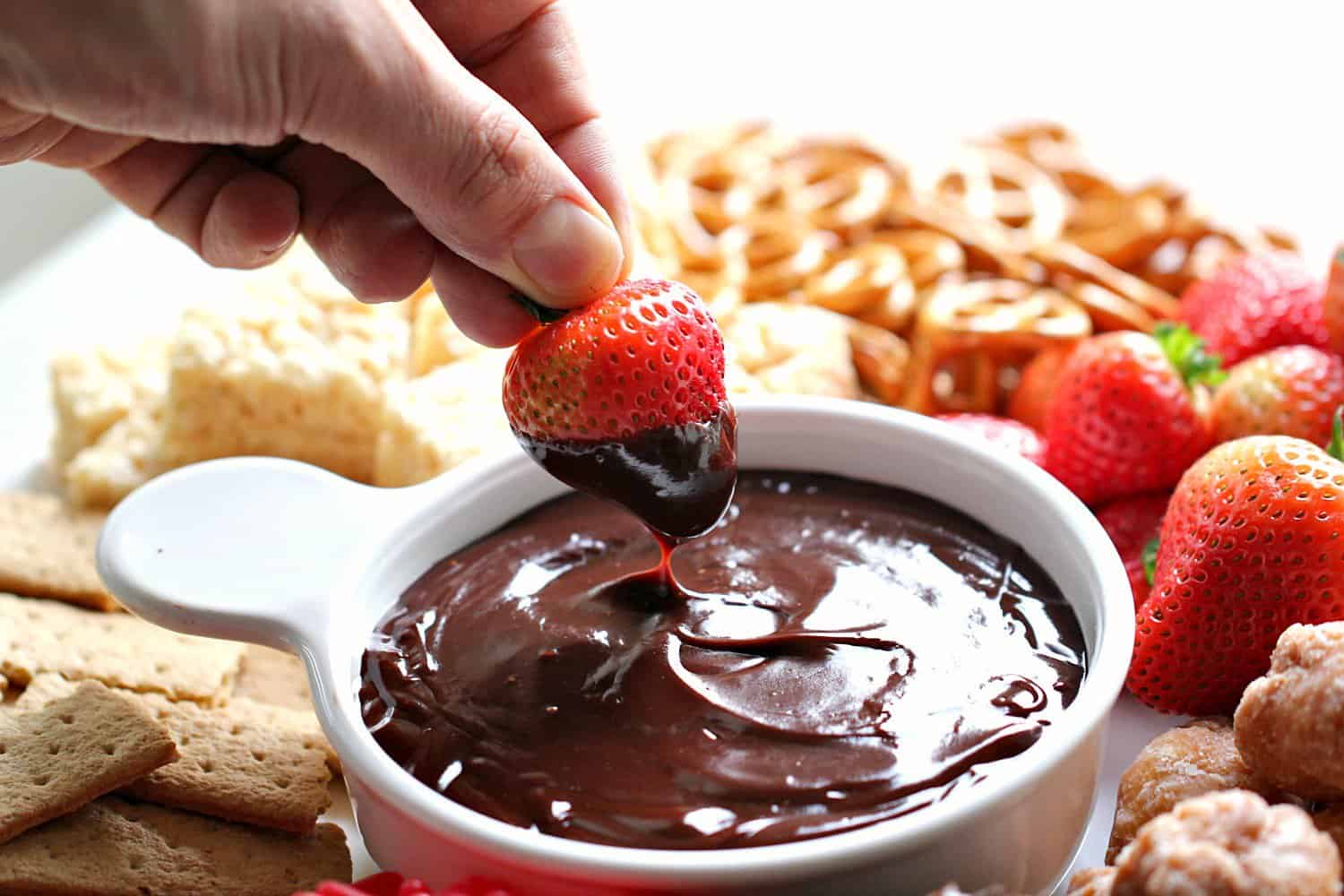 Foods to dip in your delicious fondue:
Strawberries
Bananas
Marshmallows
Pretzels
Rice crispy treats
Cinnamon bears
Wafers
Brownies
Blondies
Cut up waffles
Oranges that have been peeled and segmented
Graham crackers