Frozen Raspberry Pie is your new summer dessert, go to. It requires no baking so you and your home, can both keep cool during the hot summers. Not to mention how delicious it is.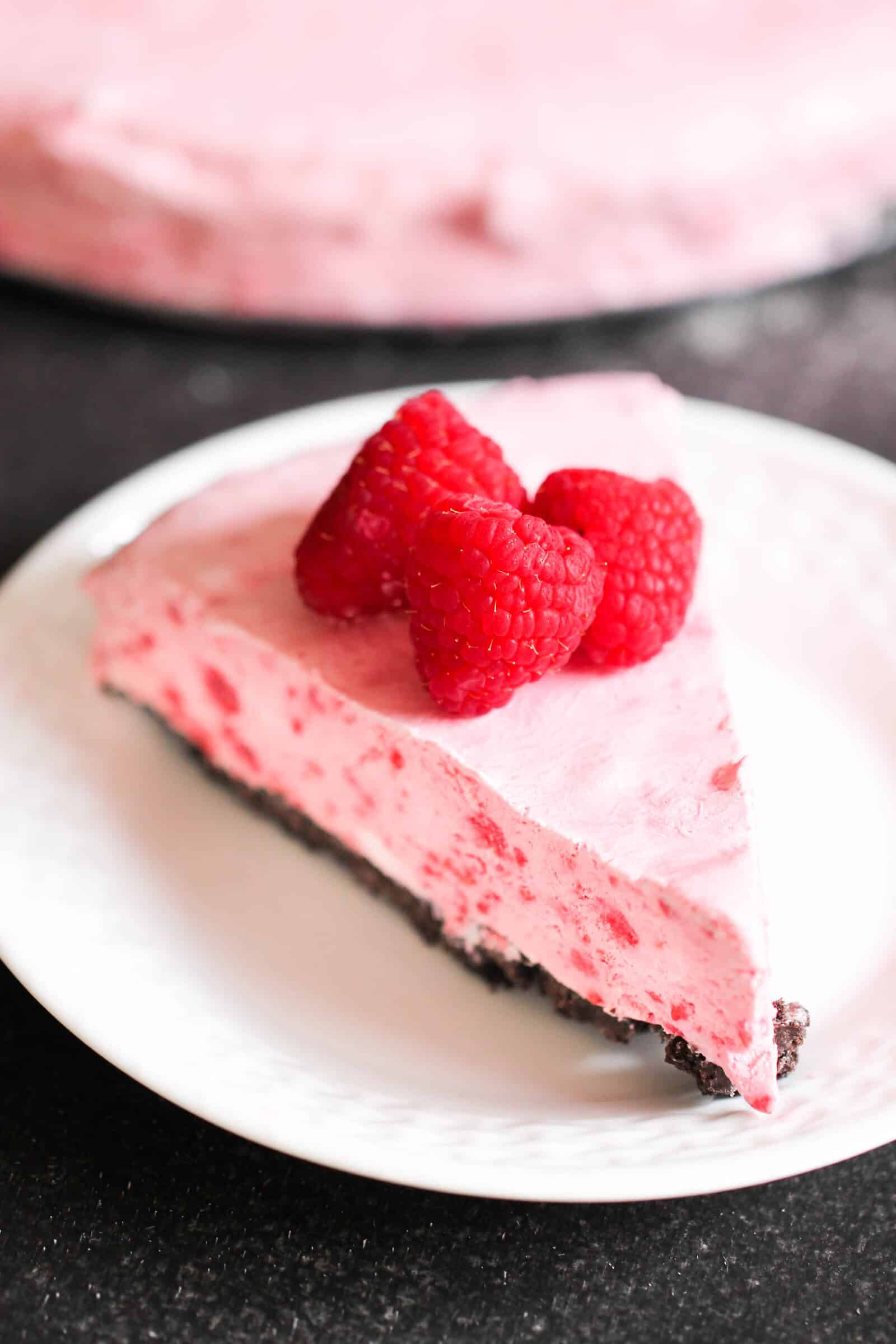 As soon as the weather starts to warm up, I want ALLLLLL the frozen desserts (like our Frozen Raspberry Lemonade Pie).
There's just something about fruity, frozen things that I crave! With a chocolate crust and topped with fresh raspberries, it's quickly rising to the top of my list of favorite desserts right now.
The best part is, you don't even have to turn on your oven to make it.
It's the perfect summer dessert to keep you cool, as well as your house. It only takes a few minutes to throw together, and has the most amazing flavor. You are going to love this simple Frozen Raspberry Pie.
What other fruit could I make this pie with?
This pie is incredibly simple to make. I chose to make it with raspberries because they are so juicy, and also my favorite fruit.
You could easily make this with any other fruit, you would just need to change the punch flavor to match your fruit a little better. Here are a few of my recommendations:
Blackberry

(you could use the same juice as the recipe, or a

pomegranate juice).

Blueberry (you could use the same juice as the recipe, or a

pomegranate juice).

Peach (I'd recommend using an orange, pineapple, or peach juice).
Strawberry (you could use the same juice the recipe used, or a strawberry juice).
Could I use a different pie crust?
For this recipe, we used a homemade Oreo pie crust, however, you could easily switch it up, and use any pie crust you want.
If you are looking for a good graham cracker pie crust recipe, we highly recommend trying our Homemade Graham Cracker Pie Crust.
You could also use a pre-made pie crust at the store to save you some time.