Creamy, cold and delicious - this Frozen Peanut Butter Cloud Pie Recipe is every peanut butter lover's dream!!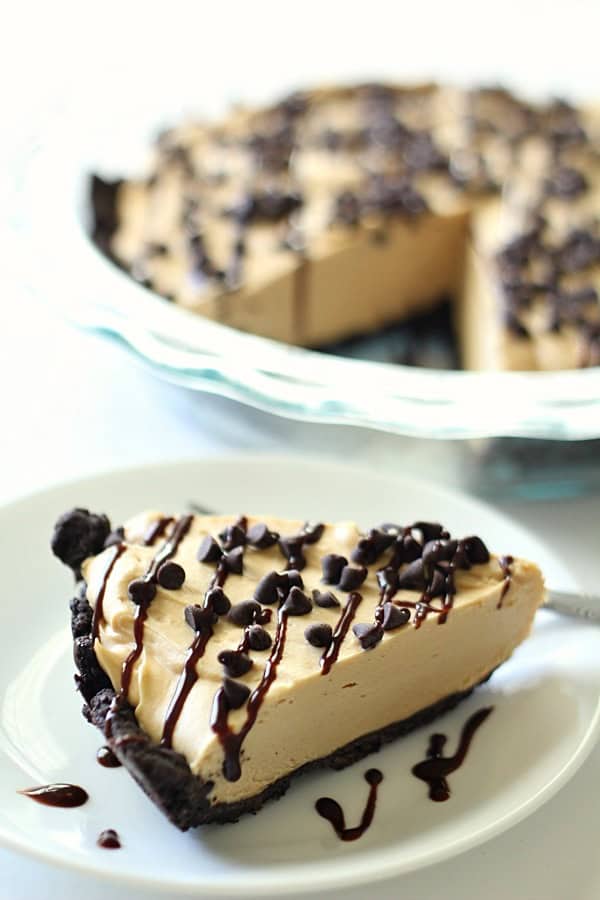 I LOVE this Frozen Peanut Butter Cloud Pie! Full disclosure: I am not a fan of pie.
Mostly just flaky pastry-like pie crust . . . it has never been my favorite. I would much rather have a piece of chocolate cake any day!
However, if you give me a creamy, frozen pie with an Oreo crust . . .
Everything changes. 🙂
This pie is the perfect treat, whether it's a hot summer day or the middle of winter.
Everyone who has tasted it has raved about it!
So, whip one up and see what the fuss is all about! I promise you won't be disappointed!
Ingredients needed for this tasty Frozen Peanut Butter Cloud Pie Recipe:
25 oreo cookies
5 Tablespoons unsalted butter
8 ounces cream cheese softened
1 cup creamy peanut butter
1 cup powdered sugar
1 teaspoon vanilla extract
1½ cups heavy whipping cream
semi-sweet mini chocolate chips
chocolate sauce for drizzle
How to make this Frozen Peanut Butter Cloud Pie:
To make the crust, crush your cookies in a food processor until they are fine crumbs (you can also put the cookies in a gallon-sized resealable bag and crush with a rolling pin).
Dump the cookie crumbs into a bowl and mix with melted butter.
Press the cookie mixture into the bottom of a 9″ pie pan, making sure to go up the sides of the pan.
Place crust in the fridge and let chill for at least 30 minutes before adding filling.
To make the pie filling, beat the cream cheese and powdered sugar together in a large bowl. Add in the peanut butter and the vanilla, then mix again.
In a separate bowl, whip the heavy whipping cream (I used an electric mixer) until stiff peaks start to form. Fold the whipped cream into the peanut butter mixture until well-combined.
Pour peanut butter filling into the cookie crust and place in the freezer for at least 3 hours.
Remove pie from freezer about 10 minutes before you are ready to serve it to allow it to thaw just enough that you can easily cut it.
Top with chocolate chips and drizzle with chocolate sauce when serving.