Take your Jello to a whole new level with this Frozen Creamy Lime Jello recipe! It makes the perfect cold treat on a hot day. You can also use other flavors of Jello in this recipe.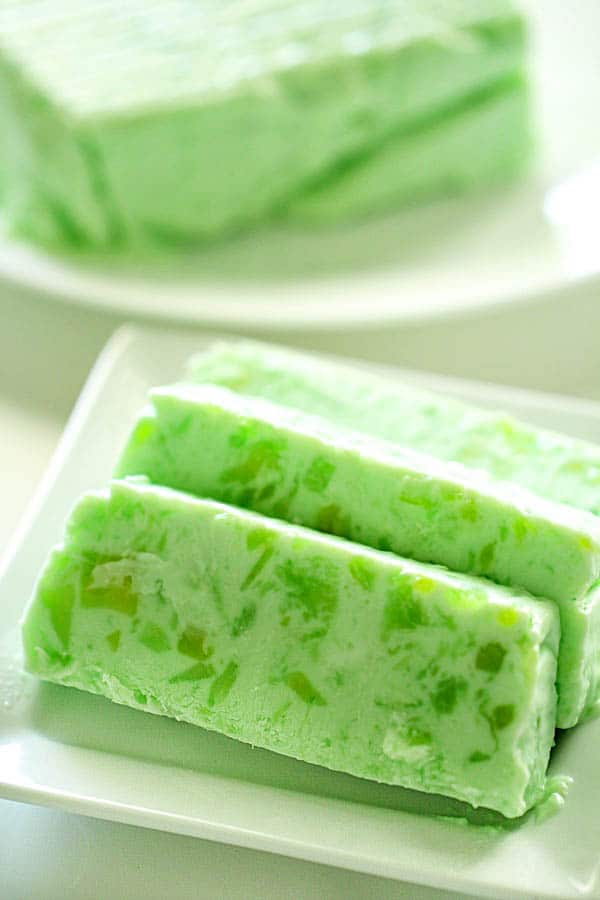 Our Frozen Creamy Lime Jello is one of our favorite ways to make jello!
If you haven't noticed by now, we love our Jello recipes!
Growing up, we usually had jello as a SIDE DISH for Sunday dinner – and it was my favorite! Our Strawberry Fluff Jello Salad was the dish I looked forward to the most (have you tried it?! There is a reason why it's our most popular Jello salad)!
What is jello?
I know that there are some of you who might not know what jello is . . . in Utah, it's something we are known for serving at parties, potlucks, and dinners. I think we are considered the Jello capital of the world . . . that's quite the claim to fame! 😉
There was even a couple Green Jello Olympic pins made to celebrate our love of Jello here in Utah!
So the term "jello" is actually a brand name owned by Kraft foods. That term is now used broadly to market all kinds of desserts and snacks.
Most people use the word "jello" when referring to gelatin-based desserts that are bright colors with various flavors (strawberry, orange, lime, etc).