This French onion chicken noodle casserole is one of the most unique and delicious casseroles you'll ever have. It is filled with french onion, cheese, fried onion, and so much more!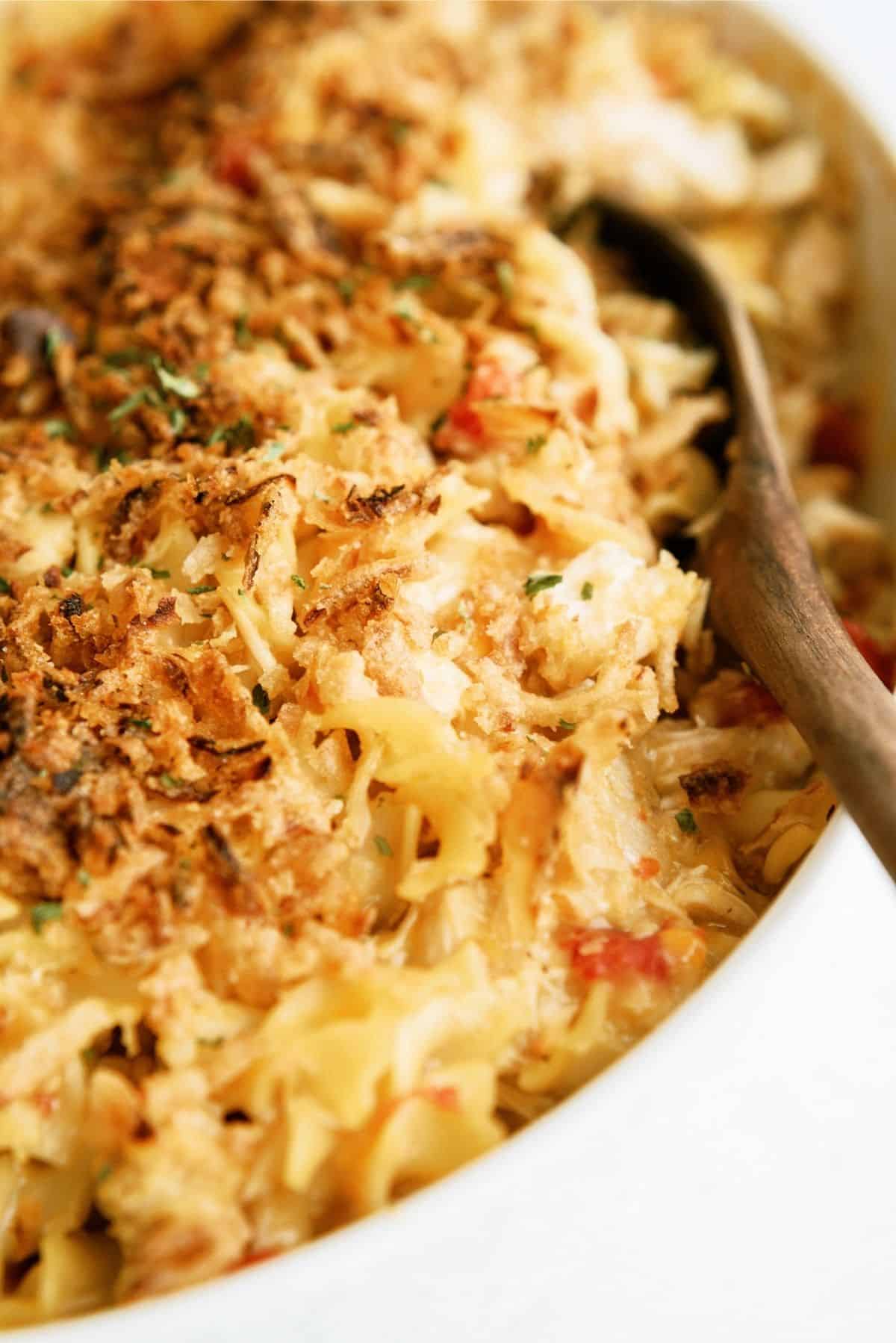 French onion chicken noodle casserole is one of the easy casserole recipes that you will love, and make often. It is a popular family dinner that is also a budget-friendly dinner too.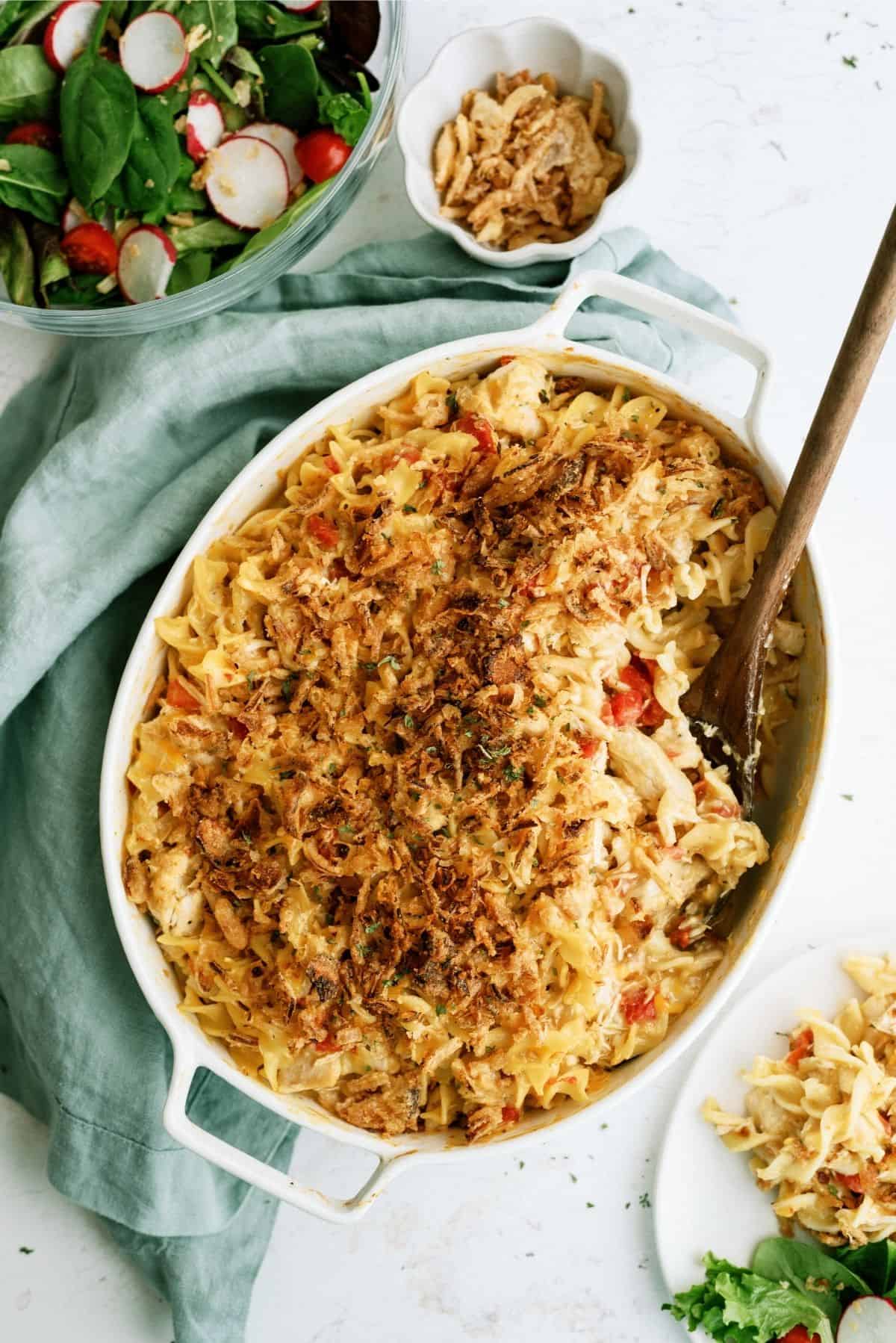 You might even be ablt to move this into your favorite chicken casserole list! I know I have a list of favorite recipes that I like to make and this is on the top of it. And it will be for you too!
This is one of those recipes that is great when you make it as written, but you can also sneak in some veggies too if you wanted to and make dinner even easier for you!
If you want to add even more deliciousness to this meal, try pairing it with our Italian Fresh Green Salad, Cheesy Garlic Texas Toast, and some tasty Air Fryer Zucchini Fries!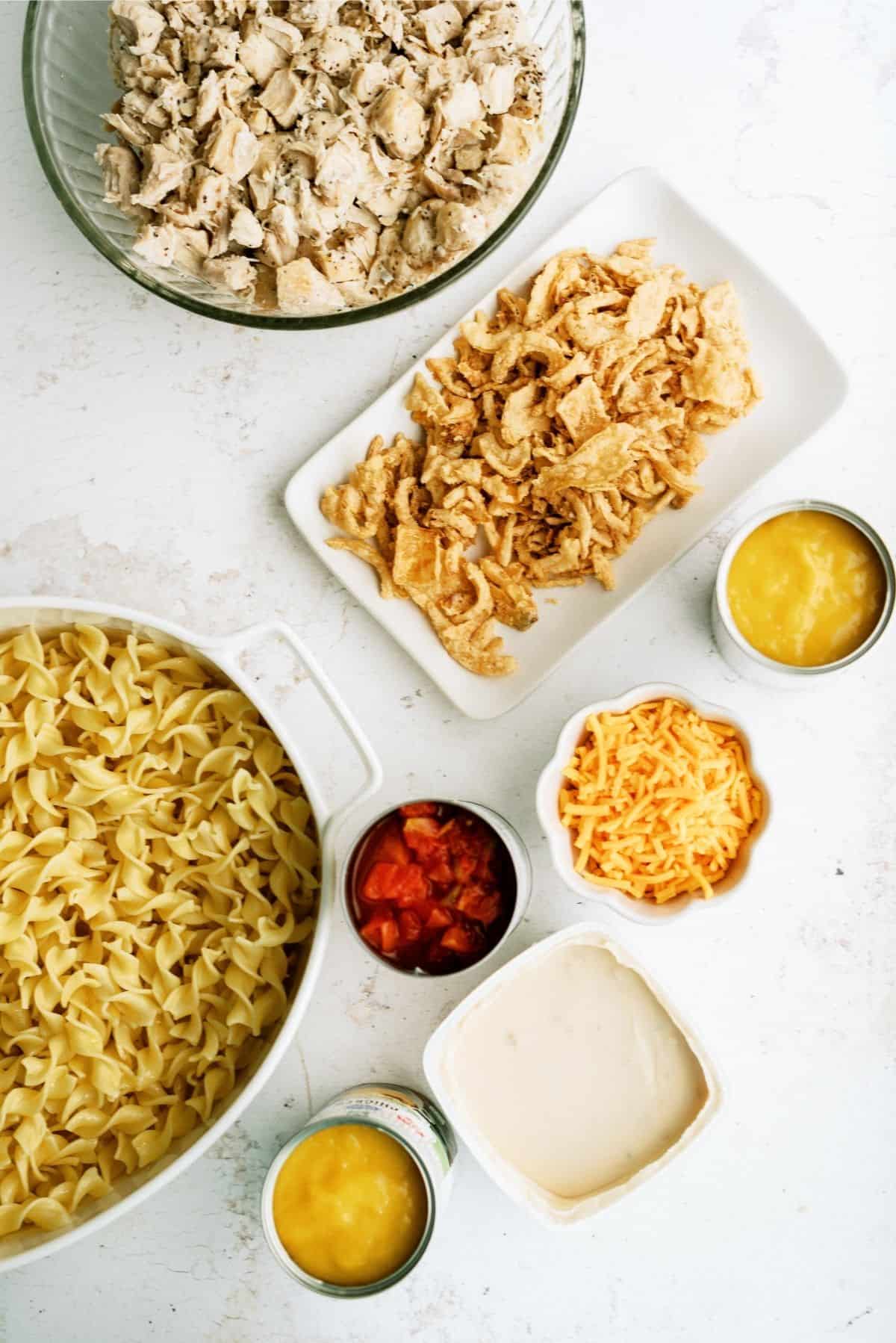 Ingredients Needed For Our French Onion Chicken Noodle Casserole:
Egg noodles
Boneless chicken breast, cooked and cubed
Cream of chicken soup
French onion dip
Rotel diced tomatoes and chiles
Shredded cheddar cheese
French fried onions
How To Make Our French Onion Chicken Noodle Casserole:
Begin by preheating the oven to 350 degrees.
Now, get out your 9×13 inch pan and spray it down with nonstick cooking spray.
Then get a pot of water boiling and cook the egg noodles according to the directions on the package and then drain the noodles and set them aside.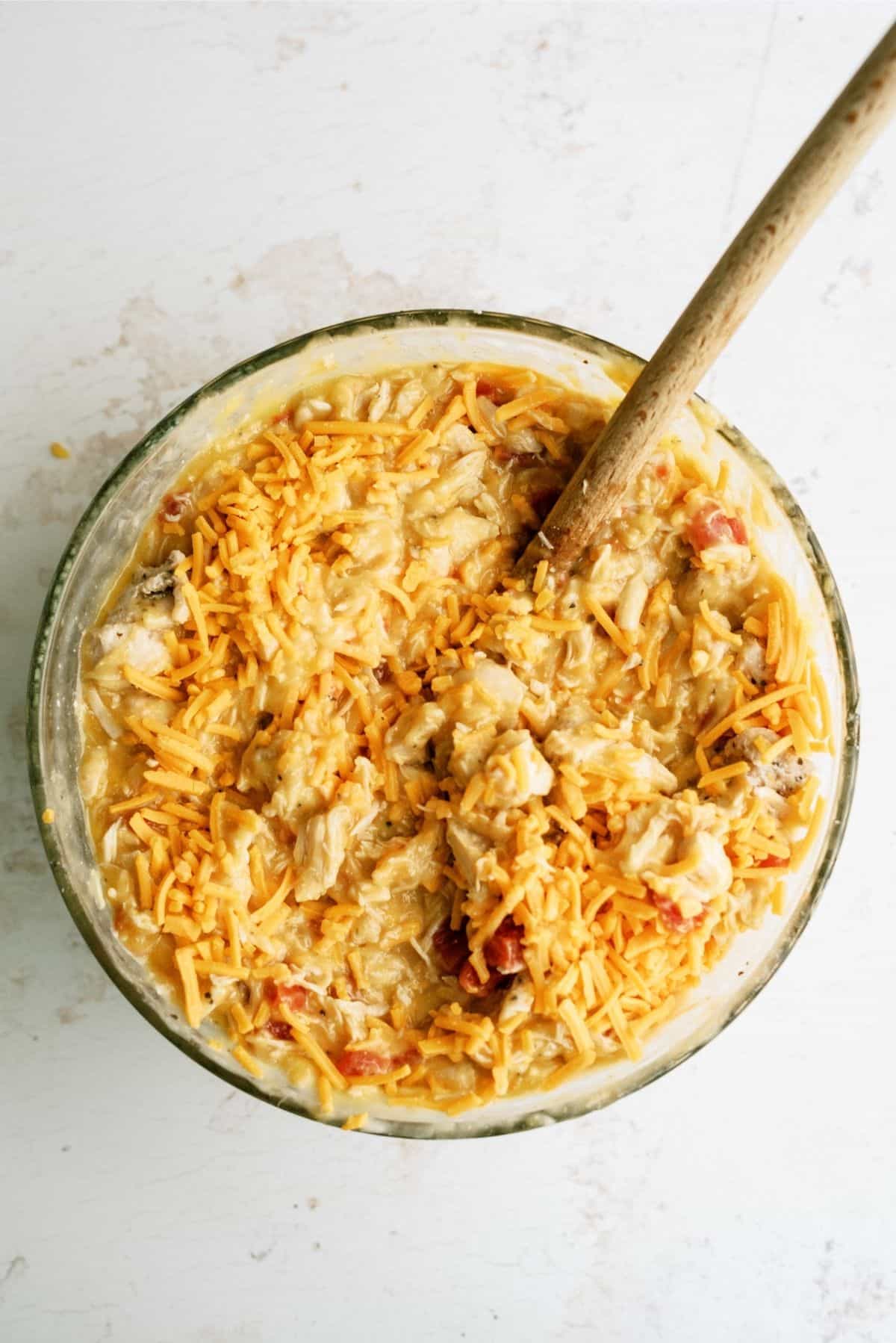 When you are done with that, get a large mixing bowl and combine together the cream of chicken soup, french onion dip, can of rotel drained, and the shredded cheddar cheese.
Mix it all until it is well combined.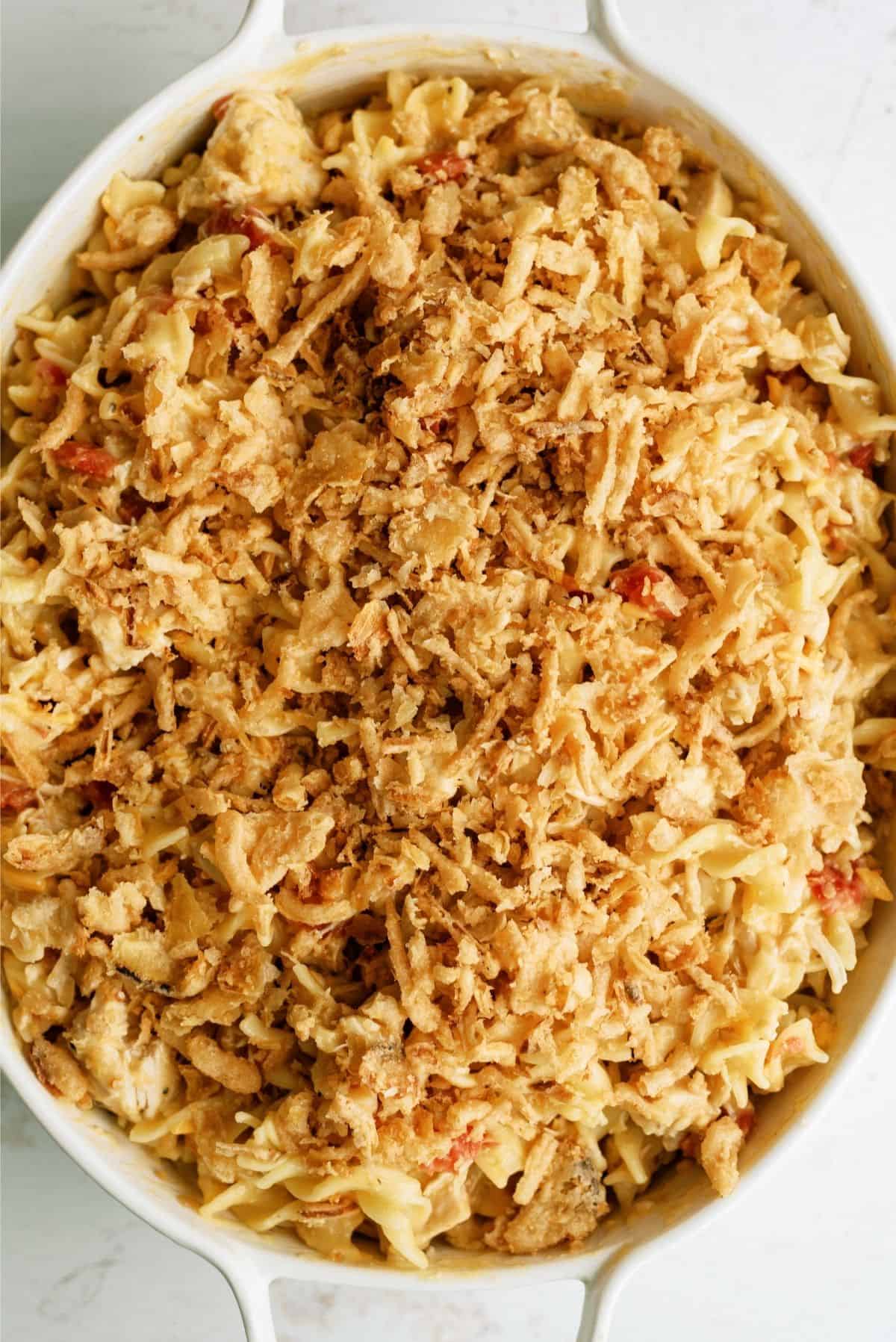 Once you are done with that, gendtly fold in the cooked egg noodles and pour the casserole mixture into the 9×13 inch pan and spread it out evenly in the pan.
Then just top it off with the crushed fried onions and put it in the oven and bake the casserole for 25-30 minutes, or until the casserole is heated through.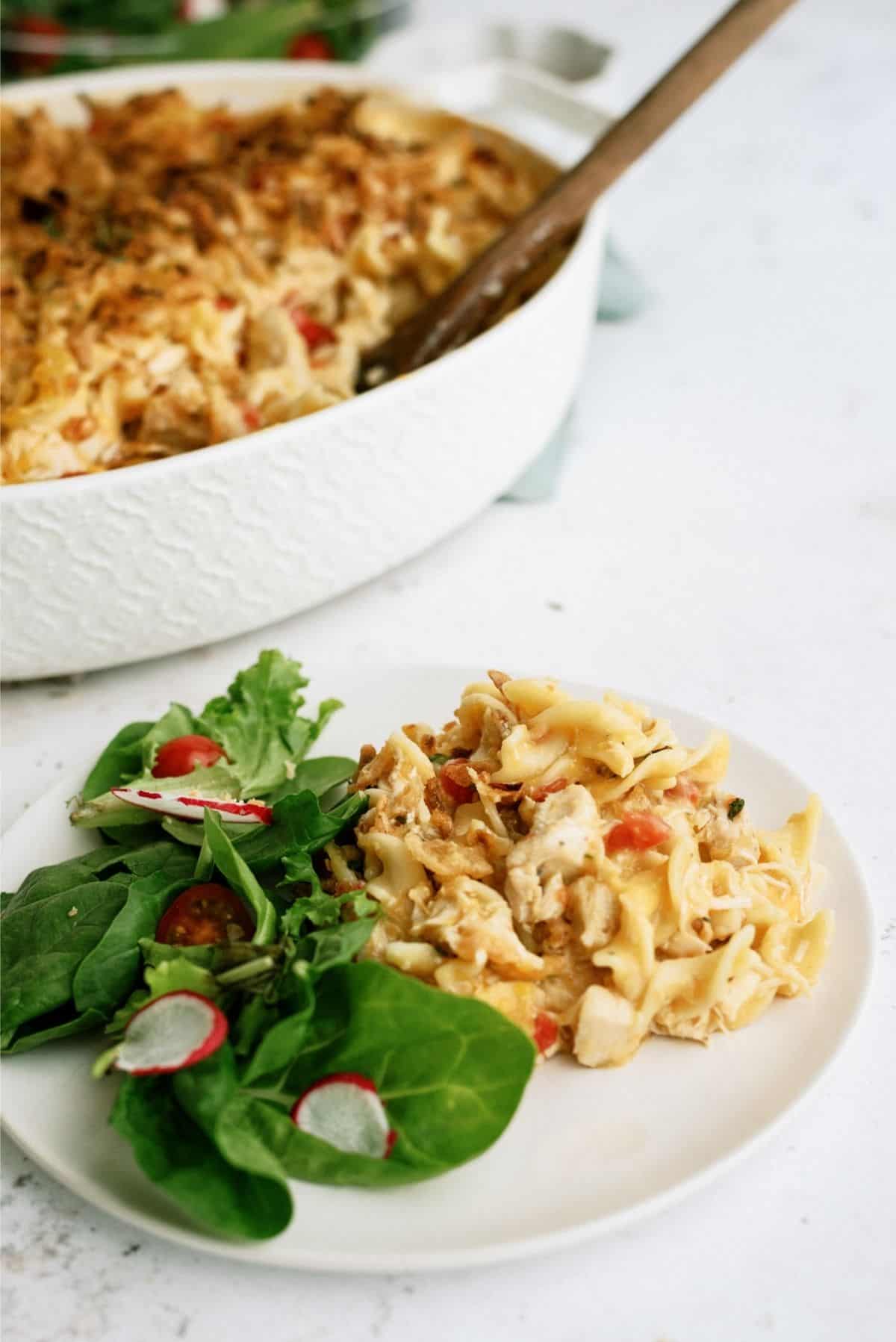 When it is done, serve it warm and enjoy it with your favorite sides!
To Make This Easy Casserole Recipe You Will Need:
Large mixing bowl
Medium pan
9×13 inch pan (THIS is a great one!)
Nonstick cooking spray
Spatula