Enjoy one of Disneyland's star recipes with our copycat Disneyland's loaded potato soup recipe. This is a super creamy and rich soup that will warm you up during this winter season.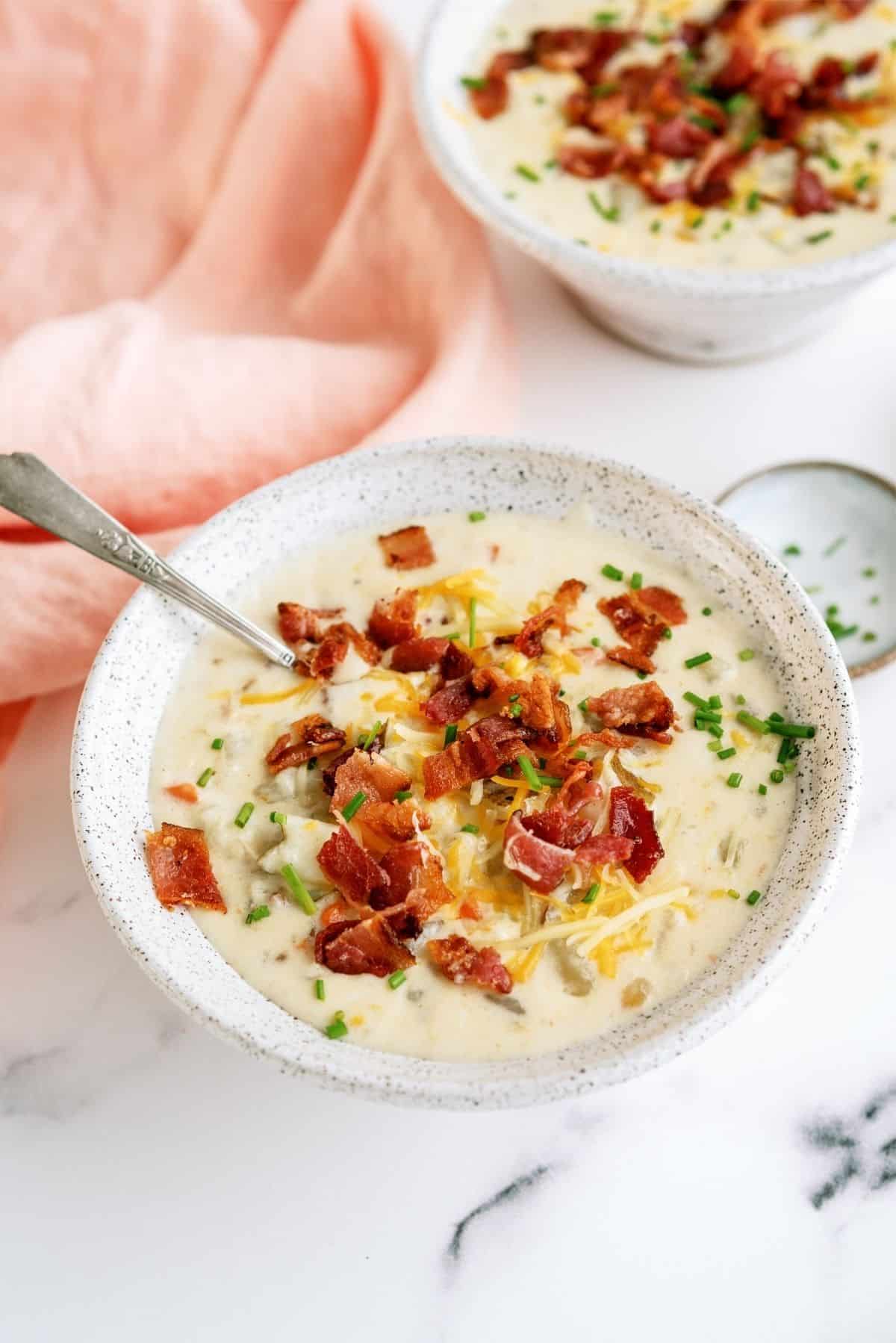 You have just found the best soup recipe, our copycat Disneyland's loaded potato soup recipe. It is seriously one of my favorite family dinner recipes to make.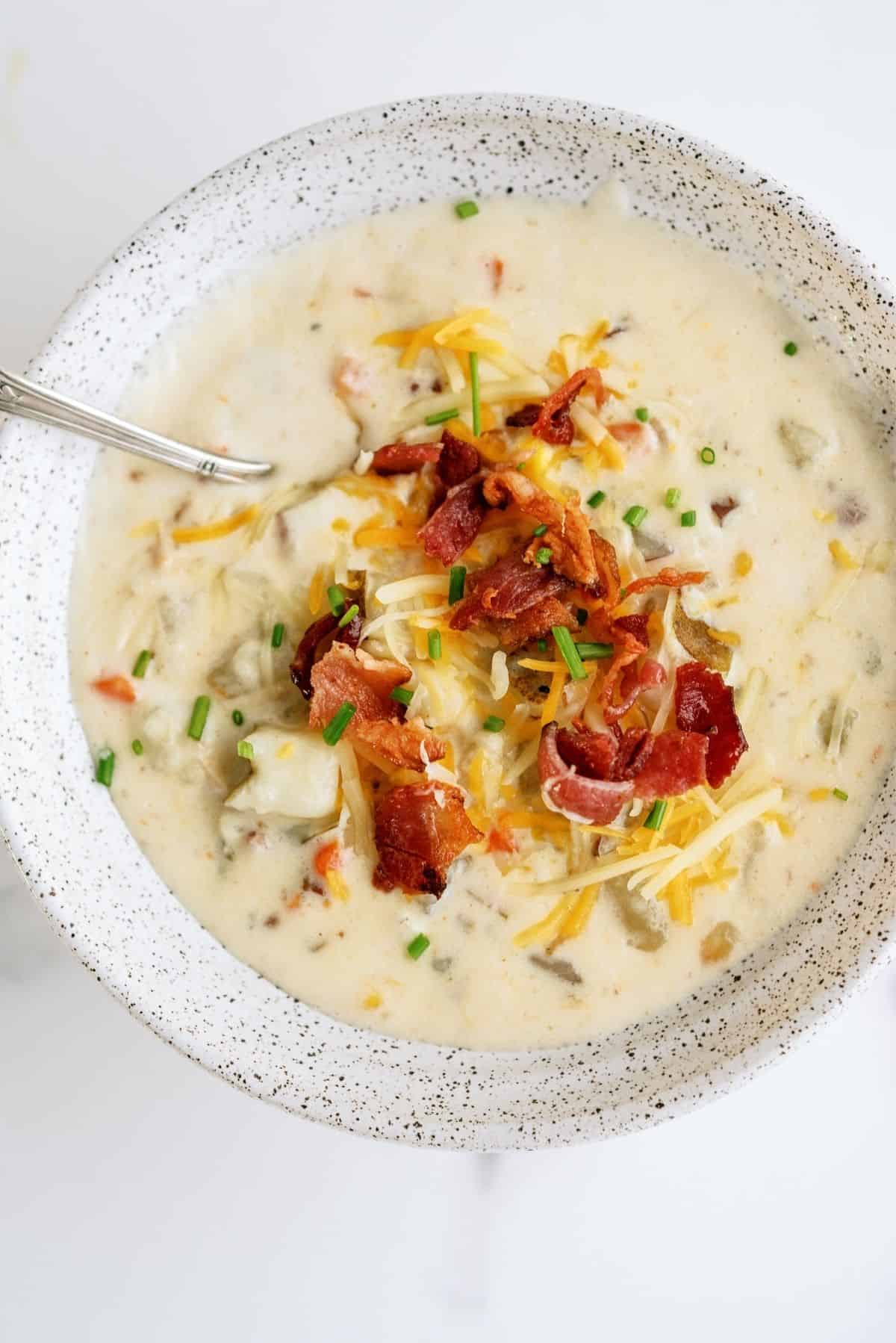 It is wonderfully creamy, filled with the nice tender potatoes and topped with chunks of bacon, cheese and whatever other toppings you might enjoy. I will make this recipe in batches and freeze some of it so I can just pull it out when we have a cold week coming up.
Soup is a favorite meal of mine to serve during the winter, and baked potato soup is on the top of the list. It is an easy recipe to follow and everyone that has had this soup recipe enjoys it. Even our pickiest eater.
This is also a great soup to serve with our easy homemade french bread, since it is a perfect soup for dipping. Plus, add either a nice apple cranberry walnut green chopped salad or winter fruit salad and you have the perfect winter meal to serve your family.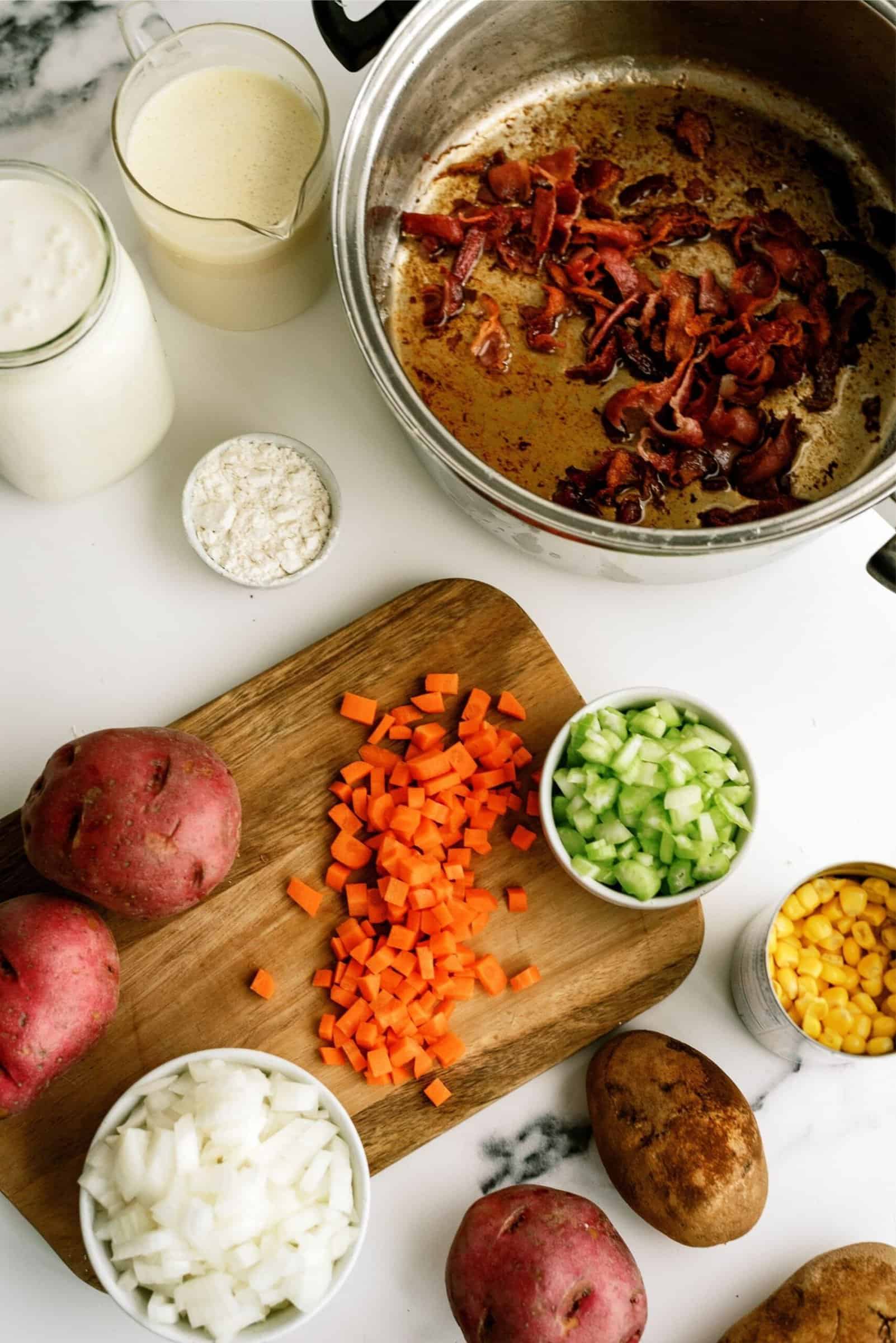 Ingredients You'll Need For Our Disneyland's Loaded Potato Soup Recipe:
Bacon, roughly chopped
Yellow onion diced
Carrot peeled and diced
Diced celery
Russet potatoes diced
Red potatoes diced
Flour
Chicken stock (or broth)
Salt
Pepper
Heavy cream
Corn (this is optional)
Garnishes: chives, bacon bits, sour cream, shredded cheddar or Monterey jack cheese
How To Make Our Disneyland's Loaded Potato Soup Recipe:
Begin by getting out your 6 or 8 quart stockpot and fry your bacon over medium heat until it is nice and crispy.
Then remove the bacon and place it on paper towels to drain the grease.
Do not drain the grease from the pot!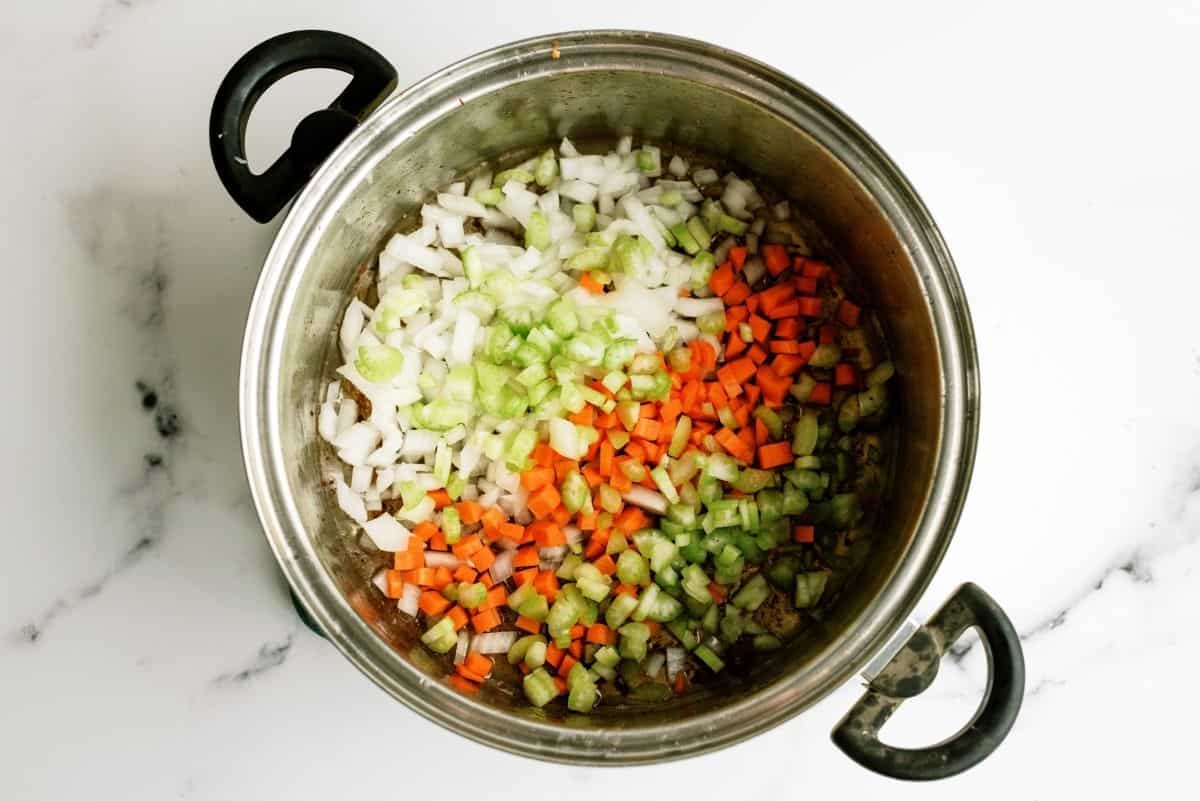 In the bacon grease cook the onions, carrots, and celery until the onions are tender and translucent.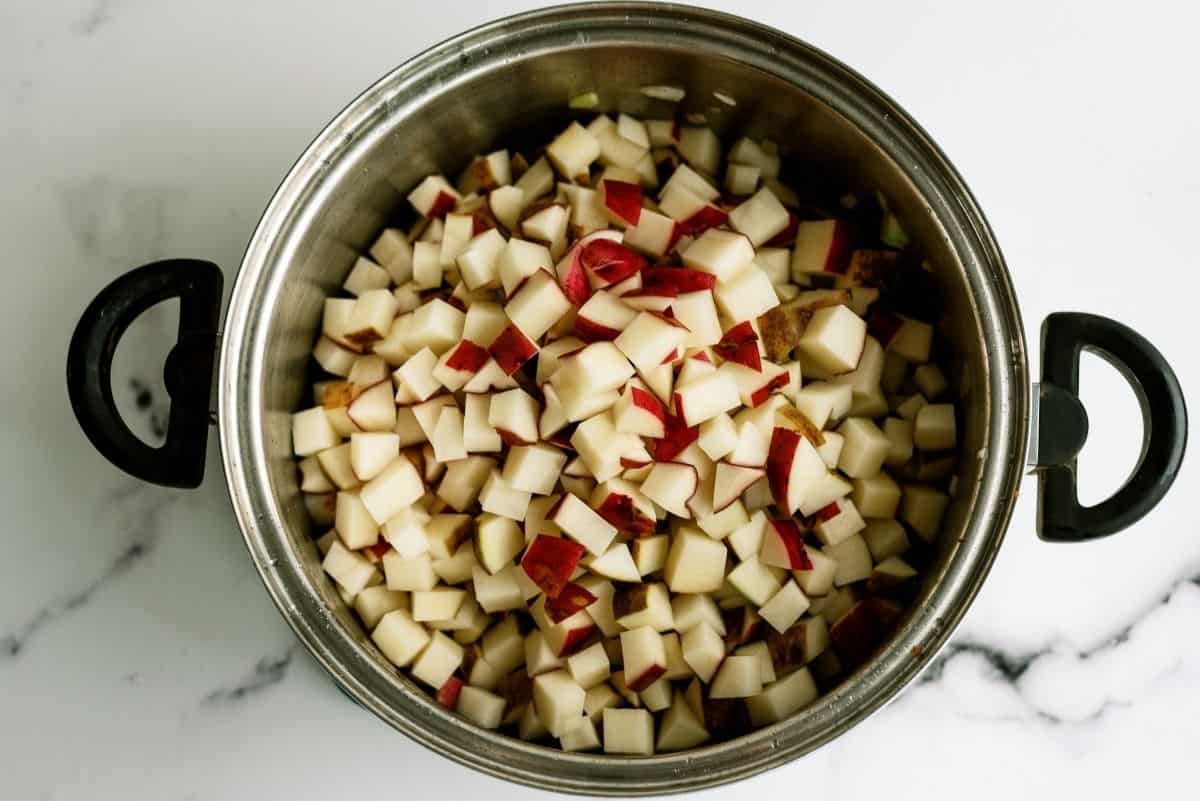 Then add in the diced russet and red potatoes and cook the mixture for another 4 minutes while stirring the vegetables occasionally.
Now turn down the heat to low heat and add in the flour, making sure to stir the mixture constantly until the flour is cooked and the consistency in the pan has begun to thicken up. This will take about 5-7 minutes.
Once the base has slightly thickened, pour in the chicken stock and drop in half of the crispy bacon.
Sprinkle in a little salt and pepper, give everything a good stir and then turn the heat up to medium high heat and bring the soup to a simmer and let it cook for about 25 minutes or until the potatoes are tender.
Once the potatoes have become soft, mash some of the potatoes (not all of them) to create a thicker, more creamy texture for the soup.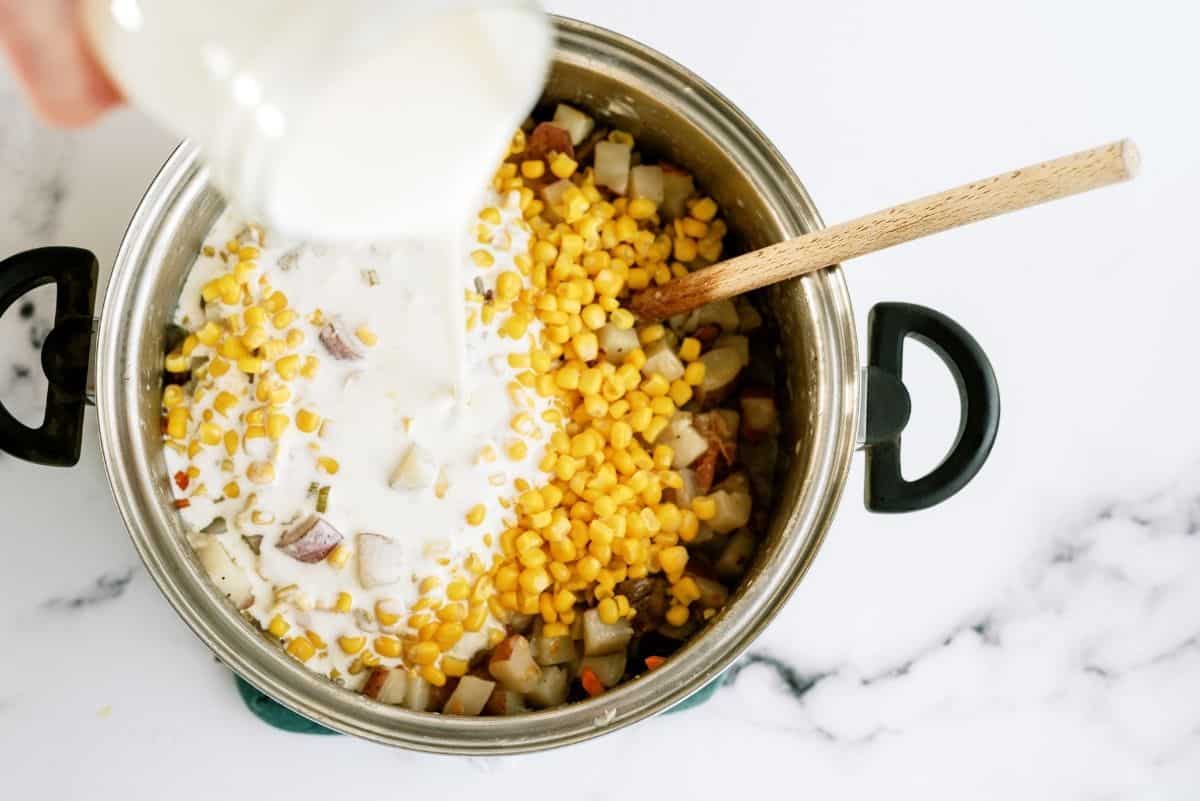 Now add in the whipping cream and the can of drained corn and let it all simmer together for another 5 minutes.
Now is when you can play with the consistency of the soup to make it less thick by adding either more stock or water a little at a time until you reach the thickness you prefer.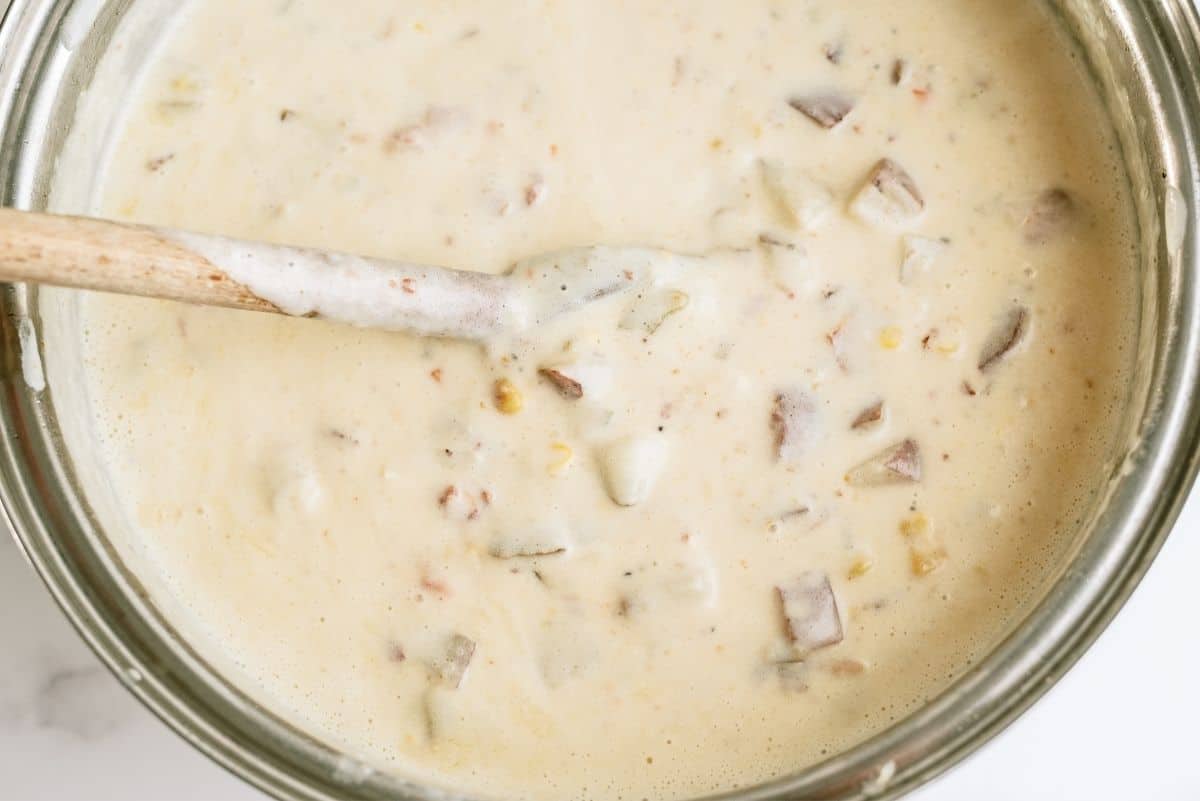 This soup should have a creamy consistency.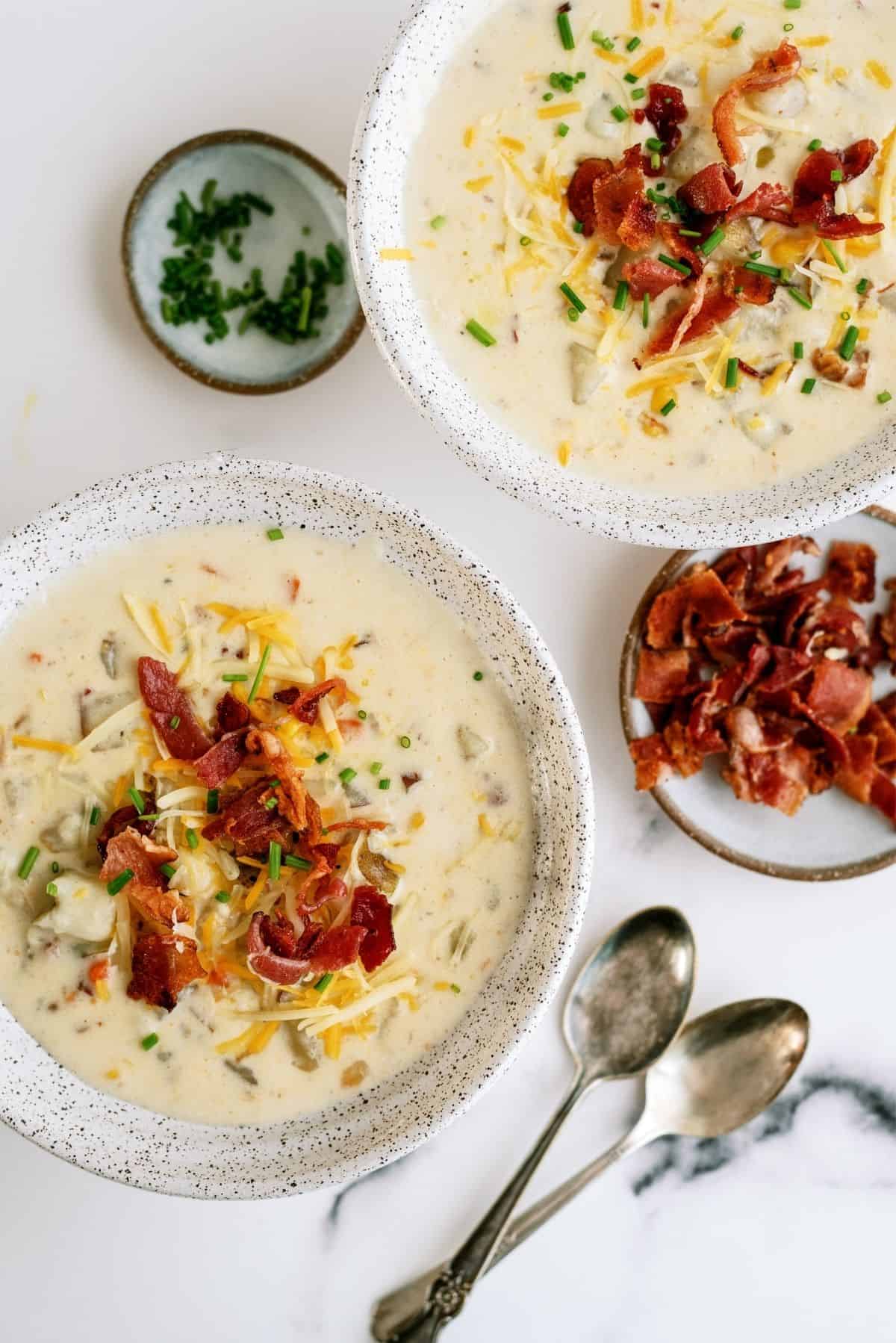 Then just season to taste with salt and pepper, and serve the potato soup with your desired toppings.
To Make This Disneyland's Copycat Recipe You Will Need:
Large stockpot (THIS one works perfectly for this recipe)
Potato masher
Ladle
Liquid measuring cup