This Winter Fruit Salad is the perfect combination of fruits that are in season each winter. It's easy to make and is a delicious side dish to any meal.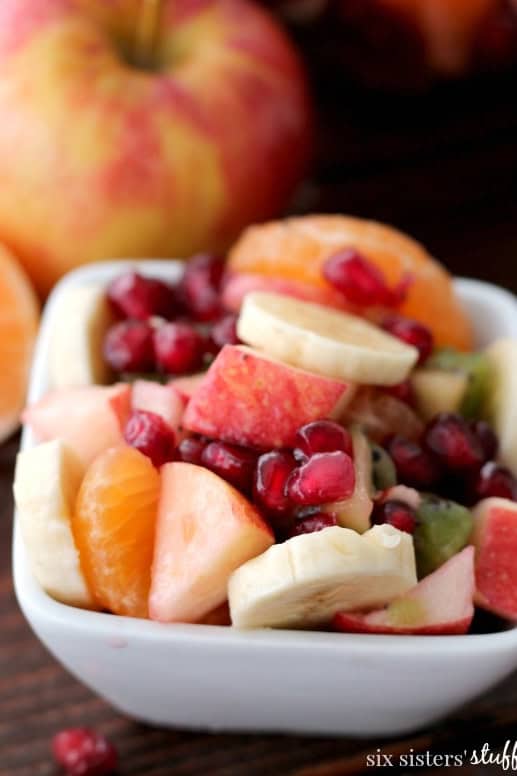 Fresh fruit might be harder to find in the winter months, but this Winter Fruit Salad takes all the fruits that are in season and puts them together in a delicious salad!
These fruits go so well together and the perfect side dish to any winter dish.
How to make Winter Fruit Salad:
Step 1: In a medium size bowl, combine all the chopped fruits and sugar.
You could use any fruits in season, where you are, but here in Utah I used, gala apples, kiwis, pomegranates, clementines, and bananas.
The sugar takes out the sour of the fruits, and it makes it a little sweeter. You could also do without it if you prefer.
Step 2: I learned the best way to get a pomegranate seeds out is to cut it horizontally, hold it face down in your palm with your fingers apart so the seeds can fall through, and whack the back with a wooden spoon.
Mix until well combined.
How to remove pomegranate seeds:
Pomegranates are no joke. They can be so difficult but I think I have finally cracked the code. Here is how you get those pesky seeds out:
Step 1: Roll the fruit with a moderate amount of pressure. You don't want to crack the pomegranate, but you do want it to have movement in the shape, when you roll it.
Step 2: Score around the middle and cut in in half.
Step 3: Place a medium/large bowl on the counter. Flip the pomegranate half, seed side down (facing the bowl).
Step 4: Place your hand under the pomegranate seed side, with your fingers apart so the seeds can fall through them.
Step 5: Take a wooden spoon or a sturdy rubber spoon used for baking. Hit the rounded part of the pomegranate, squeezing the slightest bit, and let the pomegranate tendrils or seeds (whatever you refer to them as) fall through your fingers.
Step 6: Continue hitting the pomegranate with the spoon on all sides of the pomegranate half. When all the seeds have fallen out, do the same with the other half.
Can this Winter Fruit Salad be made ahead of time?
This recipe is not one I would make too far in advance.
If you plan to make it a day in advance, I would add the apples and bananas right before serving to keep them from browning or losing their texture.
The other fruits will be fine left alone, if prepared in advance.
You could also substitute the apples and bananas for a different fruit.
Did you know we have a Youtube Channel? We have hundreds of delicious recipes, your family will love.