This hearty chicken tortilla soup is wonderfully creamy and filled with all of the delicious shredded chicken, rice, and vegetables! It is truly the best soup recipe.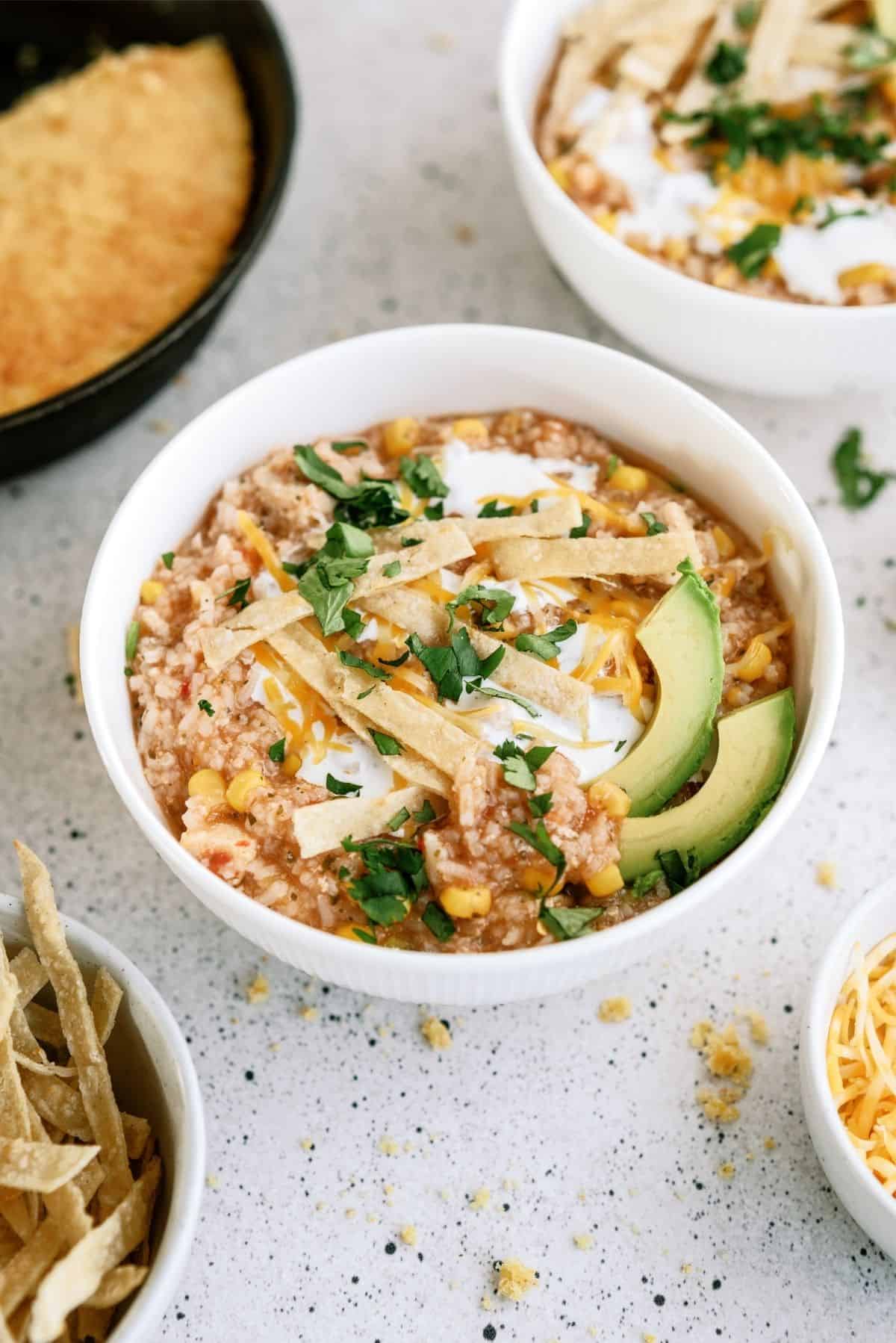 My family does not always get filled up with soup, but with this hearty chicken tortilla soup they always leave the table full!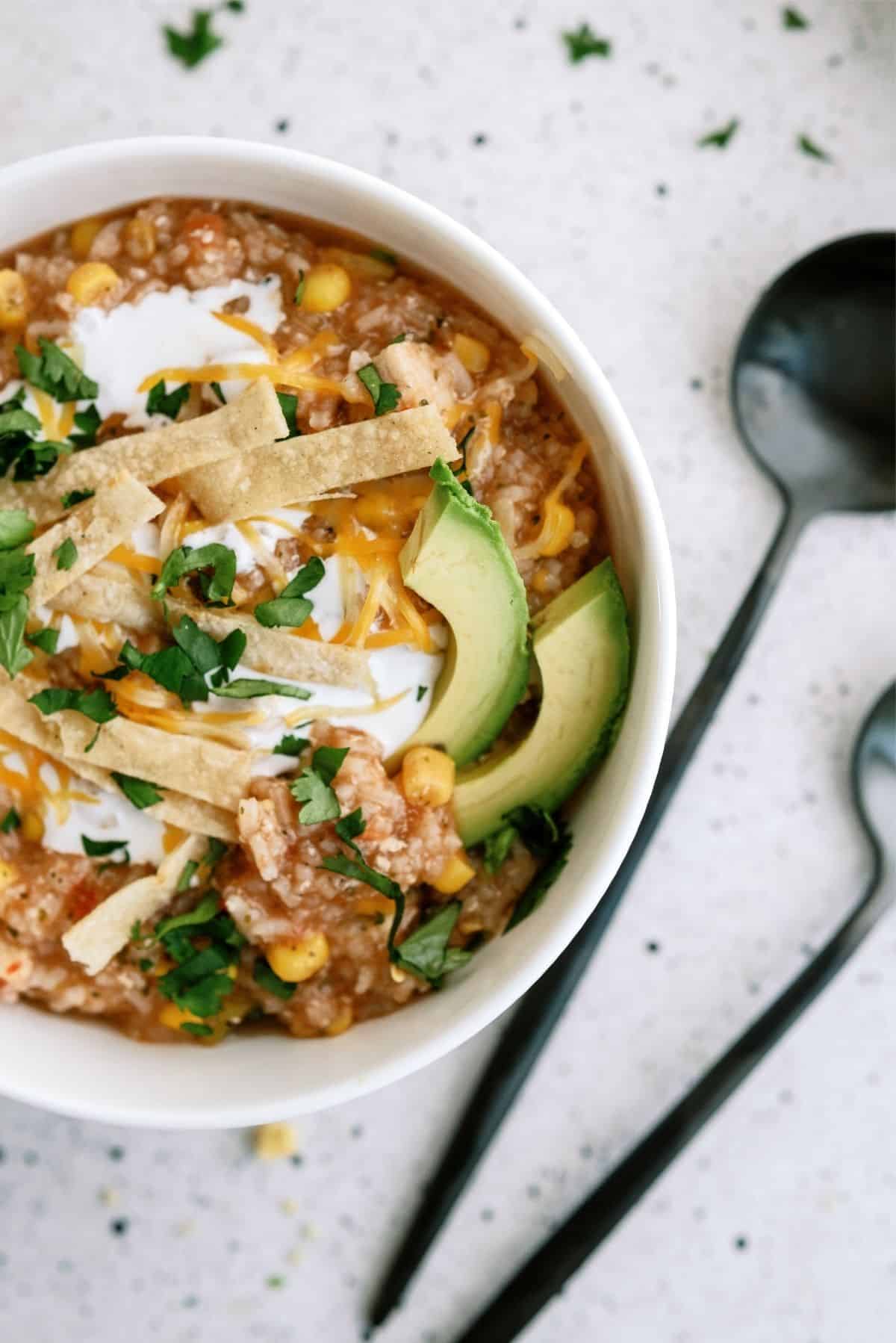 This is the perfect recipe to make if you need a new chicken breast recipe that is easy and delicious. It will quickly become a new favorite family dinner that your kids will ask for.
I've also thickened this up by adding a little cornstarch and turned the leftovers into an amazing dip for tortilla chips. Talk about delicious!!
This soup can be a full meal or you can serve it with some of our easy homemade French bread, 30 minute whole wheat dinner rolls, or even some tasty quick homemade breadsticks. You know, all the things perfect for dipping in your soup!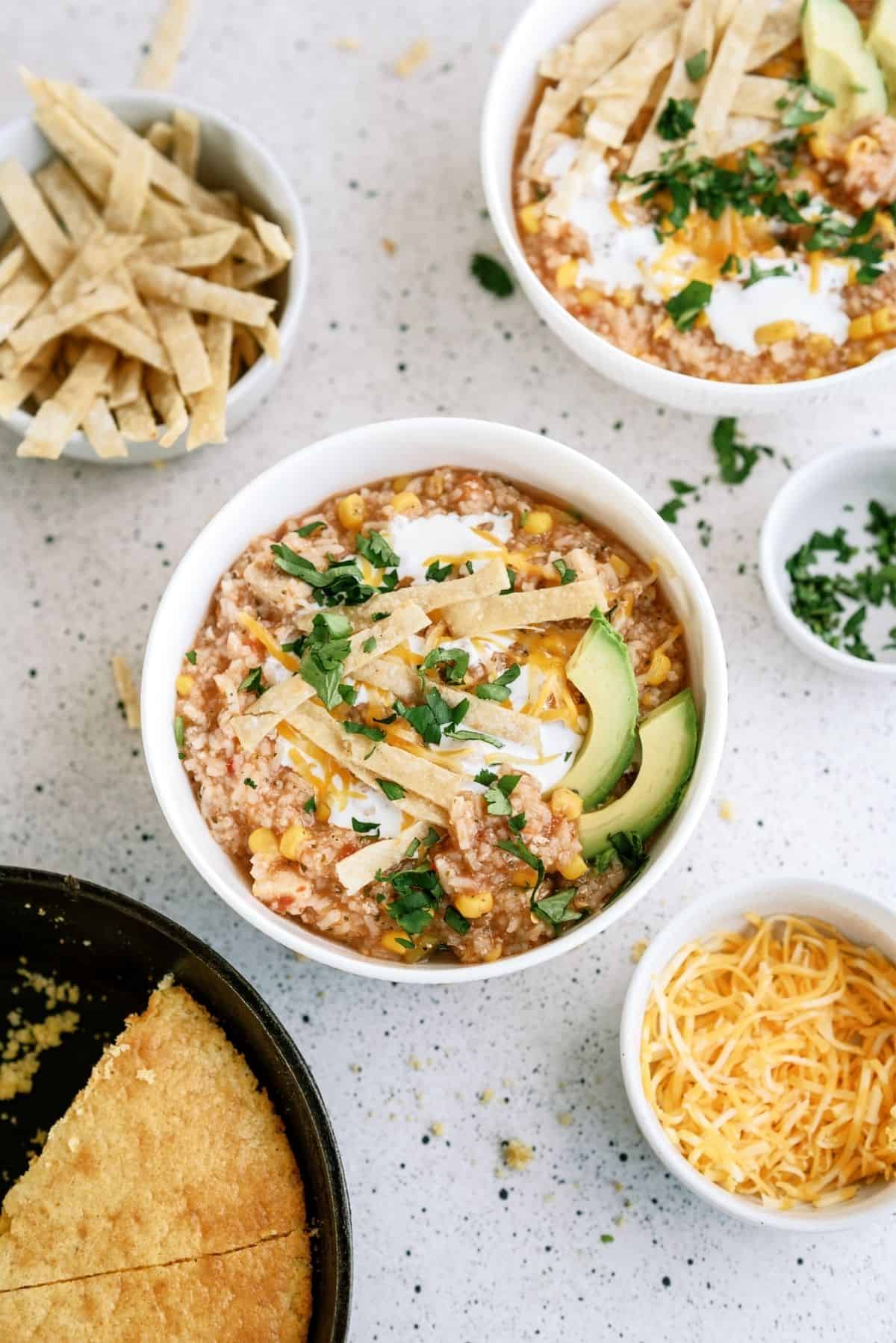 Ingredients You'll Need For Our Hearty Chicken Tortilla Soup Recipe:
Olive oil
Chicken breast cubed
Chicken broth
Cumin
Long grain white rice
Corn with red and green bell peppers
Green enchilada sauce
Salsa
Cilantro
Lime juice
Fiesta blend cheese
Tortillas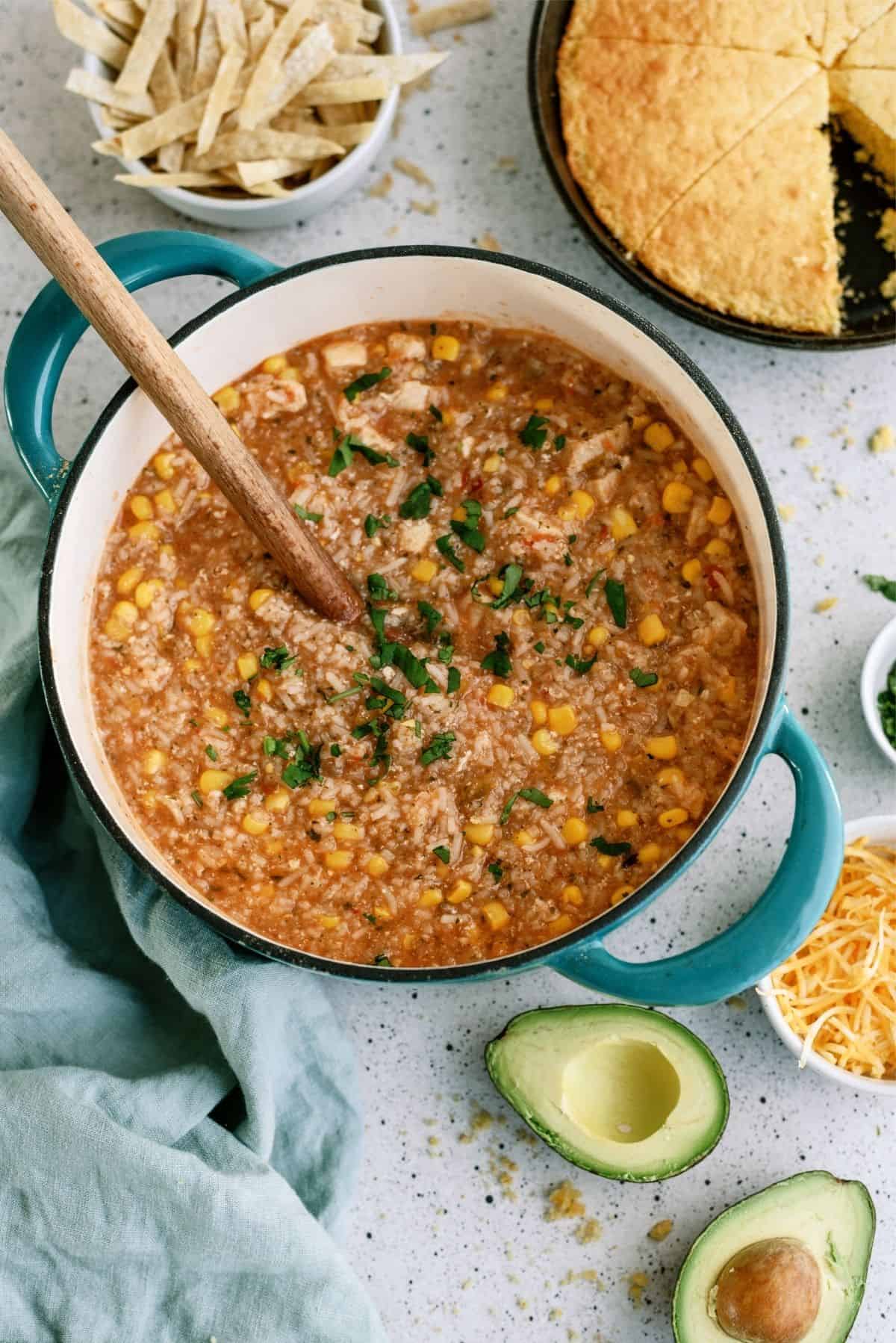 How To Make Our Hearty Chicken Tortilla Soup:
To start this delicious soup, begin by cooking the chicken cubes in a large pan with olive oil on medium heat until it's browned.
Then add in the cumin, chicken broth, and white rice and bring it to a boil.
Once it's boiling, place a lid on the pan and turn the heat down and let it simmer for 20 minutes.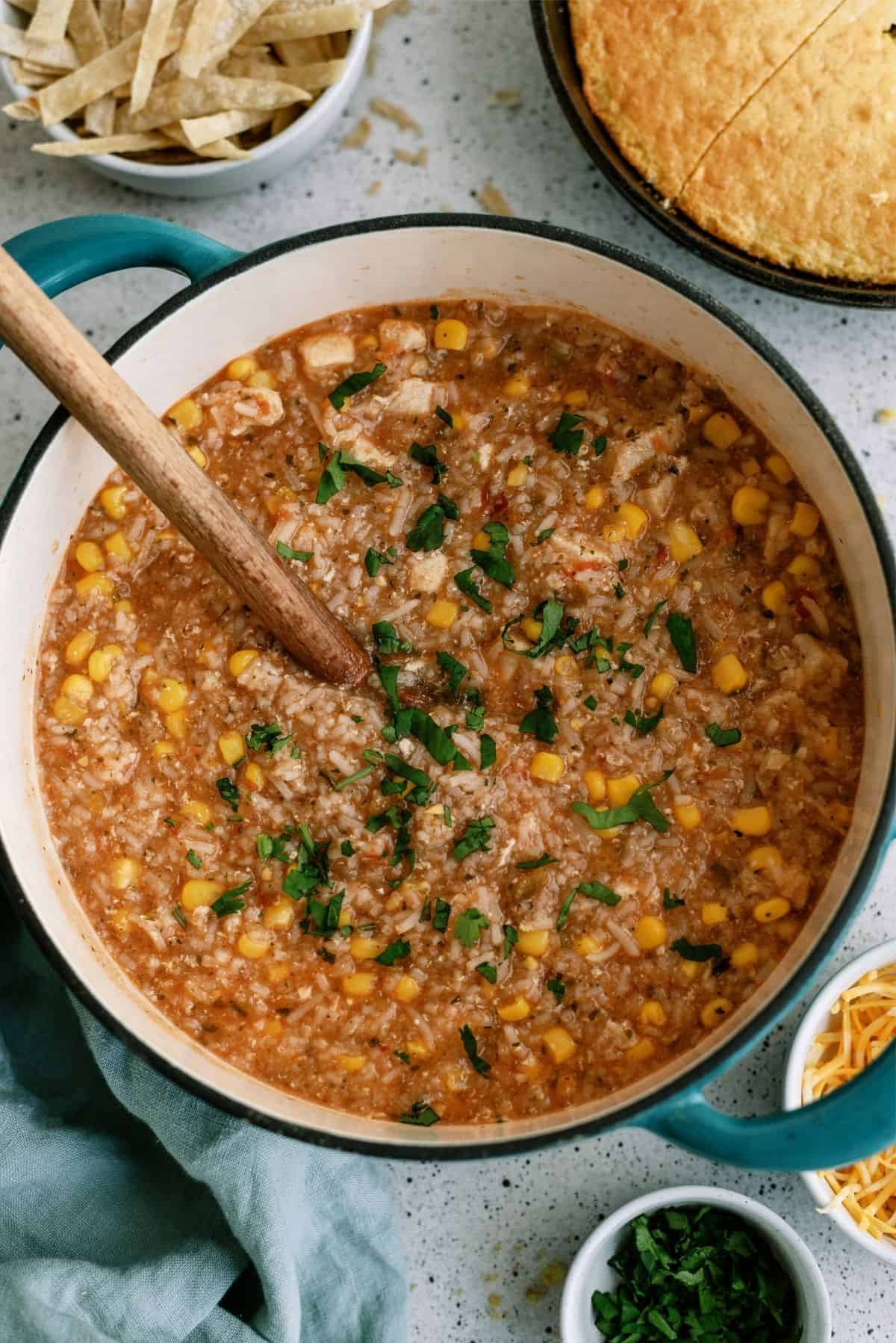 After 20 minutes, remove the lid and pour in the green enchilada sauce, salsa, corn mix, lime juice, and cilantro and mix it all together.
Just a few minutes before you are ready to serve, add the fiesta blend cheese to let it melt and then serve it up in a bowl with your favorite toppings.
We like to serve it with extra cheese, sour cream, avocados, and tortilla strips.
To make the tortilla strips, slice them into ½ to 1 inch pieces and then coat another pan with nonstick cooking and then lay the strips on top and cook them over medium heat.
Then coat the tops of the tortillas with more on stick cooking spray. Flip the strips after 2-3 minutes or as you see them begin to brown.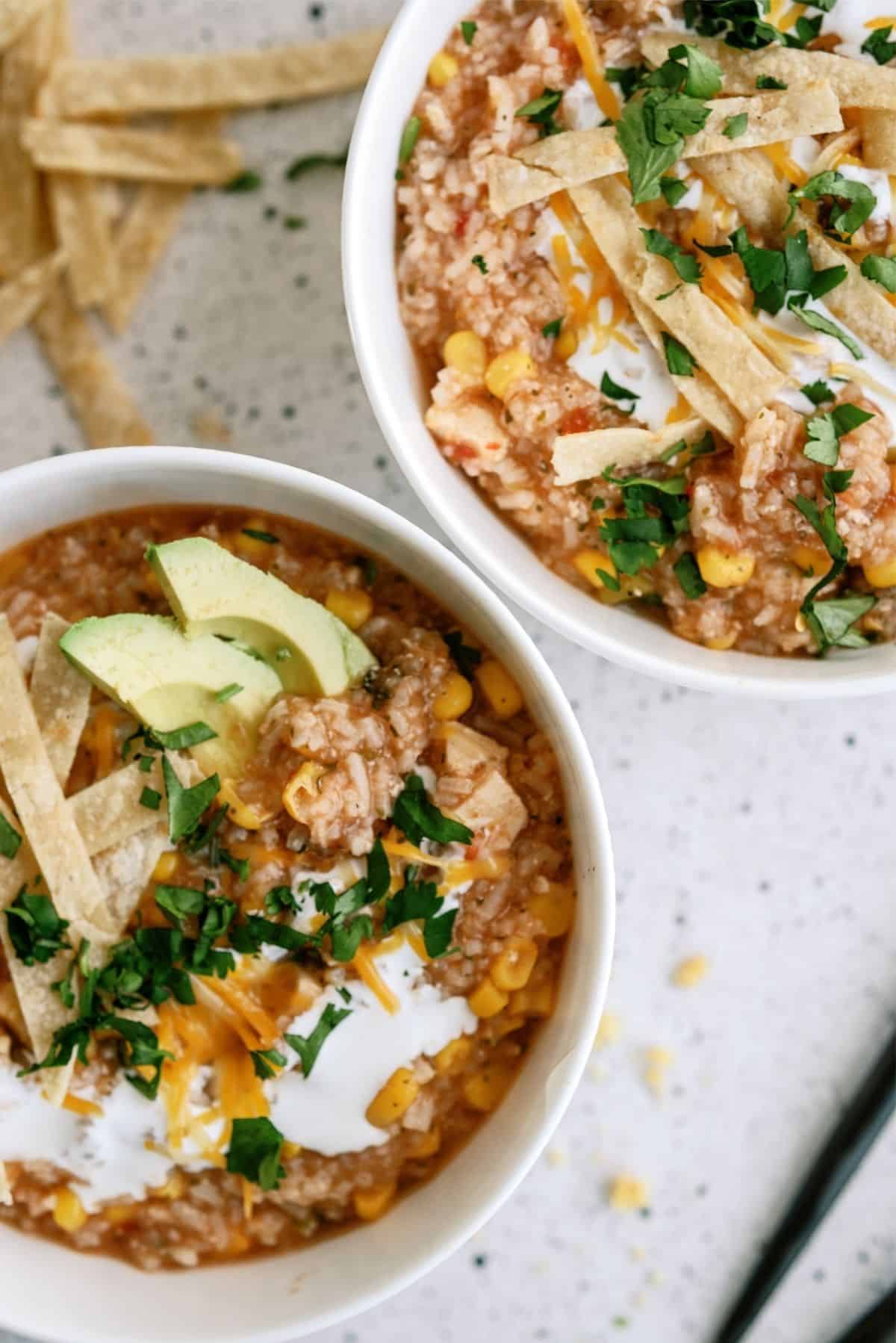 When they are done, serve them fresh with the soup!
To Make Delicious Chicken Dinner You Will Need:
Large pan (THIS is a great one!)
Stirring spoon
Nonstick cooking spray
Knife