I am all about easy and delicious meals, that everyone in my family will eat. Well this recipe is exactly that. These BBQ Chicken Burritos are a hit for all ages. Everyone in my family says these are the BEST. I would have to agree. I love them.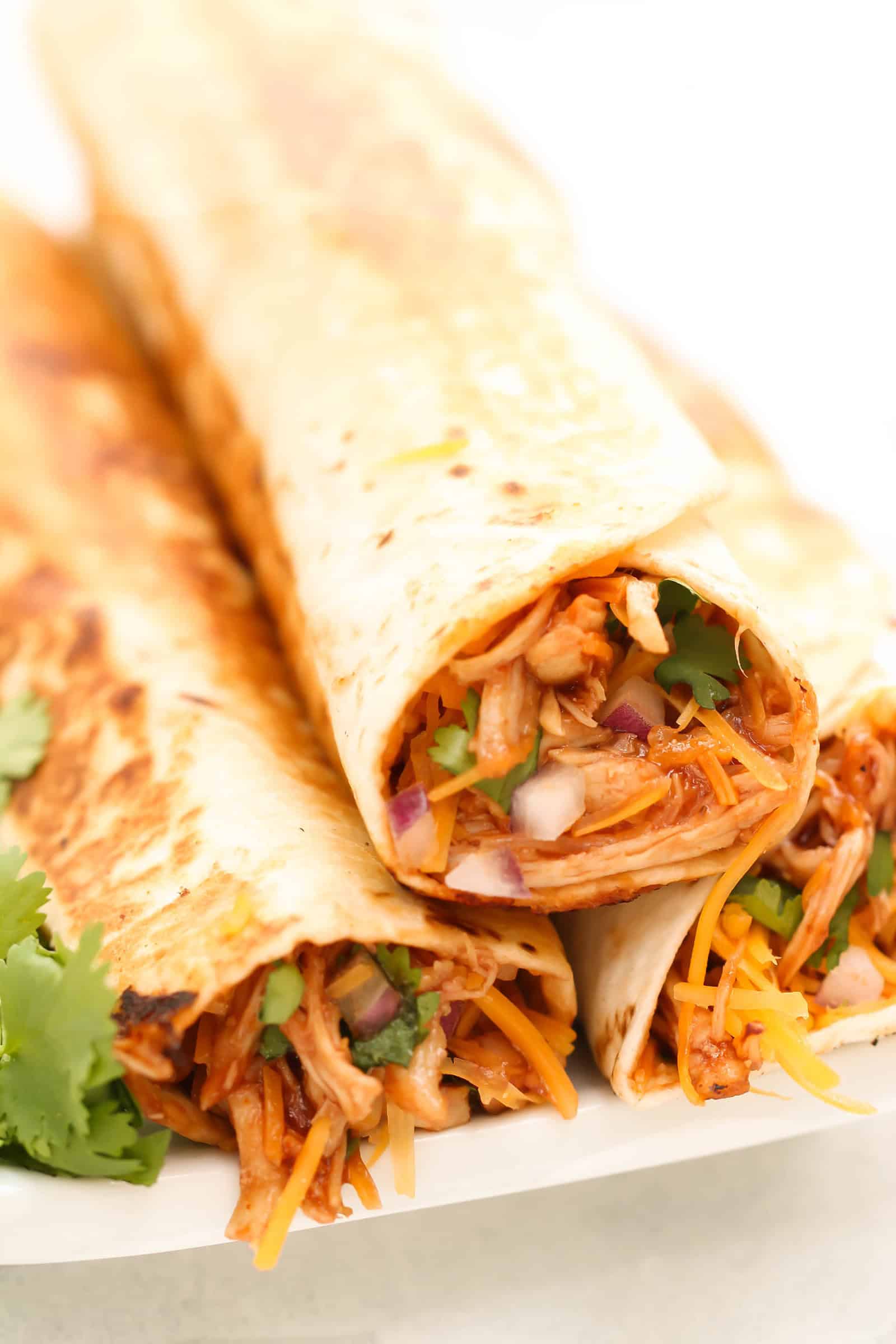 So if you are a bbq chicken lover like us, you have to try these BBQ Chicken Burritos.
This has all the deliciousness of a bbq chicken pizza wrapped up burrito style. The kids loved it and it was so easy for them to hold in their hands.
The kids will also love putting these together and making them. I have found that the more I involve my kids in making dinner, the more likely they are to eat it, because they helped prepared it.
My kids love helping me make these delicious BBQ Chicken Burritos, but they love eating them, even more.
Want even more recipe ideas that use already made chicken ?! Try these 45 Cold Chicken Recipes (Best Leftover Chicken Ideas)!
Shortcuts & how to make BBQ Chicken Burritos:
This is a fairly simple dish to make. It doesn't require much preparation and it comes together in minutes. Here is how you make them:
Step 1: In a medium sized bowl mix together the shredded chicken, 2 cups of cheese, onion, barbecue sauce, salt and pepper, and cilantro.
If you are looking for a shortcut, you could use canned chicken, pre-cooked and shredded chicken from your grocery store, or even buy a rotisserie chicken at the store and shred it at home.
I always use a chicken shortcut when it comes to cooked and shredded chicken.
Step 2: Place 1/2 cup of the chicken mixture down the center to each tortilla. Sprinkle a little extra cheese on the chicken and roll up each tortilla.
I also use the pre-made tortillas for this. I don't have a lot of extra time to cook up the tortilla dough that you can buy at the store. I just buy the packaged tortillas on the bread aisle.
If you are looking for a healthier alternative, you could also purchase whole wheat tortillas. Once they have all the goods in them, and you dip or top them, you won't be able to taste the wheat tortilla.
Step 3: Pour 1 Tablespoon of canola oil in a skillet and cook over medium heat, seam side down.
Brush each burrito lightly with oil and then turn over in the pan to brown the other side. Keep turning until golden on all sides.
If you are like me and not a huge fan of canola oil, I have also used olive oil for this step. It works just as well. It does create a little different of a taste, but nothing too noticeable, or gross.
I prefer the taste of the canola oil, but prefer the quality of the olive oil.
If you are having a hard time getting your burrito to stay together, it may be that you don't have enough cheese in your burrito. Feel free to add a little extra cheese to it.