Nothing says summer like a gooey and delicious S'more. Now you can enjoy the delicious taste of a S'more all year round. And the best part, no smell of campfire smoke. These S'mores Bars are so easy to make. Just a few ingredients and you have an amazing dessert everyone will love.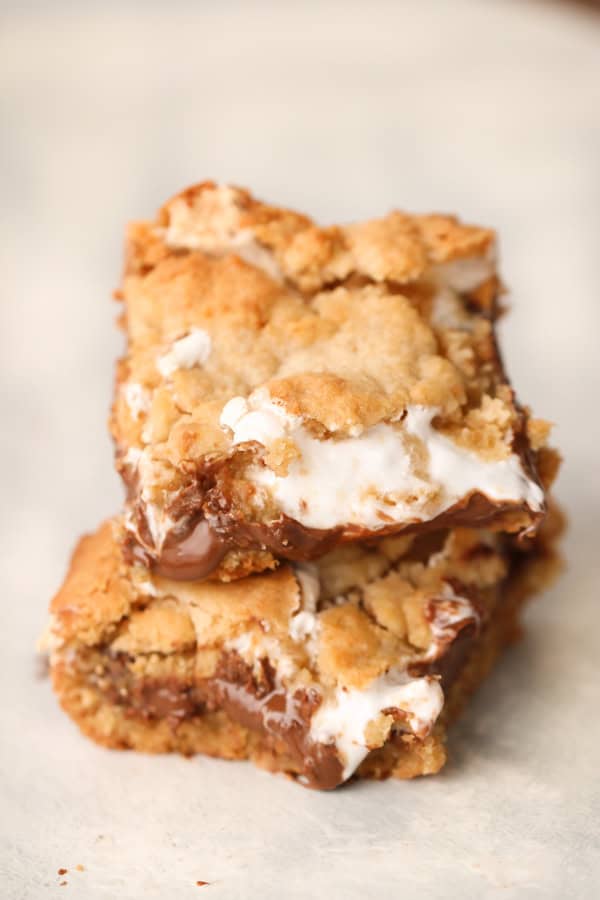 My dear, sweet husband is always wanting to go camping. Don't get me wrong, I love a little over-nighter in a tent but that is about as wild as it got for us growing up in a family of all girls.
He was quite sad when I broke the news to him that my very pregnant body, at the time, just couldn't handle sleeping on the ground and dealing with a toddler in a tent.
While he was at work, my little buddy and I decided to set up an indoor campsite to surprise dad when he got home. He may not have been as excited as he would have been if we had really camped, but these s'mores bars sure eased his pain.
I enjoyed one too many of these yummy treats, slept in my own bed and listened to my boys laugh out in the living room. That is my kind of camping!
We may never go back to S'mores over the campfire; unless of course we are camping. These S'mores bars are ready in no time, and maybe even yummier!
Related Recipe: Looking for camping meals to go with these bars? Try our Easy Tin Foil Hobo Dinners!
How long do these stay fresh?
If you are lucky enough to have any S'mores Bars left over, they will stay fresh for a few days in an airtight container.
We have made them ahead of time and stuck them in the freezer. So they freeze really well. Be sure you use a freezer bag or air tight freezer container to preserve freshness.