Great news, only 4 ingredients added to these pineapple chicken tenders for a delicious dinner. I couldn't believe how easy this recipe was to make and the kids were begging for more. It's a crowd pleaser.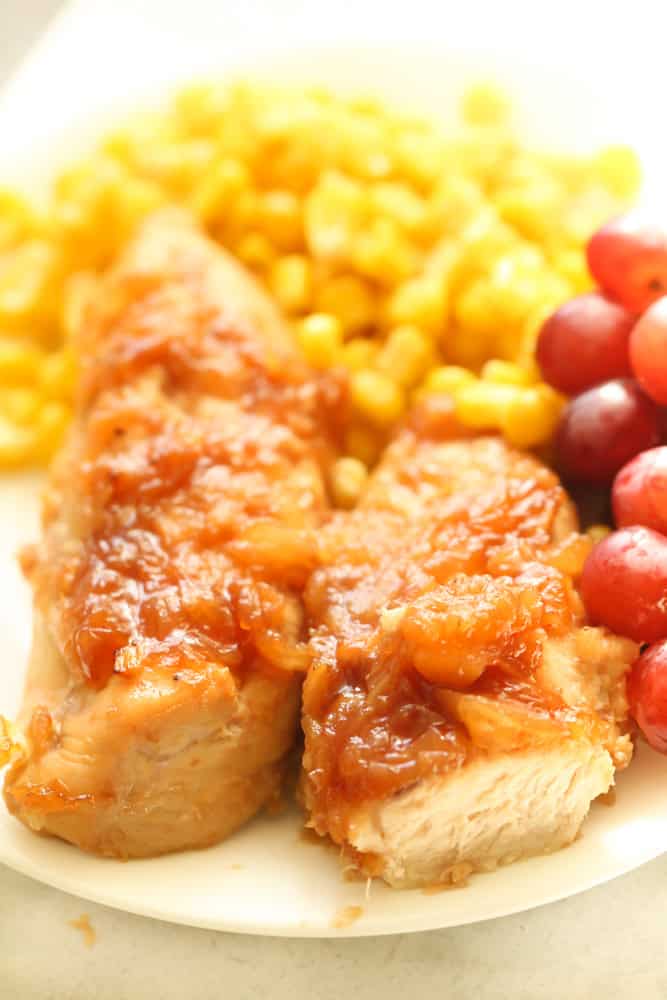 Pineapple Chicken Tenders are an easy recipe to make, and it smelled amazing while it was cooking in the oven.
Let me put you at ease, there is really no way you could mess up this recipe. It's a quick mix, pour, and bake recipe. We are all about simple, yet delicious. You can't go wrong with this chicken dish.
A no-fail recipe at it's finest.
Love chicken tenders? Try our Sticky Honey Baked Chicken Tenders or our Brown Sugar Bacon Chicken Tenders! They are so good.
Make ahead dinner
Pineapple Chicken Tenders can easily be made ahead of time. We love recipes we can prepare in the morning when we know we have a busy day.
This recipe calls for about 30 to 60 minutes of marinating time. If you choose to marinate for longer, it will enhance the flavor even more and the chicken will be moist.
After the Pineapple Chicken Tenders are prepared in the pan, cover them well and then place them in fridge until ready to bake.
Chicken Breasts vs Tenders
The chicken tender is part of the chicken breast. Chicken tenders are a strip of breast meat connected to the chicken breast. Chicken tenders are all white meat.
If you did not have any chicken tenders for this recipe, you could easily slice up some chicken breasts and use them. It would taste exactly the same.
Chicken strips are thinner than a chicken breast, so they cook a lot quicker. Chicken tenders are less expensive than chicken breasts. We love to use them in our recipe for Baked Honey Lime Chicken Tenders.
Chicken tenders work great in slow cooker recipes in place of chicken breasts. Many prefer using them in various recipes to save money, and because the flavor is the same.
Chicken tenders have a tendon that runs through them. You can cut it out if it bothers you, or you can leave it in. It will not hurt you.
Depending on where you buy your chicken, sometimes the tendon is already removed when they cut the chicken tender away from the chicken breast.