Olive Garden always has amazing food, so naturally we had to come up with our Olive Garden shrimp scampi copycat recipe without wine to have at home! It has all the shrimp, pasta, garlic, and butter a person could want.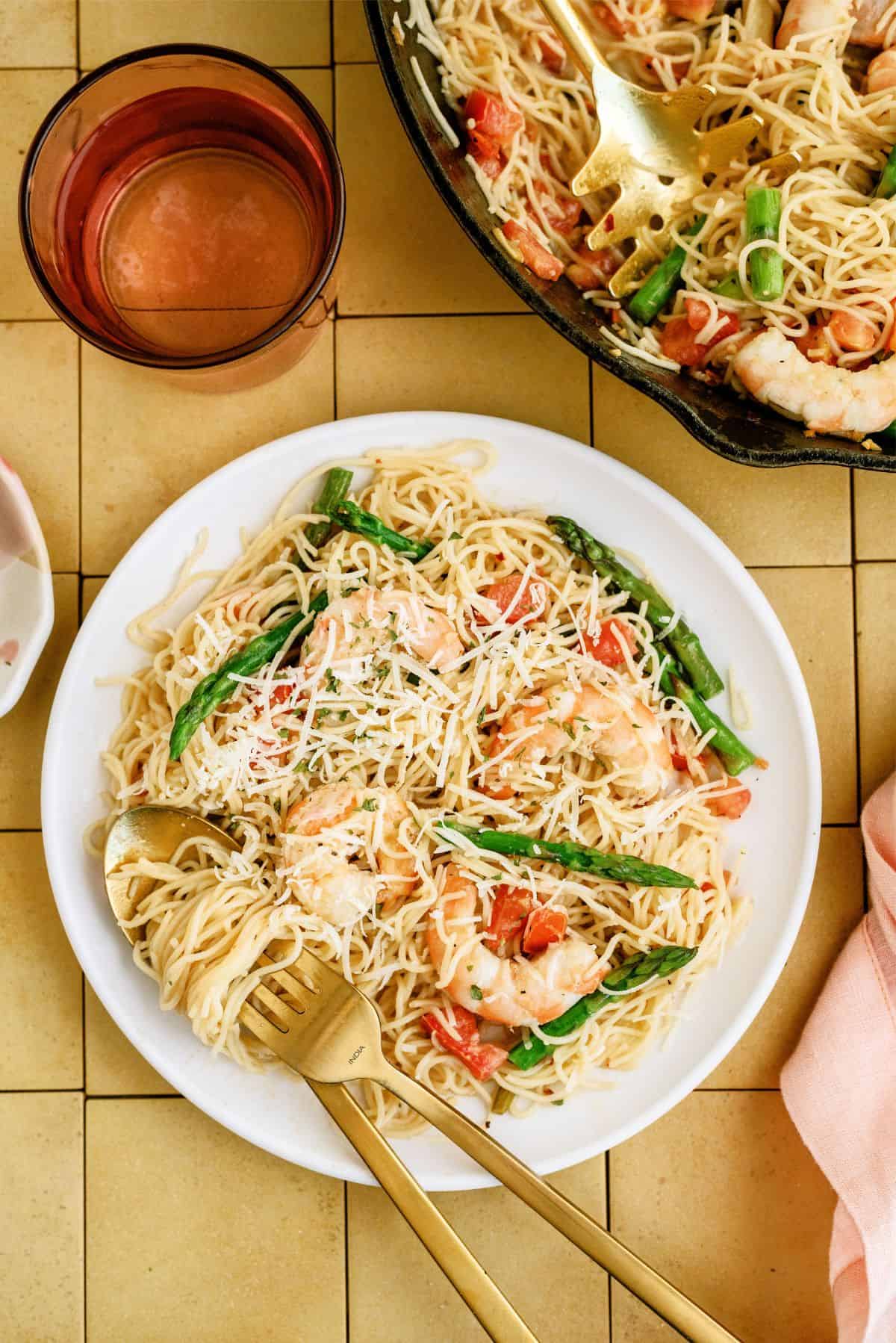 You really can't go wrong with pasta, but our Olive Garden shrimp scampi copycat recipe without wine is divine! You might be able to make this copycat Olive Garden recipe without the wine, but it sure does pair well with a nice glass of red wine.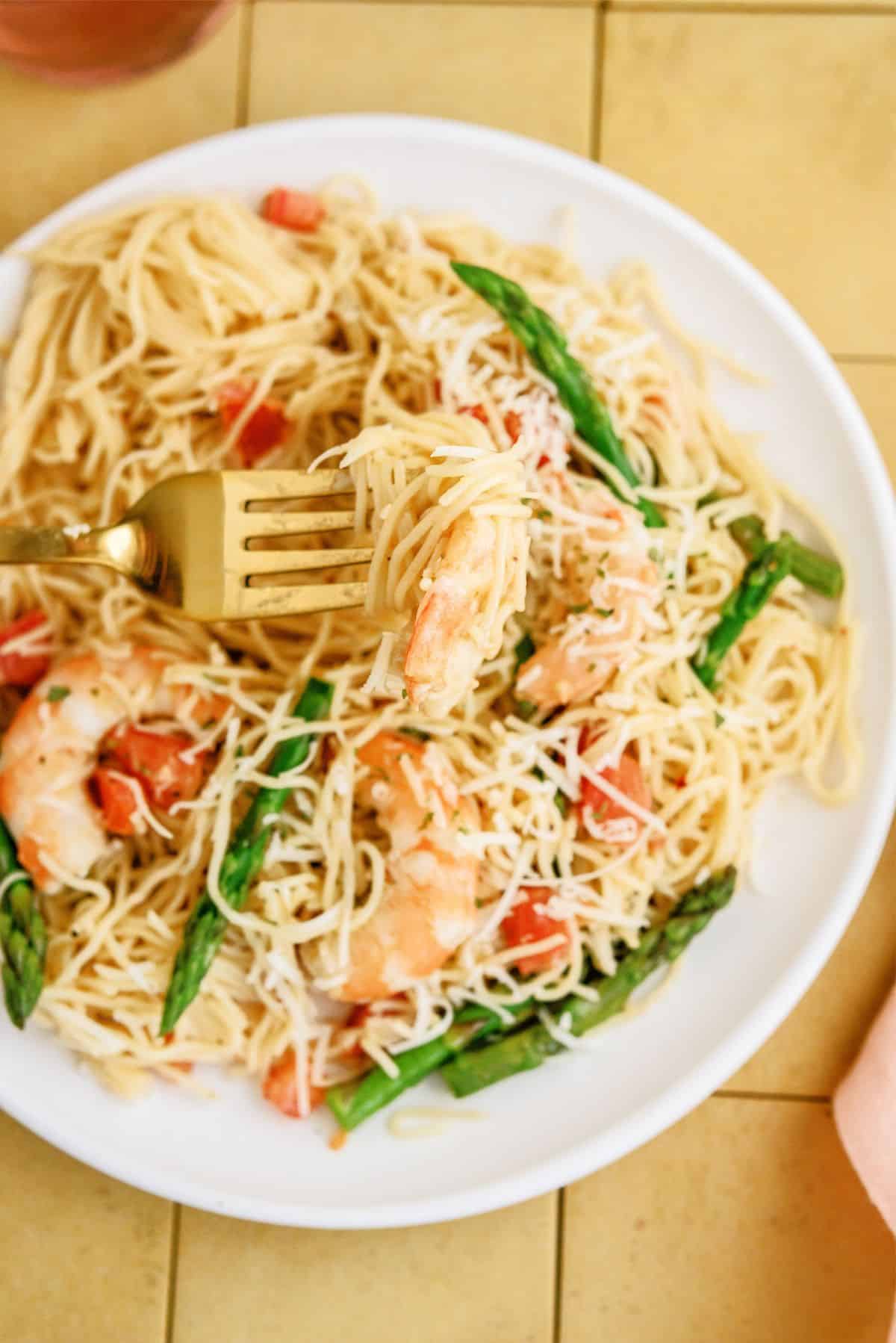 This is a great recipe for a family of 2 or 4, but can be doubled for leftovers or if you have a larger family. However, doubling might be a need since it's so good, even if it is just for you and your spouse. No judgment here! 😉
What is nice about the Olive Garden shrimp scampi ingredients is that most likely you will have everything you need at home, besides maybe some fresh jumbo shrimp. This Olive Garden shrimp recipe also has delicious fresh asparagus in it too!
However if you are not a fan of asparagus you can always leave it out or try out other amazing shrimp scampi recipe that doesn't include asparagus. And then serve either with our quick homemade breadsticks or sheet pan garlic breadsticks and you will have yourself a terrific dinner.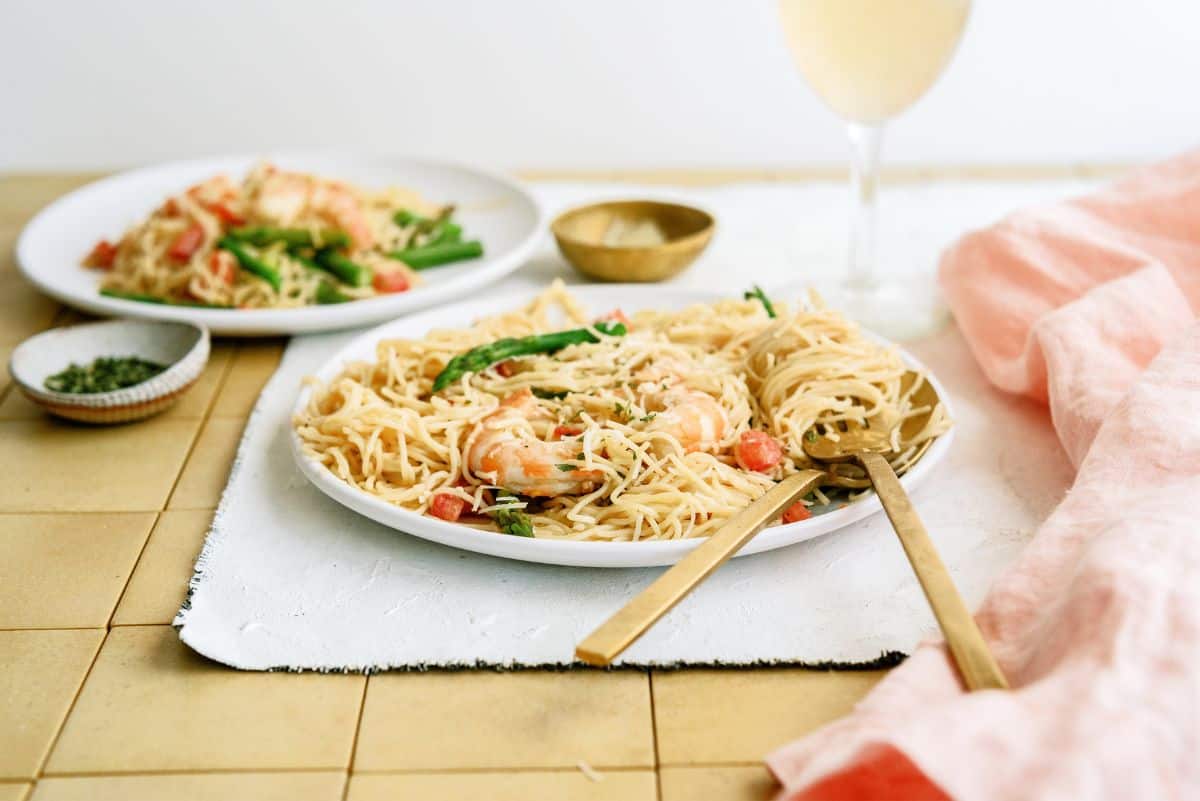 Ingredients You Need to For This Olive Garden Shrimp Scampi Copycat Recipe without Wine:
Thin spaghetti or angel hair pasta
Uncooked jumbo shrimp
Butter
Minced garlic
Red pepper flakes
Chicken broth
White vinegar
Lemon
Heavy cream
Fresh asparagus
Roma tomatoes
Salt
Pepper
Fresh grated Parmesan cheese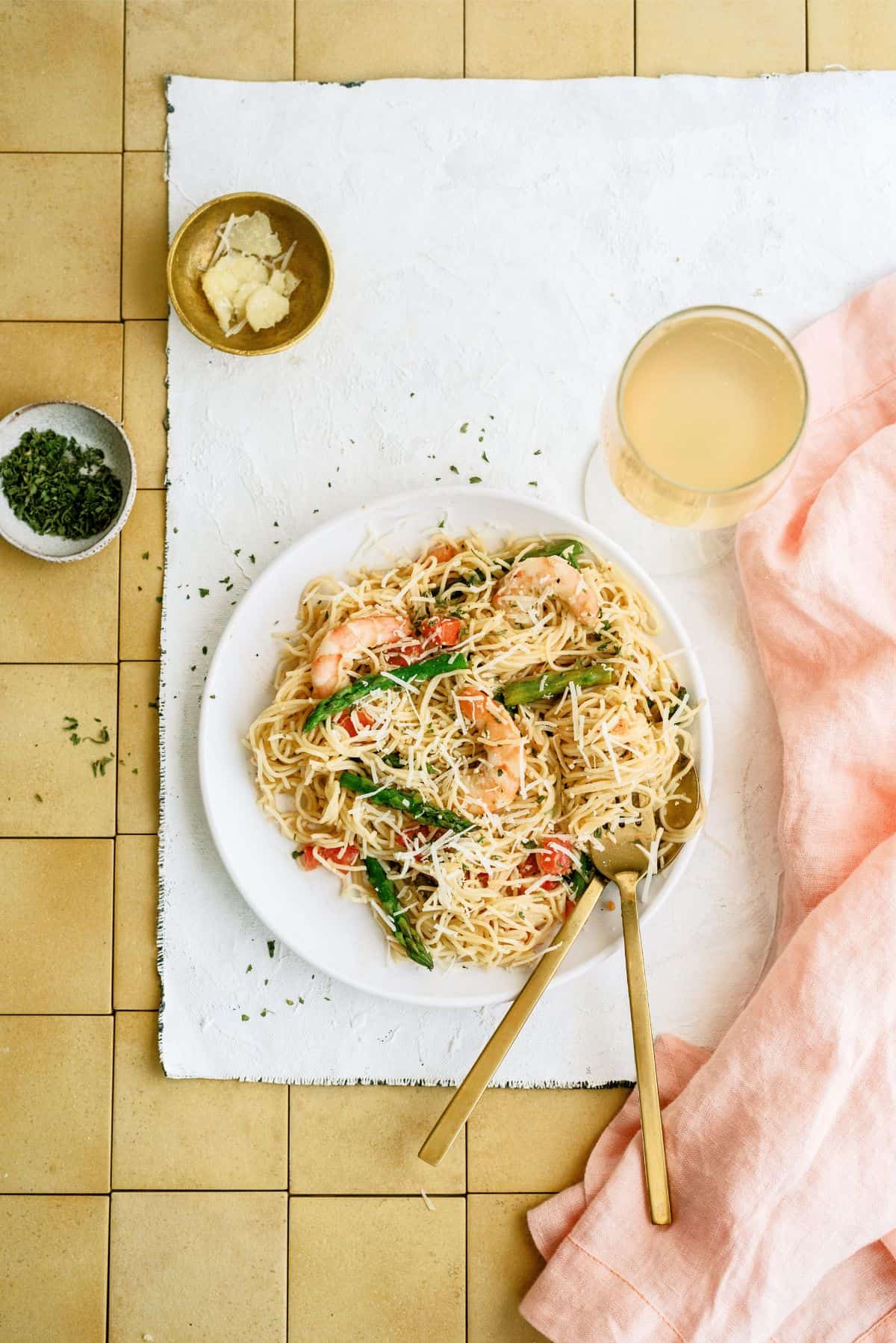 How To Make This Olive Garden Shrimp Scampi Copycat Recipe without Wine:
To begin, start by bringing a large pot of salted water to boil over medium-high heat and place the pasta in once the water begins to boil and cook it for 6-8 minutes or until the pasta is al dente.
Then in a medium sized skillet, melt 4 tablespoons of butter over medium heat.
On a plate, lightly season the jumbo shrimp with salt and pepper.
When the butter is melted in the pan, place the shrimp in and cook them and stir them occasionally until they turn pink, which is generally about 2 minutes per side.
NOTE: Be careful not to OVER cook the shrimp. You want it to have barely turned pink on all sides, but that will happen FAST!
After the shrimp is done, remove it from the pan, place it on a plate and cover it with foil.
When the pasta is done cooking, before you drain all the water, be sure to reserve ½ cup of the water and then drain the rest, setting the pasta off to the side.
Meanwhile, use the skillet that you cooked the shrimp in to make the sauce.
Start by adding 2 tablespoons of olive oil, minced garlic, and red pepper flakes to the pan and let the garlic cook for 1 minute.
After a minute, add in the chicken broth and white vinegar, stirring it all together.
Now, bring all of that to a boil and then lower the heat and let it simmer for 5-8 minutes until the chicken broth has reduced by half.
Then add in the lemon juice and cut asparagus and let it simmer all together for another 1-2 minutes, and then season it with salt and pepper to taste.
Next, add the remaining 4 tablespoons of butter and 2 tablespoons of heavy cream to the chicken broth sauce then stir it all together.
Once the sauce fully combined, add the shrimp back to the skillet along with the diced tomatoes and the cooked pasta.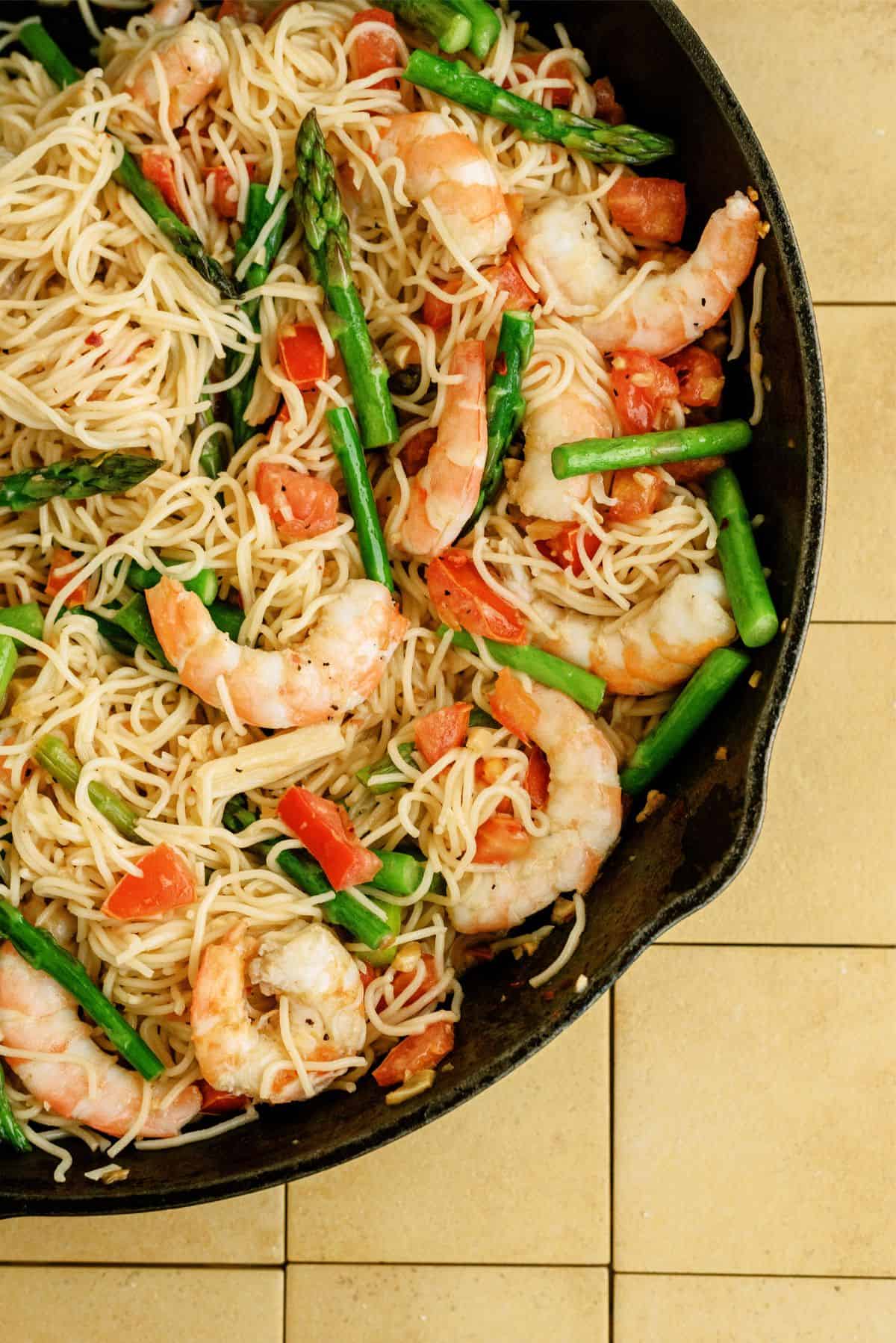 Toss everything together to make sure the shrimp and pasta get coated in the delicious sauce, and then add more salt and pepper to your taste.
Now grab your largest plate 😉 and fill it up with this delicious shrimp scampi and top it off with some freshly grated parmesan cheese and enjoy!
To Make This Olive Garden Shrimp Scampi Recipe Without Wine You Will Need:
Large pot (one like THIS will do)
Strainer
Medium skillet
Spatula
Plate
Foil