Our copycat version of Olive Garden's Zuppa Toscana Soup is so simple to throw together, but tastes incredible. Now you can make this restaurant favorite at home!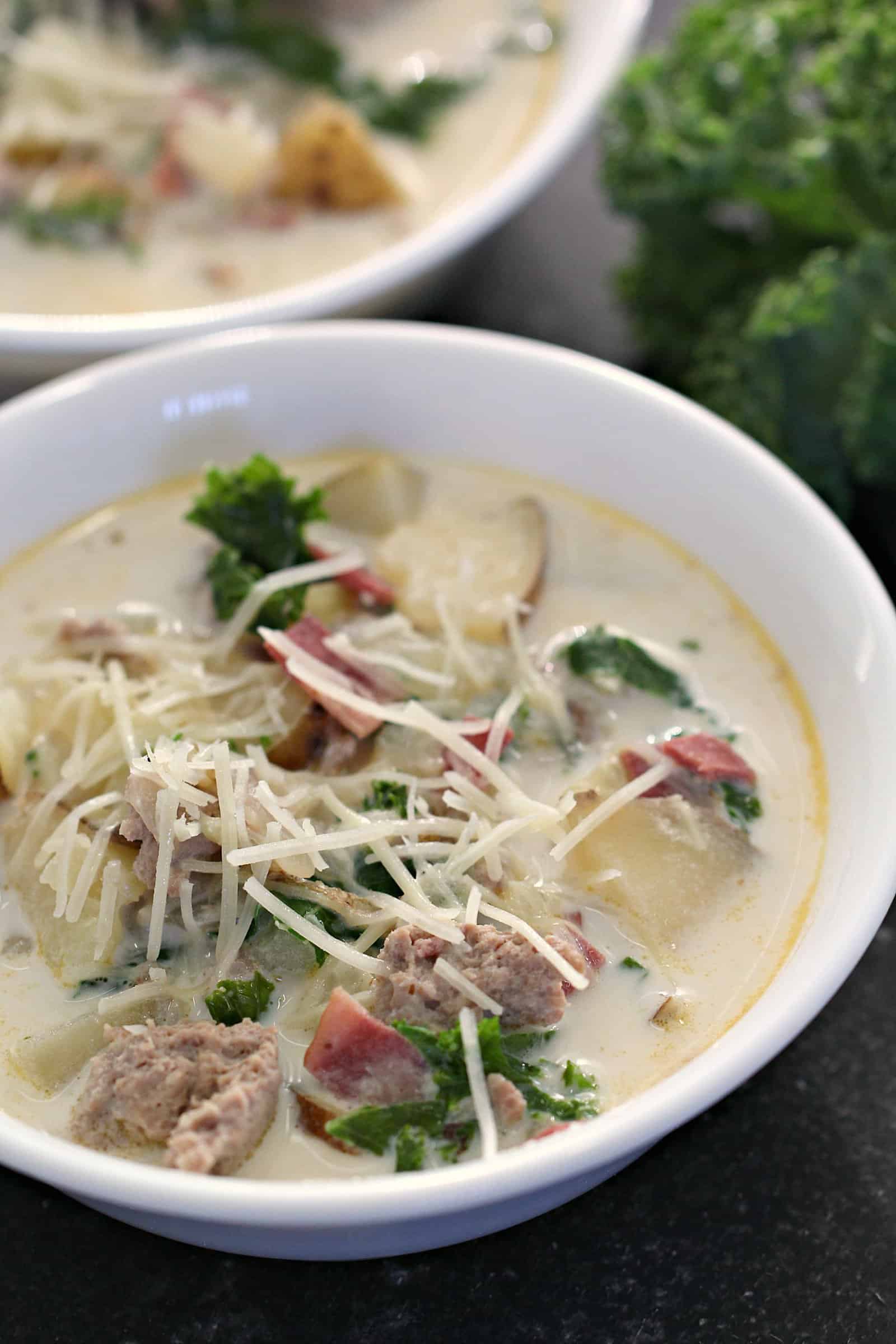 This Zuppa Toscana Soup is one of my favorites from Olive Garden and now you can make it at home.
This recipe is perfect to get you warm on a cold chilly day. It is so simple to make and is full of flavor.
We make it with our Cheesy Garlic Breadsticks, and dip it in the hot broth.
To add more heat to this delicious soup, use a hot sausage or add more crushed red pepper flakes.
Related Recipe: Try our Olive Garden Shrimp Scampi Copycat Recipe (without Wine)
Ingredients in Zuppa Toscana Soup:
Italian sausage
thick bacon
sweet onion
low-sodium chicken broth
water
Russet potatoes
garlic cloves
crushed red pepper flakes
Salt and pepper
half and half
kale
shredded Parmesan cheese
How to make Zuppa Toscana Soup:
Heat saucepan over medium-high heat. Crumble sausage into 1-inch pieces and add to saucepan.
Cook sausage, stirring occasionally until cooked through.
Drain sausage onto a plate or baking dish lined with paper towels, set sausage aside.
Add diced bacon and chopped onion to saucepan and saute mixture until bacon is cooked through and onions are translucent, about 3 – 5 minutes longer.
Add chicken broth, water, sliced potatoes, garlic, and salt and pepper.
Bring soup just to a boil then reduce heat to medium-low and stir in cooked sausage.
Cover saucepan and simmer, stirring occasionally, until potatoes are nearly tender, about 10 – 15 minutes.
Add in kale then simmer until potatoes are soft and kale is tender, about 5 – 10 minutes longer.
Stir in half and half and warm through.
Serve warm topped with Parmesan cheese.
Does my meat have to be pre-cooked?
We highly recommend cooking your meat separately. This will keep out extra grease, and allow you to rinse and drain the excess.