Have you ever had Instant Pot dump and go meatball soup? Well, if you haven't you are missing out! It is so simple to make and absolutely delicious.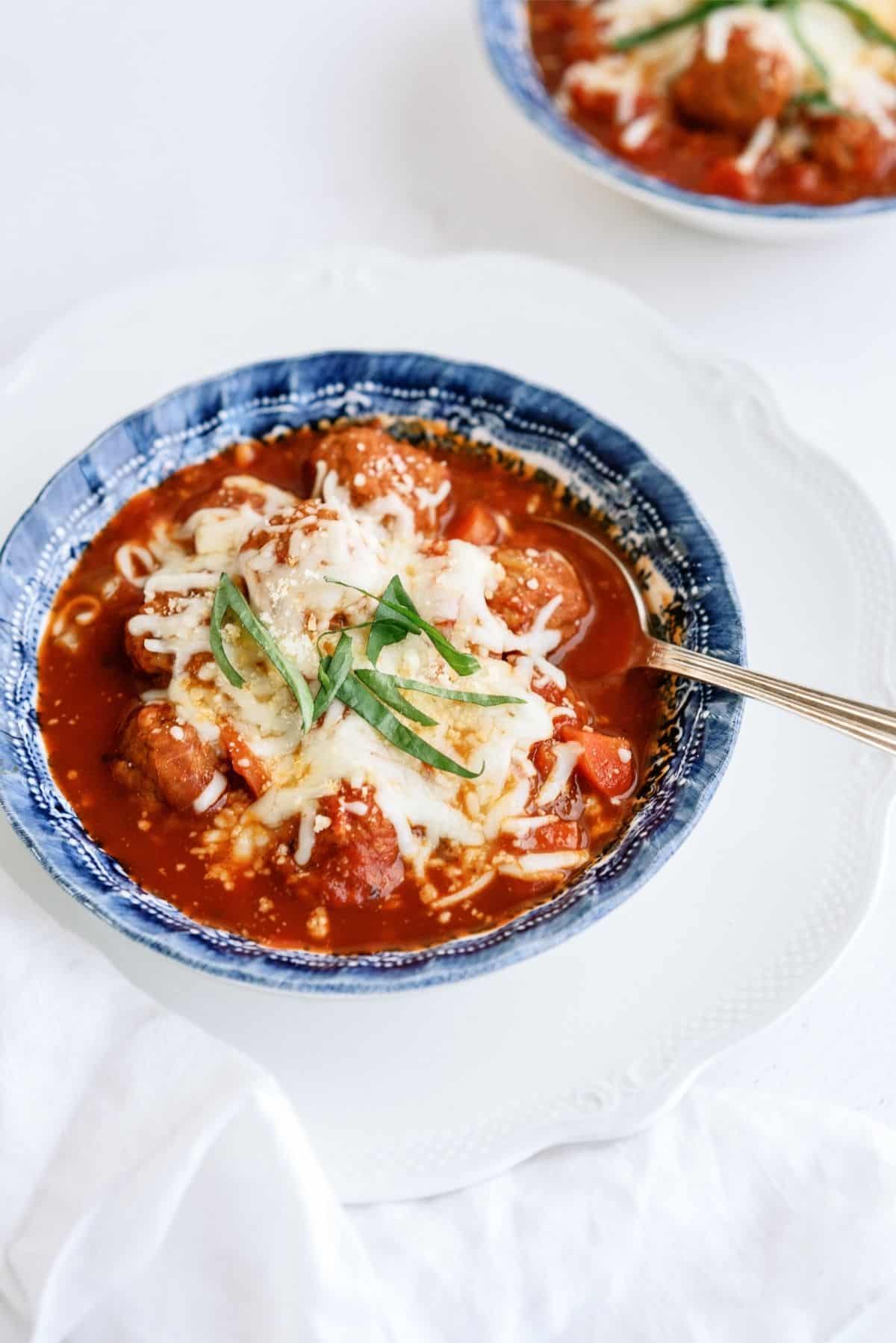 I fell in love with this Instant Pot dump and go meatball soup after one taste. It is by far one of the best budget-friendly dinner recipes you can make that is also a freezer meal recipe.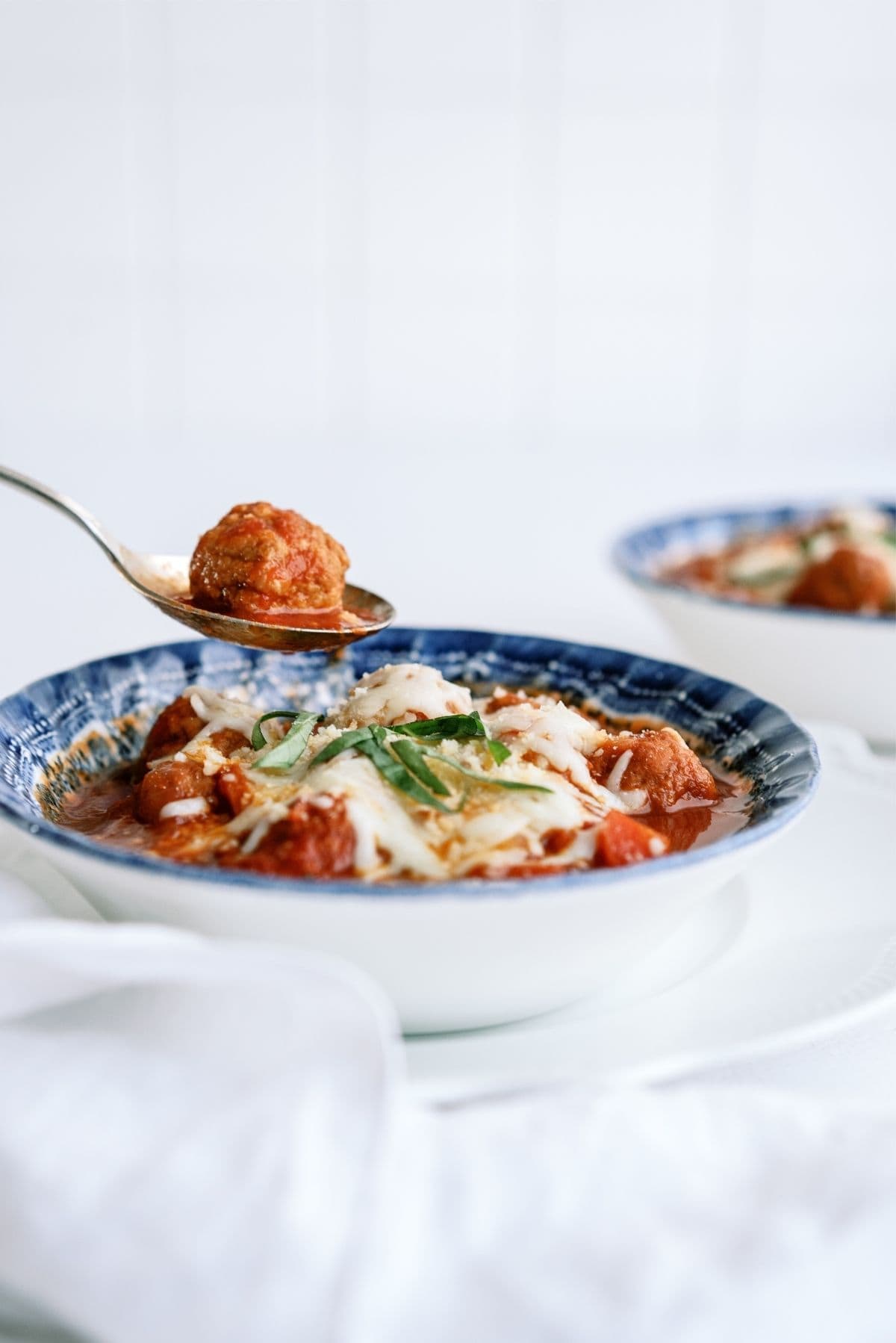 So even if you aren't needing to make this recipe quite yet, make sure you save it to make it either during your mad dash for meal prep, or when you're at the end of the month and nothing sounds good. Believe me, we've all had those days and it's not fun.
But, with this easy dump and go recipe, even when you aren't feeling like making dinner, you can throw everything into your Instant Pot with little to no preparation and enjoy a fantastic meal.
I also like to serve it with our Instant Pot green beans (yes I have more than one Instant Pot), and some easy homemade rolls!
Do you need more recipes like this meatball soup recipe? Then make sure you take a look at our list of 100 freezer meals to get even more great ideas for dinners.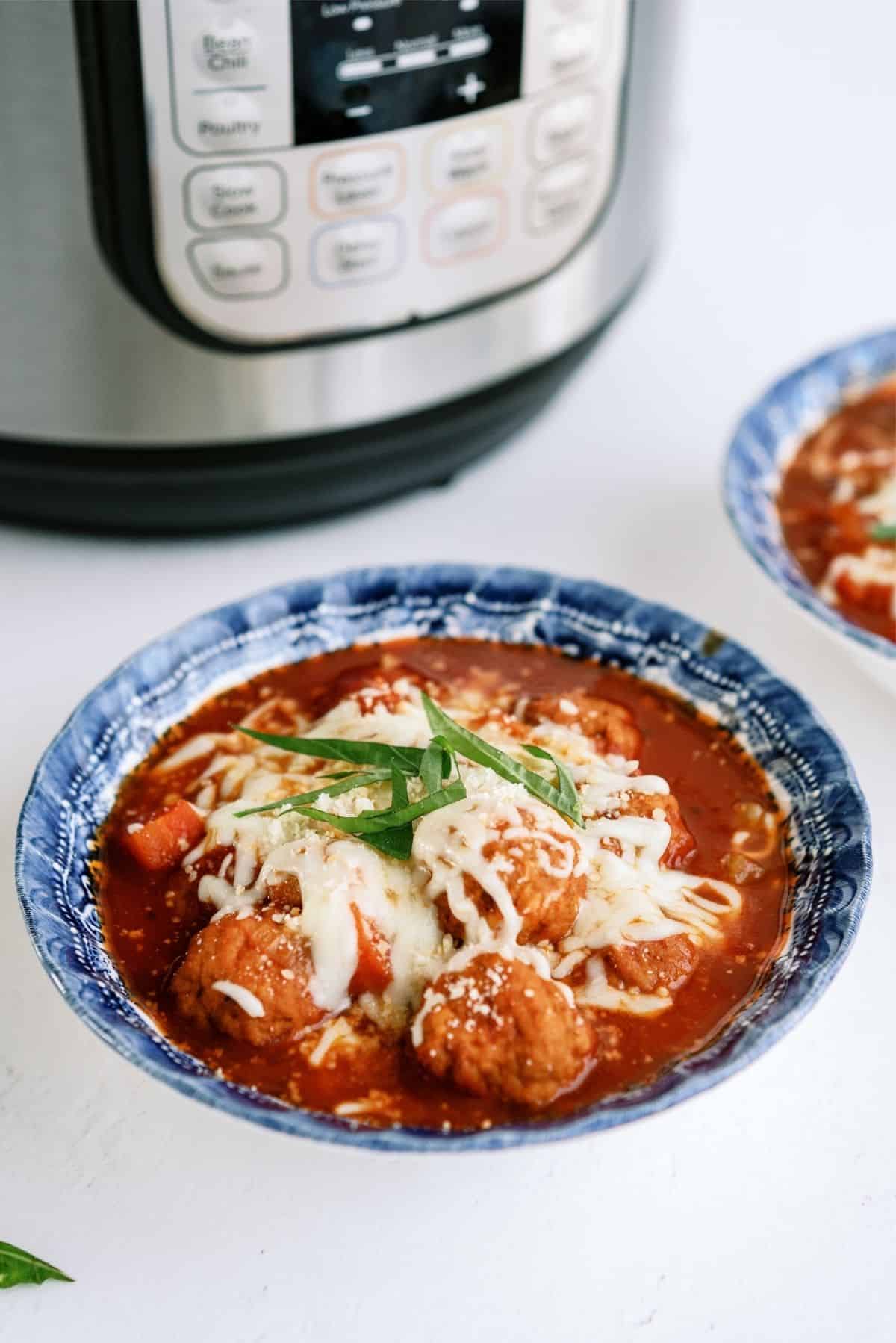 Ingredients You'll Need For Our Instant Pot Dump and Go Meatball Soup Recipe:
Extra virgin olive oil
Butter
Onion
Garlic cloves
Beef broth
Tomato paste
Carrots
Celery
Ranch dressing mix
Crushed tomatoes
Frozen meatballs
Shredded mozzarella cheese
Green onion
How To Make Our Instant Pot Dump and Go Meatball Soup Recipe: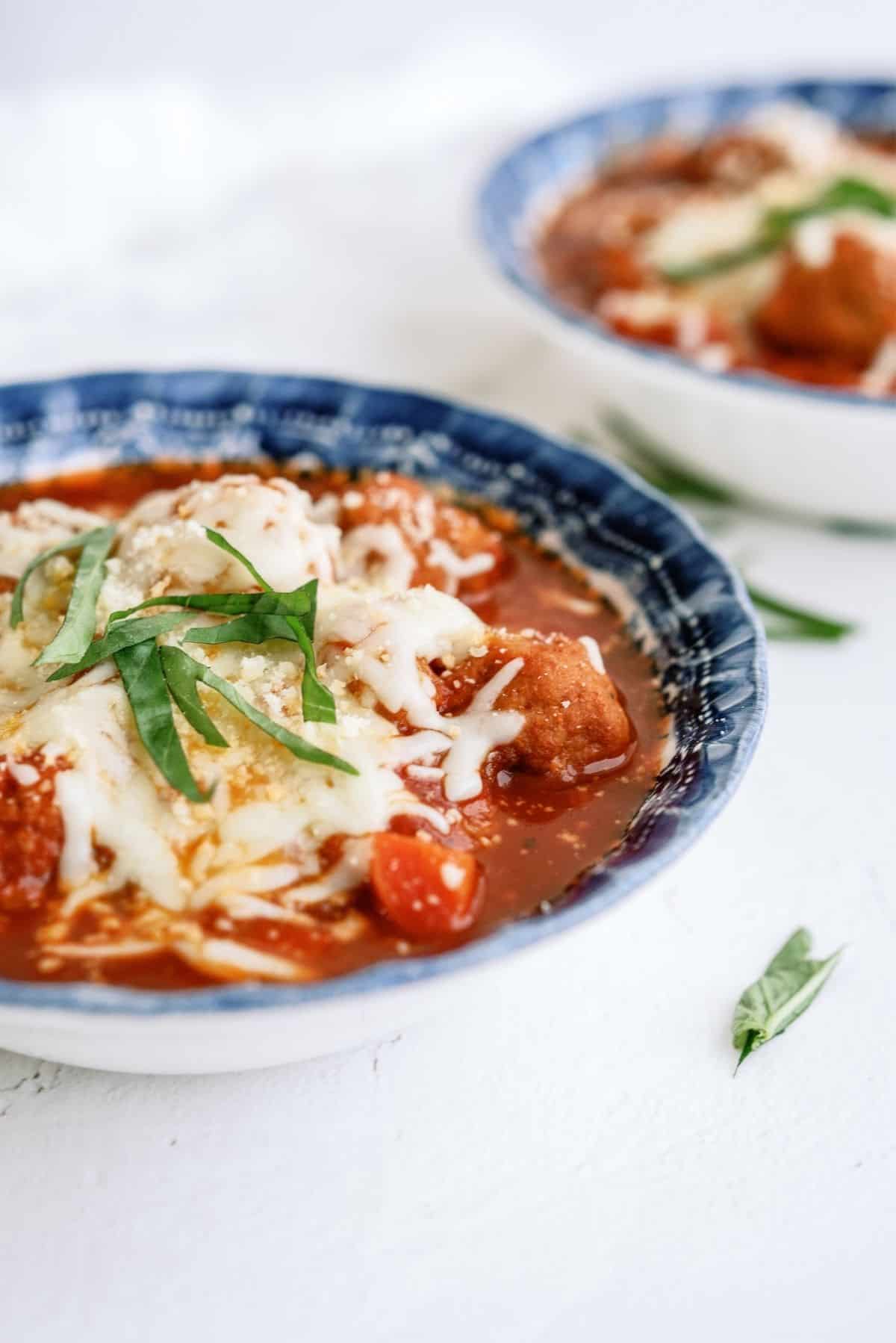 Let's begin making this super simple, yet delicious dinner recipe by getting out your Instant Pot.
Then press the SAUTE button and let it heat up.
Once the screen says HOT add the oil and the butter to the inner pot.
Now, add in the diced onions and allow them to cook for 2-3 minutes until they become translucent.
When the onions are ready, add in the minced garlic and saute it together for another 30 seconds.
Once that is done, pour in the beef broth, tomato paste, diced carrots, diced celery, and the ranch dressing mix.
After all of that has been mixed together, add in the frozen meatballs and top it with the crushed tomatoes, but do not stir it together.
Now place the lid on top of the Instant Pot, lock it, and move the valve to the sealing position.
Then press the PRESSURE COOK or MANUAL button and set the timer for 7 minutes.
After the timer goes off, let it sit or do a slow release for 10-15 minutes and then perform a quick release of the pressure by switching the valve to the VENTING position.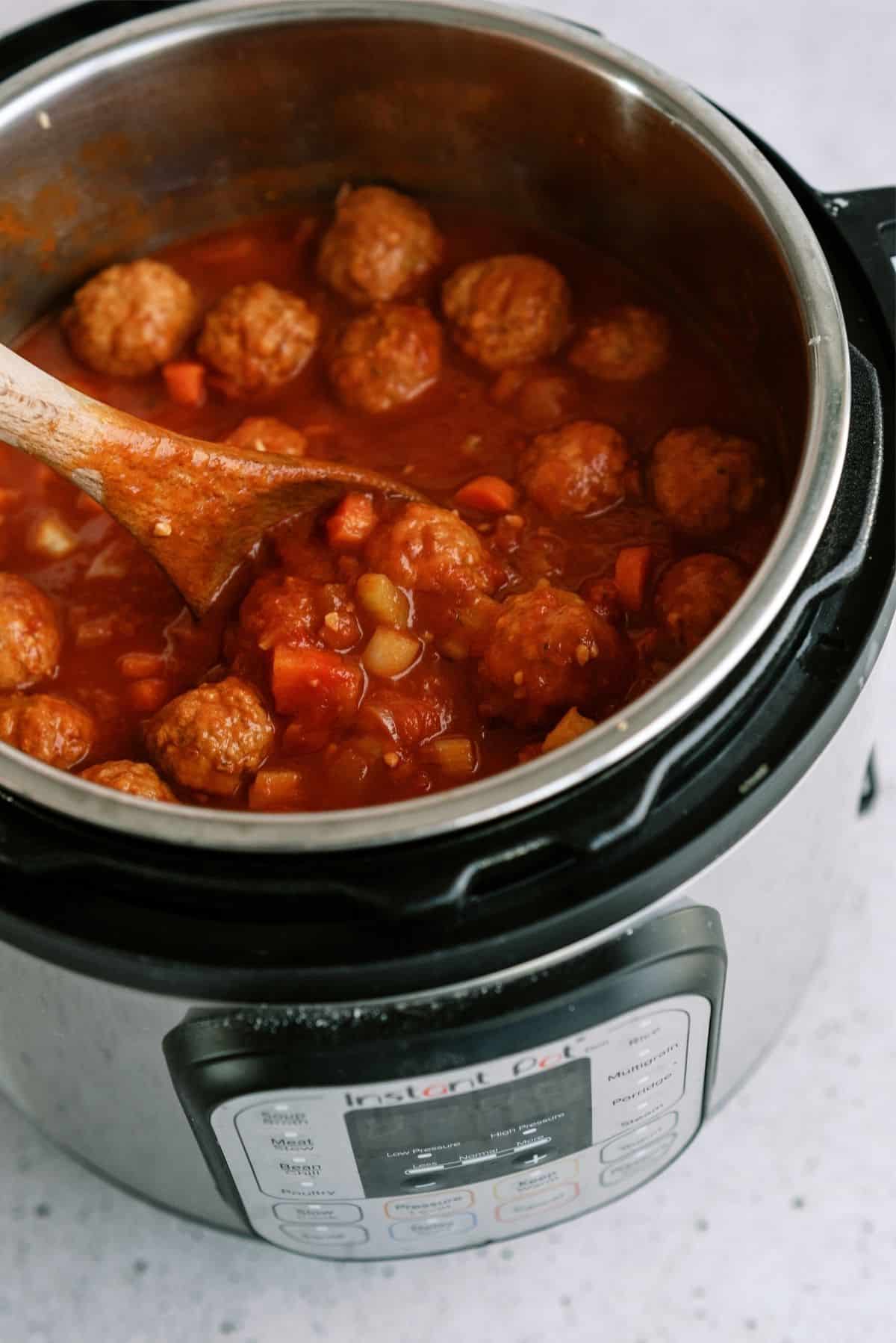 Once all of the pressure is released from the Instant Pot, remove the lid and serve it in your favorite soup bowls and enjoy!
To Make This Easy Dump and Go Recipe You Will Need:
Instant Pot (THIS is such a great one!)
Wooden spatula