When I think about Autumn, soup recipes come to mind instantly just like this Instant Pot chicken tortellini and vegetable soup. This Instant Pot soup is the perfect combination of pasta and vegetables.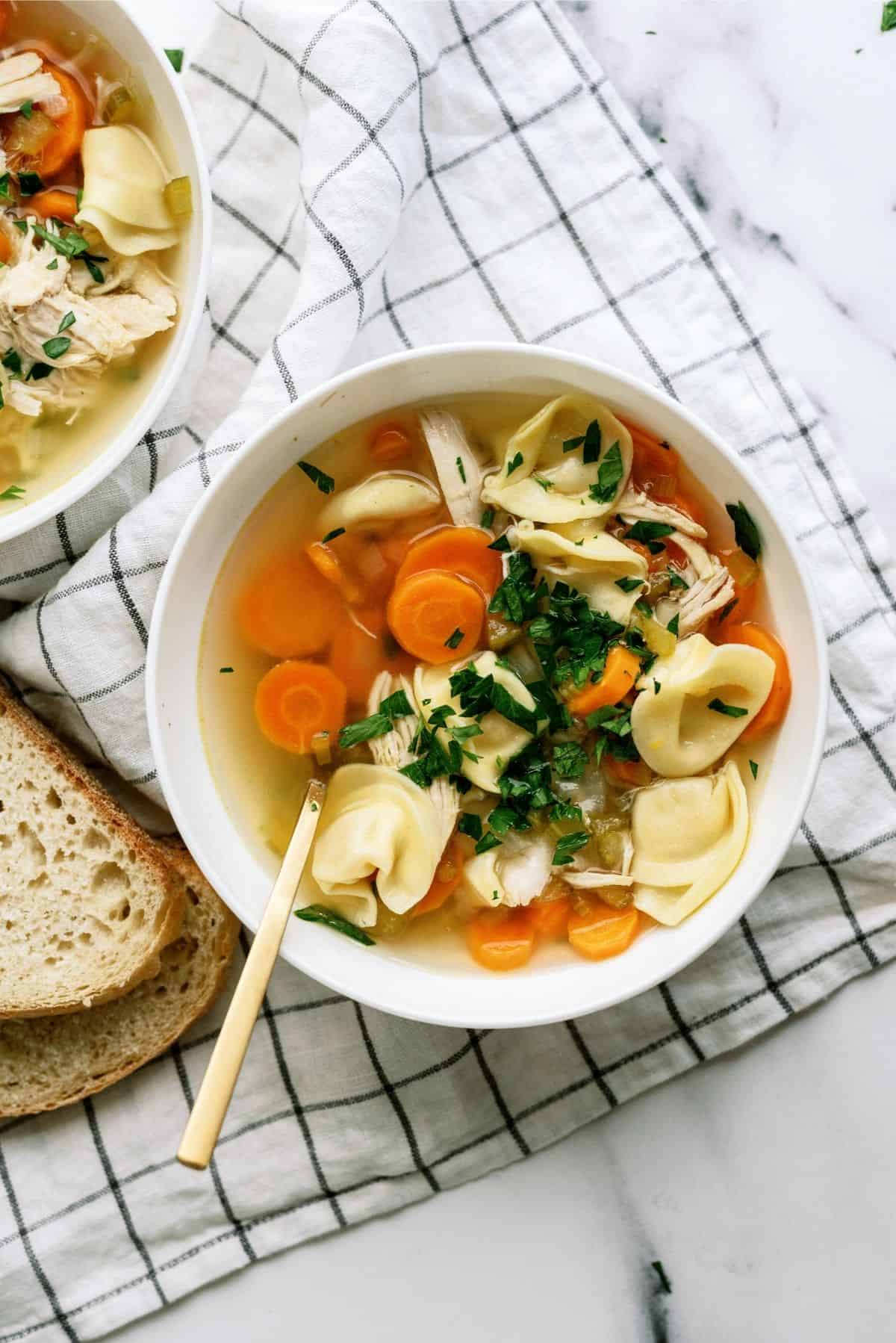 I am a sucker for a good soup recipe, and not only is this Instant Pot Chicken Tortellini and Vegetable Soup delicious, but it is also one of those amazing and easy Instant Pot recipes that you'll want to make over and over again.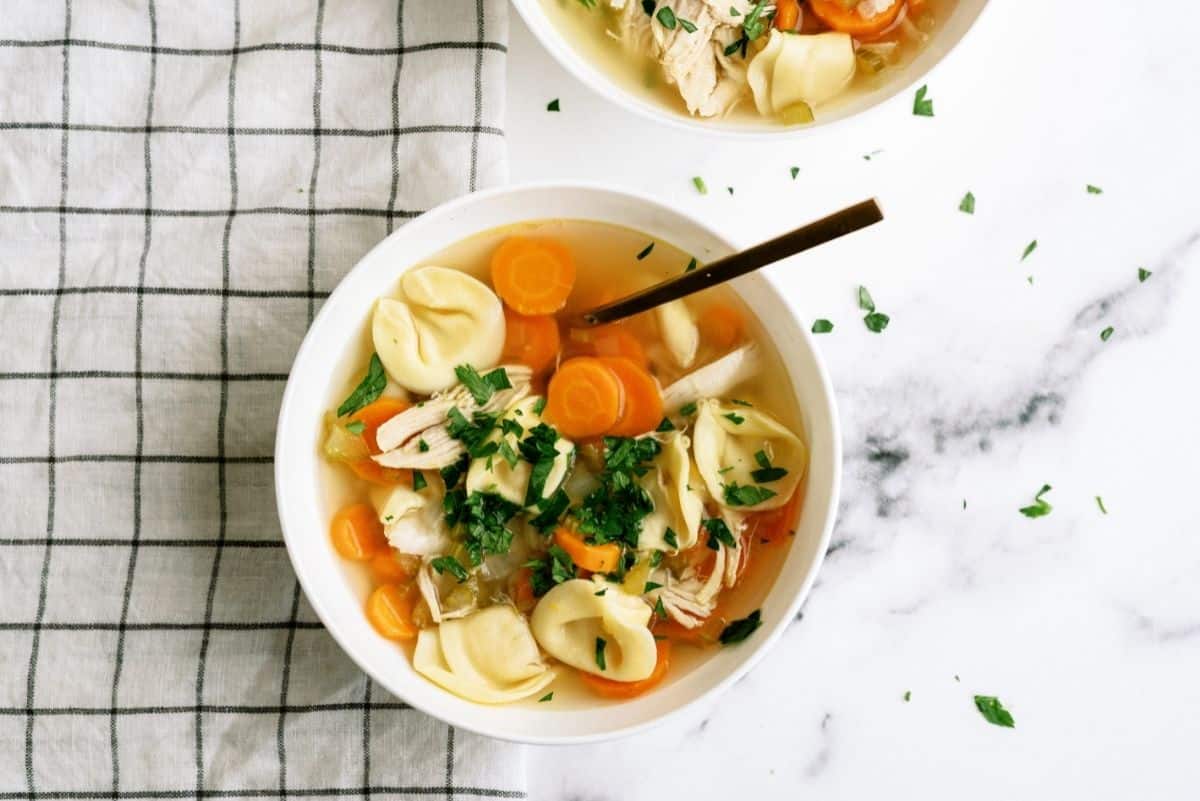 This is a wonderful budget-friendly dinner recipe that is similar to your everyday chicken soup recipe. Adding in the tortellini and delicious fall vegetables takes this soup to the next level!
I also love making this soup in the fall to make sure we are getting all the added benefits of chicken noodle soup, but with even more flavor. Plus my kids love tortellini, so they are always excited for this soup.
If you love to dip things in your soup, I love serving some of either our easy homemade french bread, homemade pizza factory breadsticks, or sheet pan garlic breadsticks. They are all delicious and perfect for dipping!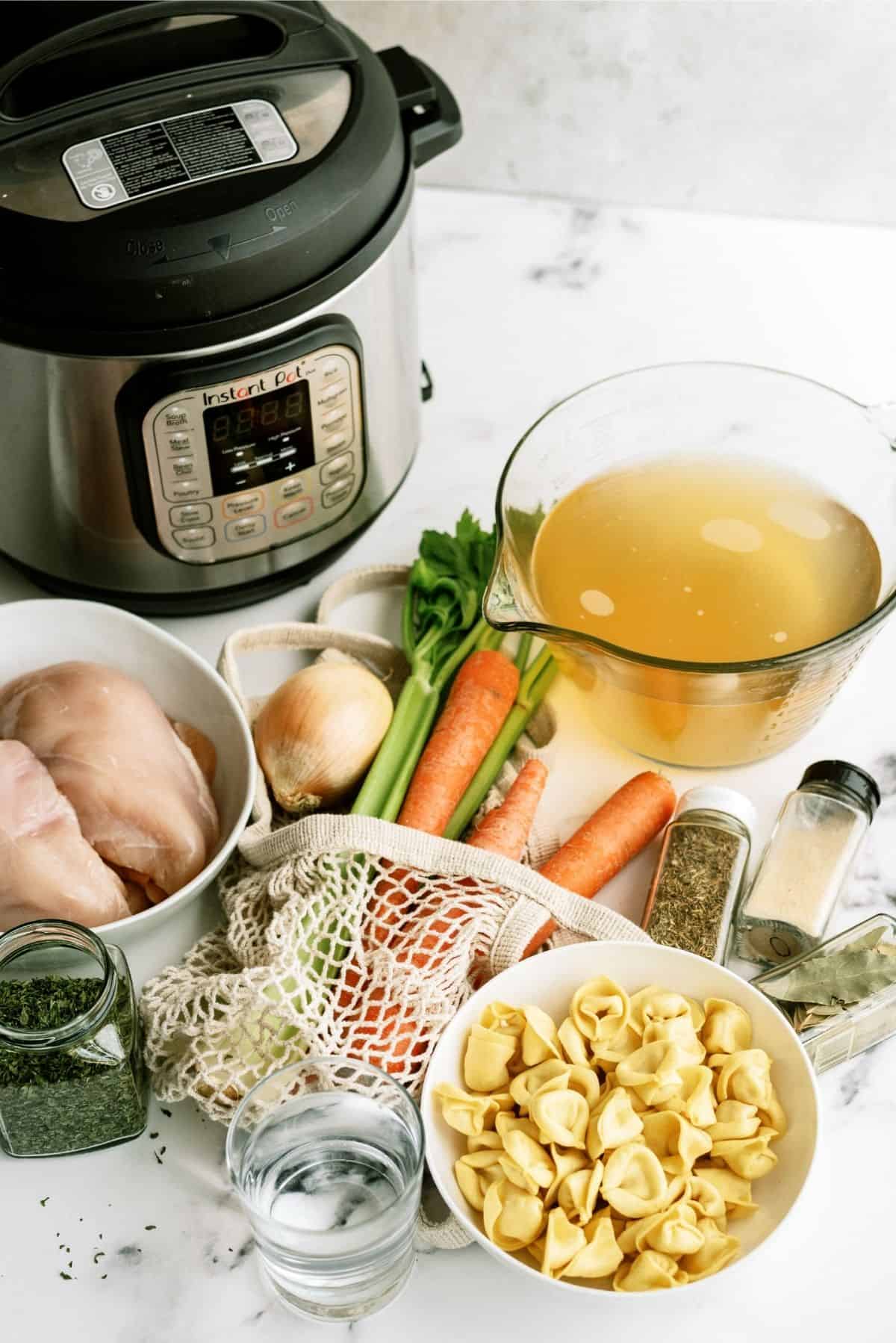 Ingredients Needed For Our Instant Pot Chicken Tortellini and Vegetable Soup:
Skinless boneless chicken breasts
Carrots
Celery stalks
Onion
Chicken broth
Water
Dried parsley
Dried thyme
Garlic powder
Bay leaves
Uncooked cheese tortellini
Salt
Pepper
Fresh chopped parsley (optional)
How To Make Our Instant Pot Chicken Tortellini and Vegetable Soup:
Begin by getting out your Instant Pot and placing the chicken breasts into the bottom on the inner pot.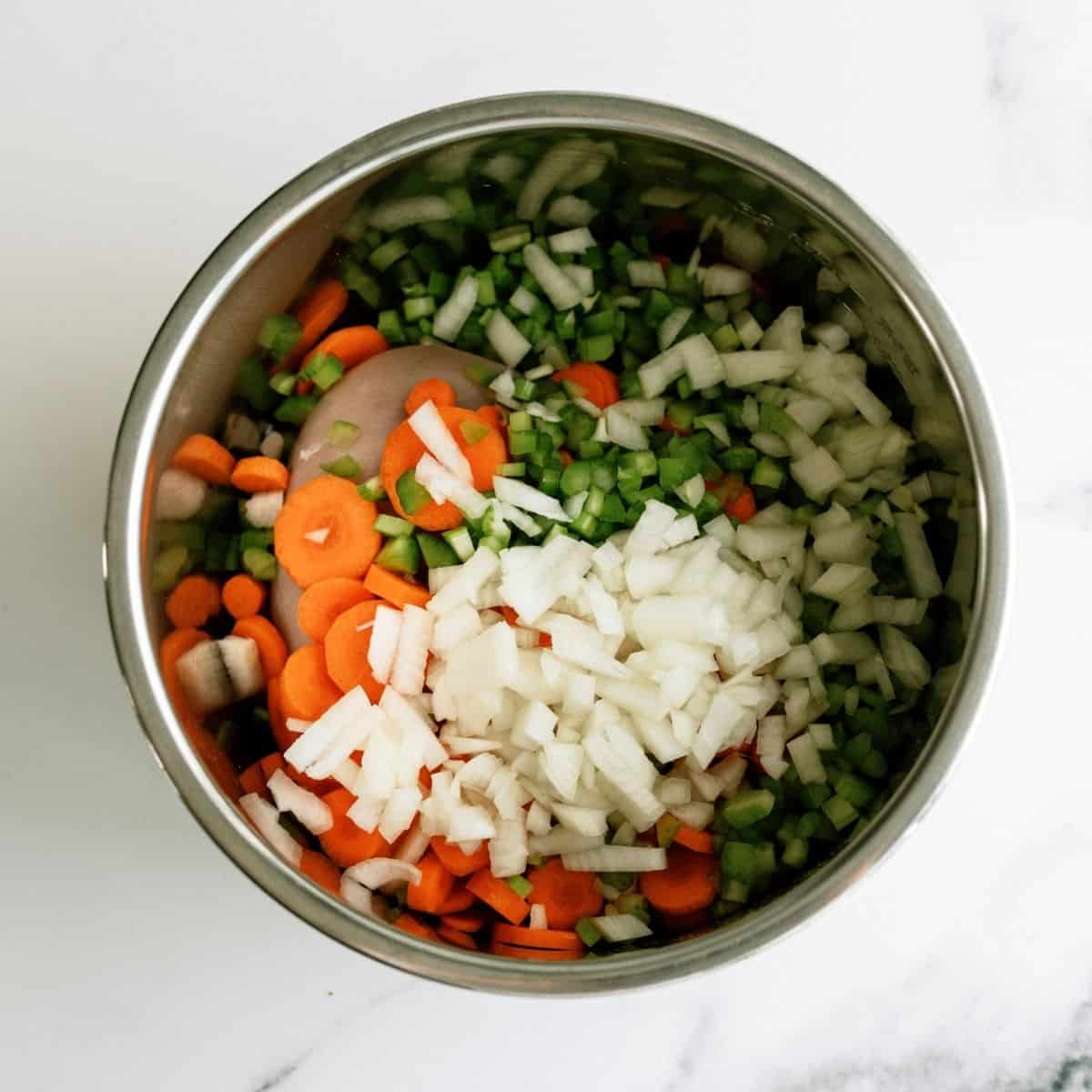 Then add in the sliced carrots, diced celery, and onion on top of the chicken.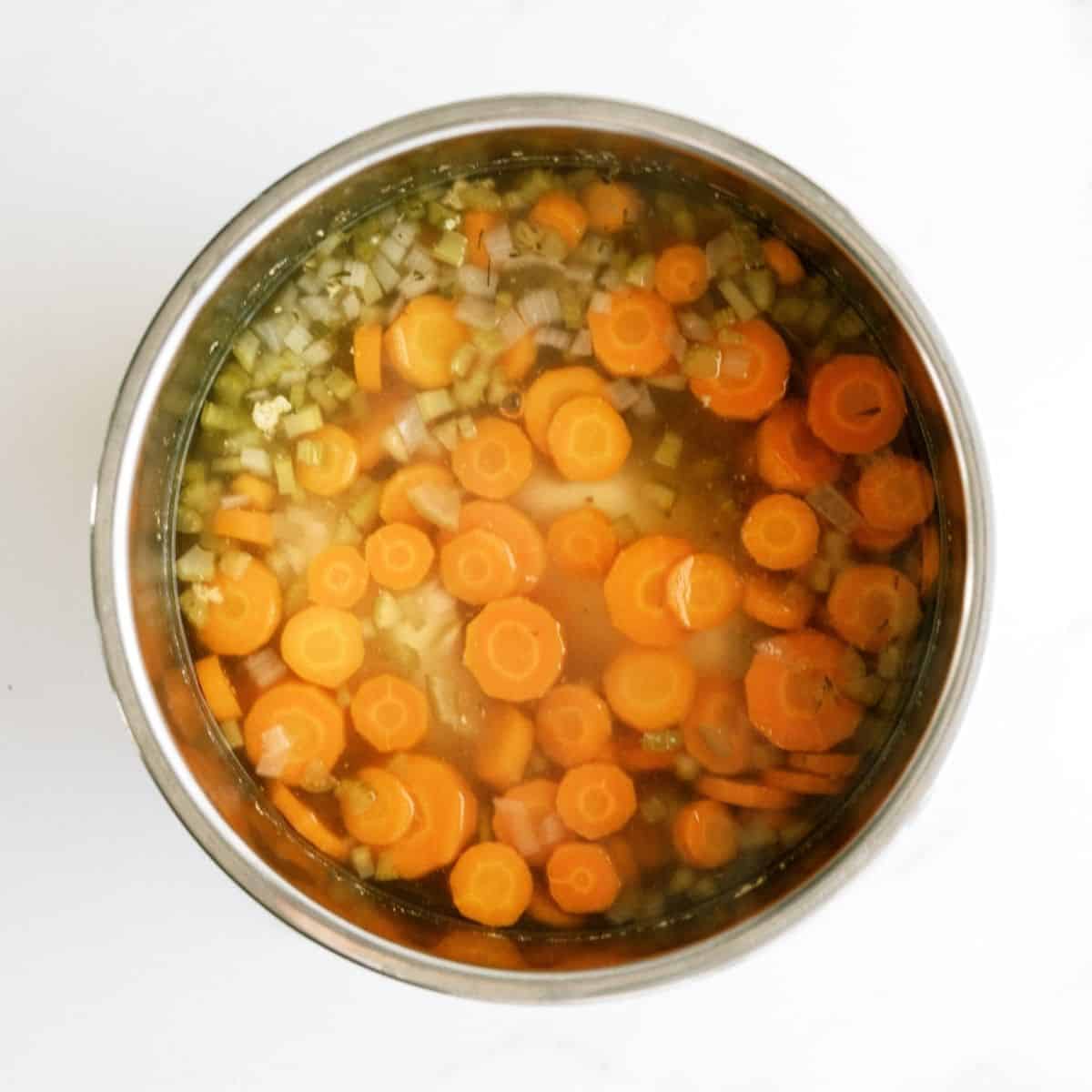 Next, you need to pour the chicken broth and water over the top of the chicken and vegetables.
After you have the chicken broth in the pot, add in the dried parsley, dried thyme, and garlic powder.
Once all of that is in there, place two bay leaves on top and place the lid on the Instant Pot.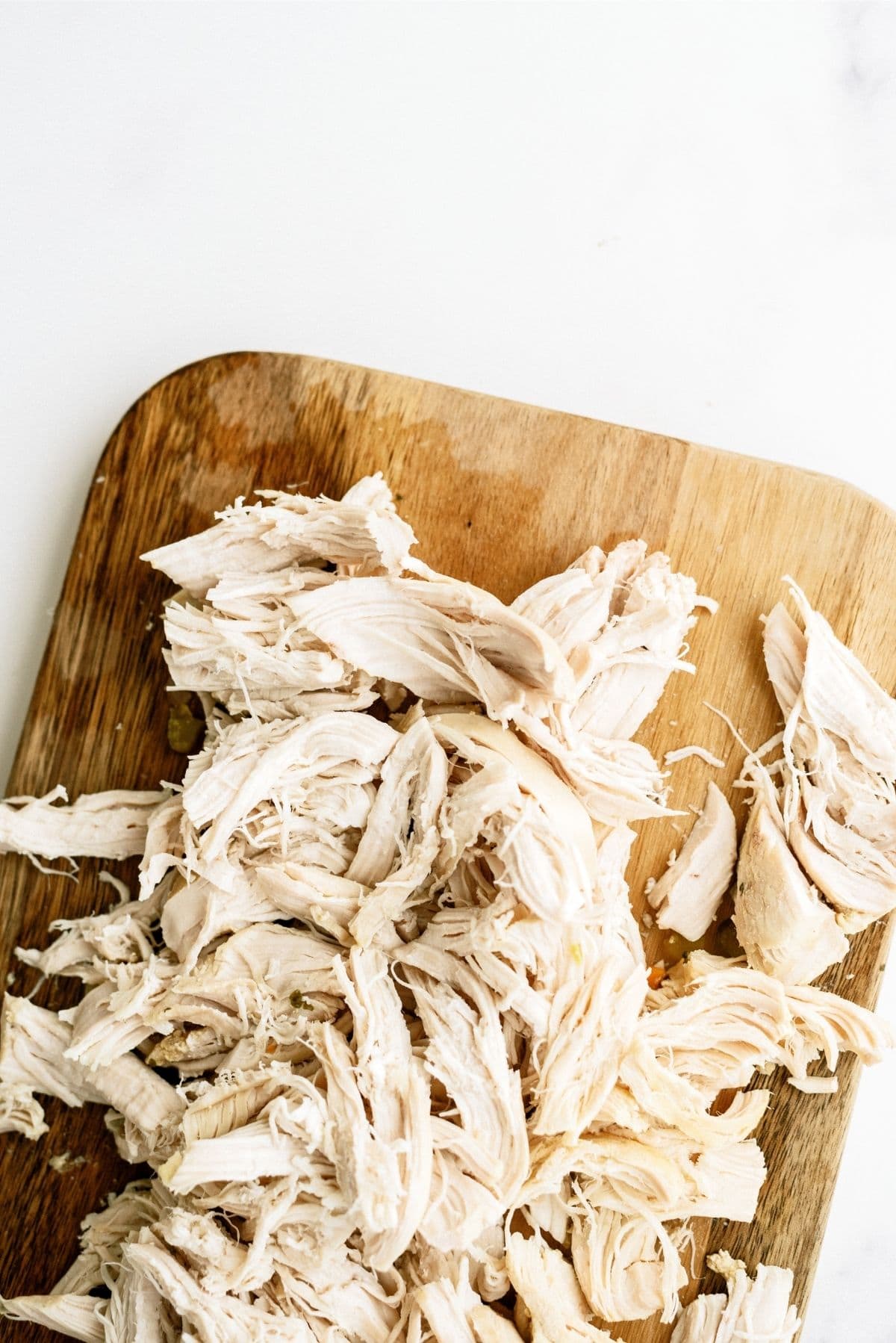 After is all cooked, remove the lid and take out the chicken and shred it with either a fork or a mixer.

Then, add the shredded chicken back in and give it a good stir.
When the lid has been placed on, make sure to turn the valve to the, press the MANUAL or PRESSURE COOK button, and set the timer for 20 minutes.
After the timer goes off, turn the valve to make the Instant Pot do a quick release of the pressure inside.
Once that is done, remove the lid and press the SAUTE button.
Now, add in the tortellini, salt, and pepper to the Instant Pot.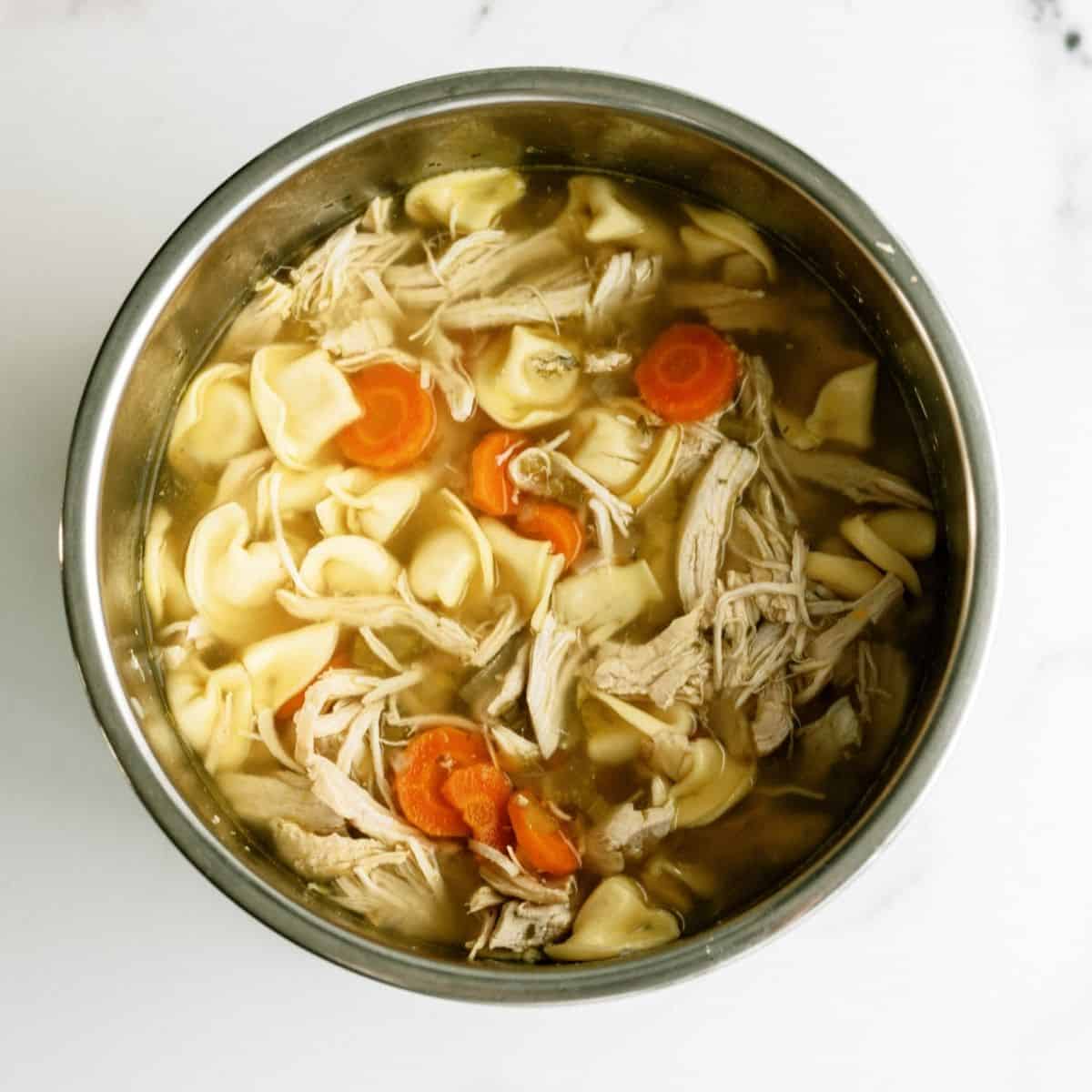 Let it all cook together for about 5 minutes or until the tortellini has reached your desired tenderness.
Then serve it in a bowl with some freshly chopped parsley and enjoy!
Related Recipe: Try our simple and delicious Tomato Tortellini Soup!
To Make This Easy Instant Pot Recipe You Will Need:
Instant Pot (THIS is the one we like to use!)
Spatula
Ladle