Instant Pot Beef Tips and Gravy are fall-apart tender after cooking in your pressure cooker! They are full of flavor and make the perfect Sunday dinner, but are easy enough to make on an easy weeknight.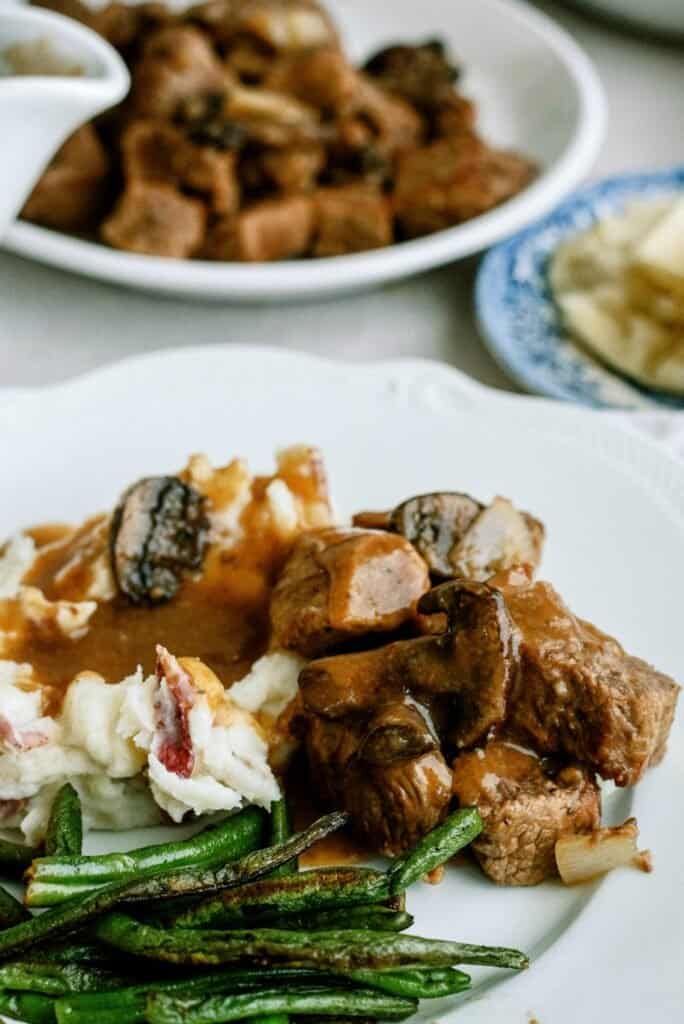 If you need a quick and delicious dinner, look no further than our Instant Pot Beef Tips and Gravy!
I love that this recipe is delicious enough for Sunday dinner, but easy enough that you could throw it together on a busy weeknight as well.
We love to serve this with our Make-Ahead Mashed Potatoes and Instant Pot Green Beans.
Don't have an Instant Pot? Get the crockpot version here: Slow Cooker Sirloin Beef Tips and Gravy.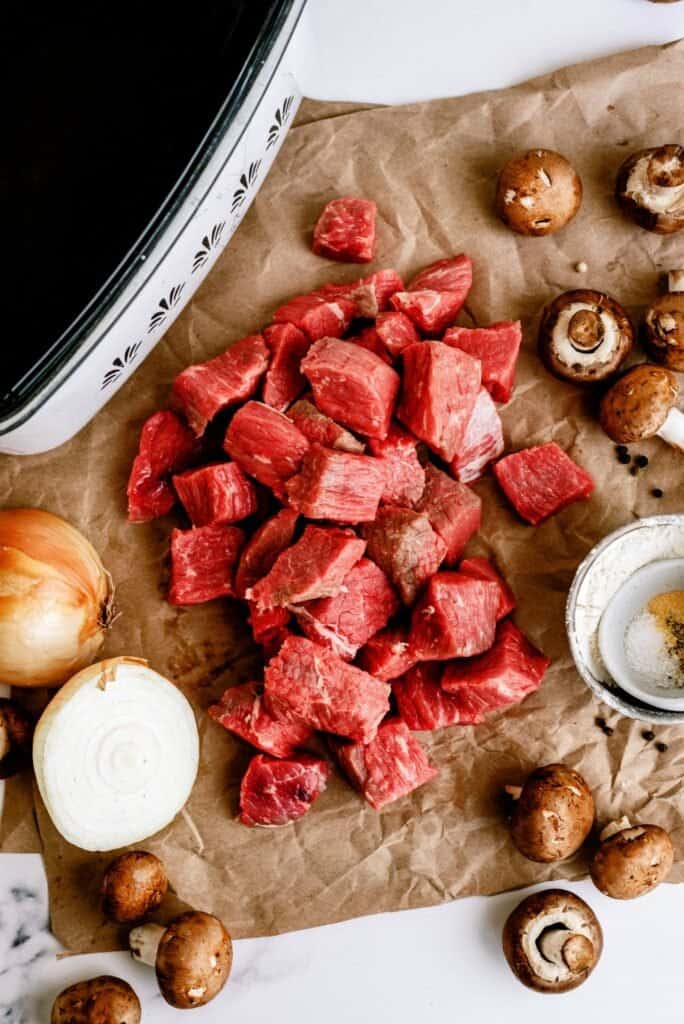 Ingredients in Instant Pot Beef Tips and Gravy:
beef tips (or stew meat cut into cubes)
salt, pepper, and garlic powder
olive oil
onion
mushrooms
beef broth
Worcestershire sauce
ketchup
red wine vinegar
Italian seasoning
cornstarch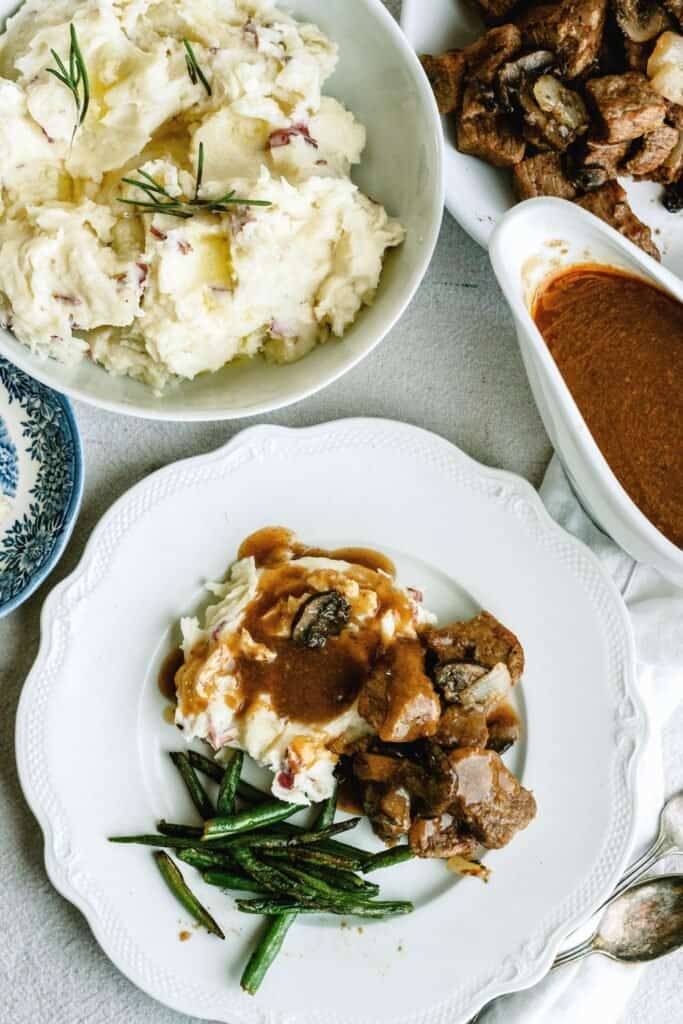 How to make Instant Pot Beef Tips and Gravy:
Season beef with salt, pepper, and garlic powder on all sides.
Press the SAUTE button the Instant Pot and let it heat up. Once it's hot, add olive oil to pot.
Add half of the beef tips to the hot pot and saute for about 1 minute (just to sear the outside). Flip over and saute for one more minute. Remove beef tips from Instant Pot.
Repeat with other half of beef tips, adding more olive oil if needed.
Dump all beef tips back into Instant Pot and place onions and mushrooms on top. Stir and scrape the bottom of the pot, loosening up all the browned bits so that you don't get the "BURN" message on your pot (and getting maximum flavor in your dish!).
In a mixing bowl, mix together beef broth, Worcestershire sauce, ketchup, red wine vinegar and Italian seasoning. Pour on top of beef tips, onion, and mushrooms.
Place the lid on top of the Instant Pot and move the valve to SEALING. Press the MANUAL (PRESSURE COOK) button and set timer for 30 minutes.
When the timer is done, let the pressure do a NATURAL RELEASE (it will take at least 20 minutes, but I even prefer to let the beef sit in there for a couple hours to make sure it is super tender).
Remove the lid and press the SAUTE button.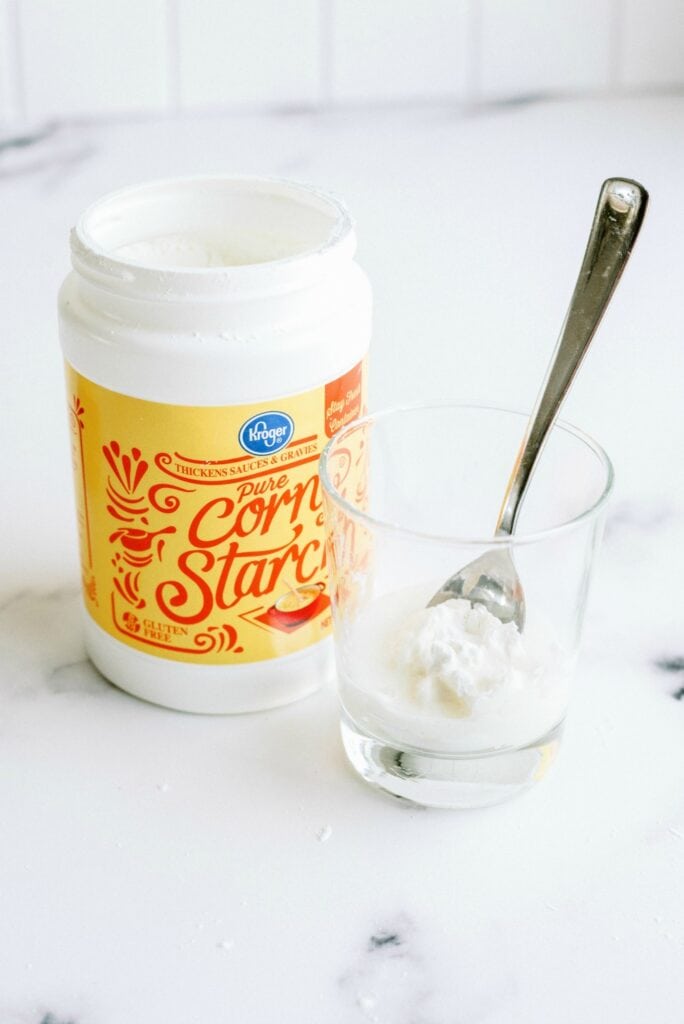 In a separate small bowl, mix cornstarch together with water in a separate bowl. Pour cornstarch mixture into Instant Pot and mix well. Cook on SAUTE for a few minutes or until the liquid starts to thicken and turns into a gravy.
Serve over mashed potatoes, rice, or hot noodles.
How to make this a freezer meal:
Place beef tips, salt, pepper, garlic powder, onions, mushrooms, Worcestershire sauce, ketchup, red wine vinegar, and Italian seasoning into a gallon-sized freezer bag. Place freezer bag into freezer and it will last up to 90 days.
When ready to use, dump ingredients from bag into Instant Pot and add 2 cups of beef broth in with the frozen food. We are going to skip all the SAUTEING and just go right for the cooking.
Place the lid on top, move the valve to SEALING, and press the MANUAL button. Set timer for 60 minutes (or 30 minutes per pound of your beef tips). Do a NATURAL RELEASE when the timer is done – I even like to let it sit in the Instant Pot for a few hours so that it falls apart so easily. Follow the rest of the instructions as written.
Looking for more freezer meals just like this? Click here for our top 100 Instant Pot Freezer Meals!