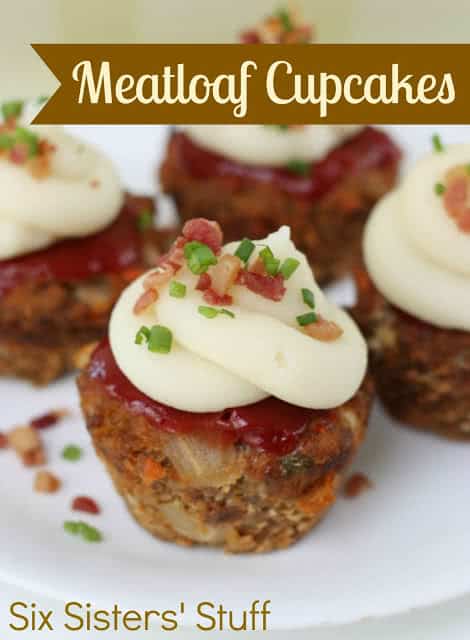 I really can't complain- my kids are pretty good eaters. And they are pretty good sports about trying new things and testing the crazy recipes that I make for them. It hasn't always been this way though- I shared this a long time ago, but it was back when our mom was the only person who read this blog, so I thought I would share it again. We were just sitting down for family dinner and my 4-year-old daughter offered a quick prayer before we started to eat. Her prayer was pretty typical- thanks for this day, thanks for the food, etc, but then she threw in this little number:
"Please bless that our mom 
will make food that doesn't make us shudder."
Pressure's on!!! Ha ha! Anyway, I will be sharing this recipe on
Studio 5
today (a local lifestyle show here in Utah). I was given the challenge to share a recipe that kids would love to eat and the verdict is in- my kids loved them! They were a little disappointed that it was mashed potatoes on top instead of frosting, but they were quick to forgive me. 🙂
Serves: 12
Meatloaf Cupcakes
15 minPrep Time
25 minCook Time
40 minTotal Time
Ingredients
1 Tablespoon olive oil
1 onion (finely diced)
1/2 cup carrots (finely diced)
1/2 cup celery (finely diced)
1 teaspoon dried oregano
2 teaspoons minced garlic
1 cup ketchup (divided)
1 1/2 pounds ground beef
1 cup Italian seasoned bread crumbs
2 Tablespoons mustard
2 Tablespoons Worcestershire sauce
1/4 teaspoon black pepper
2 eggs
3 Russet potatoes (cooked and mashed)
1/4 cup bacon bits
3 green onions (sliced)
Instructions
Preheat oven to 350 degrees.
Heat the olive oil in a large nonstick skillet over medium-high heat. Add onion, carrot, celery, dried oregano, and minced garlic; sauté for 2 minutes.
Combine onion mixture, 1/2 cup ketchup, beef, bread crumbs, mustard, Worcestershire sauce, pepper, and eggs, and the remaining ingredients in a large bowl. I found that it was easiest to just use my hands to make sure that all the ingredients were completely incorporated.
Spoon the meat mixture into 12 muffin cups coated with cooking spray- each cup will be filled to the top. Top each meatloaf with about 1-2 teaspoons ketchup.
Bake at 350 degrees for 25 minutes or until a thermometer registers 160 degrees.
Let the cupcakes cool. In the meantime, put the mashed potatoes into a pastry bag (or a ziploc bag with the corner cut off) with a wide star tip or circular tip and pipe the mashed potatoes on top of the meatloaf. 
Sprinkle with bacon bits and green onions.
7.8.1.2
1998
https://www.sixsistersstuff.com/recipe/meatloaf-cupcakes/
Recipe slightly adapted from First Look, Then Cook