Meatloaf cupcakes are a fun take on the traditional family dinner recipe. The meatloaf and mashed potatoes make for a delicious yet cute dinner or appetizer!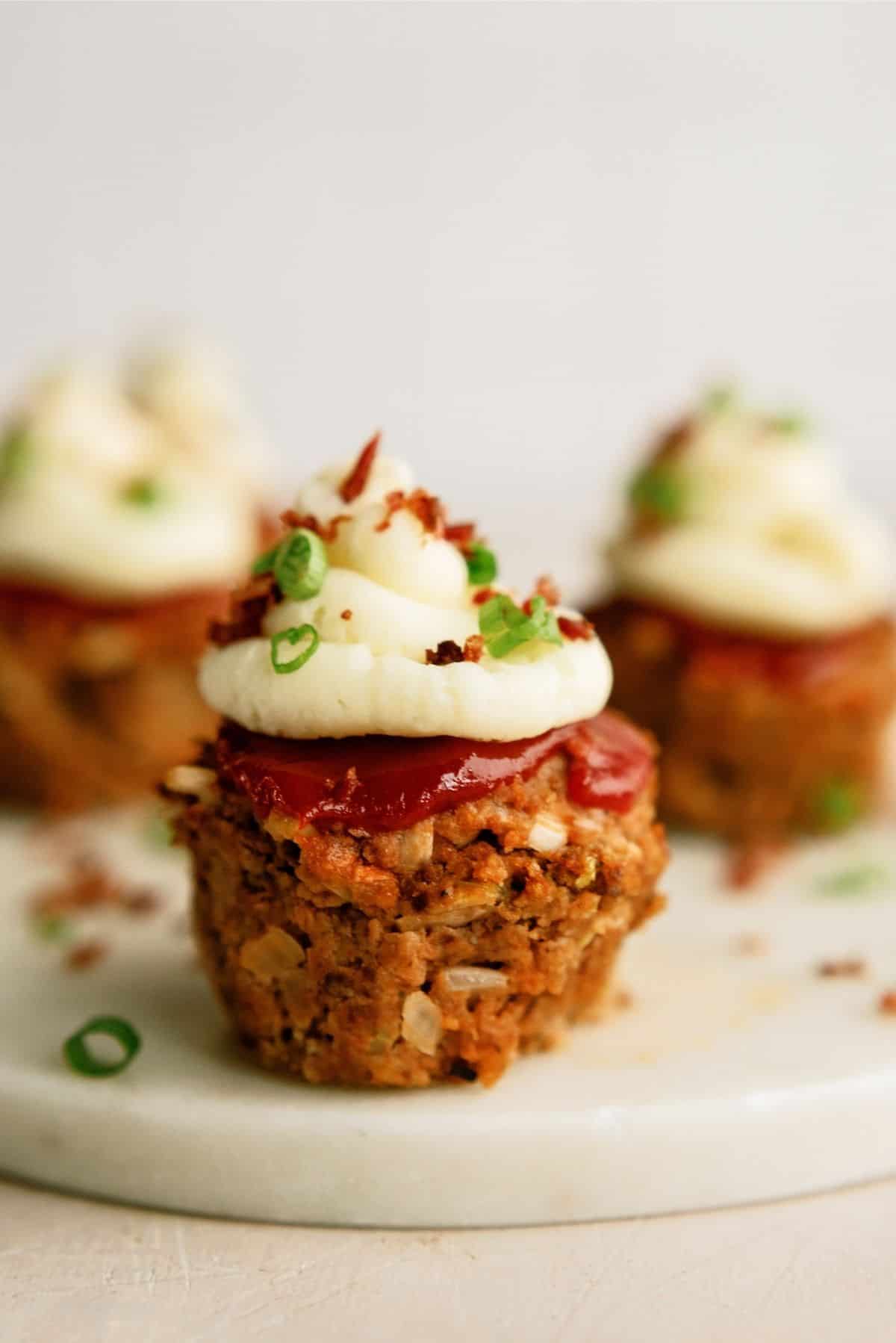 Meatloaf cupcakes is one of my favorite dinner recipes to make to change things up without doing something too crazy. It is the perfect picky eater dinner recipe since it is essentially little meatloafs.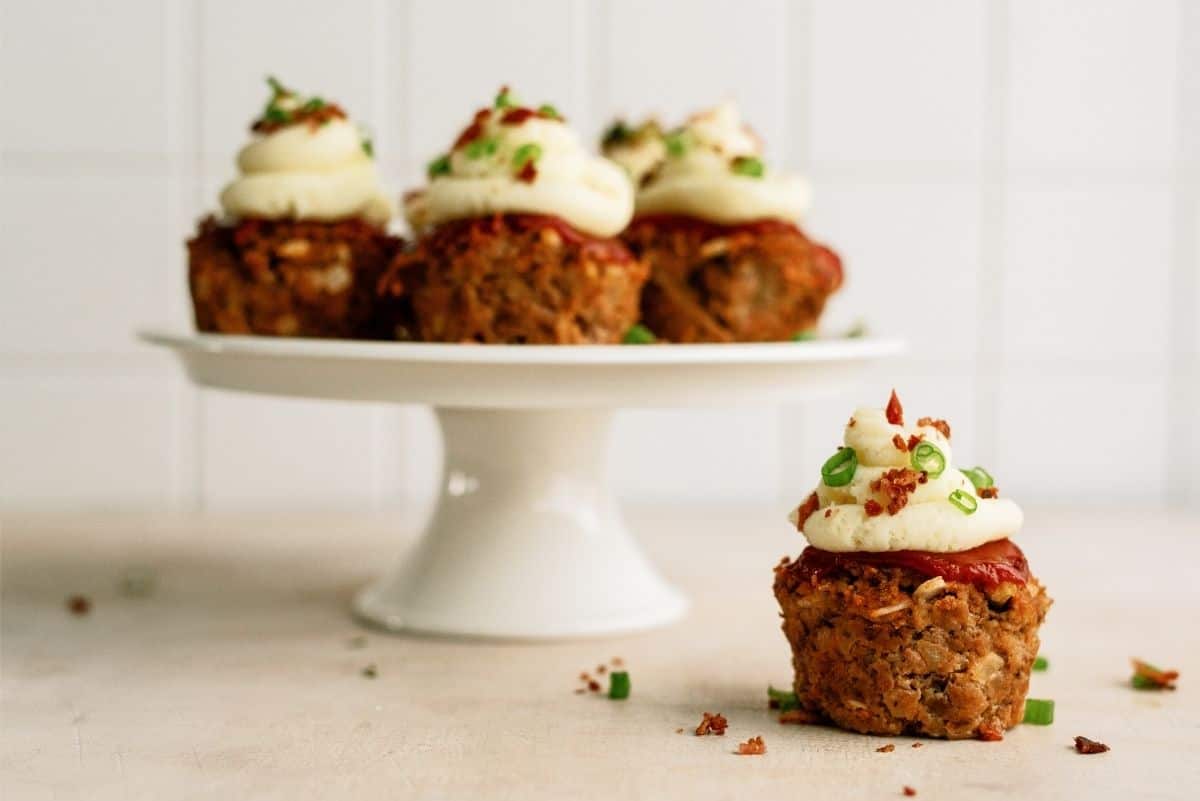 You can enjoy these meatloaf cakes even sooner than a standard meatloaf recipe. Since it is smaller the little meatloaf cupcakes can bake and be ready in half the time.
So if you are looking for a fast, delicious, and cute (haha) dinner, this is definitely it. You can also make them for a fun appetizer for a party too!
These go wonderfully with slow cooker creamy macaroni and cheese, 30 minute homemade rolls, and then finish dinner up with some tasty orange fluff jello salad for dessert!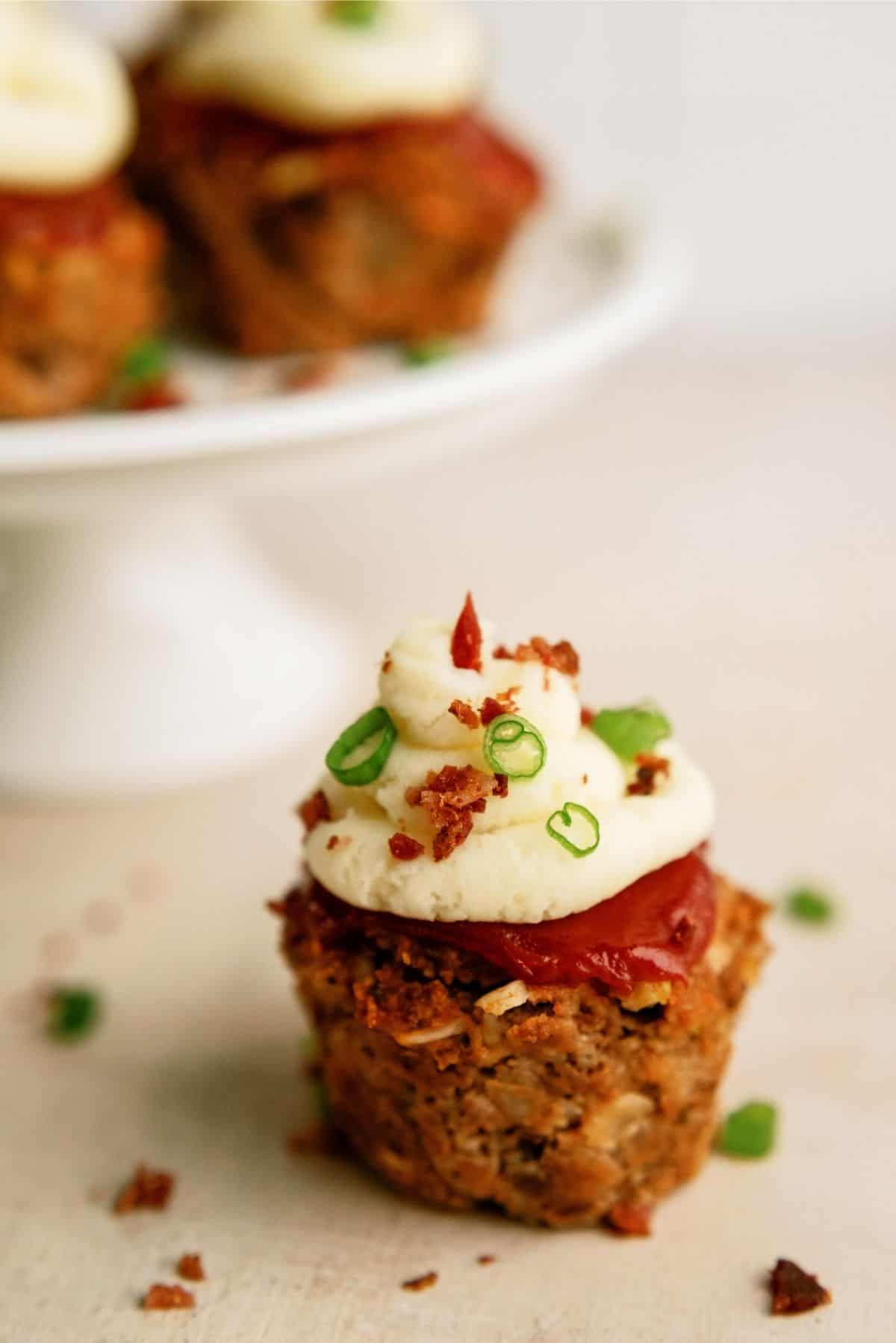 Ingredients You'll Need For Our Meatloaf Cupcake:
Olive oil
Onion
Carrots
Celery
Dried oregano
Minced garlic
Ketchup
Ground beef
Italian seasoned bread crumbs
Mustard
Worcestershire sauce
Black pepper
Eggs
Russet potatoes (cooked and mashed)
Bacon bits
Green onions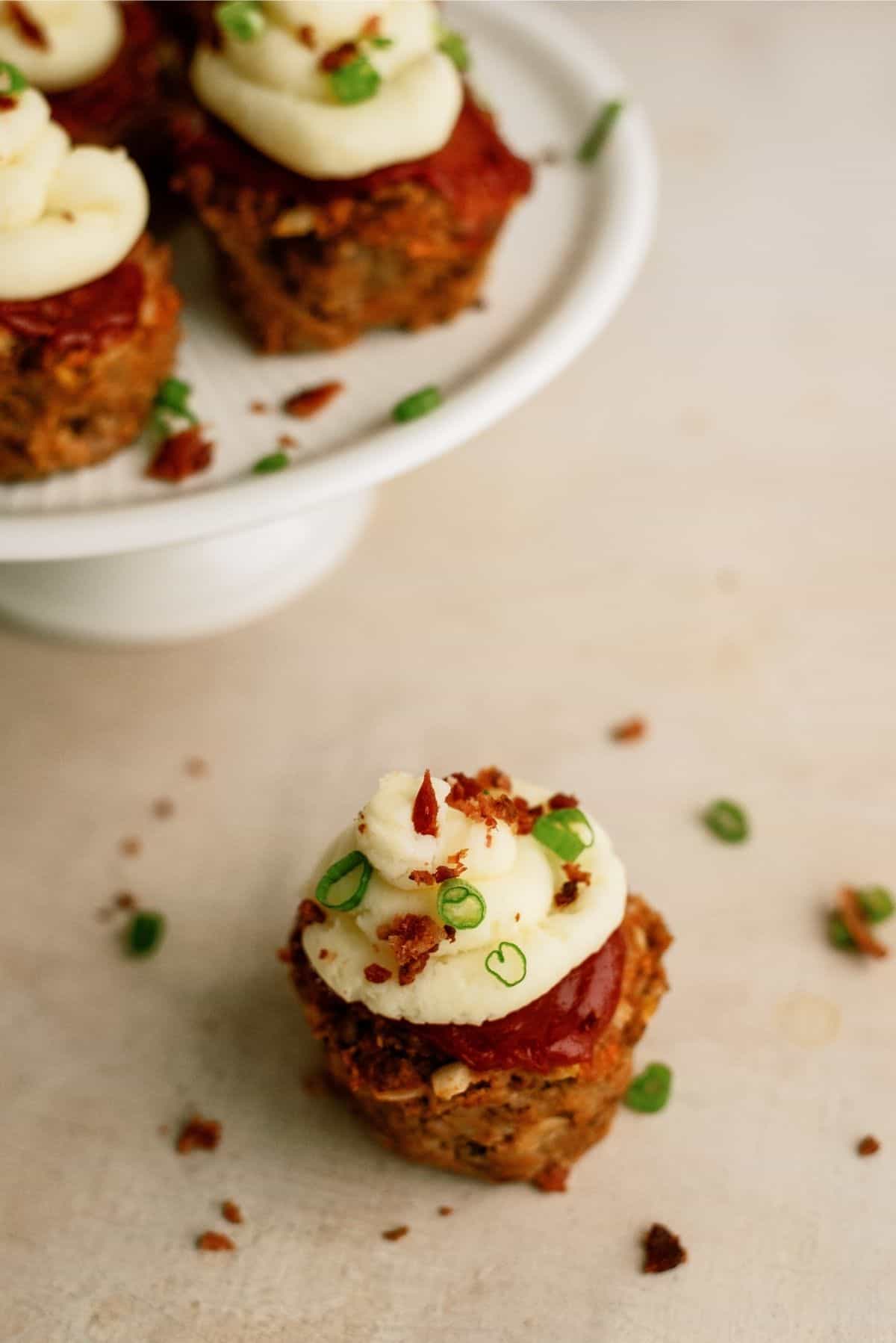 How To Make Our Meatloaf Cupcakes Recipe:
Start by preheating the oven to 350 degrees.
Then in a large skillet over medium-high heat, and heat up the olive oil.
Once the oil is hot, add in the diced onion, diced carrots, diced celery, dried oregano, and minced onion and then saute it for 2 minutes.
Then in a medium mixing bowl combine the onion mixture, ½ cup of ketchup, ground beef, bread crumbs, mustard, Worcestershire sauce, pepper, and the eggs.
Mix all of that together until it is well combined. If you don't mind getting dirty, I have found that using your hands is the best way to mix it the best.
When that is all done, spoon the mixture into 12 muffin cups that have been sprayed with nonstick cooking spray and fill each of the cups to the top.
Once all the cups are filled top it with 1-2 teaspoons of ketchup and put the pan in the oven at bake it at 350 degrees for 25 minutes or until the thermometer registers 160 degrees.
While the cupcakes are cooling down, place the mashed potaties in either a pastry bag or a ziplock bag with the corn cut off and then using either a star tip or circular tip, pipe the mashed potatoes in a circular motion to create the cupcake topping.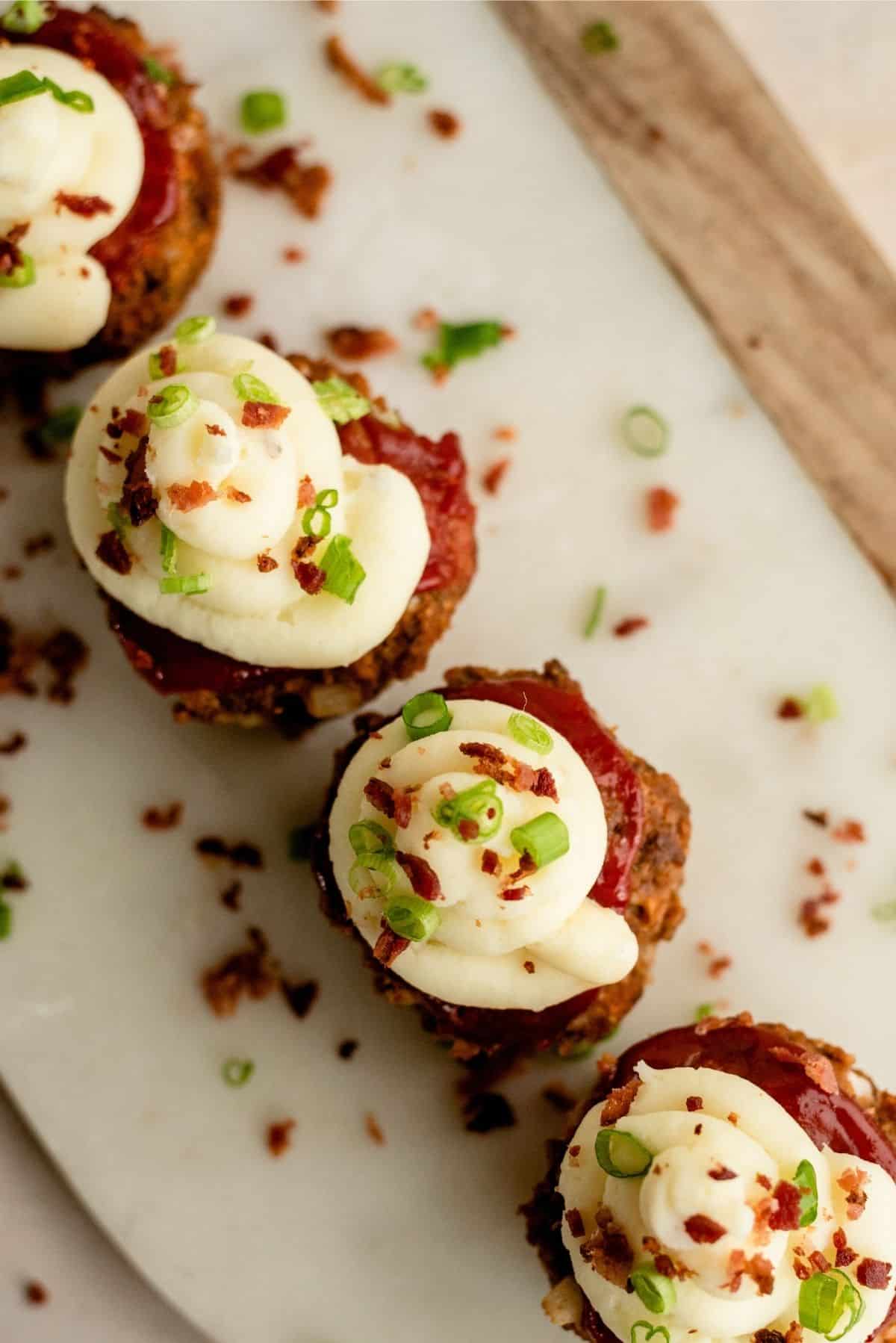 Then just sprinkle the top of the potatoes with bacon bits and sliced green onions.
To Make This Family Dinner Recipe You Will Need:
Large skillet
Spatula
Cupcake pan (THESE work good)
Pastry bag or large ziplock bag