Our Cheesy Southwest Chicken Soup Recipe is a family dinner favorite! Loaded with flavor and ready in 30 minutes from start to finish.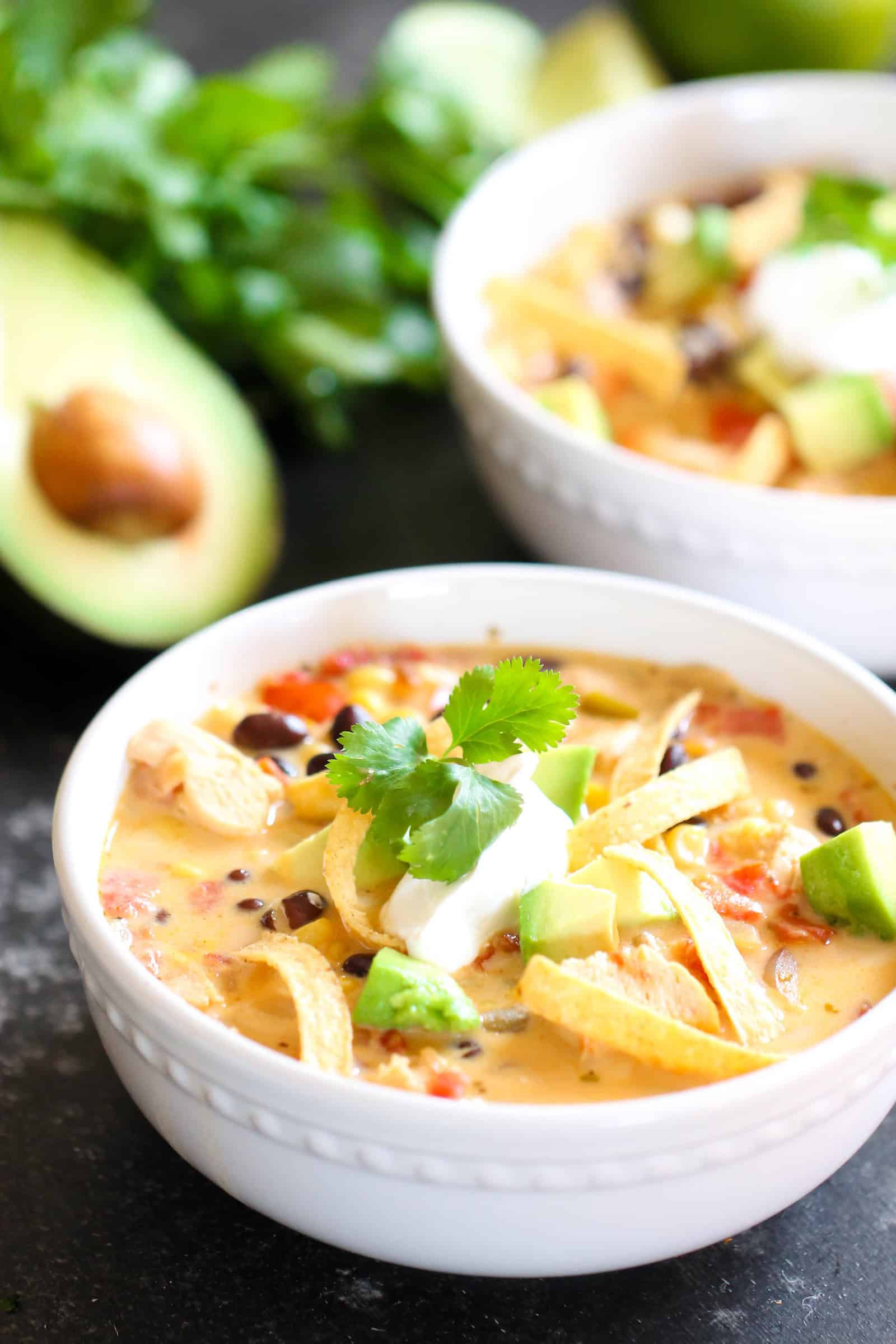 This Cheesy Southwest Soup is easy to throw together and it makes a great weeknight meal.
How to make our Cheesy Southwest Soup Recipe:
In a stock pot over medium heat, cook garlic, onion, and chicken breasts in olive oil until browned. We recommend starting with the chicken because it takes a little longer to cook through.
Sprinkle the chicken, onion and garlic mixture, with Fajita seasoning, and stir until combined.
Add Mexicorn, black beans, tomatoes, chicken broth, cumin, chili powder, and salt and pepper. (Mexicorn is found by the canned corn at the grocery store).
Bring to a boil. Reduce heat and simmer for 10 minutes.
Remove from heat and stir in Velveeta cheese until it is completely melted.
Pour into bowls and serve. Top with cilantro, sour cream, avocado and tortilla strips.
Enjoy your warm bowl of Cheesy Southwest Soup!
What could I use in place of Velveeta cheese?
If you aren't a Velveeta Cheese fan, there are some alternatives you could use. Here are a few of our favorite replacements that work just as well:
-If you are looking for a healthier alternative, we recommend using Colby jack cheese, with whole milk or whipping cream.
Use about 2 1/2 cups of Colby Jack cheese and 1 1/2 cups of whole milk or whipping cream.
–Another form of cheese dip. If you don't love the taste of Velveeta cheese, you may like another brand of cheese dip. You can often find cheese dip next to the salsa, or on the chip aisle, in jars.
-Another cheese sauce recipe we love is melting, and stirring together: 2 Tablespoons butter, 2 Tablespoons flour, 1 cup whole milk, 2 cups cheddar cheese.
This will make a little over a cup of melted cheese. My husband likes to add a few canned chile's to this. It creates a little extra spice, but it is definitely a Velveeta replacement that will tastes just as good in the soup.