Our creamy chicken and noodle casserole recipe is the perfect weeknight meal. It is super easy to make and has enough for the family.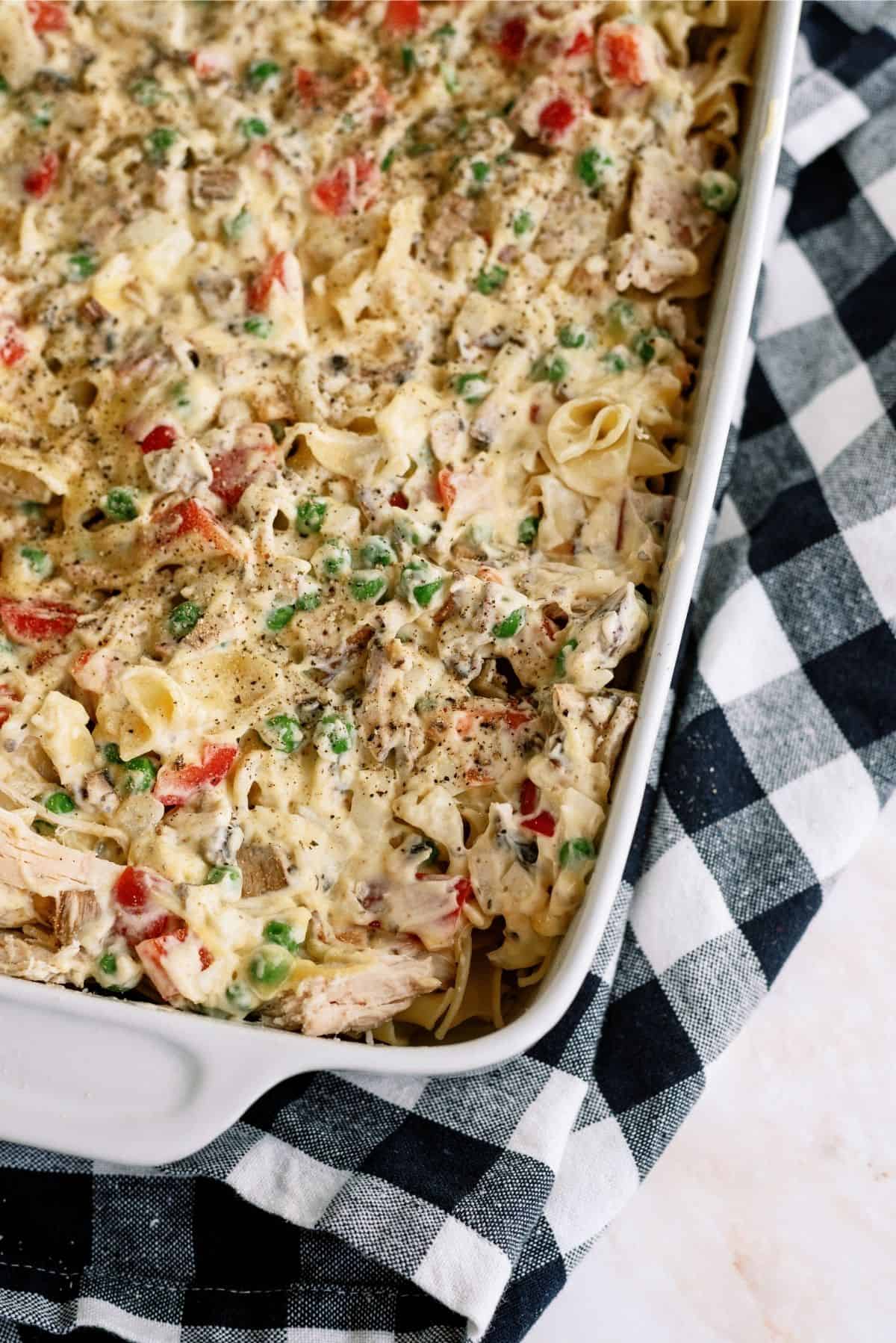 One of my favorite things about this Chicken and Noodle Casserole recipe is that it includes vegetables right in the casserole.
The vegetables add great flavor and you can add as many or as few as you want!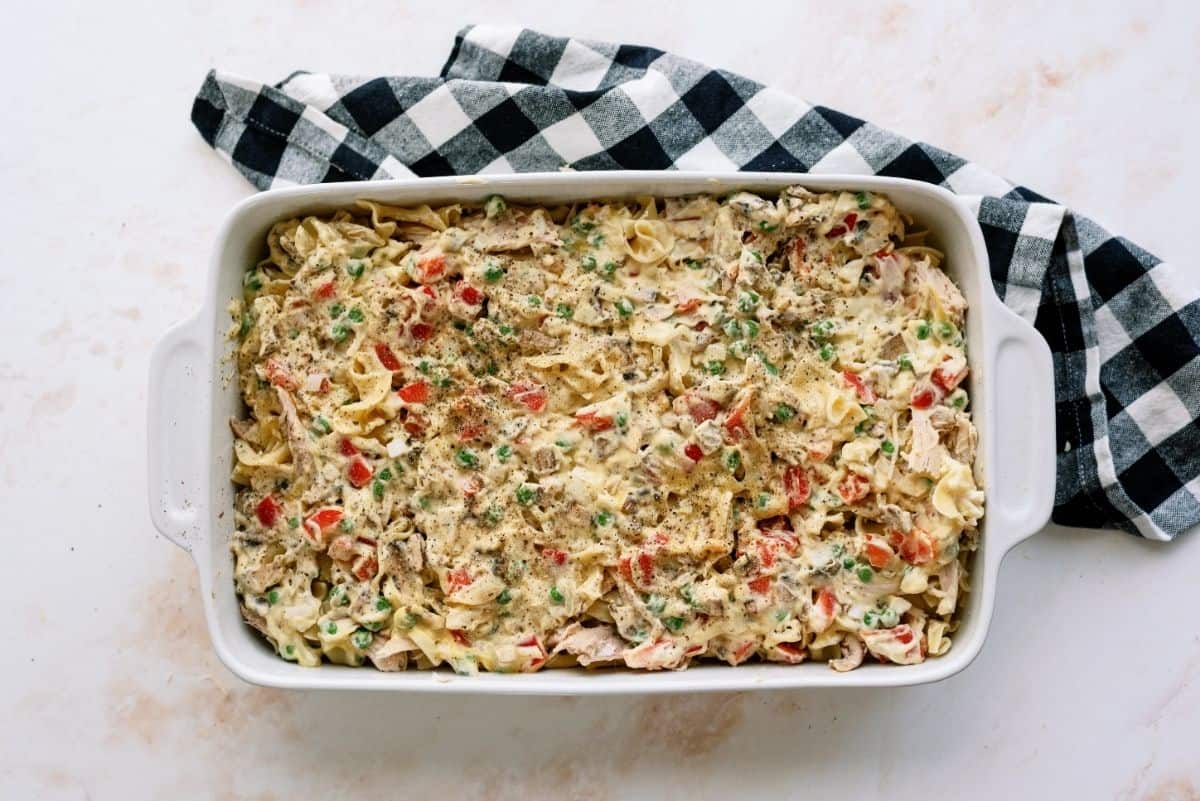 You can also make this budget-friendly dinner any night of the week and have leftovers or invite friends over for a nice dinner without a lot of effort and without breaking the bank.
Since this is an easy family dinner recipe, you can plan on this for those busier nights.
It is also a great recipe for those newer to the kitchen.
If you want the Instant Pot version of this recipe, be sure to check out our Instant Pot Creamy Chicken and Noodles!
To add even more to this already fantastic dinner, consider making our Slow Cooker Green Beans recipe, BBQ Chicken Stuff Baked Sweet Potatoes recipe, and a fun side is our Slow Cooker Cheesy Chicken Taquitos recipe.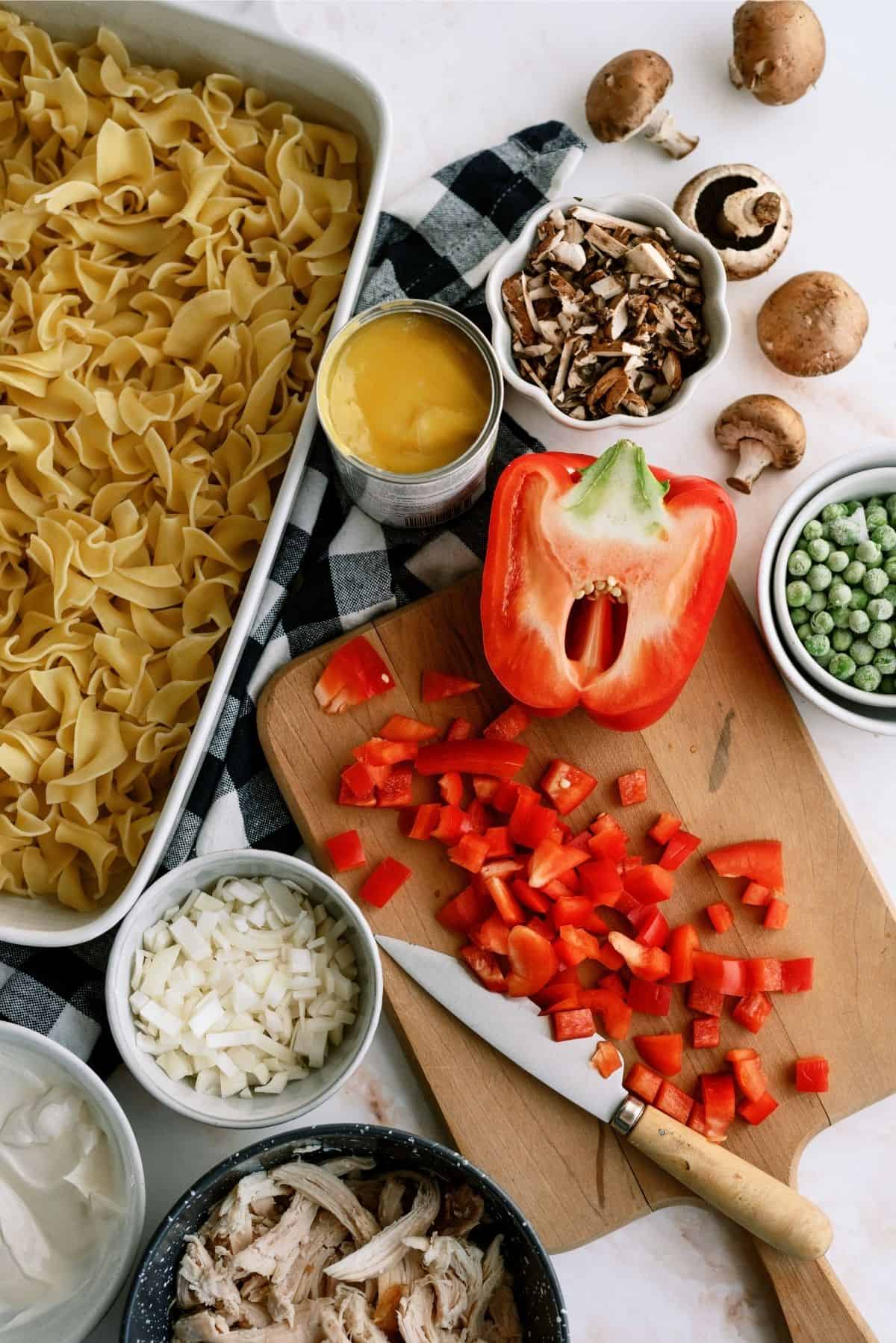 Ingredients Needed For This Chicken and Noodle Casserole Recipe:
Shredded chicken (can use a rotisserie chicken for this)
Condensed cream of chicken soup
Sour cream
Chopped onion
Chopped mushrooms
Chopped red bell pepper
Frozen peas
Garlic Salt
Salt
Pepper
Egg noodles
How To Make This Chicken and Noodle Casserole Recipe:
Start this recipe by preheating the oven to 350 degrees.
While the oven preheats, cook the egg noodles according to the package.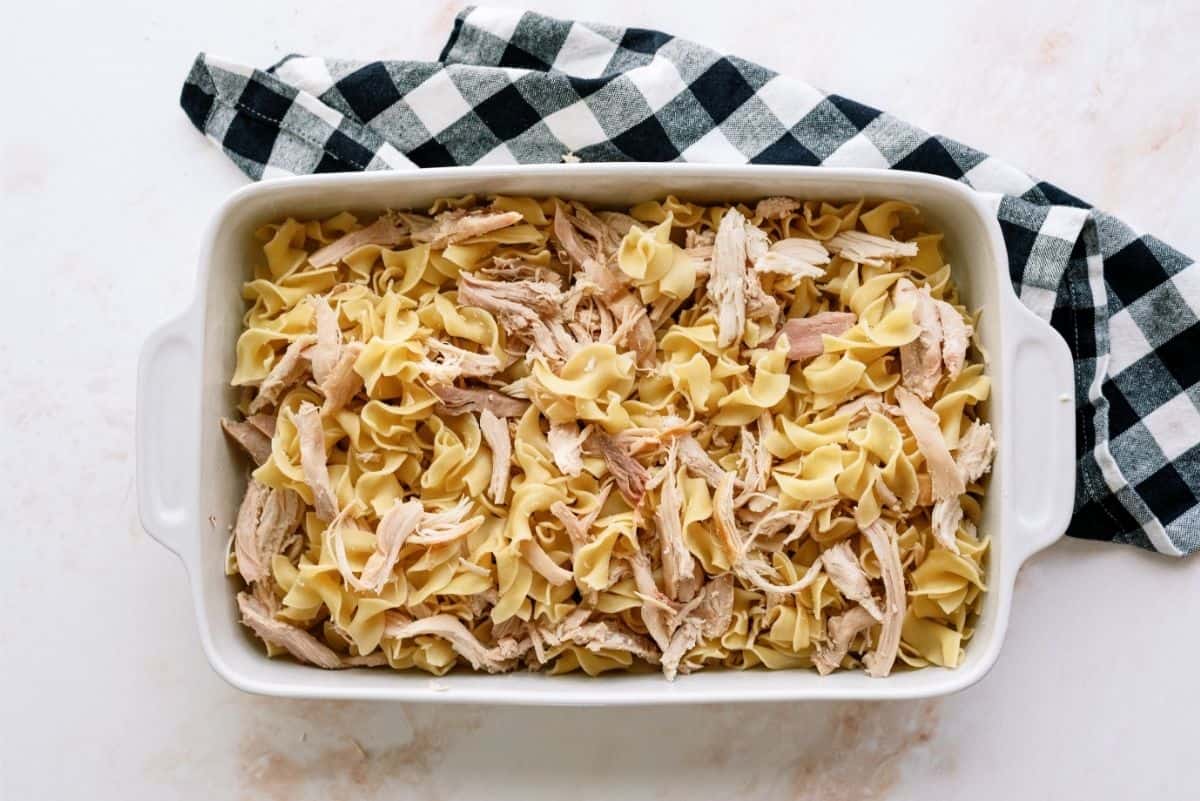 When the noodles are done, place them in a greased 9×13 inch pan along with the shredded chicken.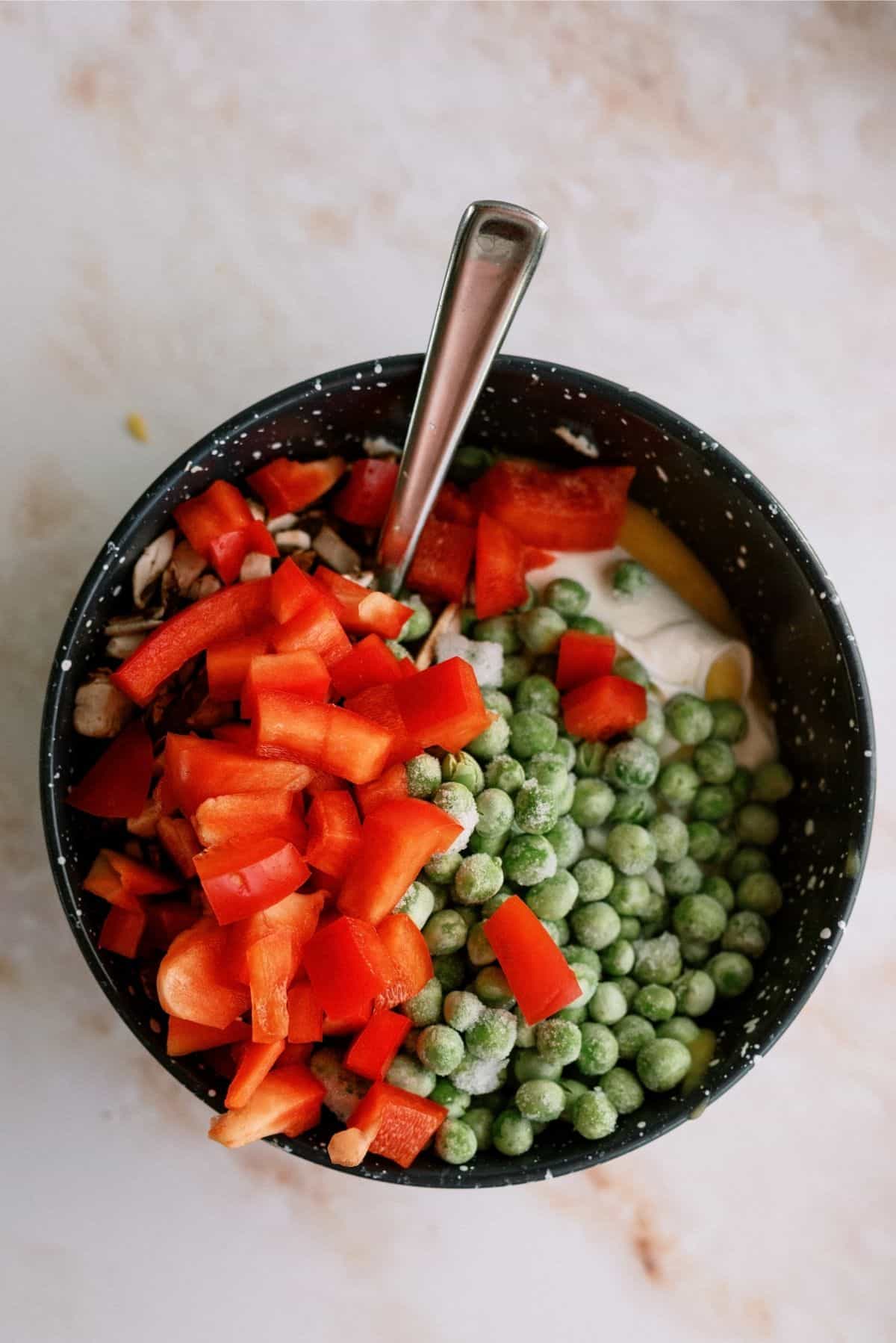 Then, in a small bowl, combine the condensed cream of chicken soup, sour cream, chopped onion, chopped mushrooms, chopped bell pepper, and the frozen peas.
Once that is all mixed, pour it over top of the chicken and noodles.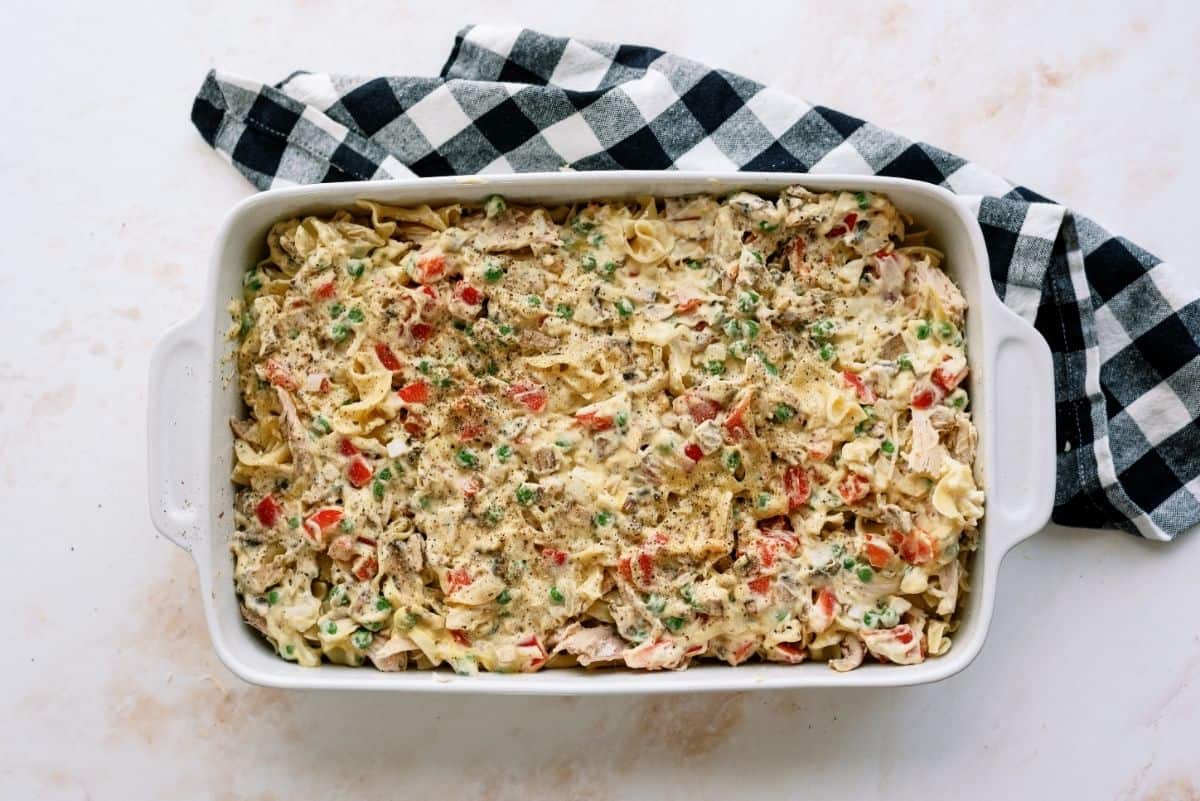 Next, add the garlic salt, salt, and pepper to the pan and then mix all of the ingredients together in the 9×13 inch pan.
After everything is mixed, cover the pan with aluminum foil and bake it for 30 minutes.
When the timer is done, pull the pan out of the oven and serve it immediately.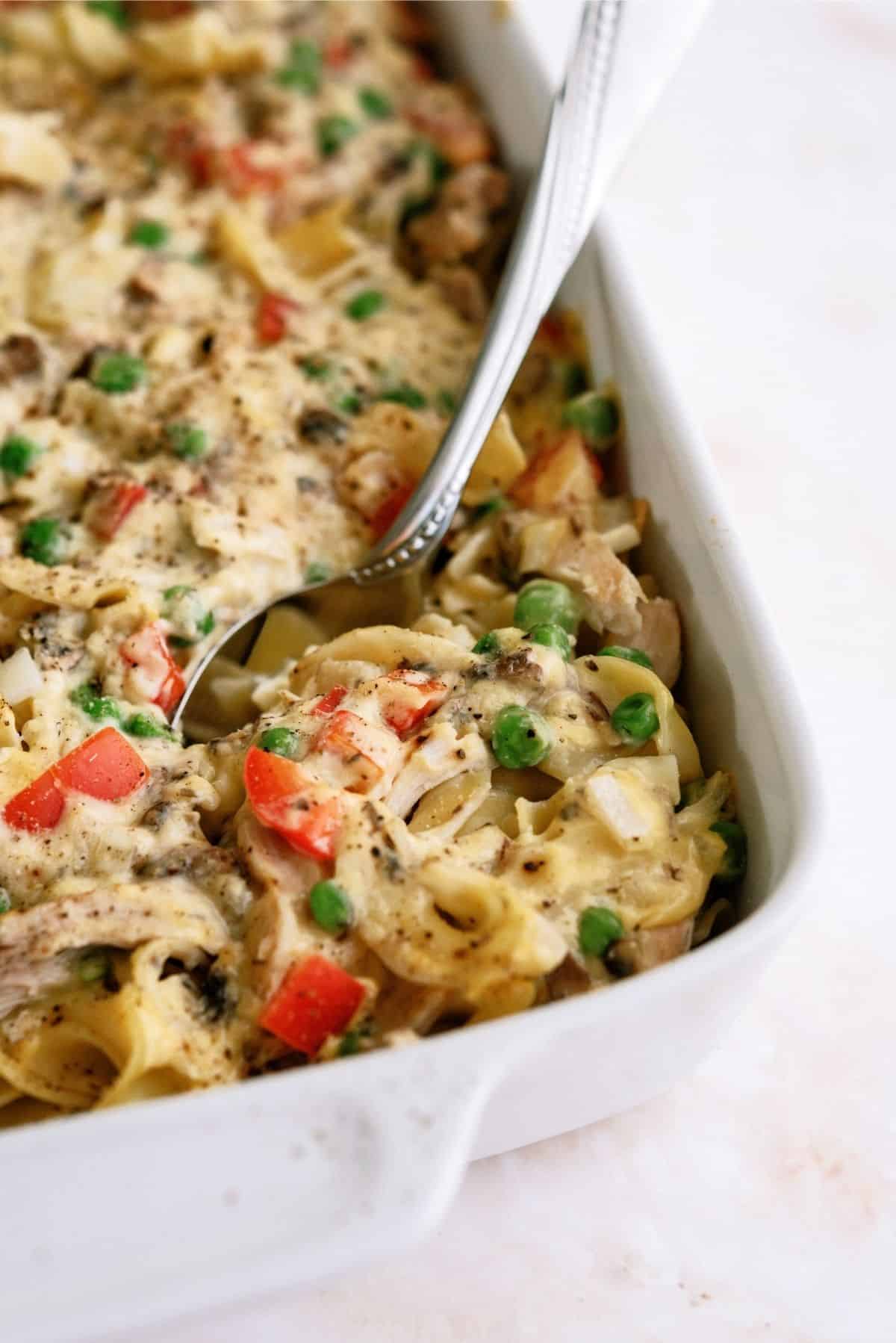 To Make This Chicken Casserole Recipe You Will Need:
9×13 inch pan (THIS is a great one since it has a lid!)
Small mixing bowl
Nonstick spray
Aluminum foil