As winter rolls in it's time to roll out your slow cooker recipes and make sure to start with our slow cooker chunky roast stew! With it's hearty roast pieces and chunks of delicious veggies, you can't go wrong.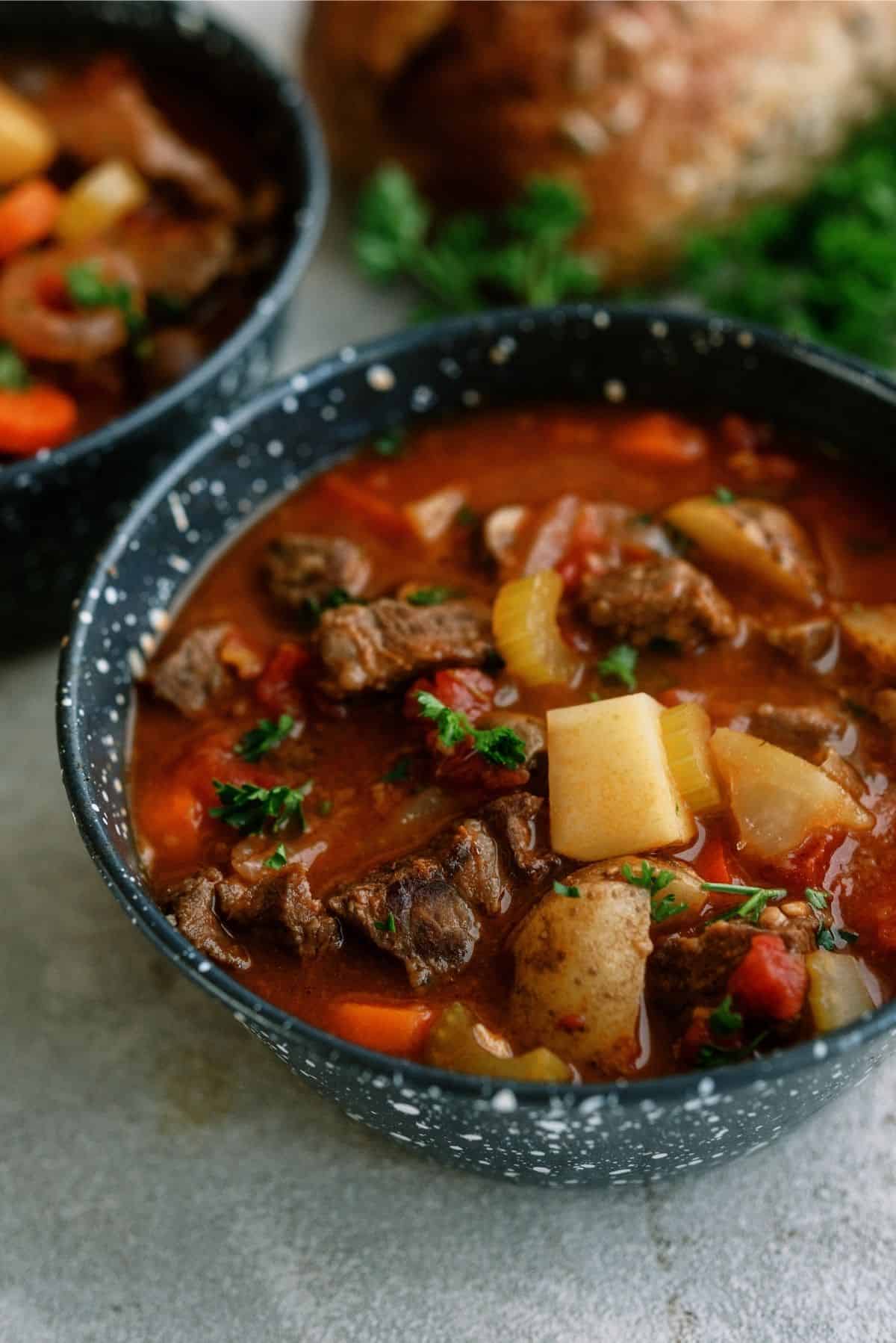 Slow cooker recipes are a favorite in our house during winter, and this slow cooker chunky roast stew is on the top of the menu! This is even better than your old fashioned beef stew recipe because of using a full roast for this stew.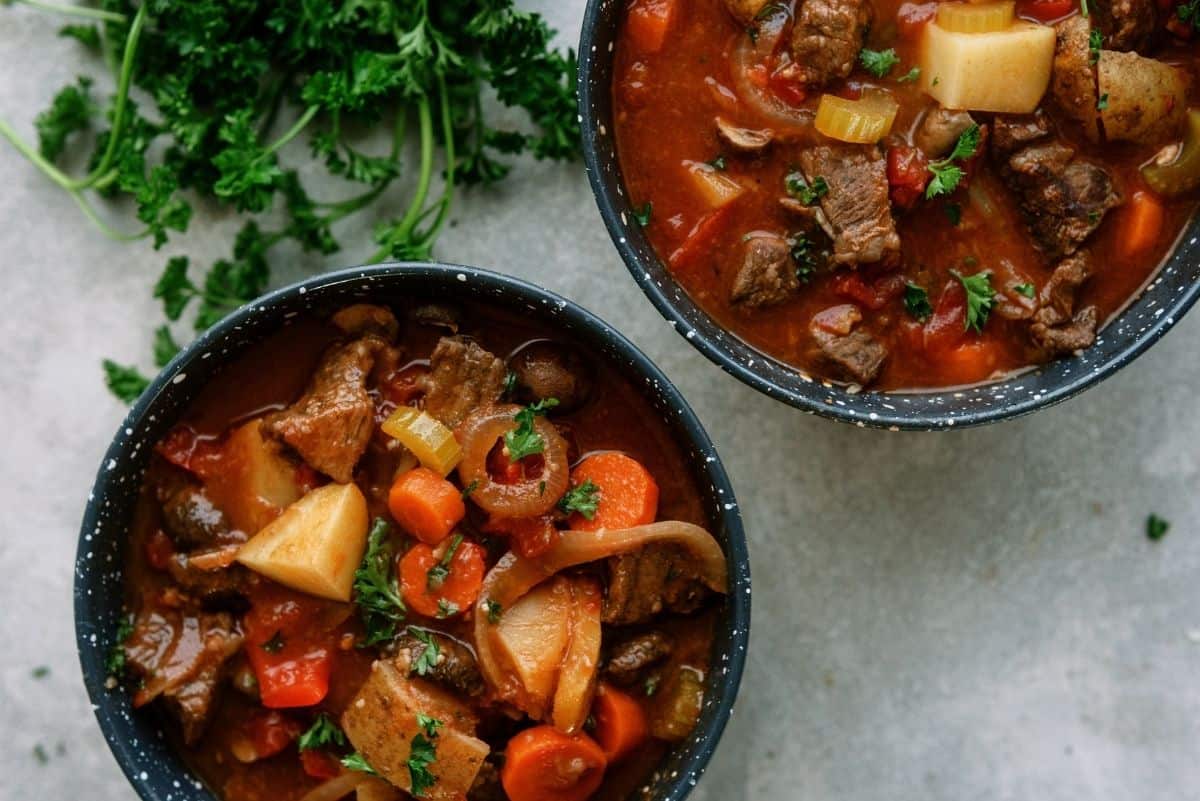 If you are looking for a good slow cooker beef stew recipe, look no further. This is an easy recipe that you can braise the meat, and throw it all into the slow cooker.
I promise that just like my family, this will become a favorite family recipe that you will want to make over and over this winter. It is truly one of my favorite beef flow cooker recipe.
For more of my favorite sides to serve with this slow cooker recipe, take a look at how to make green beans in the Instant Pot, easy homemade rolls, and an Italian fresh green salad all go wonderfully with this beef stew recipe!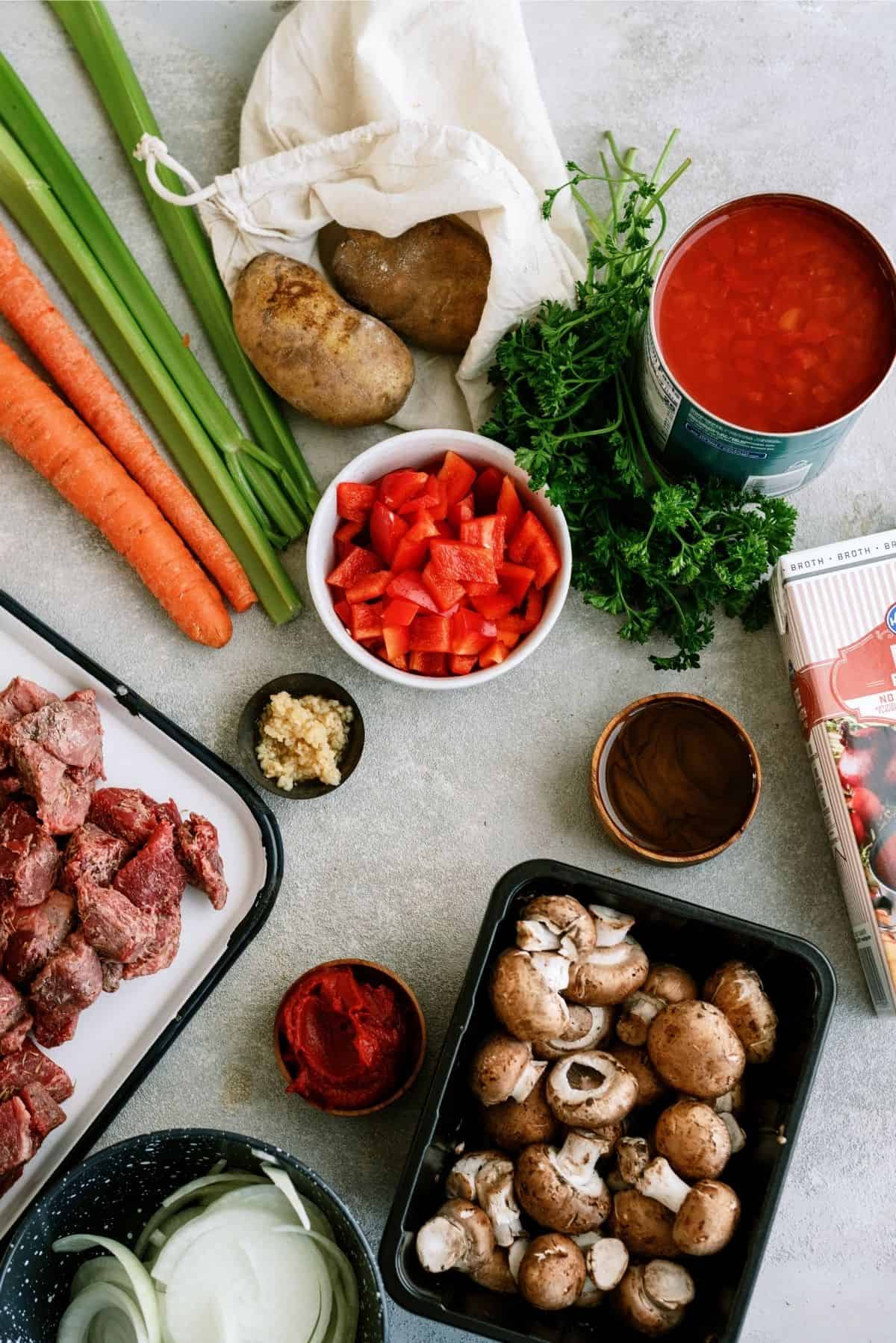 Ingredients You'll Need For Our Slow Cooker Chunky Roast Stew:
Beef chuck roast
Flour
Dried thyme
Pepper
Olive oil
Onion
Minced garlic
Low sodium beef broth
Tomato paste
Diced tomatoes (undrained)
Potatoes
Baby portabella mushrooms
Red bell pepper
Carrots
Celery stalks
Salt
Fresh parsley
How To Make Our Slow Cooker Chunky Roast Stew:
Start by trimming the fat from the chuck roast and then cut it into 1 ½ inch pieces or if you want to make it even easier, you can have the butcher cut it into the pieces for you.
Then in a gallon-sized bag put the flour, thyme, and pepper, zip it up, and shake it to combine it all together.
Once the flour mixture is done, add in the meat and shake it together to coat the meat in the seasoned flour.
Now, in a medium skillet, heat 4 tablespoons of oil over high heat.
After the oil is hot, add in the seasoned meat and cook it for about 4-5 minutes to sear the outside, or until the edges of the meat are brown.
PRO TIP: By searing the outside of the meat before you cook it in the stew it allows the meat to retain the wonderful juicy flavor.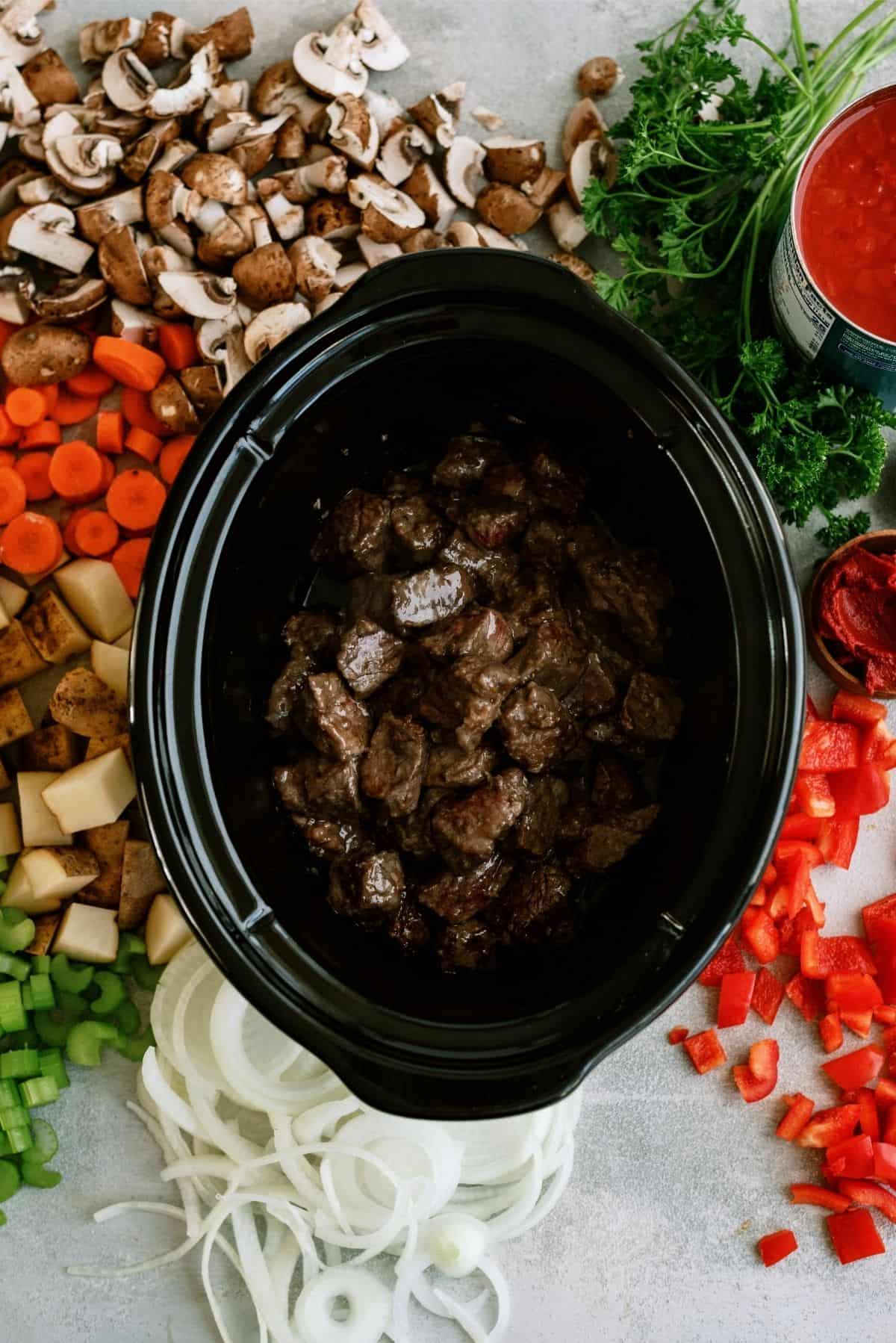 Then transfer the meat into the slow cooker.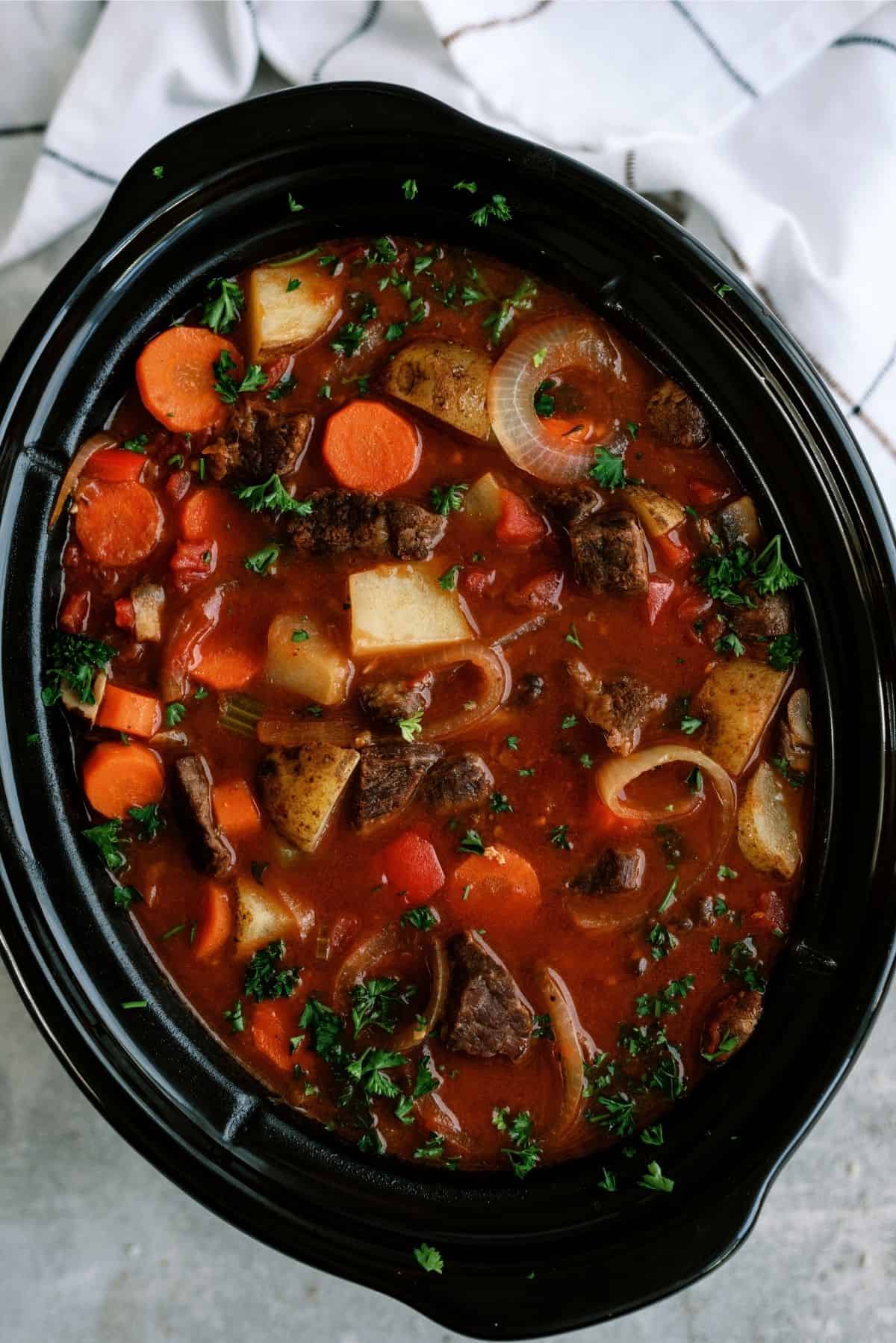 Once the meat is in the slow cooker add in the sliced onion, minced garlic, beef broth, tomato paste, diced tomatoes (undrained), diced mushrooms, diced potatoes, diced bell peppers, sliced carrots, diced celery, and salt.
Then just put the lid on the slow cooker and turn it on low heat and let it cook for 6-8 hours or on high for 4-5 hours.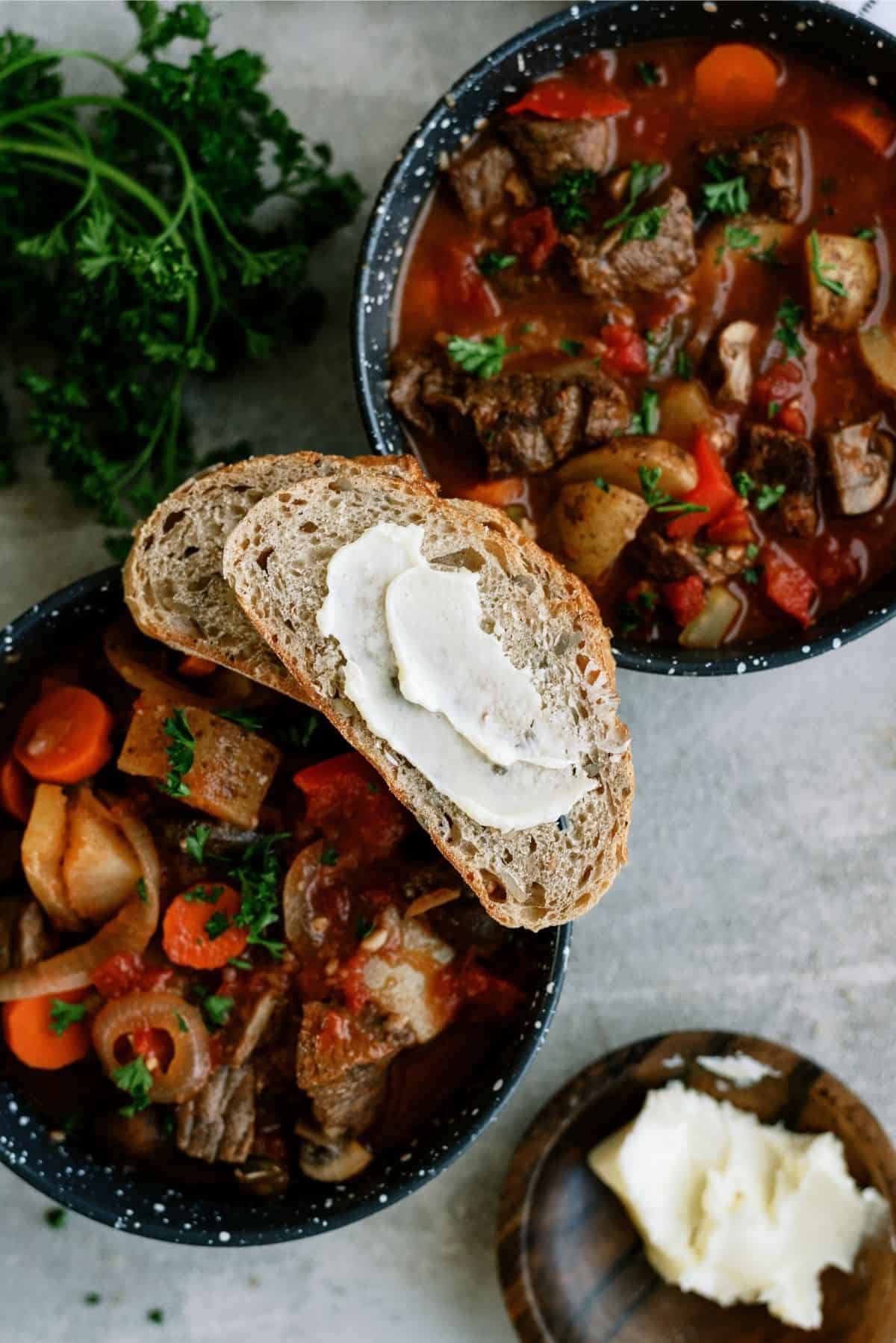 When you are ready to eat, serve it in a bowl hot and top it off with some freshly chopped parsley.
To Make This Beef Slow Cooker Recipe You Will Need:
Slow cooker (THIS one works wonderfully!)
Large ziplock bag
Medium skillet
Cutting board
Knife