Think outside the box with this chicken pasta casserole with corn and zucchini dish! It is one of those delicious and versatile summer pasta recipes that you can have for dinner or serve at a BBQ that everyone will love.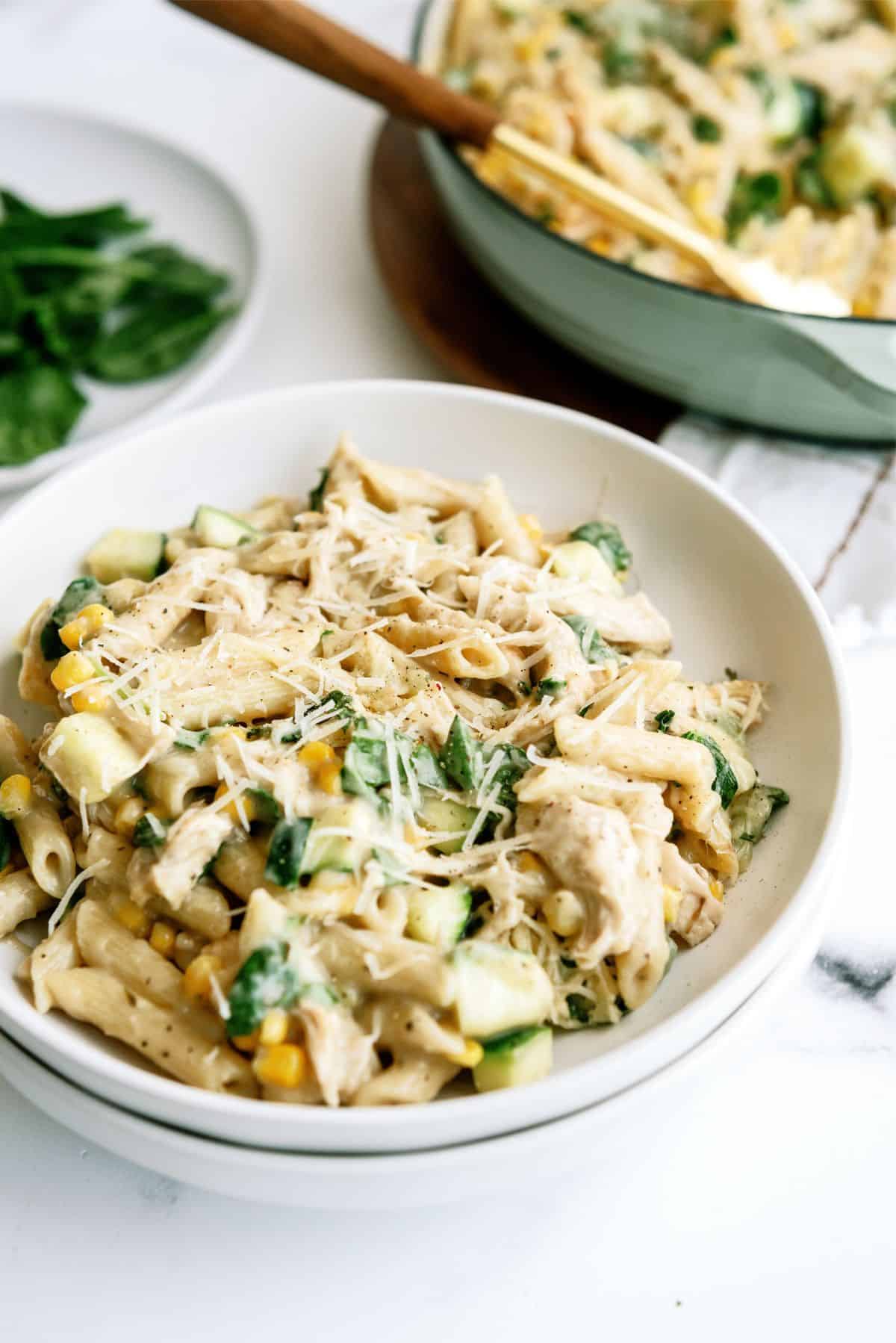 I love our chicken pasta casserole with corn and zucchini recipe. It is so good and a fun zucchini recipe that you might not have even thought about.
My garden is always booming with zucchini this time of year and I am always looking for good recipes to use it in. Sometimes you just need a different way to use zucchini that isn't bread or oven roasted and this chicken pasta zucchini casserole is perfect.
You don't need to do a bunch of prep work for our chicken pasta casserole so it makes this dish nice to make when you are low on energy or time. Not to mention that it is super delicious too, and makes for great leftovers!
If you need more ideas on how to use up all of that delicious fresh zucchini from your garden, take a look at our air fryer crispy zucchini bites recipe, zucchini pizza casserole recipe, and of course our chicken zucchini casserole recipe for a few tasty suggestions and our favorite ways to use up zucchini. Let us know your favorite way to use zucchini too!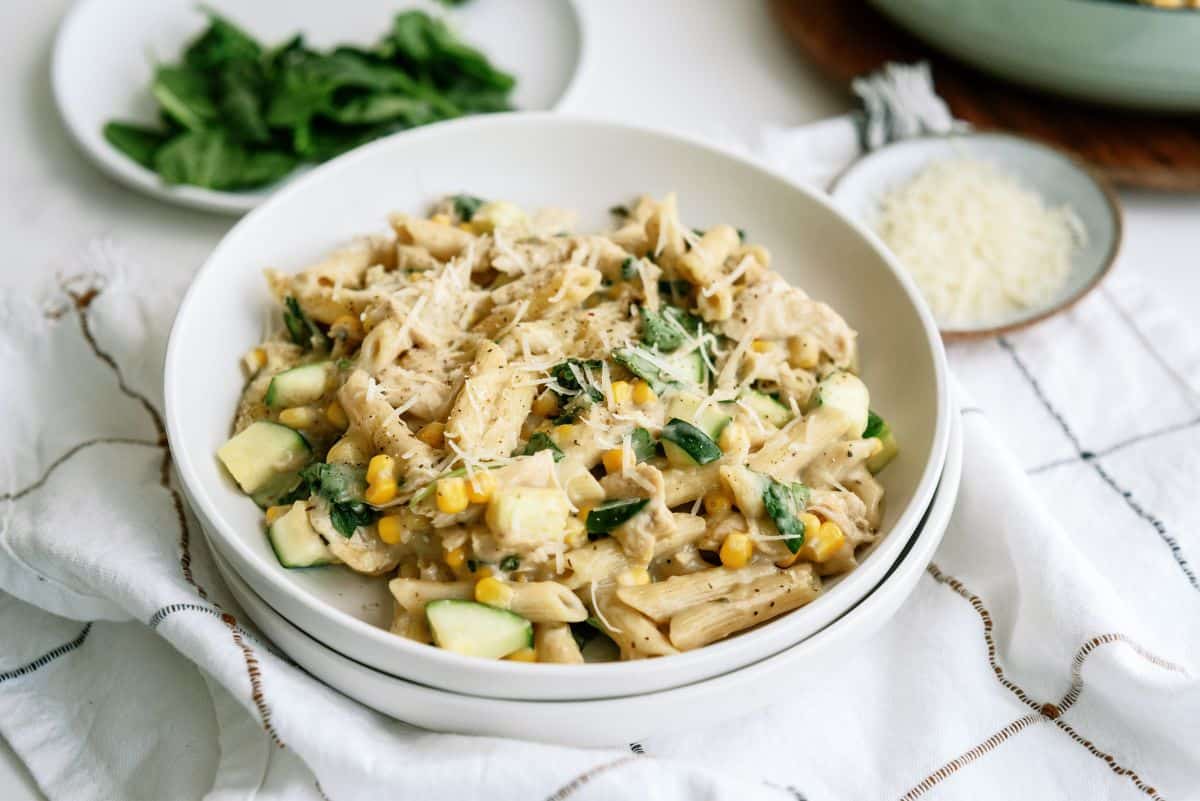 Ingredients You Need to For Our Chicken Pasta Casserole with Corn and Zucchini Recipe:
Butter
All-purpose flour
Chicken broth
Milk
Salt
Pepper
Garlic salt
Fresh thyme
Penne pasta
Shredded Mozzarella cheese
Boneless skinless chicken breasts
Zucchini
Frozen corn
Fresh baby spinach
Shredded Parmesan cheese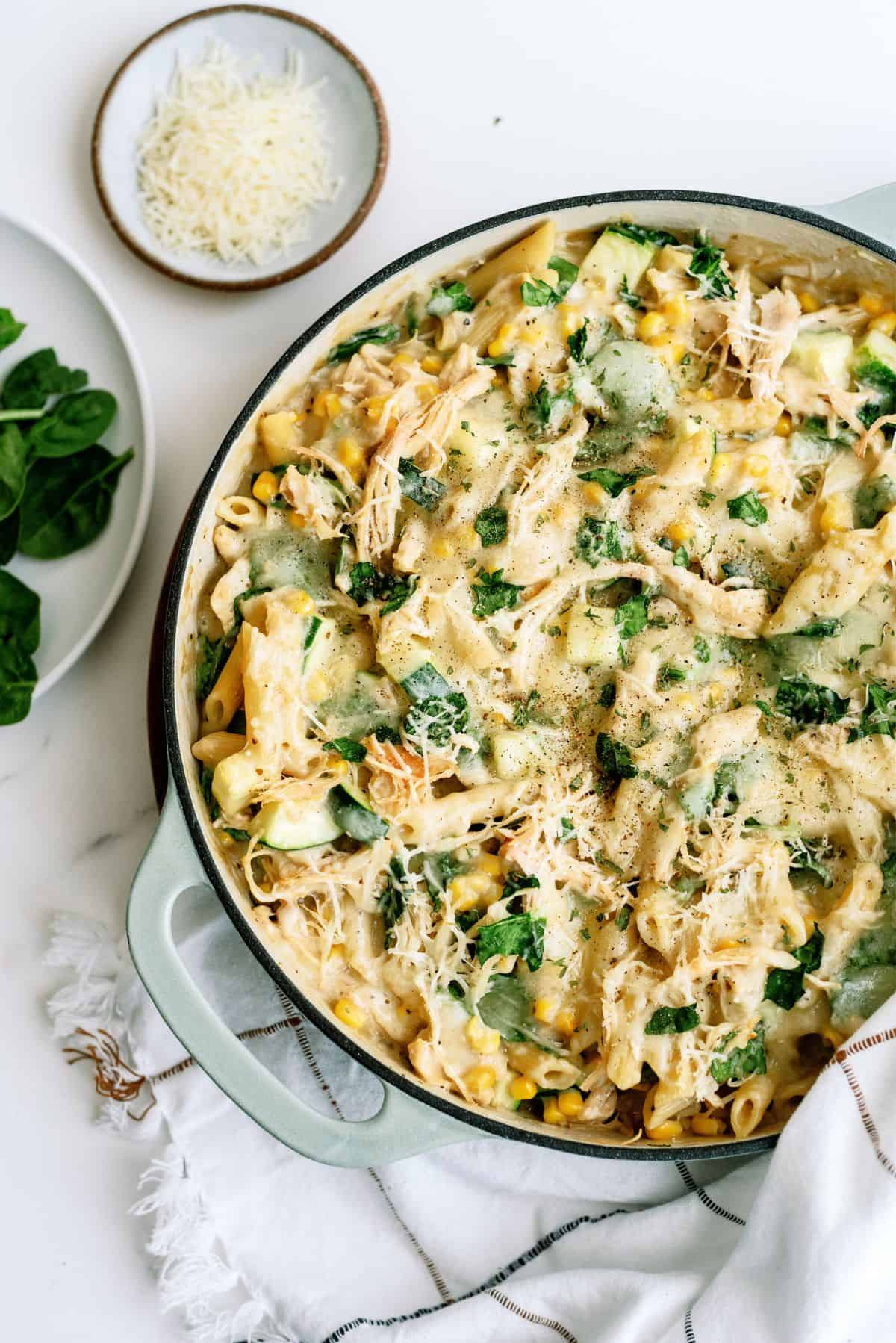 How To Make Our Chicken Pasta Casserole with Corn and Zucchini Recipe:
To make this tasty casserole, start by preheating the oven to 350 degrees, also be sure that your chicken has been cooked and shredded, or use a rotisserie chicken!
Then grease a 9×13 inch pan with nonstick cooking spray and set it aside for later.
When you are done preparing the dish, bring a pot of water to boil and cook the noodles according to the packaging.
Now, in a large skillet, melt the butter over medium-high heat.
When the butter is completely melted, add in the flour and mix it together and let it cook for about 1 minute.
Continue to create the casserole sauce by adding in the chicken broth, milk, salt, pepper, garlic salt, fresh thyme, and then mixing it all together.
Let it come to a boil and turn it down and let it simmer while stirring it constantly to make sure the sauce is without lumps, and smooth.
After the sauce is smooth, let it continue to cook for another 5-10 minutes while stirring it occasionally until the sauce has thickened up and remove it from the heat.
When the noodles are done cooking, strain them and pour the noodles into the sauce along with ½ cup of mozzarella, the cooked chicken, diced zucchini, frozen corn, and spinach that has been chopped or torn into bite-sized pieces.
Mix everything together and then transfer it to the prepared 9×13 inch pan and spread it out evenly.
After the chicken mixture is spread out in the dish, top it off with the remaining mozzarella cheese and parmesan cheese as evenly as you can.
Then place it in the oven uncovered for about 20-25 minutes or until it has heated all the way through.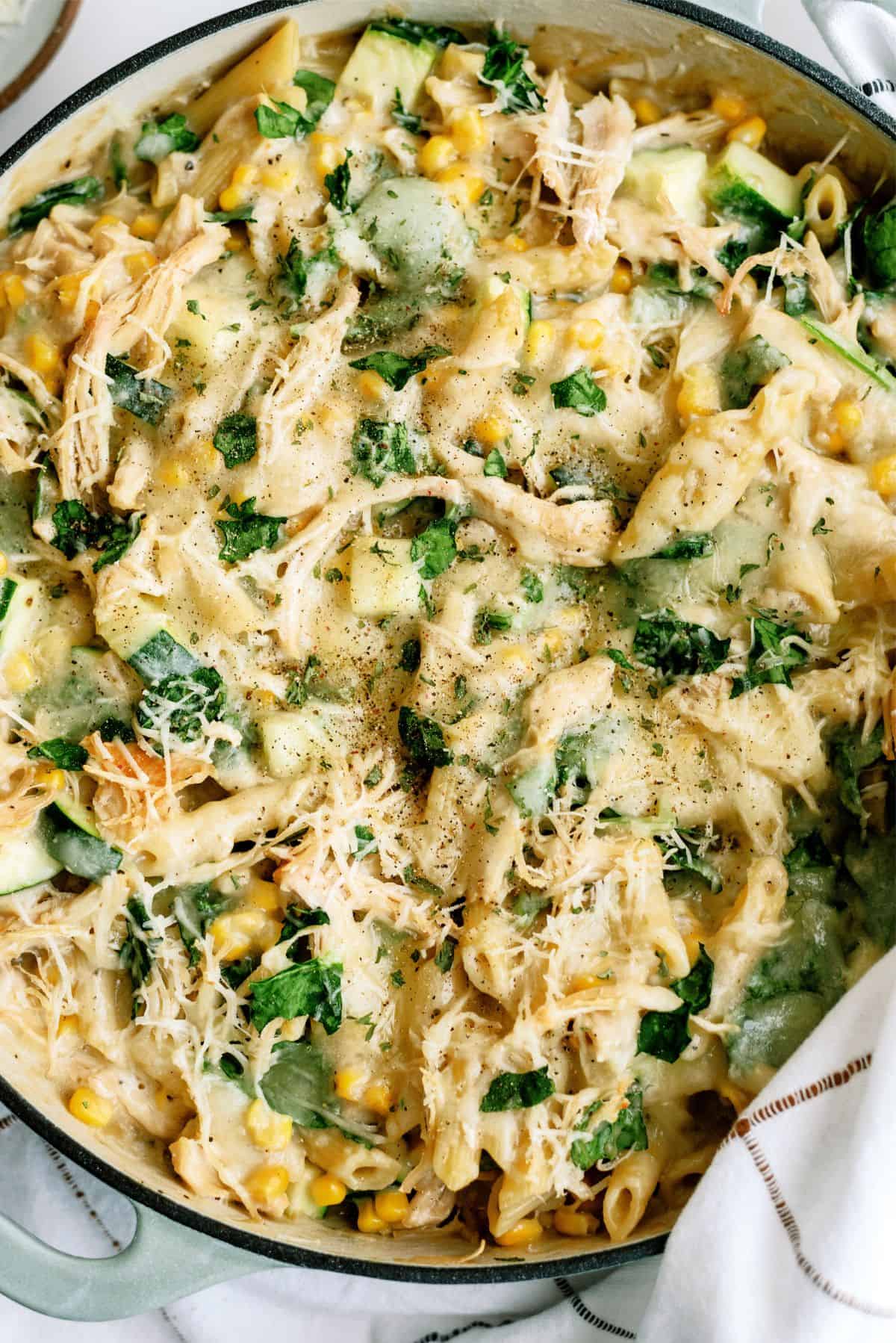 Now just remove the dish and serve it with your favorite sides.   
To Make This Zucchini Recipe You Will Need:
Large skillet
9×13 inch pan (THIS is a nice one that is also nonstick!)
Nonstick cooking spray
Spatula