Zucchini Pizza Casserole is made at least once a week at my house. Life gets crazy busy, so if I get dinner on the table by six, I feel proud of myself. This Zucchini Pizza Casserole, is one the whole family loves. It is so easy to make, and takes minutes to throw together.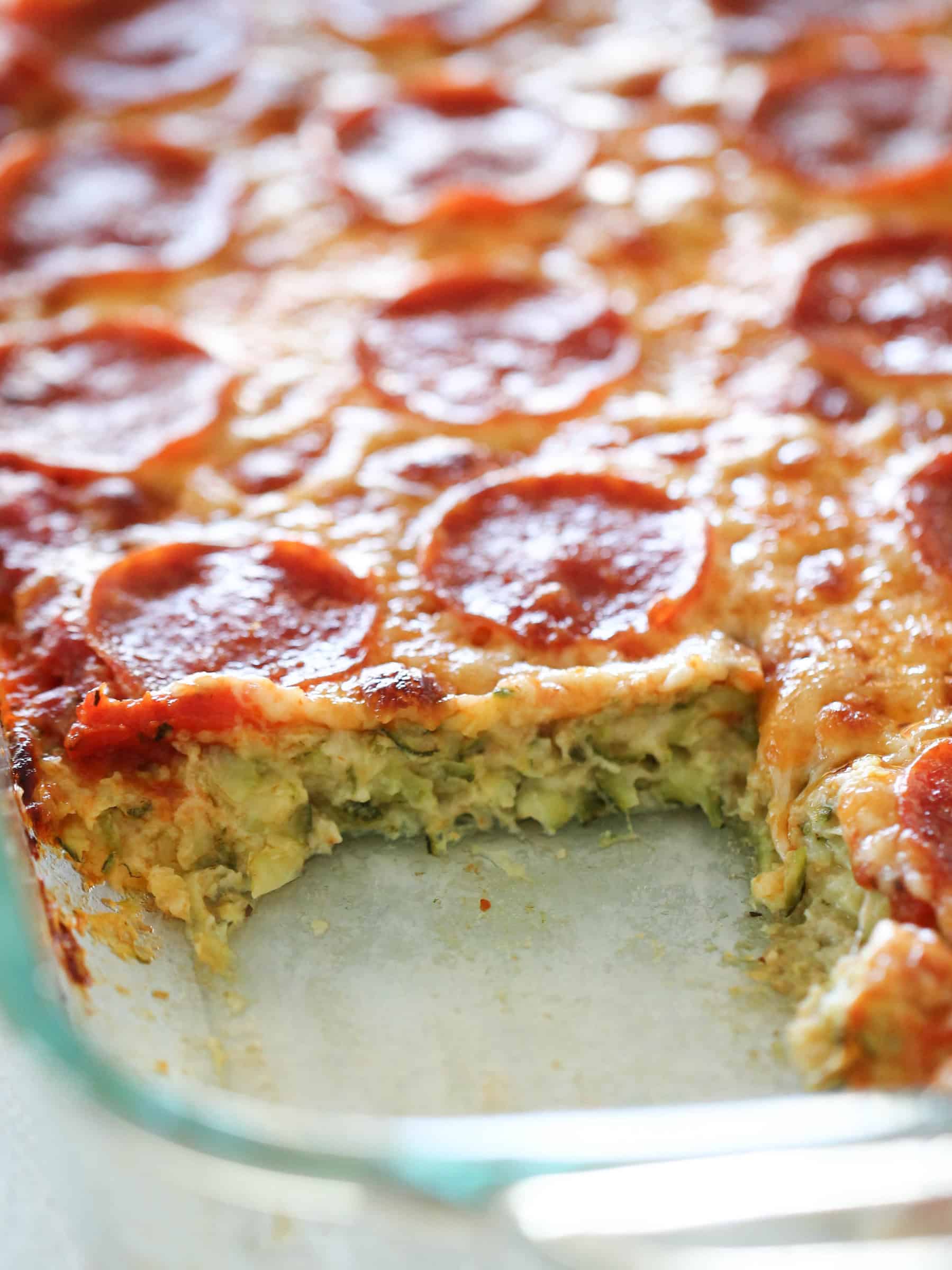 If your family is anything like mine, you are all pizza lovers. I am addicted to pizza. No lie. I crave it almost daily. This is normal right?
I have been trying to eat more healthy lately, and decided I wasn't quite ready to cut pizza out of my life.
My family usually has pizza in some shape or form every Friday night. I thought I would trick them into getting a few more vegetables in their diets with this easy Zucchini Pizza Casserole.
Well it worked. My family devoured this pizza dish. They didn't even say anything about the zucchini. They just saw the cheesy goodness and dug in. It is now a weekly favorite, and I feel really good about it.
The best thing about this recipe, is it only requires 8 simple ingredients, that you most likely already have. It's a win win recipe, for everyone, including the budget.
Related Recipe: Try our Chicken Zucchini Casserole!
How to make zucchini pizza casserole:
Step 1: Preheat oven to 400 degrees F.
Step 2: Shred and squeeze the excess moisture out of shredded zucchini with paper towels and place in a large mixing bowl.
I like to shred my zucchini with a cheese grater. You could also use a food processor and pulse the zucchini, but this will definitely lead to a finer shredded zucchini, and could leave it more soggy.
Be sure to really dry the zucchini with a paper towel as best you can.
Step 3: Add salt, eggs, parmesan cheese, 1 cup mozzarella cheese and bread crumbs. Stir until well combined.
I used a wooden spoon to combine all the ingredients. Just fold them into each other until they are fully combined.
Step 4: Press mixture into a 9×13-inch baking dish sprayed with nonstick cooking spray.
I prefer using the olive oil non-stick cooking spray, but you could also use a butter based spray. I prefer the taste of the olive oil, but I'm sure it's nothing your family or guests will be able to notice.
Step 5: Bake for 20 minutes. Or until the edges begin to harden and look a little more crisp. Remove from oven.
Step 7: Spread marinara sauce over zucchini crust. You could make your own marinara sauce, but I prefer to buy it, because they taste just as good as anything I would like to make.
If you are watching calories or sugar intake, be sure to check the ingredients on the jar. A lot of brands and recipes put quite a bit of sugar in them.
Step 8: Top with remaining mozzarella cheese and pepperoni, as desired. Place back in the oven and bake for 20 more minutes.
Step 9: Let cool for a few minutes and serve.
What could I use besides pepperoni?
If you are not a pepperoni lover, you could also use a turkey sausage, Canadian bacon, extra cheese, pineapple, or even bbq chicken.
You could really put any ingredients or toppings on it, as if it were pizza.