I love a good sugar cookie, but have you ever tried chocolate sugar cookies? They taste just as delicious as they sound. They are practically brownies, but better. You will love this chocolate dessert.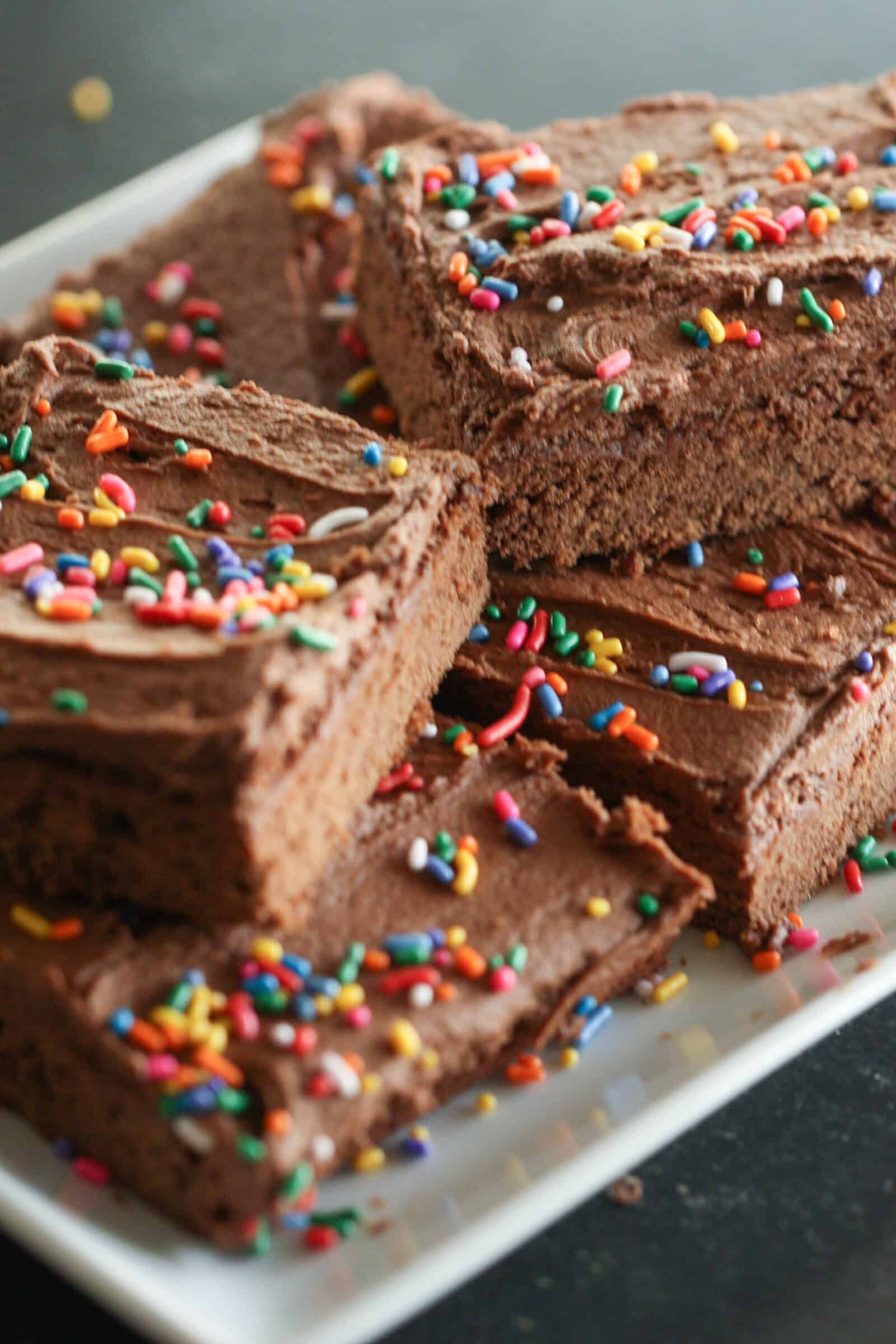 My husband is a sucker for sugar cookies. I, however, would much rather have a nice brownie (like these Chocolate Sugar Cookie Bars) over a sugar cookie on any given day.
I had just made a pan of our Sugar Cookie Bars (per my husband's request) and started thinking about how good a chocolate sugar cookie would be – something thick, rich, and dense; something you could really sink your teeth into.
I then came across some Sugar Cookie Bars from Betty Crocker, and realized I was craving some type of bar, but I wanted something a little more rich and something with a lot of chocolate.
Top it with thick, fudgy icing and that is a sugar cookie I could get excited about.
So, I got to work. After a couple attempts, this was the end result. They are pretty much amazing. I love making this bar version of sugar cookies because it literally takes only a couple of minutes.
You just have to be sure to not overbake these, otherwise they might turn out a little dry.
Can I make these ahead of time and freeze them?
Yes, these most definitely can be made ahead of time, and frozen. They are actually even more delicious slightly frozen in my opinion. I love cold desserts or bars and cookies, and this recipe is so yummy frozen.
Once they are frosted, we don't however, recommend reheating them to thaw them.
To freeze and to thaw, we recommend placing the bars in an air tight storage container, and placing them in the fridge or on the counter 12 hours (or the night before) serving. They will be chilled, and delicious. Again, do not heat them, or the frosting will melt off and they will lost their texture.
Cautious of the bake time:
For this recipe, you do not want to over bake the cookie bottom. Just like a normal vanilla sugar cookie, they can overcook quickly, and end up a little dry. Be sure to keep an eye on them, and don't let them over bake.
You can always add a little baking time, but you can't take it away after the damage has been done. I even like these a little undercooked, then I set them on the counter to set up a little more. So yummy.