I am all about simple, and this side dish or dessert, is as easy as they come. If you are looking for a light, fruity, flavorful food, that will have your family and friends raving about, you need to make this Berry Cheesecake Fruit Salad. It is simply, the best.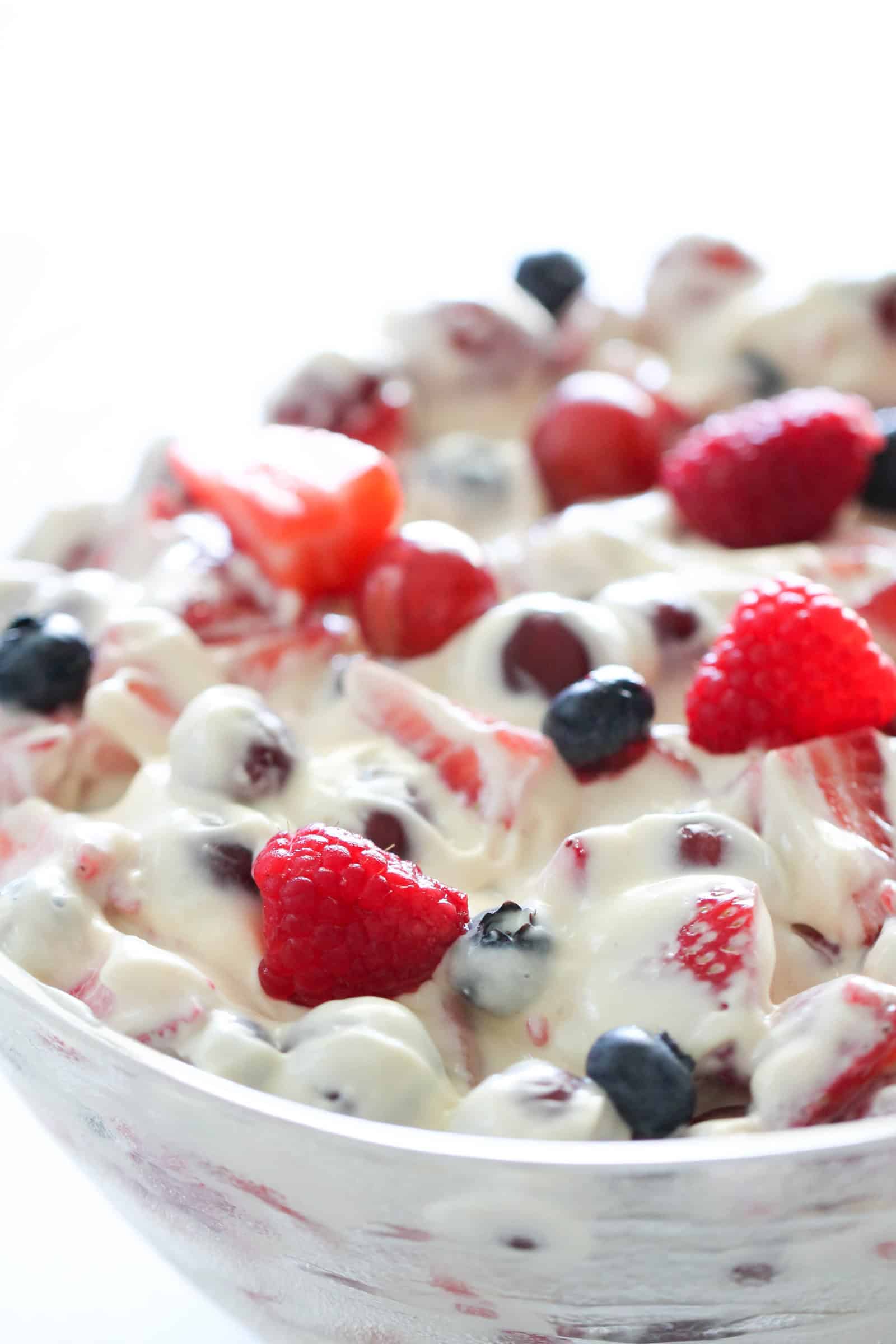 I'm loving all of the fresh, juicy berries that are in season right now. Whether you serve this fruit salad as a dessert or side dish, this Berry Cheesecake Fruit Salad Recipe is sure to be a hit.
If you live in an area, where the fruit isn't fresh, don't stress. You could easily use frozen berries for this recipe.
I consider this dish to be a side, but you could also serve it as a light dessert. It is so thick and creamy, yet light and fruity.
There are no words to describe how delicious this is, so I guess you will just have to try it yourself.
Tips on how to make berry cheesecake Fruit salad:
This Berry Cheesecake Fruit Salad, is extremely easy to make, however, we do have a few tips for you, when making it. Here they are:
Your cream cheese will work best when it is nice and fluffy. In order to get this desired fluffy texture, you may need to leave your cream cheese out for a little bit, to get it to room temperature.When mixing it, be sure to not add any other ingredients to it. Let the hand mixer beat the cream cheese to a smooth and fluffy texture, before adding any other ingredients.If you don't it may create cream cheese bumps in your salad.
Other pudding's won't work. It needs to be the instant vanilla packet, when making this recipe.
We also recommend adding the milk little by little, just to get that desired texture. Sometimes when you put ingredients in all at once, it can lead to lumping, or a funky texture.
If you do decide to use frozen fruit, thaw and dry them with a paper towel before adding them to the salad. If you don't your salad will get too much moisture in it, and it will turn watery.
As long as you follow the instructions and the ingredients list, this salad will be perfectly smooth and fluffy without any lumps or flaws.