This creamy Grape Salad with cream cheese sauce and topped with walnuts is one of our favorites. It is always a popular dish at parties and potlucks.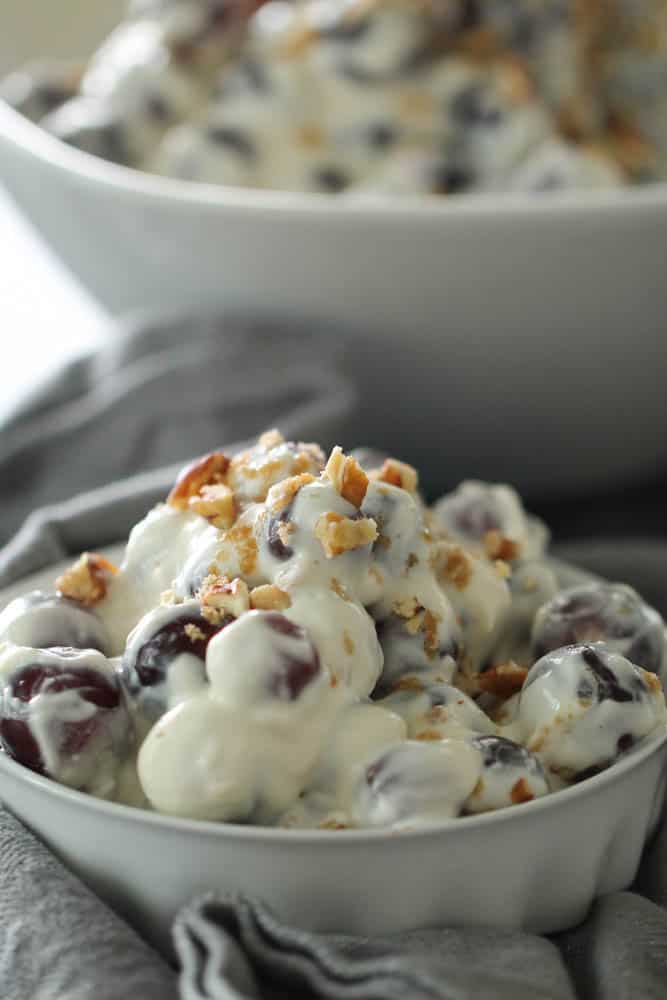 I have tried a lot of Grape Salad recipes and variations, but this Creamy Grape Salad recipe is by far the best yet.
Whenever I am in a time crunch to make a fast pot luck dish, I always turn to this recipe because it's easy, fast, and everyone raves about it.
Not only that, but it requires no oven, making it perfect for a hot summer day.
We are always getting together as a family and we love having a big variety of side dishes to enjoy.
Another favorite salad recipe is our Strawberry Jello Fluff salad. It's absolutely amazing!
The perfect grapes:
Many times people will ask how we know what the best grapes are. Let me tell you a little secret: the only way to know is to test them.
Yes- test them before you buy them.
I'm not saying to eat a whole bag of grapes at the grocery store, but I have seen other people (myself included) pick just one grape off the stem and try it.
I have tried the tricks the internet says about the perfect size and color, but I have found just a little sample gives me a better idea of what I am purchasing.
Is this illegal? I don't know. But nobody has stopped me yet.
So I will continue taste testing my grapes until I am stopped. Washed or not, I want to know what I am buying!
How to make the Grape Salad Cream perfect:
Cream cheese can be a difficult ingredient to work with. I have found this recipe to work best when I let my cream cheese soften a little bit.
I usually let it sit on my counter for 25-30 minutes before I begin to work it into my recipe. This allows it to soften and blend a little easier. It also keeps the cream from getting bumpy and difficult to work with.
Once you start working your sour cream and cream cheese together, they should smooth out, especially when the sugar gets added.
You can use a hand mixer (I love this Hamilton Beach Mixer), but I have found when you over-beat the mixture, it loses its creamy texture and becomes more liquid than intended.
Once it is looking creamy without any lumps, fold in the pecans, vanilla and brown sugar. Add the grapes and fold the mixture until evenly combined.
Garnish with extra brown sugar and pecans. Place in the fridge and keep cold until ready to serve.
If you have made this ahead of time, don't add the garnish until you are about to serve it. Otherwise the pecans might get soft or the brown sugar might melt into the cream and lose it's attractive appearance.