Enjoy restaurant quality chicken tenders with this baked crispy coconut chicken recipe. This coconut panko baked chicken recipe is one you need to make and save because it is so delicious and flavorful.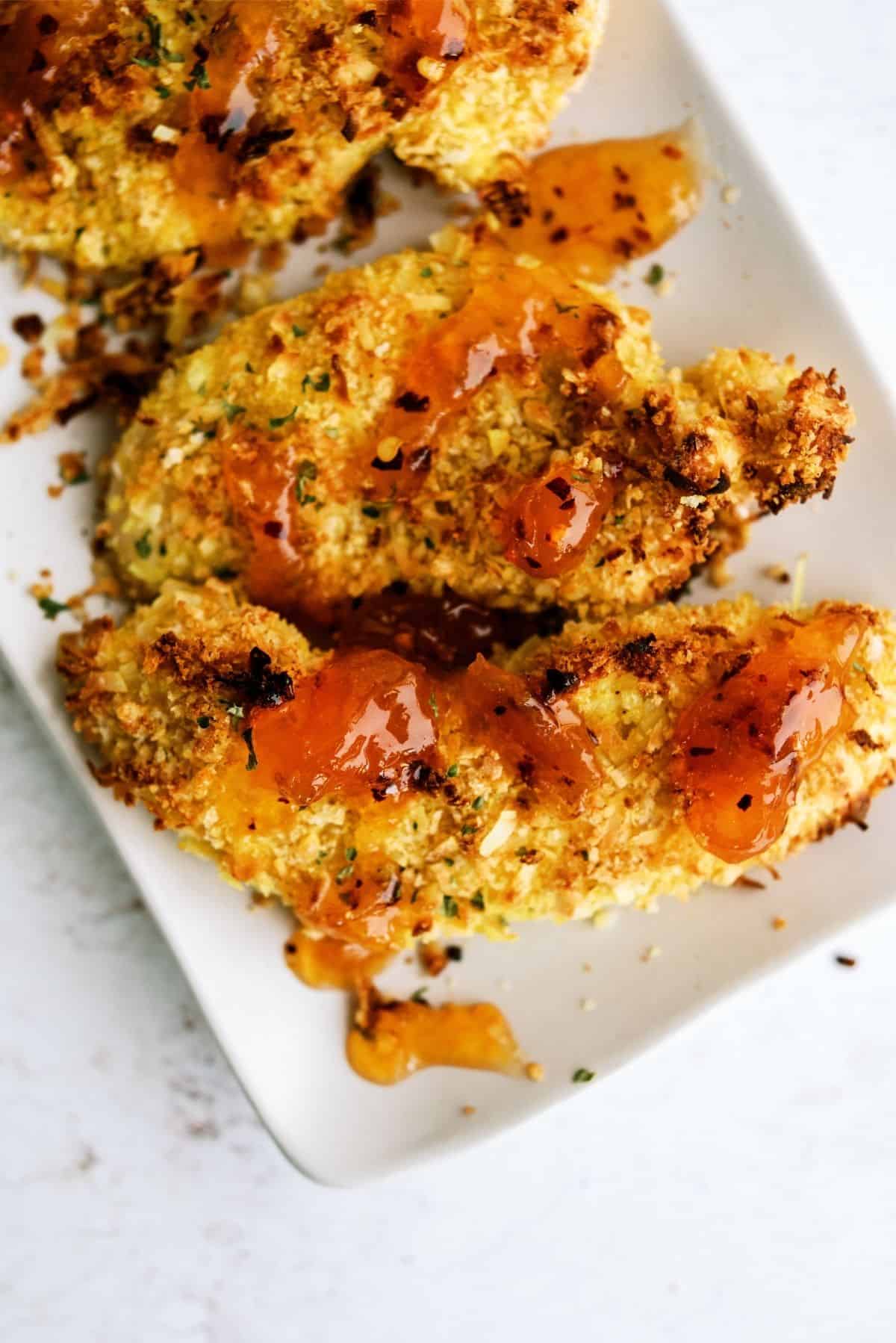 This baked crispy coconut chicken recipe is definitely my go to recipe when I am trying to impress someone with my cooking skills. They are so tasty, and actually pretty simple to make and this recipe comes with the perfect sweet and spicy apricot sauce for dipping.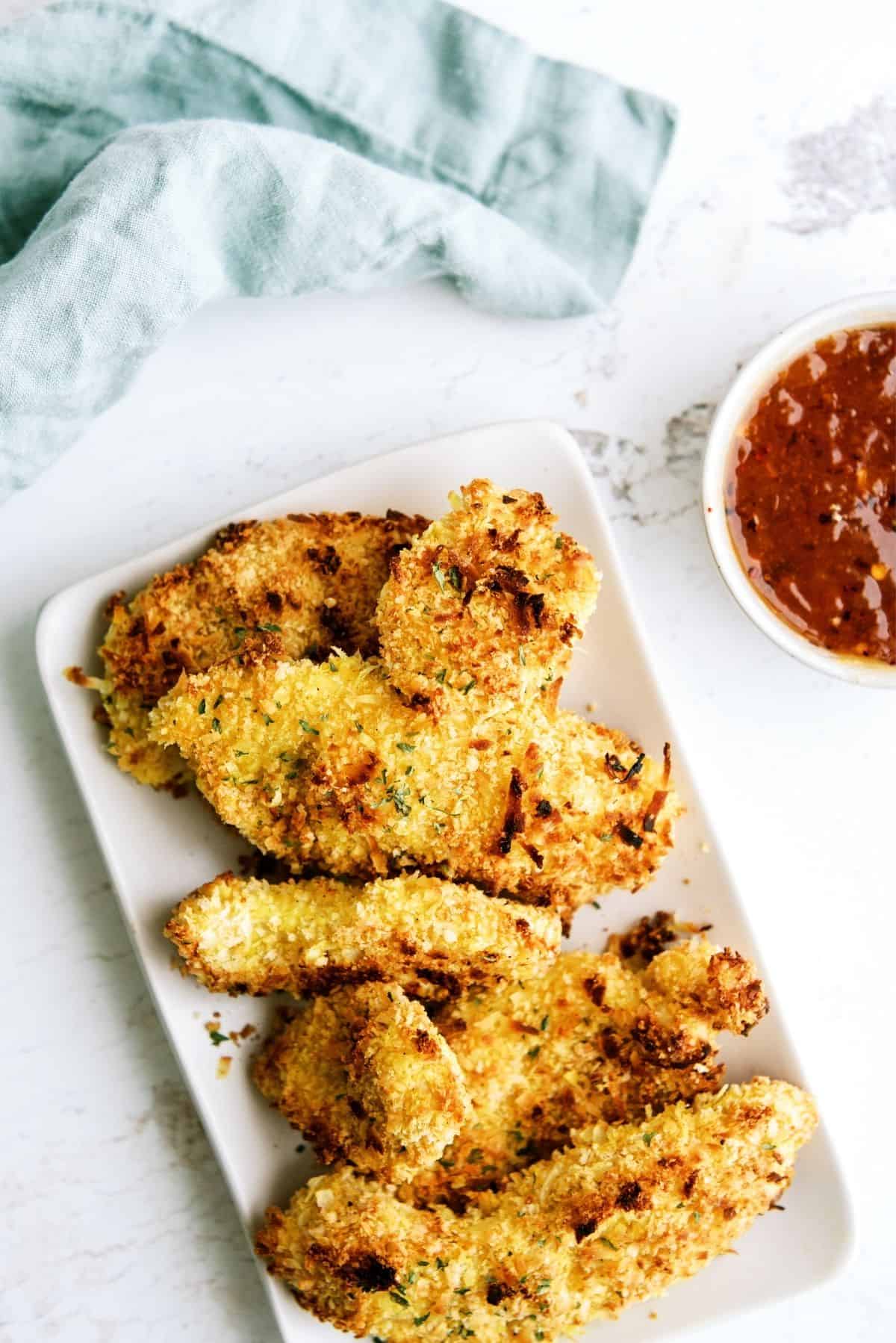 Don't get me wrong, I love popping in those premade frozen chicken nuggets into the air fry just as much as the next mom, but sometimes you just need to make these delicious homemade baked chicken tenders just to remind yourself you could make fancy tenders if you wanted to.
Plus these tenders are an easy chicken dinner you can make when you are trying to switch things up a bit. No need to have the same chicken all the time, it's always nice to enjoy a little oven-fried chicken every now and again.
These delicious homemade coconut panko tenders go wonderfully with our Instant Pot sweet potato casserole, slow cooker brown sugar glazed carrots, and then finish up with some tasty orange fluff jello salad!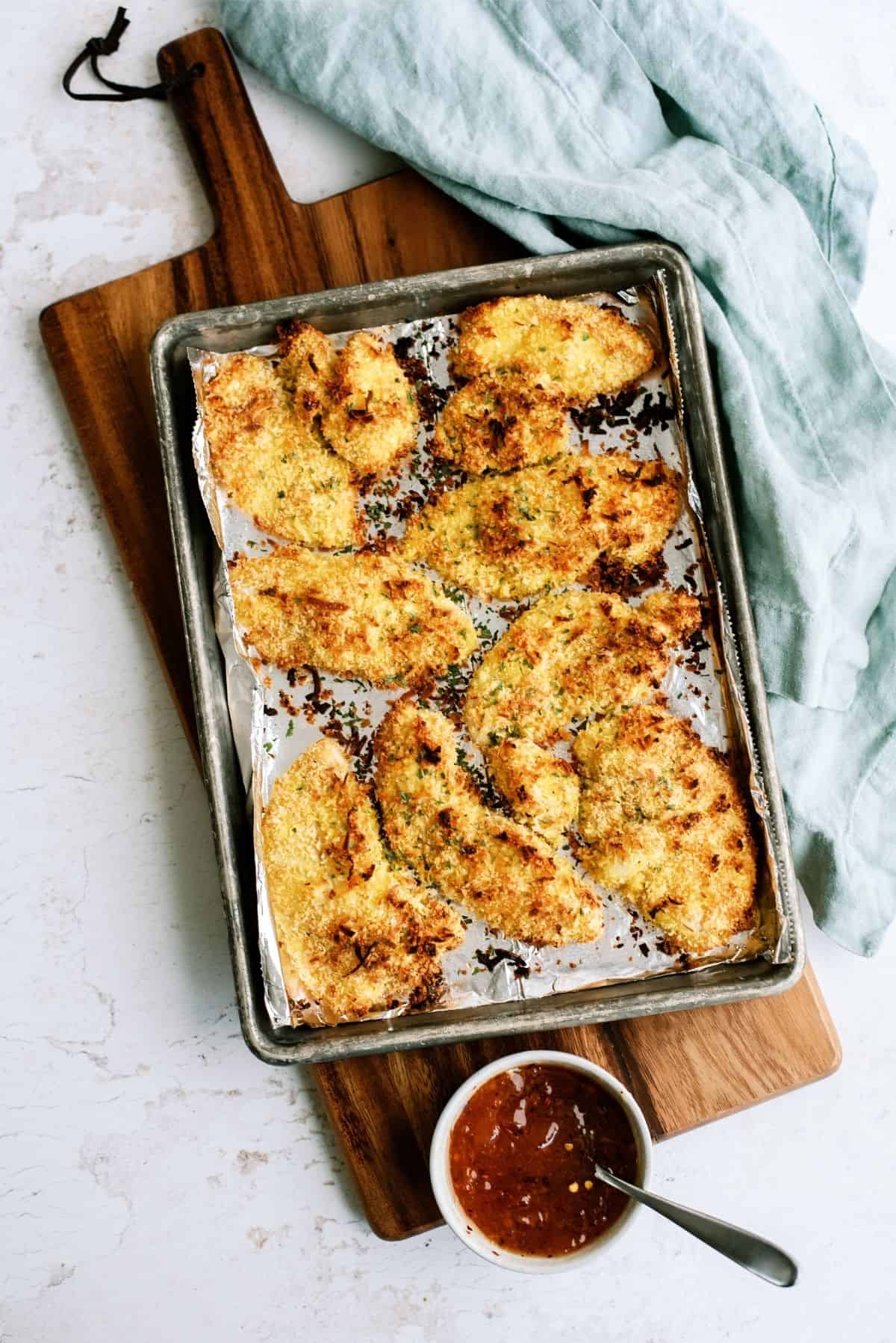 Ingredients You'll Need For Our Baked Crispy Coconut Chicken Tenders Recipe:
Flaked coconut
Panko bread crumbs
Garlic powder
Salt
Curry powder
Onion powder
Cayenne pepper
Flour
Eggs
Boneless, skinless chicken tenders
Olive oil
Apricot preserves
Rice wine vinegar
Crushed red pepper flakes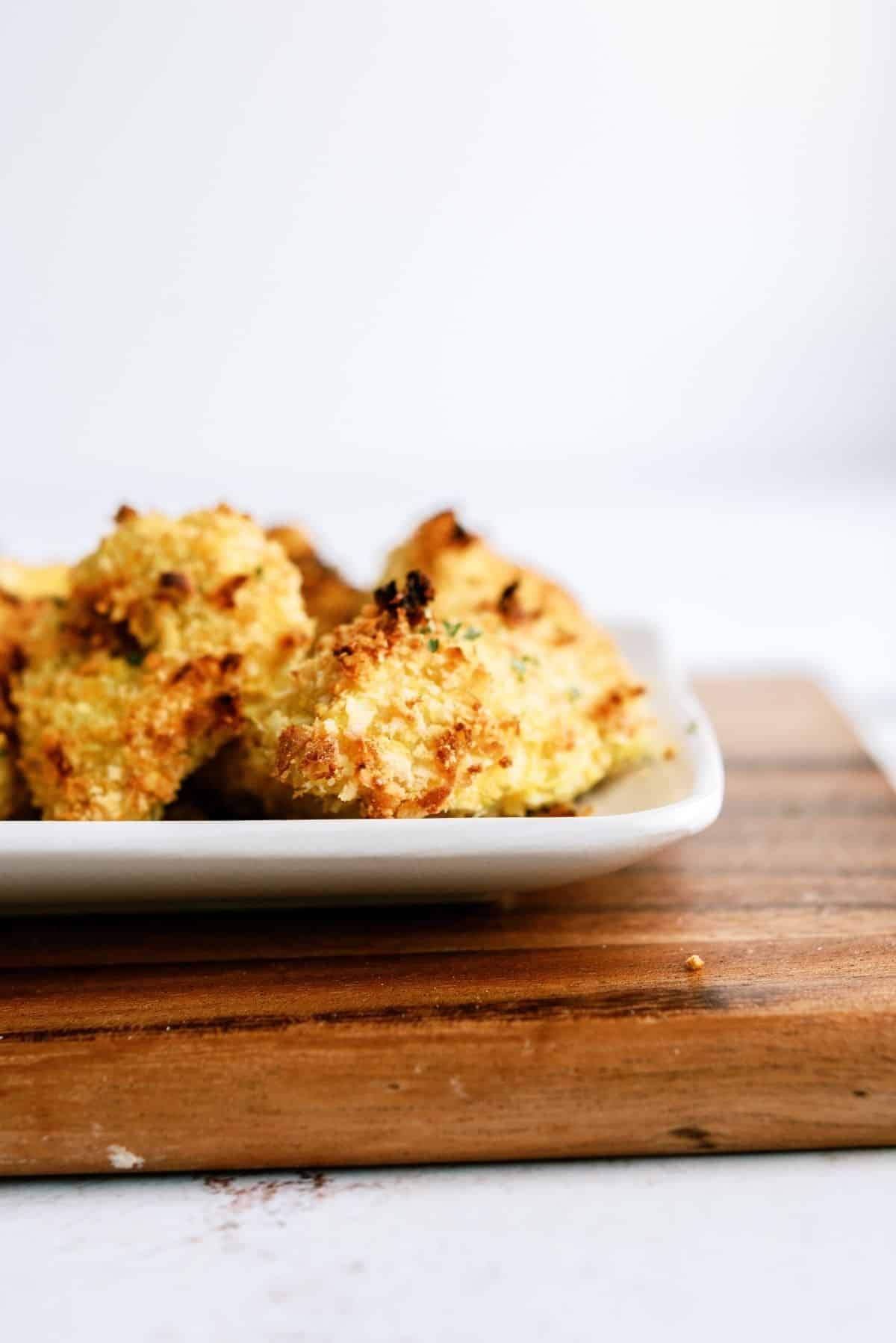 How To Make Our Baked Crispy Coconut Chicken Recipe:
Begin by preheating the oven to 450 degrees.
While the oven is preheating, roughly chop up the coconut flakes into the size of the panko crumbs as best as you can and then combine them with the panko crumbs in a shallow dish.
Then add in the garlic powder, salt, curry powder, onion powder, and the cayenne pepper to the panko and coconut flakes mixture and mix it all together.
Once you are done with that, place the flour in a separate shallow dish, as well as the beaten eggs in a shallow dish.
After you have the dishes set up, line a baking sheet with foil and then spray it with nonstick cooking spray and set it off to the side.
Then, take out your tenders and dredge one chicken tender through the flour, and then dip it in the beaten eggs, and then carefully coat it in the coconut panko mixture.
Be sure to press the coconut layer into the chicken to make sure the tender is coated well.
After it is coated, place the tender on the prepared baking sheet, and continue the same step with the rest of the chicken tender.
Once all of the tenders are on the baking sheet, lightly drizzle them with olive oil (this will help them crisp up nicely), and then place the pan in the oven, and let them cook for about 20 minutes or until the juices run clear.
It is important to keep an eye on the tenders especially if you have some thinner ones because they will go from perfectly cooked to overcooked fast. So start checking them around the 15 minute mark.
The tenders will be a light golden color when they are done.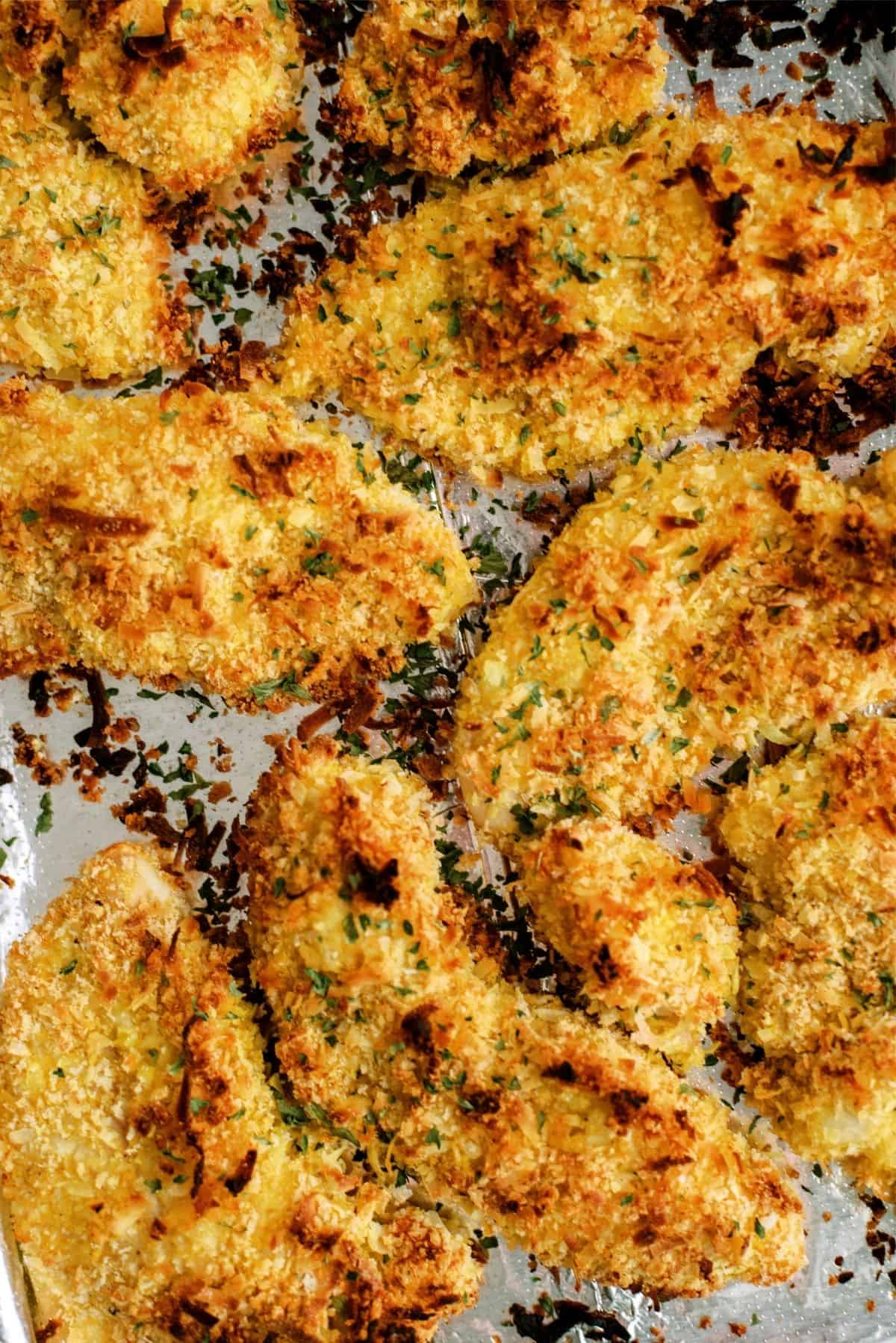 While the coconut chicken tenders are cooking, you can begin making up the apricot dipping sauce.
Combine the apricot preserves, rice wine vinegar, and crushed red pepper flakes in a small bowl and mix it all together until they are completely blended.
To Make This Oven-Fried Chicken Dinner You Will Need:
Shallow dish (3) (ones like THESE work great!)
Baking sheet
Aluminum foil
Nonstick cooking spray