I remember that this time of year was always crazy-busy for my mom . . . at one point, she had 5 of us 6 girls all involved in a city soccer league and it seemed like her evenings consisted of driving us around to our different games and practices. Then there were piano lessons, end-of-year school programs, tumbling . . . the list goes on and on! Now that my kids are getting a little older, our schedules are filling up and dinner quickly becomes a low priority. Sometimes you just need something that you can throw together in a matter of minutes! And when the weather is this beautiful, who wants to spend time slaving over a hot oven?
This Skillet Lasagna recipe is so fast and easy! I whipped up dinner in less than one episode of Dora the Explorer and my kids (and husband!) loved it. This will be a new staple around our house!
20 Minute Skillet Lasagna Recipe
Ingredients:
1 pound

lean ground beef

1 (12 oz) package

bow tie noodles (or any other kind of noodle)

, uncooked

1 (26 oz) jar of your favorite

spaghetti sauce (or pizza sauce)

1 Tablespoon

olive

oil

1 teaspoon

salt

½ teaspoon

garlic powder

1 teaspoon

 

Italian Seasoning (or more, make it to your taste)

½ cups

 

Mozzarella cheese

½ cups

sour cream (I used light)
Directions: 
Brown ground beef in small pan. Meanwhile, cook noodles according to package directions.
After noodles are cooked, drain and drizzle with olive oil. Mix in your spaghetti sauce.
Add your browned beef, seasonings, cheese, and sour cream. Fold together and allow it all to combine and melt together, over low heat, for about 5 minutes, or until cheese is melted.
Serve with a simple green salad and loaf of French bread and you have a quick and delicious meal!
Recipe adapted from Tasty Kitchen 
This post is sponsored by:
Kirstin at Thirty-One Gifts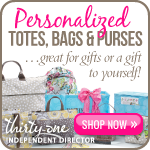 Need an amazing gift for a birthday, anniversary, graduation, or Mother's Day? Be sure to check out her amazing selection on unique and one-of-a-kind totes, bags, purses, and so much more!