M & M samoa blondies are one of the best cookie bars you will have. They are wonderfully chewy and have the delicious coconut and chocolate flavors.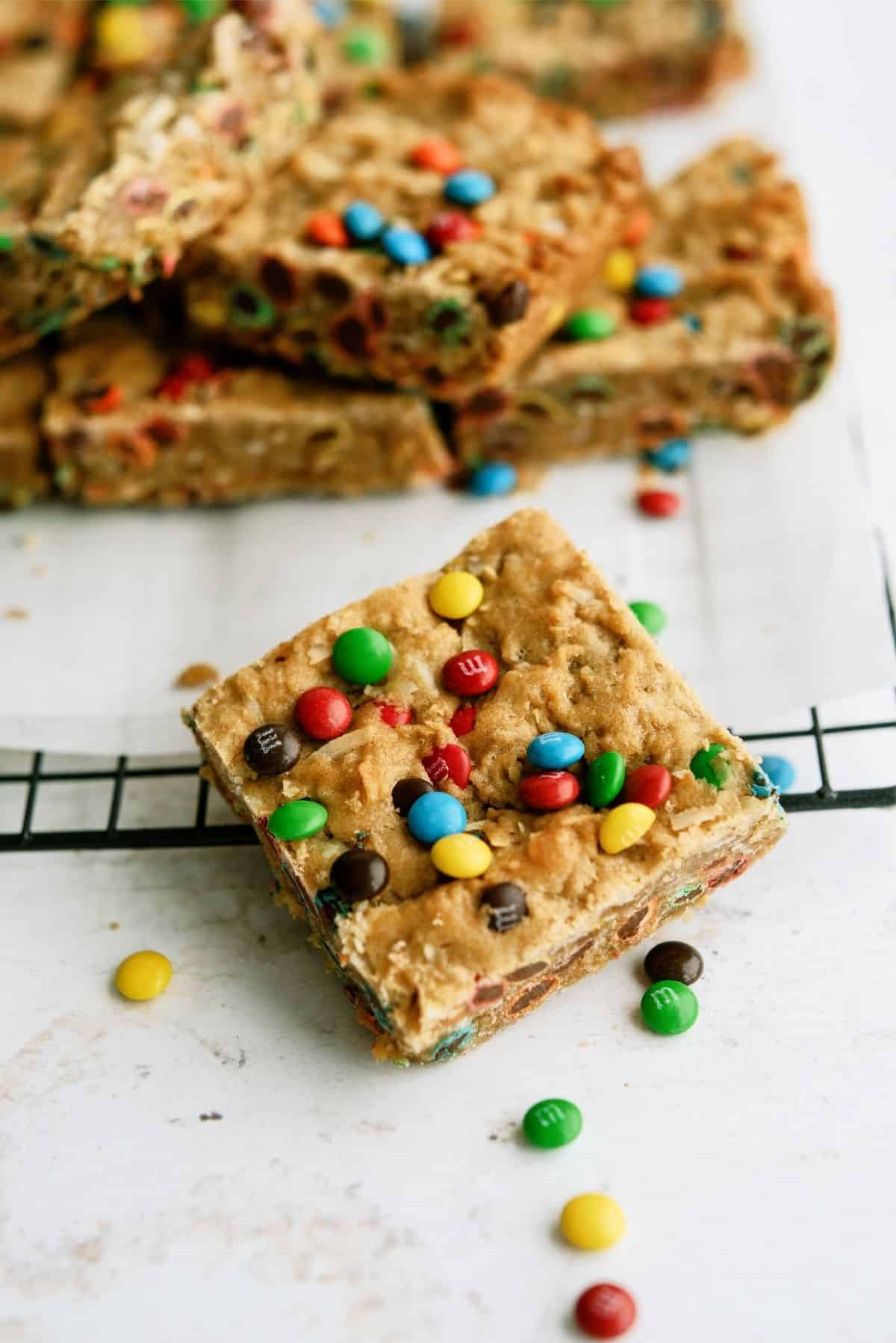 My family LOVES these M & M Samoa blondies! With the M & M's in the blondies, you get the perfect amount of chewy with that wonderful crunch from the hard candy shell.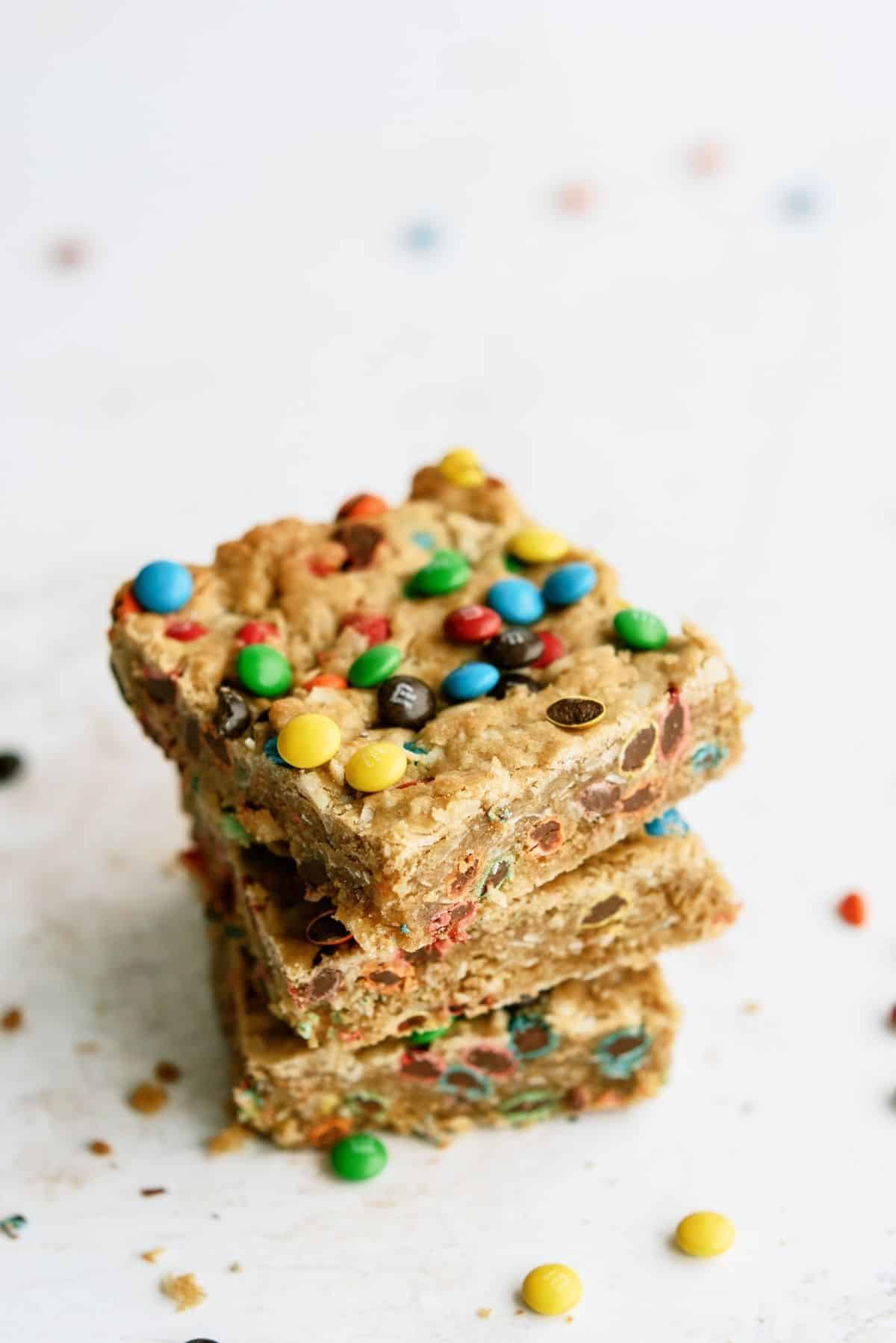 You can make these delicious brown butter blondies in no time and enjoy a tasty treat that your kids will love and your friends will ask for the recipe. They are the best M & M blondie recipe I've ever had, so make sure to save this recipe and keep it handy!
If you have some get-togethers, barbecues, or potlucks coming up, be sure to bring these soft blondies with you. They will be the first dessert that everyone grabs.
One thing that makes these samoa blondies stand out is the delicious flakes of coconut. If you want to make a different flavor, try our cookies and cream oreo blondies recipe, chocolate chip cheesecake blondies recipe, or our butterfinger blondies recipe. They are all AMAZING, you cannot go wrong.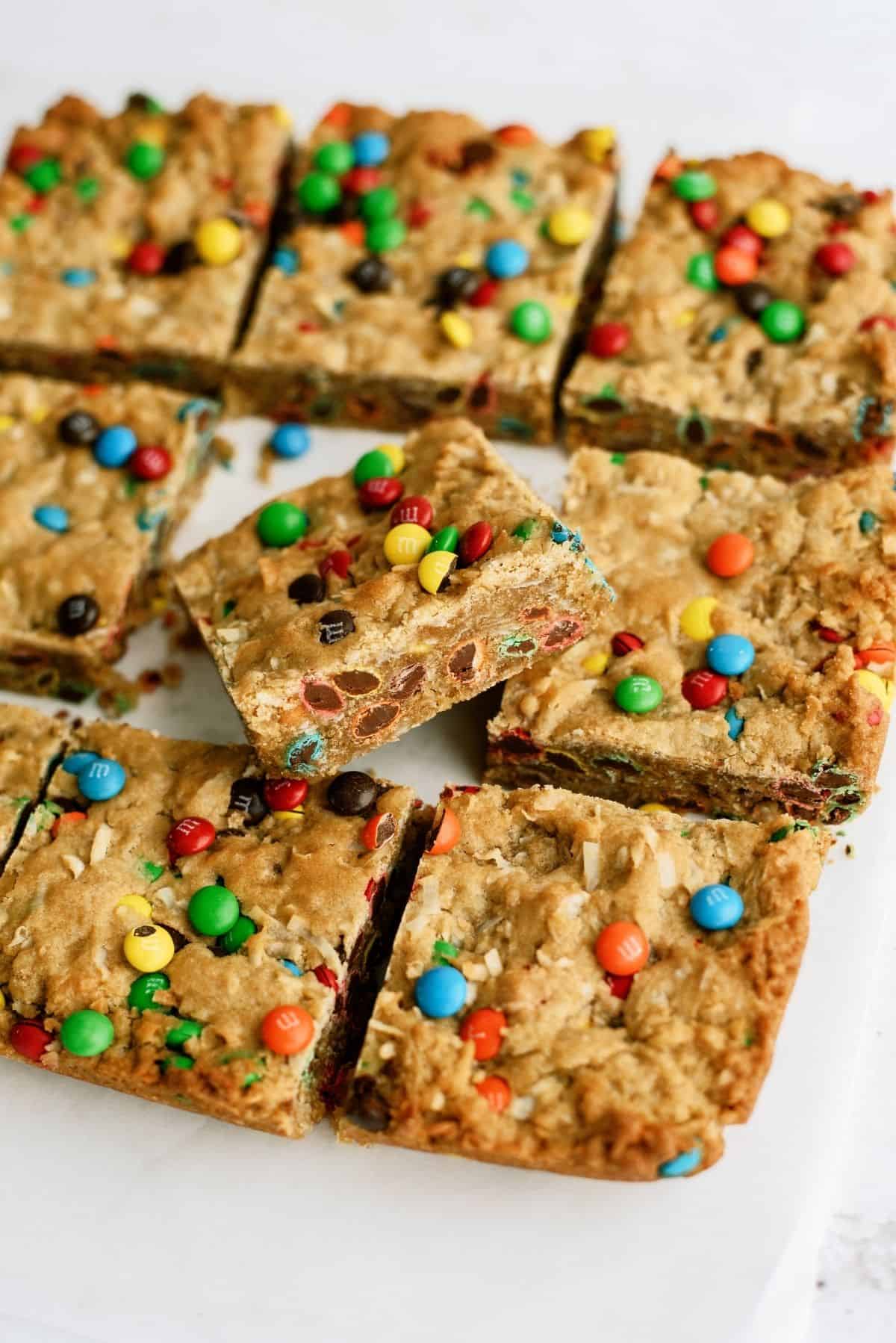 Ingredients You Need to For Our M & M Samoa Blondies Recipe:
Unsalted butter
Dark Brown Sugar
Sugar
Egg
Vanilla extract
Salt
All-purpose flour
Sweetened coconut flakes
Mini M&Ms
How To Make Our M & M Samoa Blondies Recipe: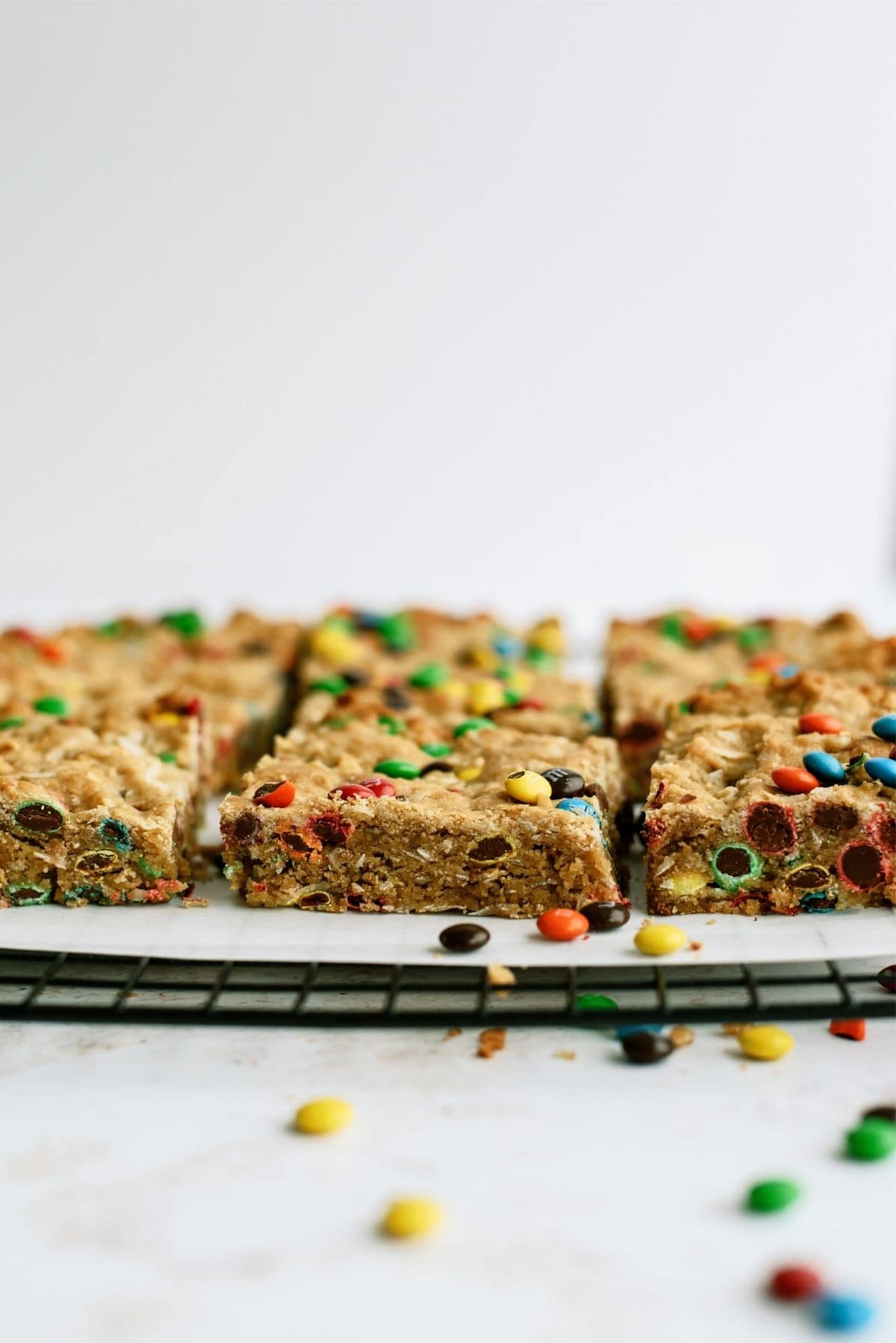 Begin by preheating the oven to 350 degrees.
Then get out your 8×8 inch pan and prepare it by spraying it down with nonstick cooking spray and then line the bottom with parchment paper.
Now in a small saucepan, heat the butter over medium heat.
Whisk the butter in the sauce pan until it turns an amber brown color and begins to smell nutty, but be careful because you don't want to burn the butter.
When the butter is done browning, give it a few minutes to cool down until it is just slightly warm to the touch.
Then in a large mixing bowl, combine the browned butter, granulated sugar, and brown sugar until it is well mixed.
Next with a wooden spoon, stir in the egg, vanilla extract and salt until it is well combined.
Now stir in the flour, coconut flakes, and mini M&M's until the batter is fully combined.
When you are done mixing, pour the batter into the prepared 8×8 pan and then smooth it out until it fully fills the pan and is evenly spread out.
Then sprinkle on a few more mini M&M's on top of the blondies, and then place it in the oven and bake it for 25-30 minutes.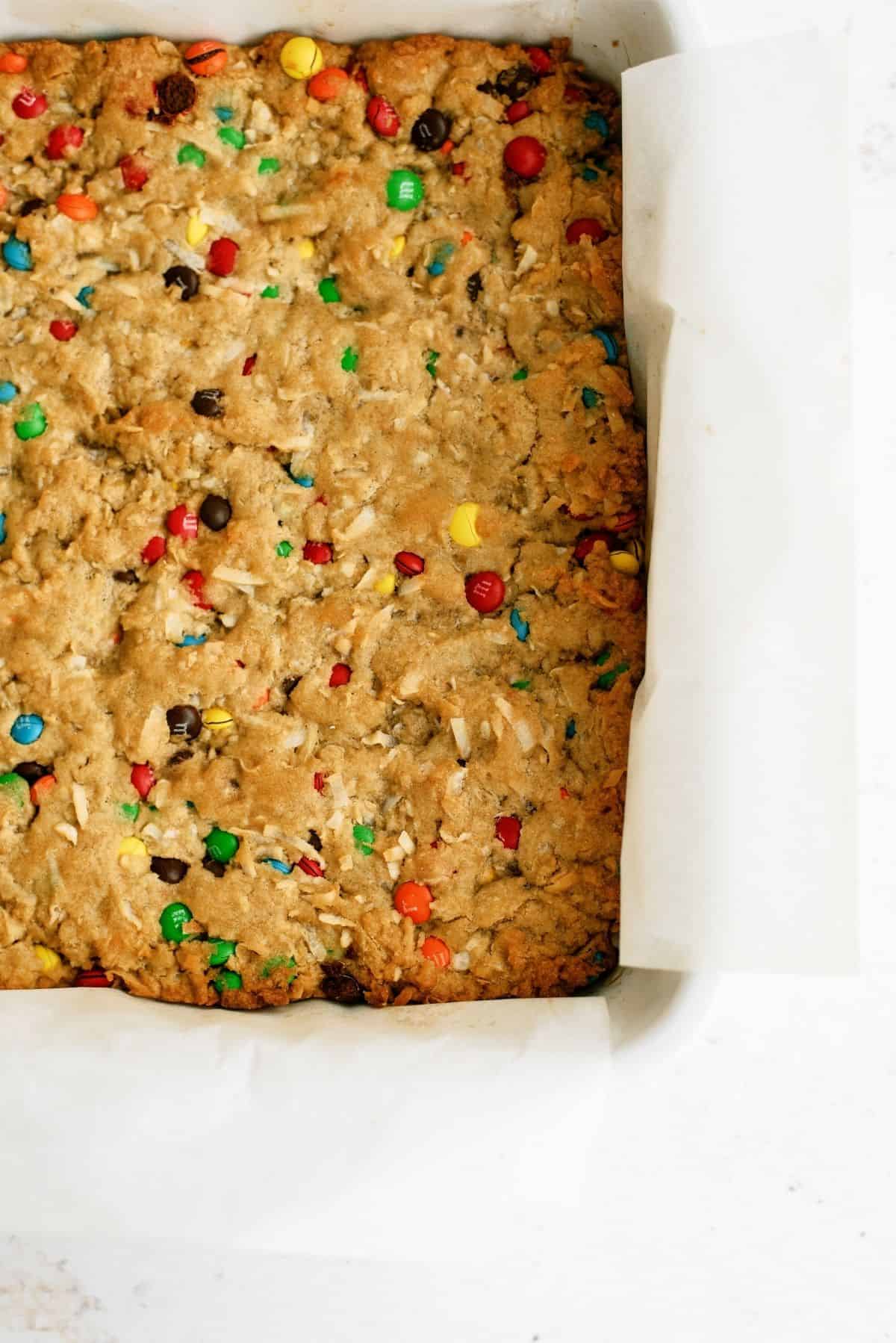 After the blondies are done baking, let them cool completely before you turn the blondies out on the cutting board and slice the blondies into your preferred sized squares and enjoy your delicious dessert.
To Make These M & M Samoa Blondies Recipe You Will Need:
Large mixing bowl
8×8 inch baking pan (THIS is a nice one!)
Rubber spatula
Nonstick cooking spray
Parchment paper