Chocolate cake is always a must, but this chocolate zucchini sheet cake recipe even hides veggies for you! But don't worry, you can't even taste them past the delicious chocolate flavor.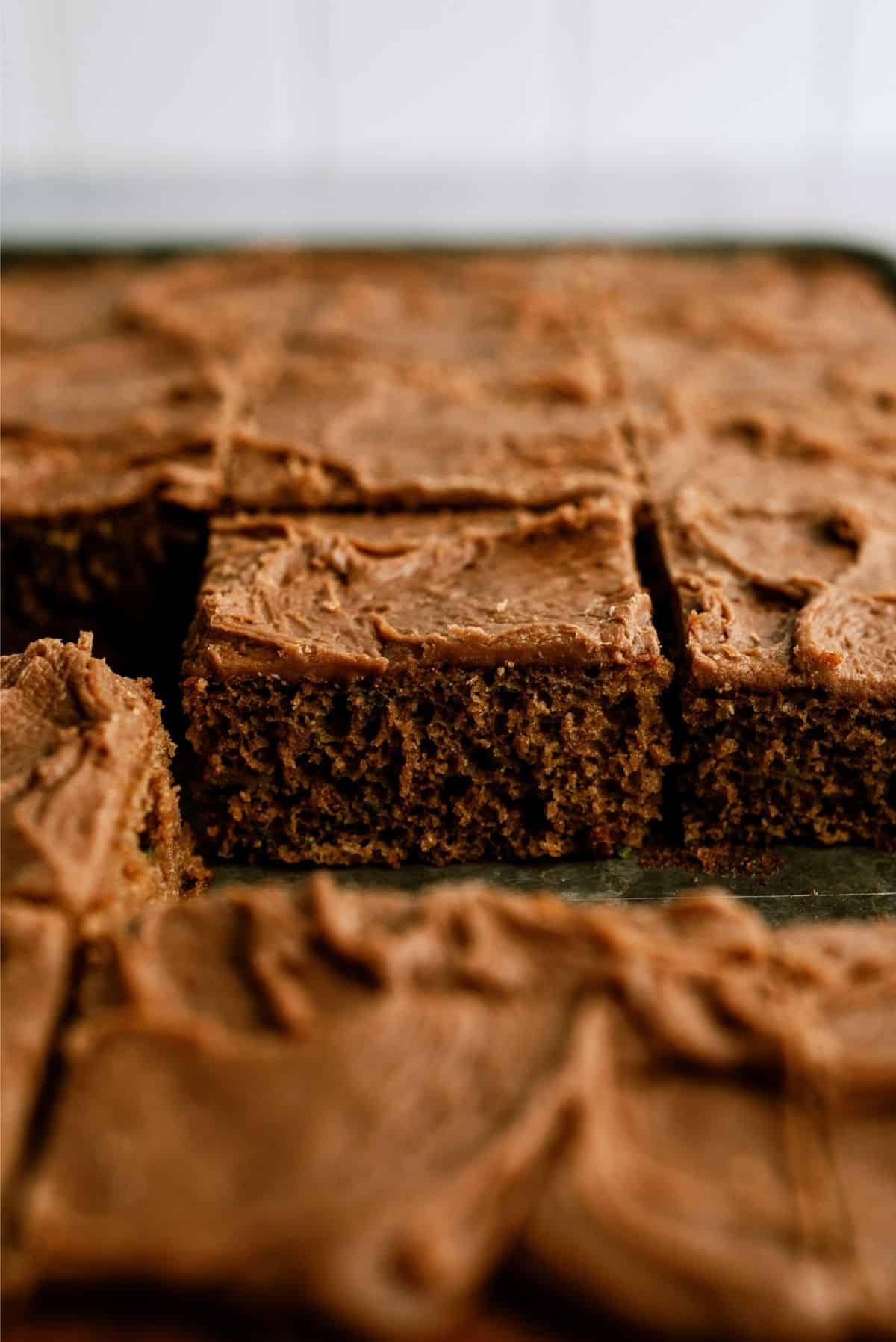 I love this chocolate zucchini sheet cake recipe. It is so moist and full of great flavor. This is one of our favorite zucchini dessert recipes.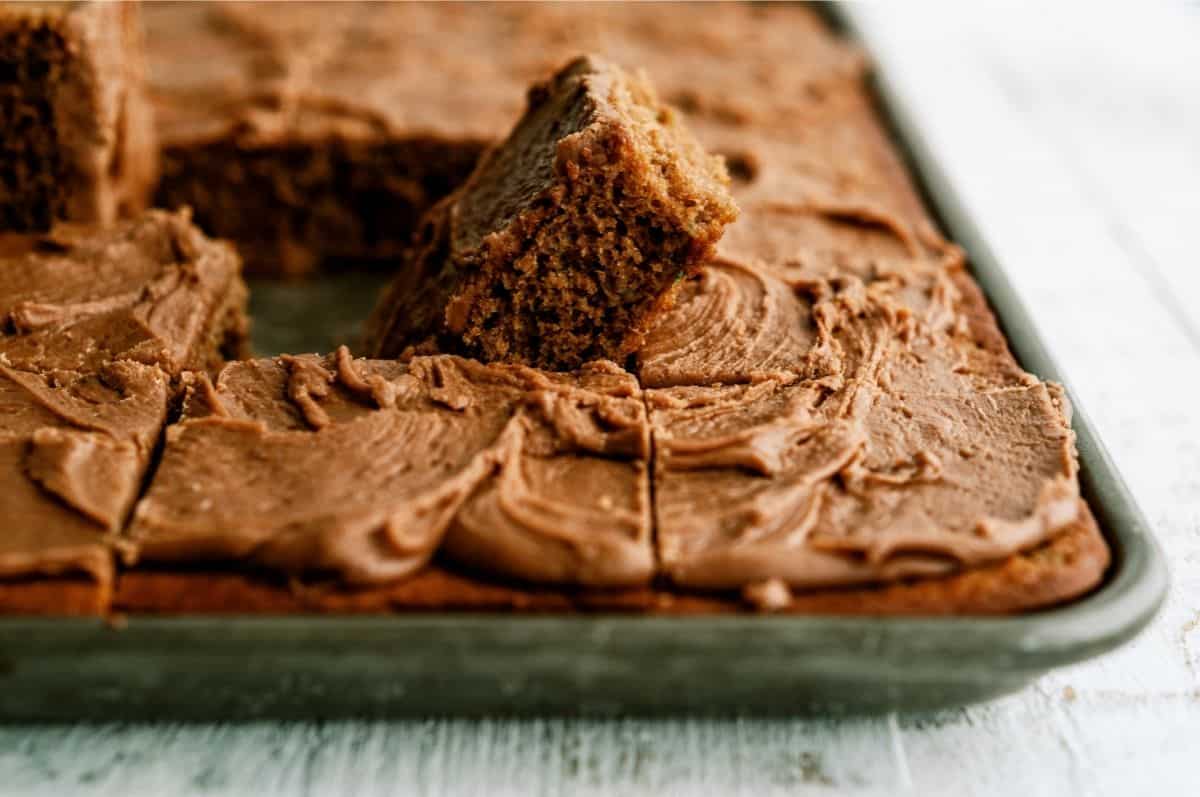 If you aren't a fan of vegetables, this cake is for you! It will hide those vegetables and you won't even know that you are eating healthy veggies.
Even though chocolate cake can sometimes be dry, that is not the case with this recipe. The zucchini actually plays a big part in the texture and moistness of this chocolate cake recipe.
For more ways to use your zucchini, take a look at our Chocolate Zucchini Bread, Healthier Zucchini Oatmeal Cookies, and Cinnamon Zucchini Cake with Cream Cheese Frosting.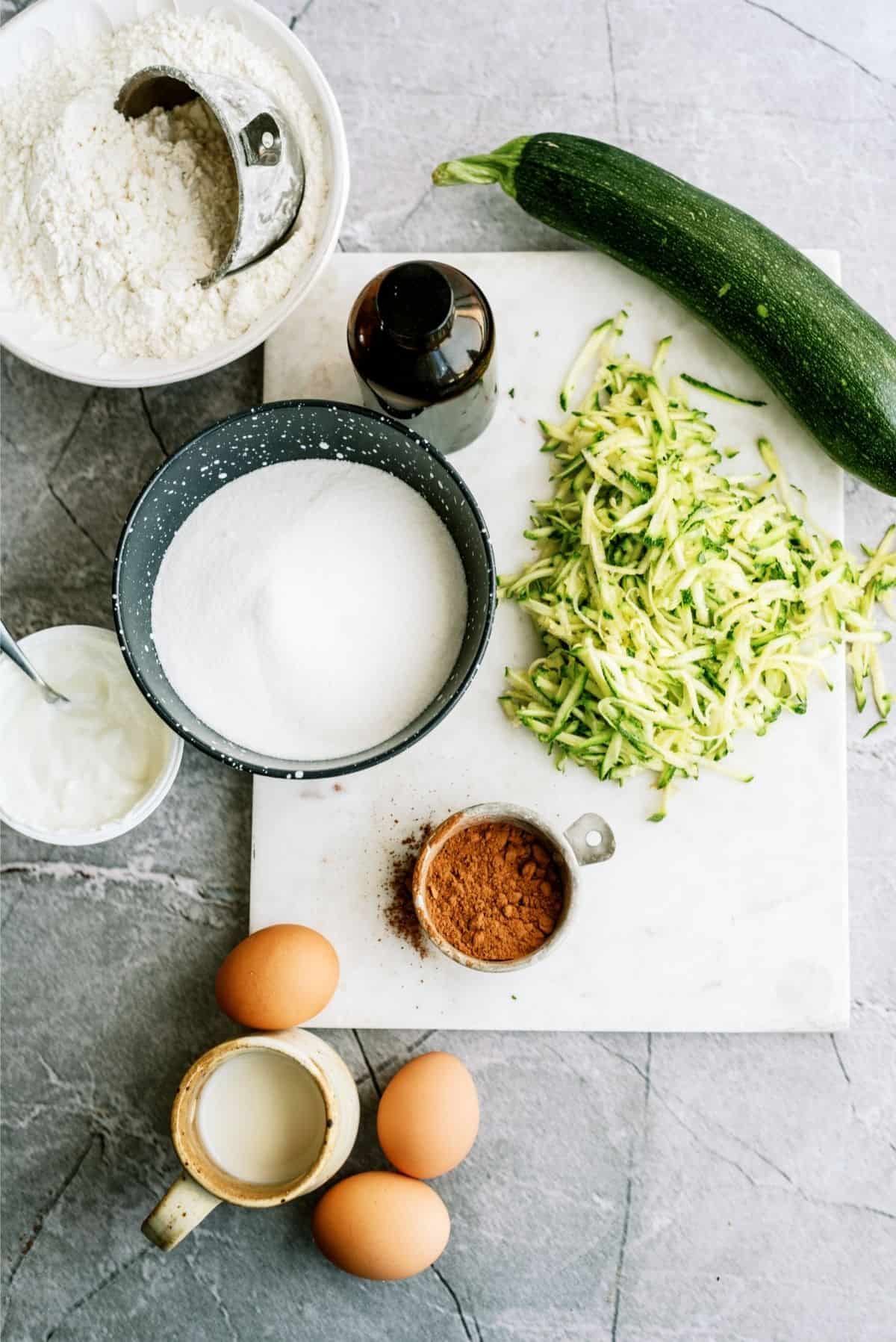 Ingredients Needed For Our Chocolate Zucchini Sheet Cake Recipe:
Sugar
Plain Greek yogurt
Eggs
All-purpose flour
Cocoa powder
Baking soda
Baking powder
Salt
Milk
Shredded fresh zucchini
Vanilla extract
Butter
How To Make Our Chocolate Zucchini Sheet Cake Recipe:
Begin by preheating the oven to 375 degrees and spray a 15x10x1 baking pan heavily with nonstick cooking spray.
Then in a large mixing bowl cream together the sugar and yogurt together until they are smooth.
Next, add in the eggs one at a time.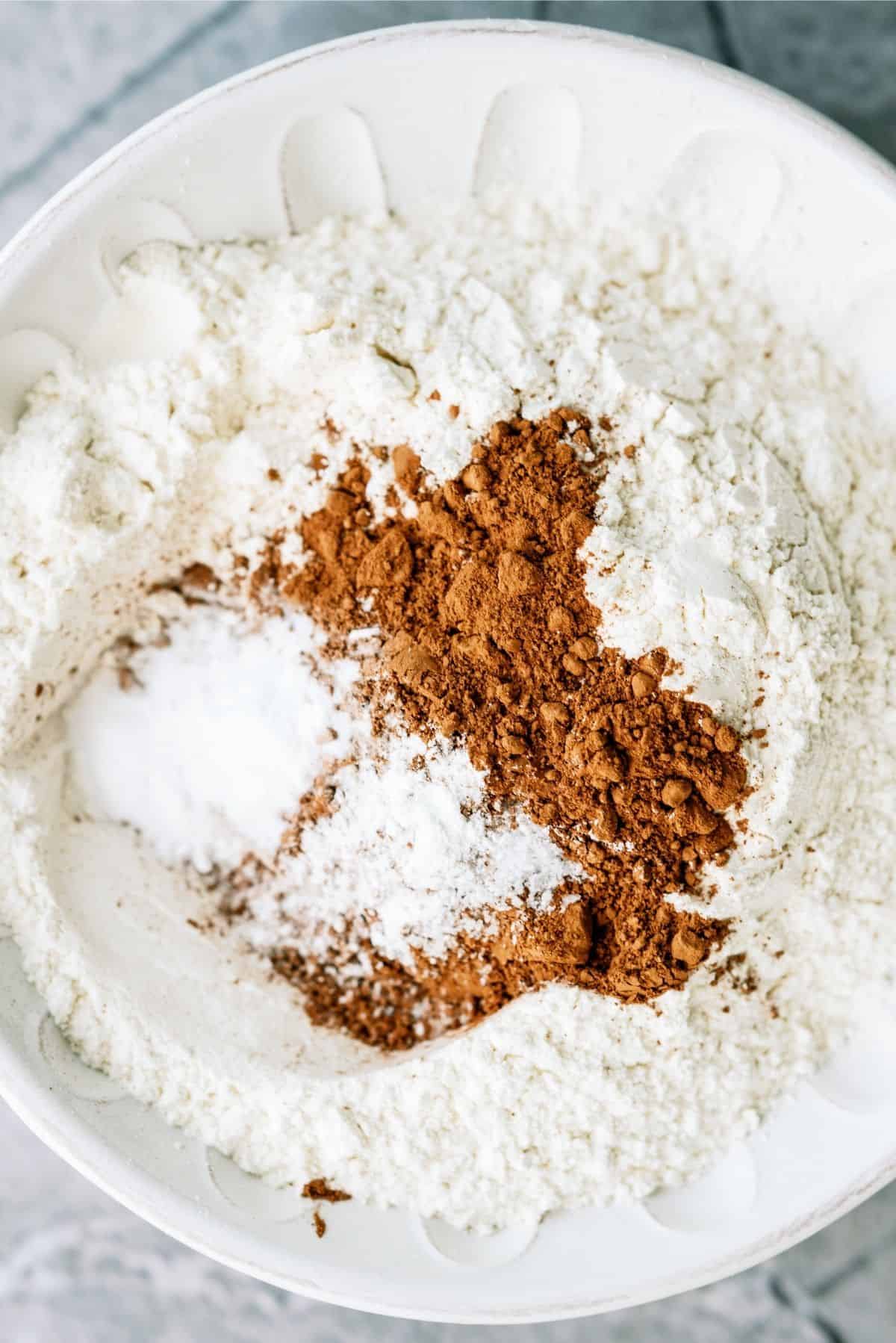 In another mixing bowl sift the flour, cocoa powder, baking powder, baking soda, baking powder, and salt together.
Then add the dry ingredients into the yogurt mixture until they are well combined and add the milk.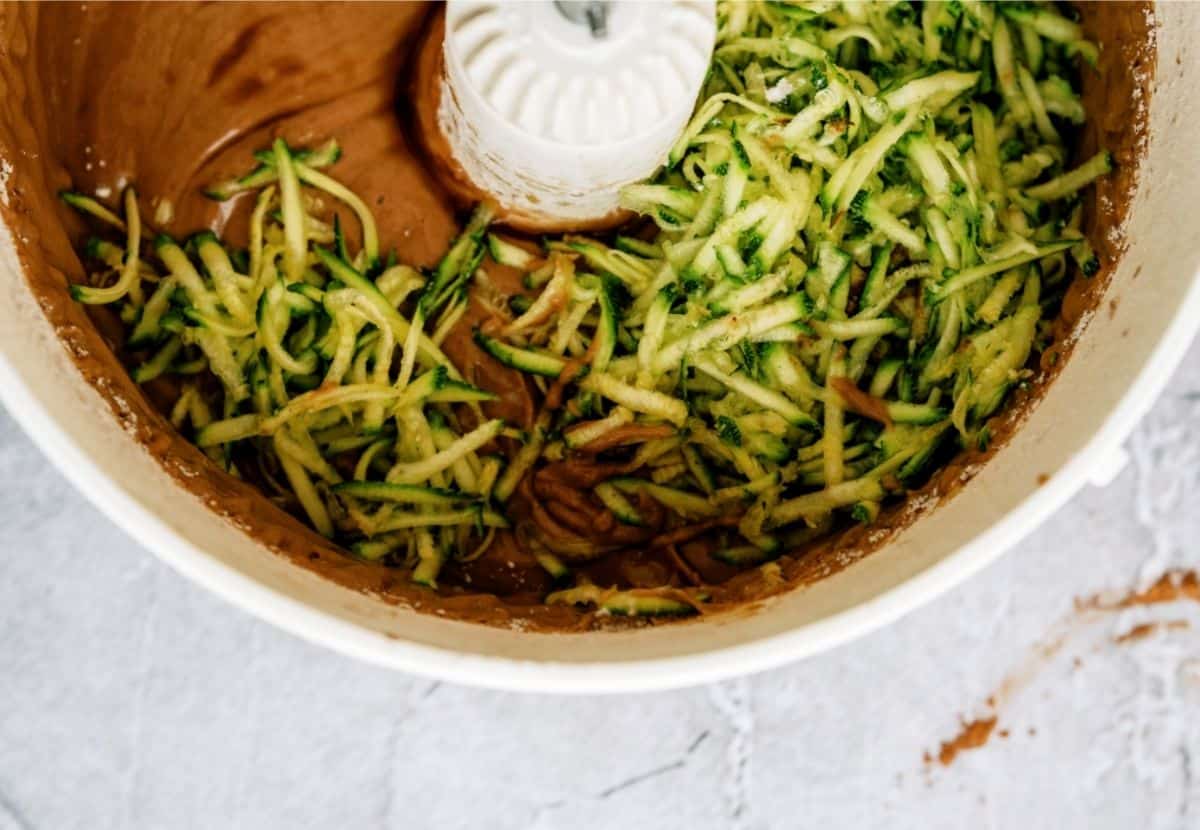 Now fold in the zucchini and vanilla extract into the mixture and then pour the batter into the prepared baking pan and bake it at 375 for 25 minutes or until a toothpick comes out clean when inserted.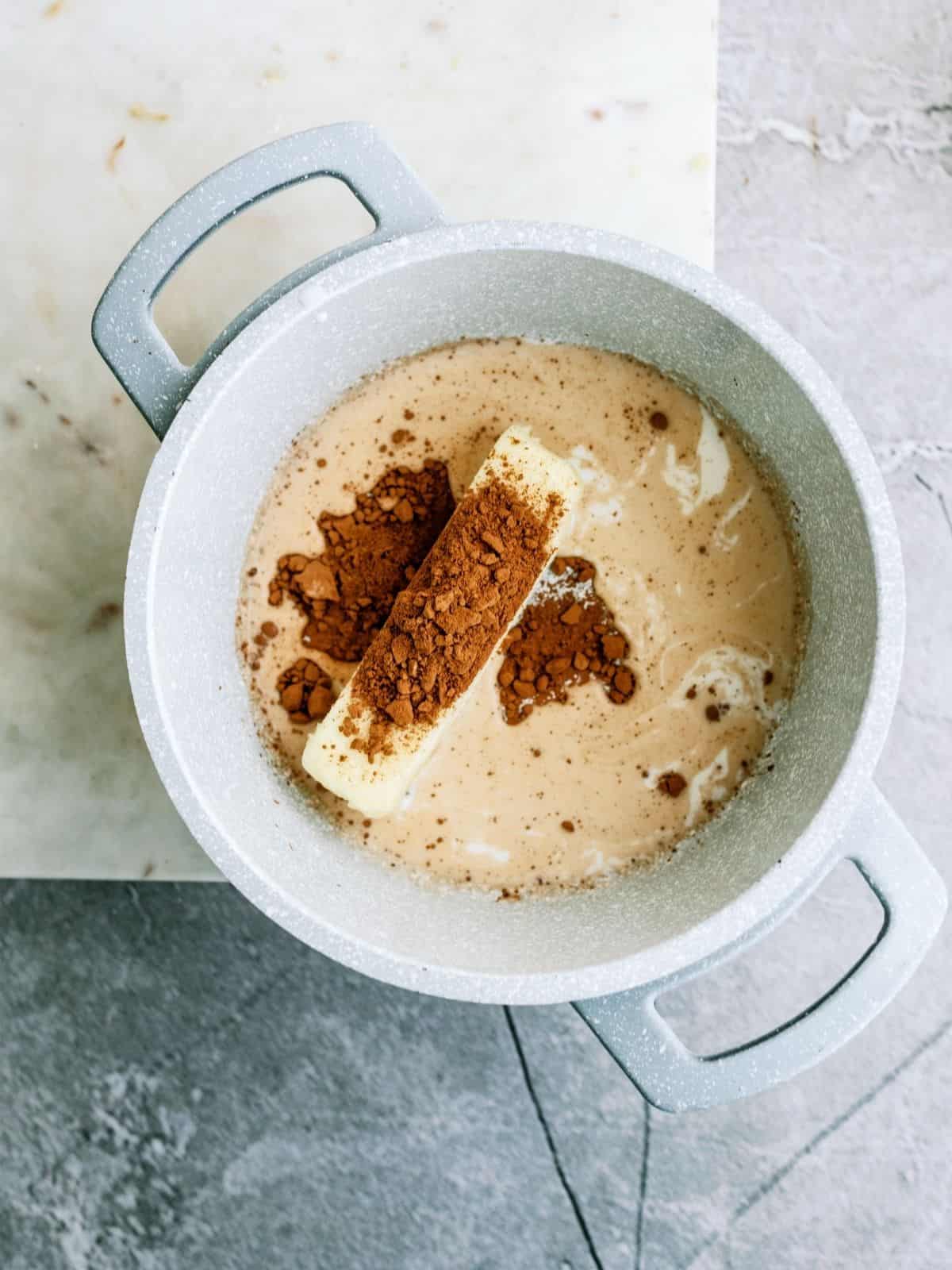 While the cake is baking, make up the frosting by combining the butter, cocoa, and milk in a saucepan and heat it over medium low heat.
Heat the cocoa mixture until it boils while stirring it frequently.
Once the mixture begins to boil, remove it from the heat and mix in the powdered sugar and vanilla extract until it forms a smooth chocolate frosting.
Then pour the frosting over top of the chocolate sheet cake as soon as it is taken out of the oven.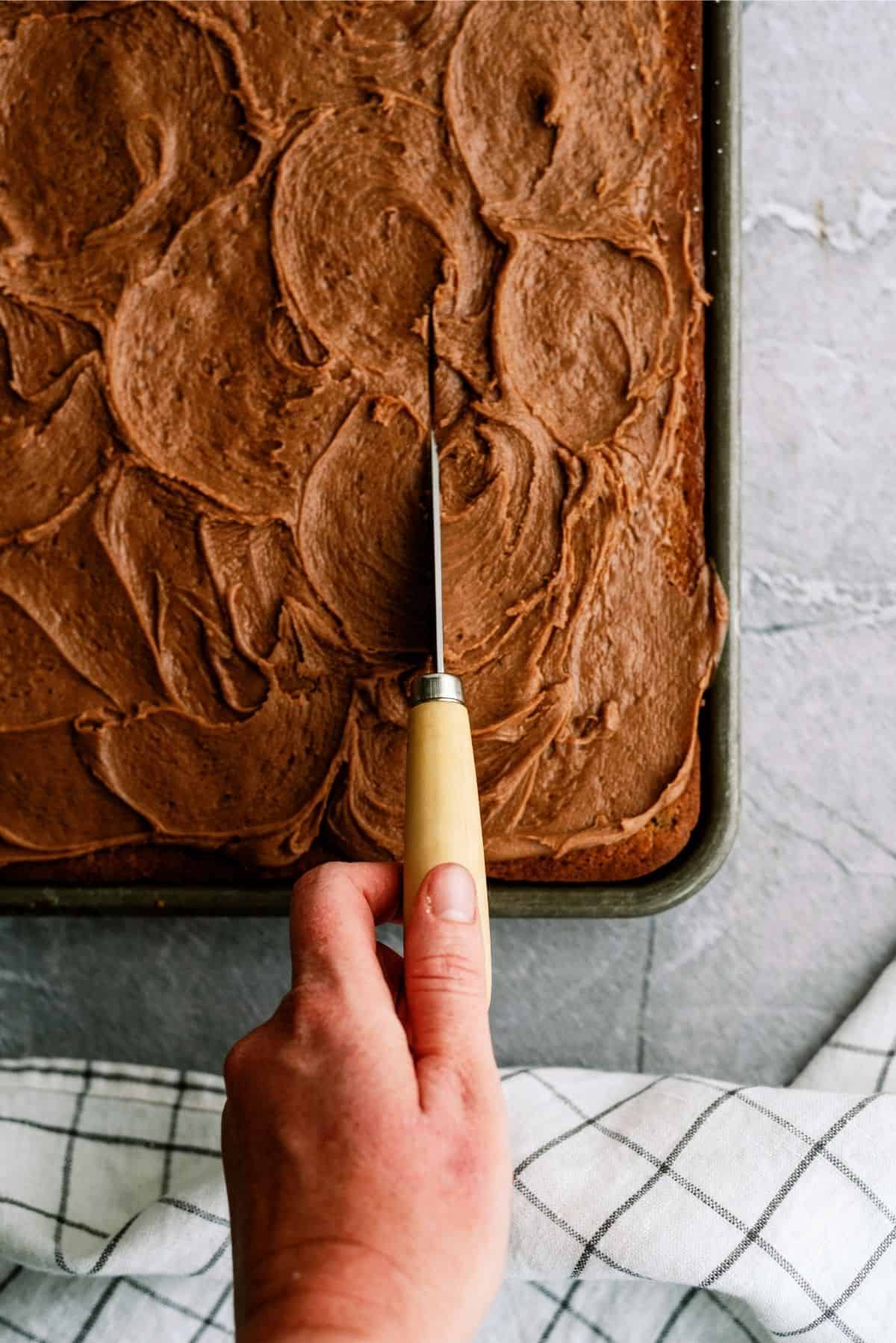 Allow the cake and frosting to cool completely before serving them. 
Related Recipe: Try our Chocolate Chip Zucchini Cookies!
To Make This Six Sisters Zucchini Recipe You Will Need:
Large mixing bowl
Medium mixing bowl
Hand mixer
15x10x1 baking pan (THIS is a great one!)
Nonstick cooking spray
Medium saucepan
Spatula