This grilled chicken bow tie pasta salad recipe is a perfect summer dinner for the family. It is light and refreshing, and filled with green bell peppers, olives, broccoli, and more!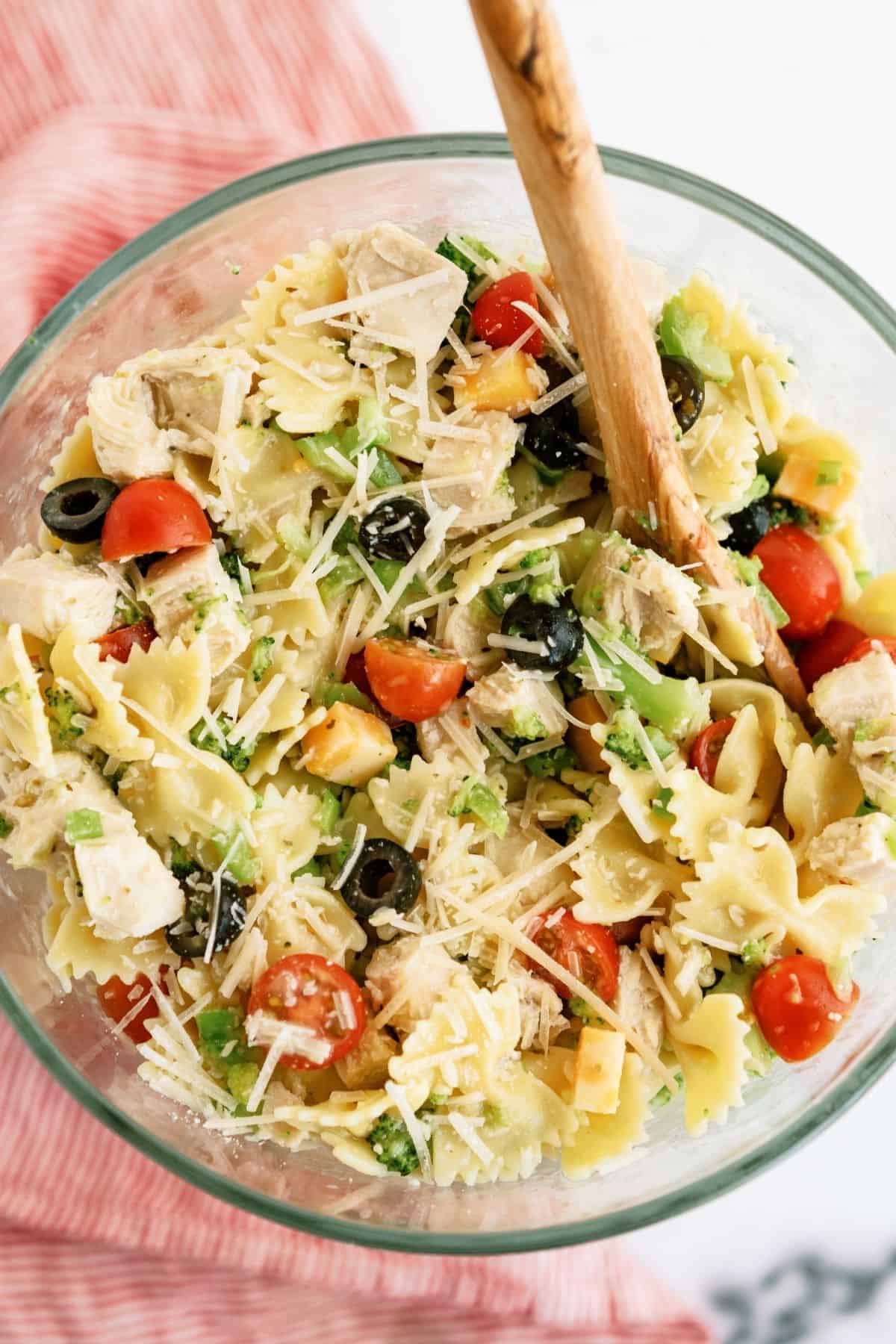 Grilled chicken bow tie pasta salad is one of the best pasta salad recipes you'll make this summer. It is filled with veggies, cheese, chicken, and of course pasta. What more could you want from a favorite family dinner recipe?!
Cold chicken pasta salad is the way to go for an easy pasta dinner recipe. You can use your leftover grilled chicken, from a recipe like our Mom's Secret Grilled7 7-Up Chicken Recipe.
You can make this recipe up ahead of time, and pull it out when you need it, no heating up required. It is also a great recipe to bring on a picnic with the family!
If you want to serve some sides with this, I'd recommend our Berry Cheesecake Fruit Salad, and Homemade Lion House Rolls. It all sounds like a lovely summer dinner menu!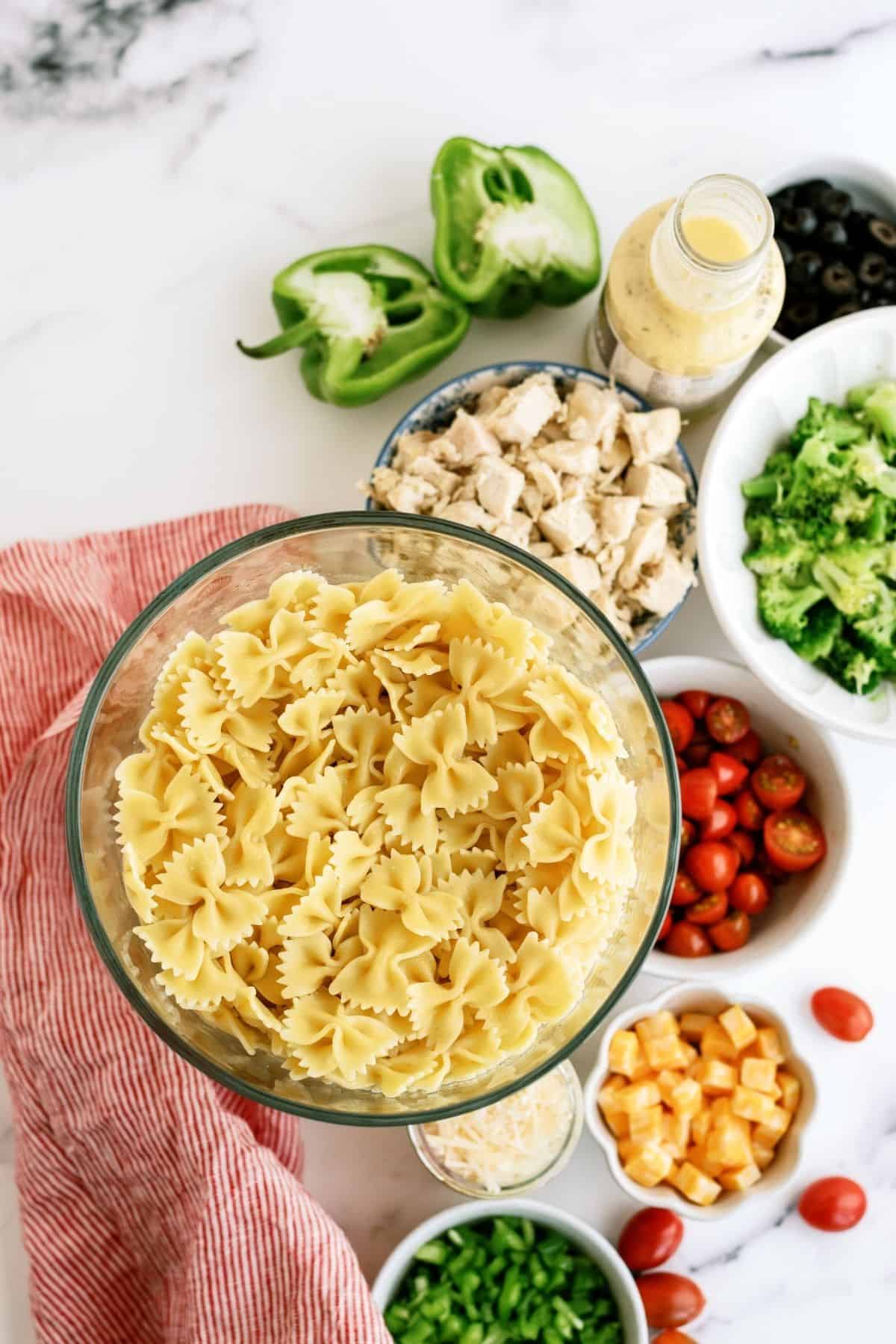 Ingredients Needed For Our Grilled Chicken Bow Tie Pasta Salad Recipe:
Farfalle pasta
Broccoli florets
Boneless skinless chicken breasts (cooked and cubed)
Cherry tomatoes
Bell peppers
Colb Jack cheese
Sliced olives
Italian Dressing
Grated Parmesan cheese
How To Make Our Grilled Chicken Bow Tie Pasta Salad Recipe:
Begin making this easy pasta salad by making the pasta according to the directions on the package.
In the last two minutes of the pasta boiling, add in the broccoli with the noodles, and let it cook with the pasta.
Once the timer is up, drain the noodles and broccoli and set it aside for now.
Then, cut up the cooked chicken breasts, cherry tomatoes, green bell pepper, and colby jack cheese.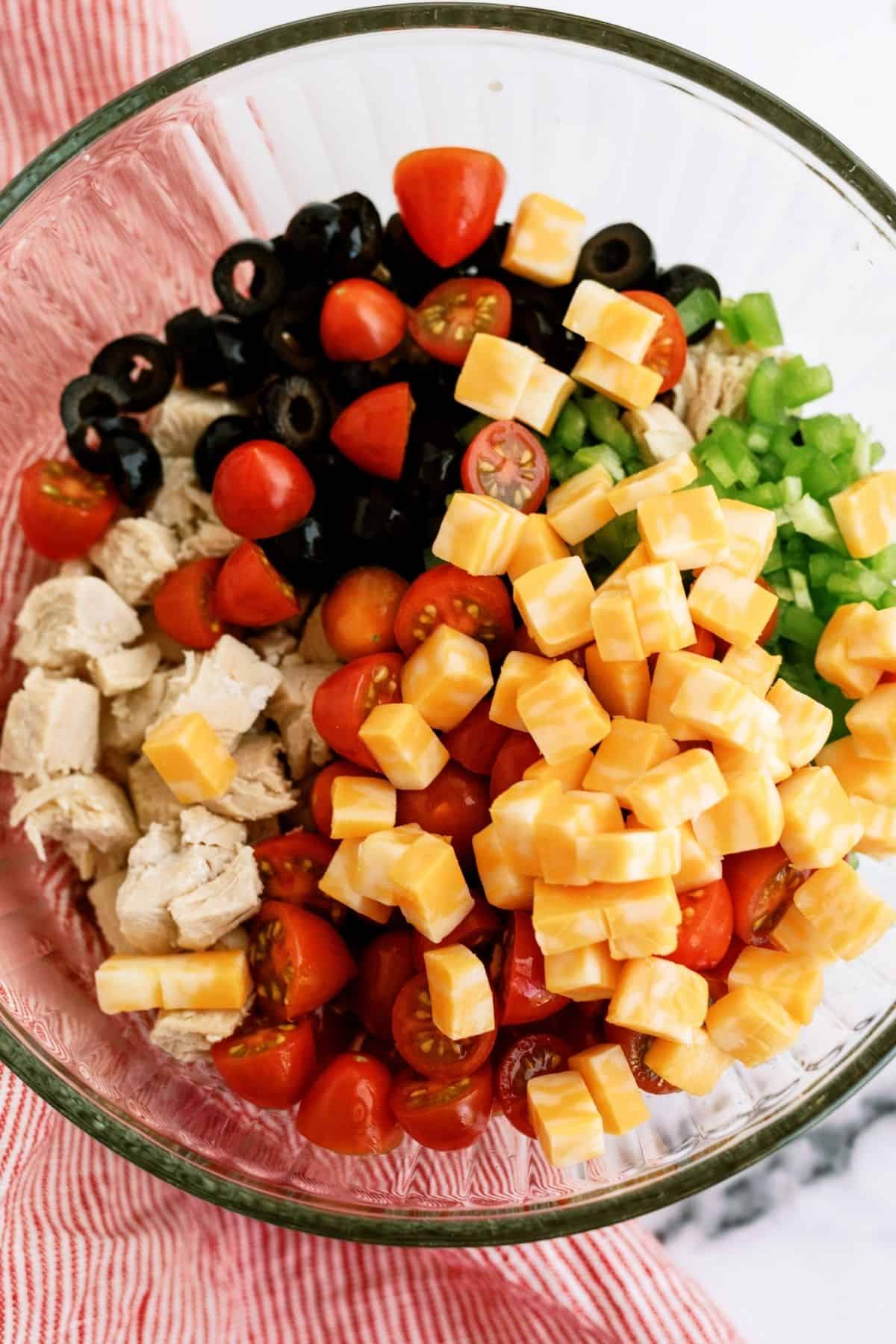 After all of that is cut up, put the cherry tomatoes, green bell pepper, chicken, colby jack, olives, and Italian dressing in a large mixing bowl and toss it all together.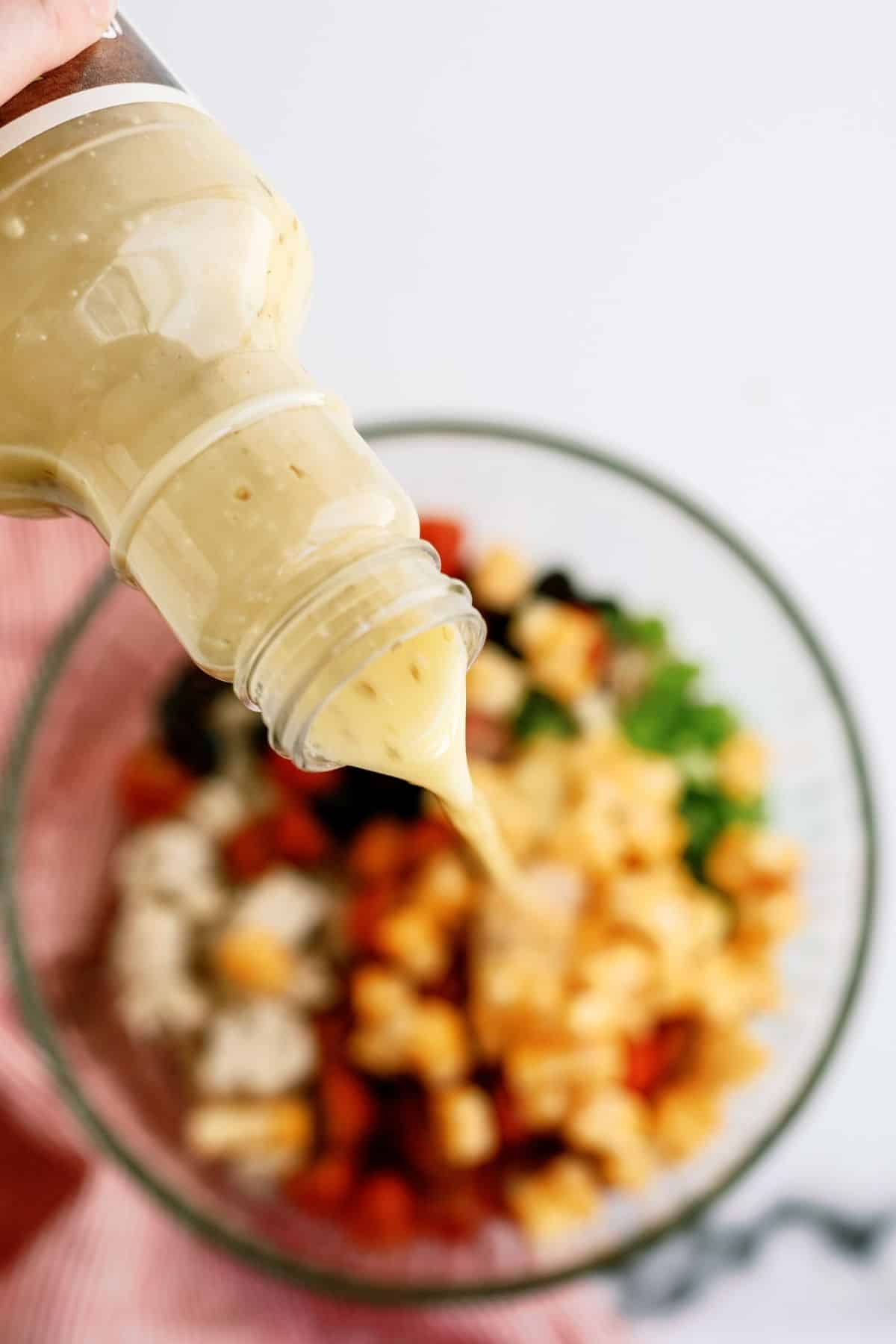 Next, add in the cooked pasta and broccoli and toss it again, carefully.
Now, all that is left to do is sprinkle the pasta salad with Parmesan cheese and serve!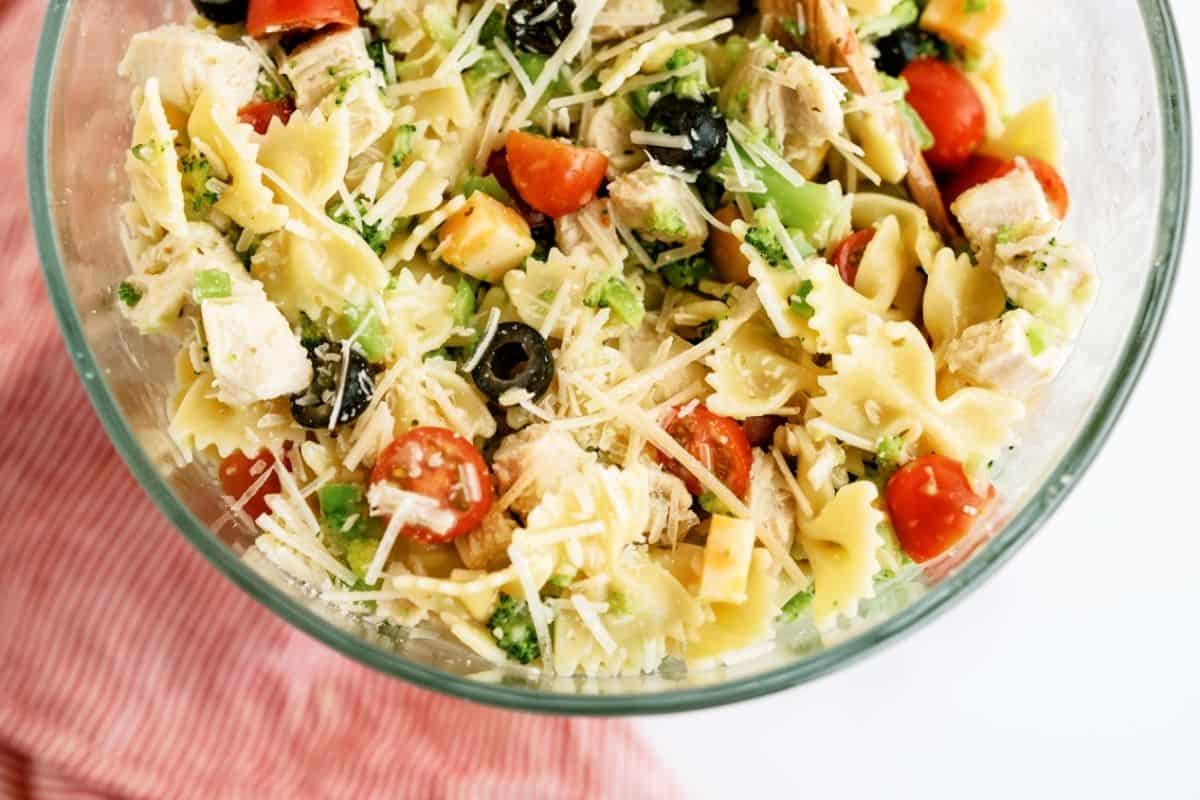 To Make The Perfect Summer Dinner Recipe You Will Need:
Large pot
Colander
Knife
Cutting board
Large mixing bowl
Wooden spoon (THIS is a great set!)