The absolute BEST Creamy Pasta Salad loaded with veggies and tossed in a sweet and tangy dressing. This is the perfect pasta salad for parties and potlucks! It feeds a crowd!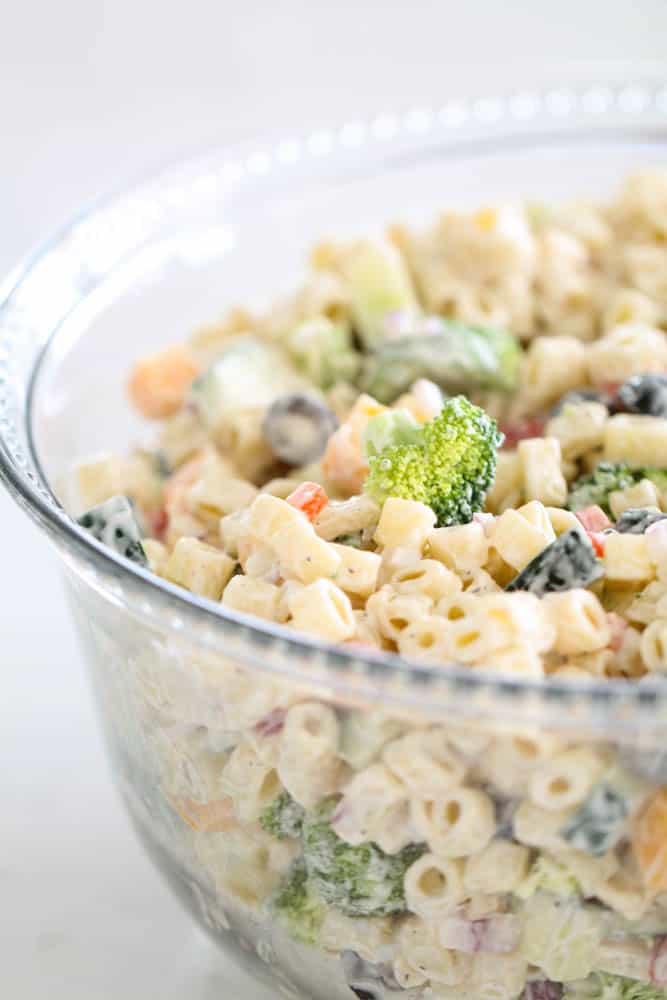 The absolute BEST creamy pasta salad loaded with veggies and tossed in a sweet and tangy dressing. This is the perfect pasta salad for parties and potlucks! It feeds a crowd!
There are some recipes that have been in our family for years. They show up to family parties and BBQs. This Creamy Pasta Salad is one of those recipes.
It's the perfect salad when you are asked to bring a side dish to a party. It's a great way to sneak in veggies with the pasta.
We love the sweet and tangy dressing. It's so easy to make. We know you'll really enjoy this salad. And it's the perfect salad to add your own spin to it.
Do you rinse pasta for pasta salad?
Yes. Rinse your salad in a colander with cold water until pasta is completely cold. This helps your pasta to not stick together because of the extra starches you are washing away.
How long will this Creamy Pasta salad last in the Fridge?
If you store your leftover Creamy Pasta Salad in an airtight container, it will last in the refrigerator for 3-5 days. We have honestly always finished it off by then so we usually don't get to that point!
Make sure you have these ingredients to make this creamy pasta salad recipe:
Easy Creamy Pasta Salad Recipe Ingredients:
Ditalini Pasta (or whatever pasta you have on hand)
Broccoli
Red Onion
Red Bell Pepper
Cucumber
Olives
Block Colby Jack Cheese
Mayonnaise
White Wine Vinegar
Sugar
Salt
Pepper
Don't forget these items too:
Big Saucepan (THIS one is great)
Serving bowl
Sharp Knife for chopping veggies (THIS one is our favorite)
How to make the best creamy pasta salad:
This is the best creamy pasta salad I've ever tasted and it has become a staple in our household. I love the sweet and tangy flavor of the dressing that pairs perfectly with a variety of vegetables.
I started by cutting up all of my pasta salad ingredients, including broccoli, red onion, red bell pepper, cucumber and Colby Jack cheese.
Be sure to cut your vegetables, especially red onion, very small (more of a mince than a dice) so they aren't too overpowering in this Creamy Pasta Salad.
I love using simple shortcuts when cooking. I used pre-sliced olives and Colby Jack cheese sticks that I then cut into cubes rather than buying an entire block of cheese.
While I was cutting up my other ingredients, I had my pasta boiling on the stove top. You could use any type of pasta your family prefers (Penne, elbow macaroni, Rotini, etc.), but I used Ditalini pasta.

When your pasta is done cooking, rinse in cold water and place in a large serving bowl. Mix in all of your vegetables and cheese.
In my opinion, the best part about this Creamy Pasta Salad is the tangy dressing you toss everything in. My secret to the perfect pasta salad dressing is using Best Foods Mayonnaise. But any dressing will work fine.
Best Foods Real Mayonnaise is also rich in Omega 3-ALA and only 1.5 grams of saturated fat per serving.
To make the dressing, I whisked together one cup of mayonnaise and added a little sugar, salt, pepper and white wine vinegar to give it that tangy flavor. If you wanted to cut down on calories, you could easily substitute with a light mayo.
After you have prepared your dressing, pour it over your pasta and vegetables and gently fold in until well combined and everything is evenly coated.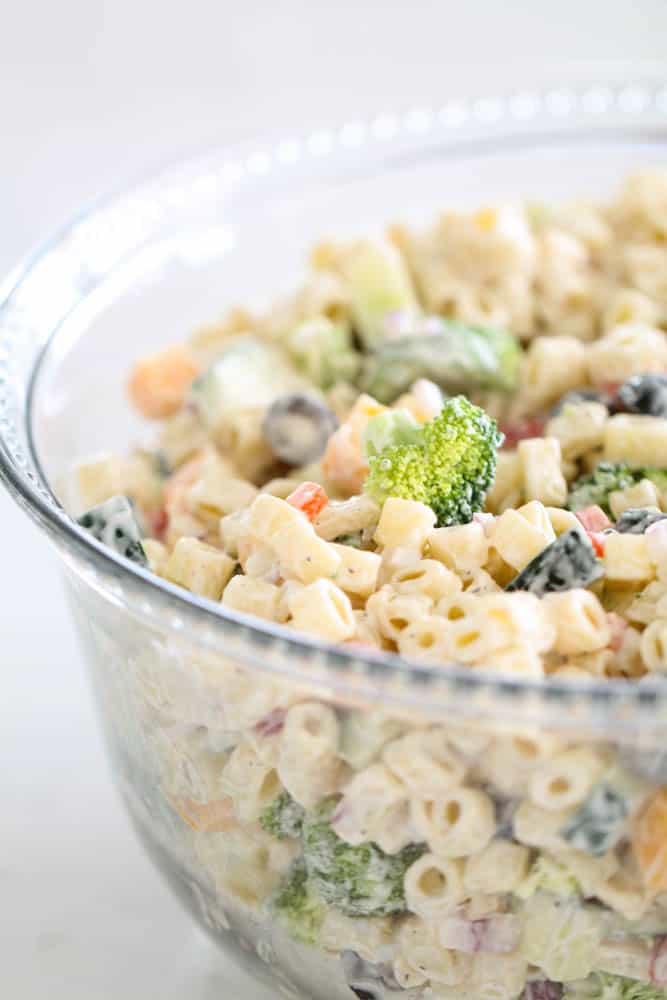 Cover your Creamy Pasta Salad with plastic wrap and store in the fridge for at least 1 hour before serving.
Serve cold and enjoy!