These Chicken Burrito Bowls are a quick and easy dinner you can throw together using any vegetables you have on hand. The homemade dressing is amazing!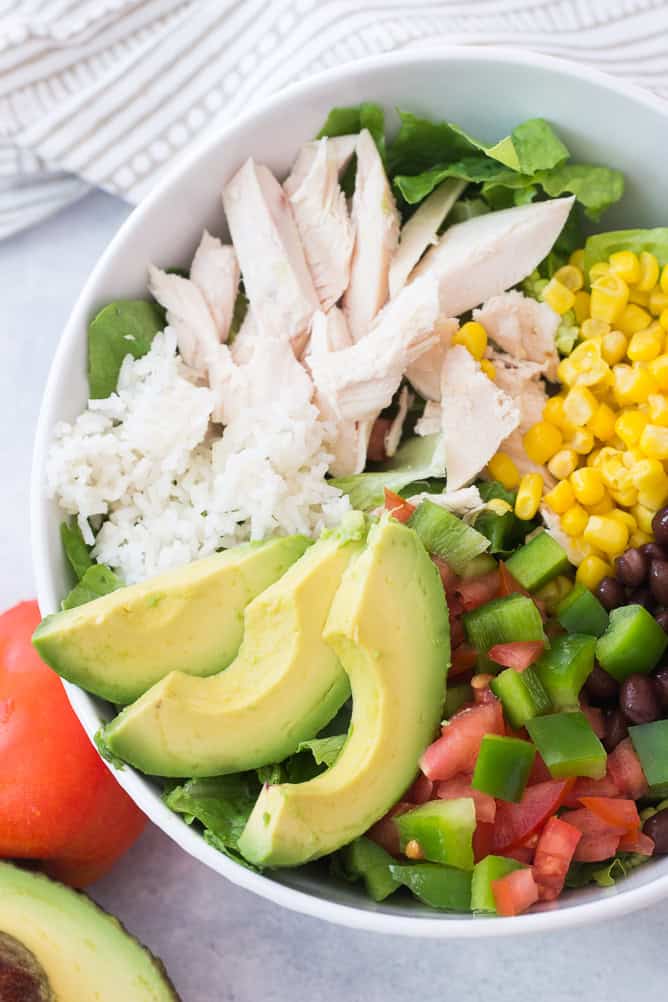 Does anyone have a secret for learning to love vegetables? Especially raw?
I have tried, I really have. I am turning 30 years old and still don't eat enough vegetables. It is very much still a work in progress!
The only way that I can eat all my vegetables is if they are stacked in a big yummy salad, thrown into a soup, or dunked in a creamy dip.
Thankfully, this recipe falls into one of those categories and I can get all my daily servings of vegetables in one quick fix! And bonus- it tastes amazing!
My kids liked it because they could choose what "colors" went on their plates and I liked it because it let them try lots of different vegetables. I added chicken, but this would be perfect for a meatless meal too- you could even add extra beans if you want.
Chicken Shortcut for your Chicken Burrito Bowls
We're all about shortcuts if you can't tell! One of our favorite shortcuts is using a rotisserie chicken from the deli, especially in recipes like this one.
This recipe calls for chicken that's already cooked, so buying cooked chicken is obviously the easiest method! Most deli's will sell a rotisserie chicken already pulled off the bone, so make sure you check there before you buy yourself a whole chicken.
If you're wanting to make it at home, throwing a few chicken breasts in the slow cooker with some chicken broth is another great and easy method.
Cook your breasts for about 3-4 hours, or until no longer pink. You can chop, shred, or leave them whole and use them throughout the week in recipes just like this one.