We love a good slow cooker meal, especially these Slow Cooker San Francisco Pork Chops. They are so quick to throw together and make the perfect Sunday dinner or quick weeknight meal.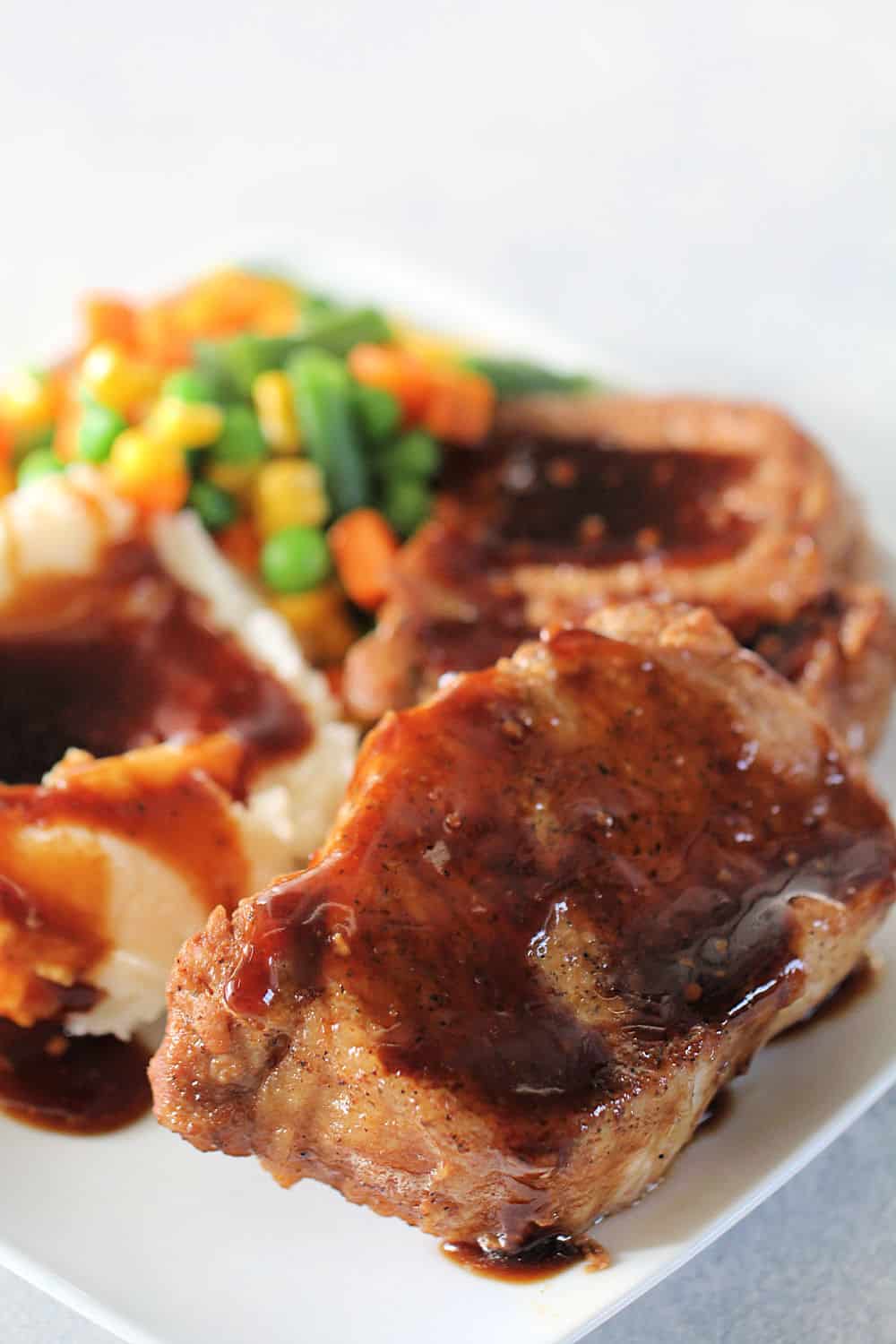 By now, you probably all know about my obsession with my slow cooker. This Slow Cooker San Francisco Pork Chops Recipe is another wonderful slow cooker recipe that you HAVE to try.
We had it over hot mashed potatoes because it made it's own wonderful thick gravy, but it would be great over rice too.
I found this recipe at Mel's Kitchen Cafe (one of my favorite recipe blogs).This is the perfect home styled meal, that is hearty and perfect for cold or hot days.
It's made in the slow cooker, so it doesn't heat up your entire home, by using the oven.If you need a new, simple, quick, and delicious dinner recipe, this is one we highly recommend trying.
Ingredients needed to make this San Francisco Pork Chops Recipe:
2 Tablespoons olive oil extra virgin
4 1-inch thick pork chops
salt and pepper to taste
2 teaspoons minced garlic
¼ cup reduced sodium soy sauce
¼ cup chicken broth
2 Tablespoons brown sugar
¼ teaspoon red pepper flakes
1 Tablespoon cornstarch
1 Tablespoon cold water
How to make this Slow Cooker San Francisco Pork Chops recipe:
In a large 12-inch skillet, heat the oil over medium-high heat until it is simmering and hot.
Season the pork chops on both sides with salt and pepper. Brown the pork chops for 1-2 minutes on each side in the hot oil until golden.
Transfer the chops to the slow cooker.
Add the garlic to the drippings in the skillet and stir constantly over medium heat until the garlic is aromatic and golden (but not burned or it will turn bitter).
Stir in the soy sauce, broth, brown sugar and red pepper flakes; cook and stir until sugar is dissolved. Pour over chops.
Cover the slow cooker and cook on low for 7 to 8 hours until the meat is tender. (If using bone-in pork chops, fish out the bones from the slow cooker.)
Remove the chops from the slow cooker to a shallow pan or plate.
In a small bowl, combine the cornstarch and cold water until smooth. Whisk the cornstarch slurry into the sauce in the slow cooker. Return the chops to the slow cooker. Turn the slow cooker heat to high and cook for 30 minutes to an hour longer, until the sauce is slightly thickened. If you want a super duper thick sauce, once you remove the chops from the slow cooker, pour the sauce into a pan and place it over medium heat on the stove. Add the cornstarch slurry and bring the sauce to a boil. Boil for 1-2 minutes until the sauce is thick. Add the pork and heat through.