This amazing cowboy baked beans recipe is such a great loaded baked beans recipe. You don't often hear about cowboy baked beans with ground beef, but it is truly delicious!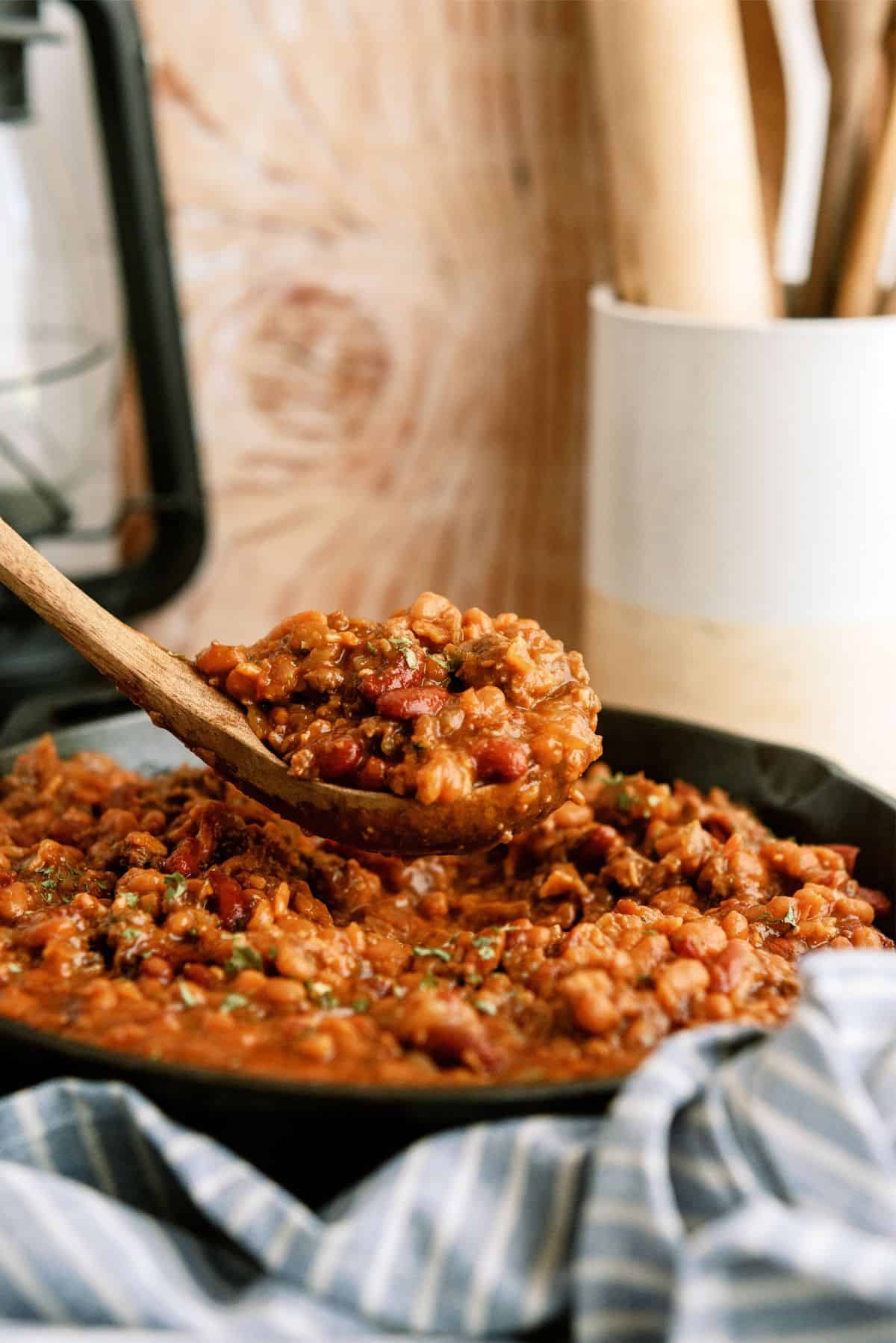 If you are looking for the perfect dish to pass at your next BBQ, you need to make our cowboy baked beans for a crowd. Everyone will dig in and enjoy every last bite of these cowboy style baked beans.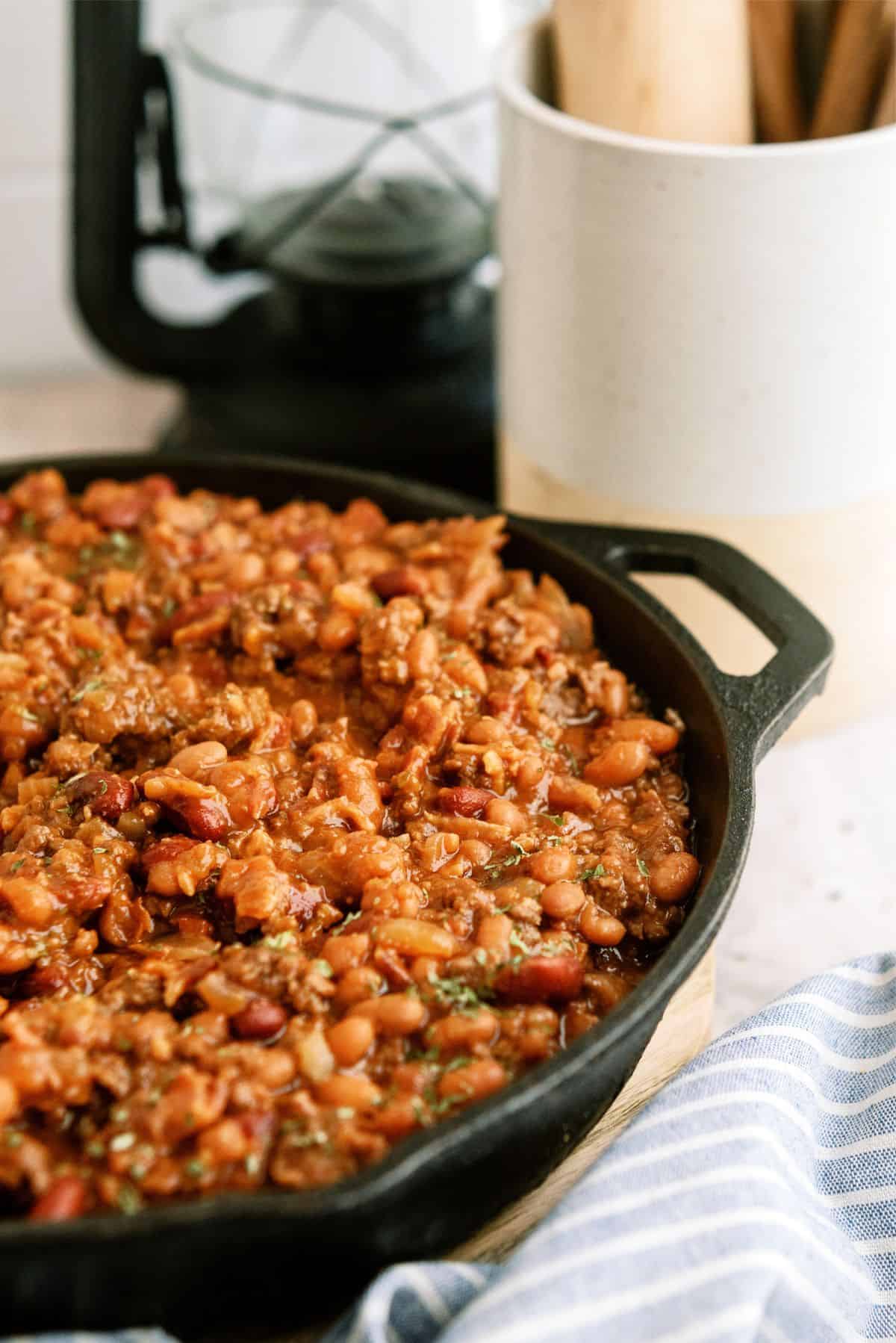 You can make these loaded baked beans the same day you need them, or make them the night before and heat them back up the day of. Either way, they are seriously to die for.
When you bring these to a get together, they will easily be the star of the show against any of the other sides. The flavor you get between the bacon, ground beef, onion and the other ingredients is wonderful.
Make this recipe to share at your next potluck or even our red potato salad, Mom's easy potato salad, or our BBQ macaroni salad recipe are perfect to bring a long too! Honestly you can't go wrong with any of them. Maybe even try a new one every weekend!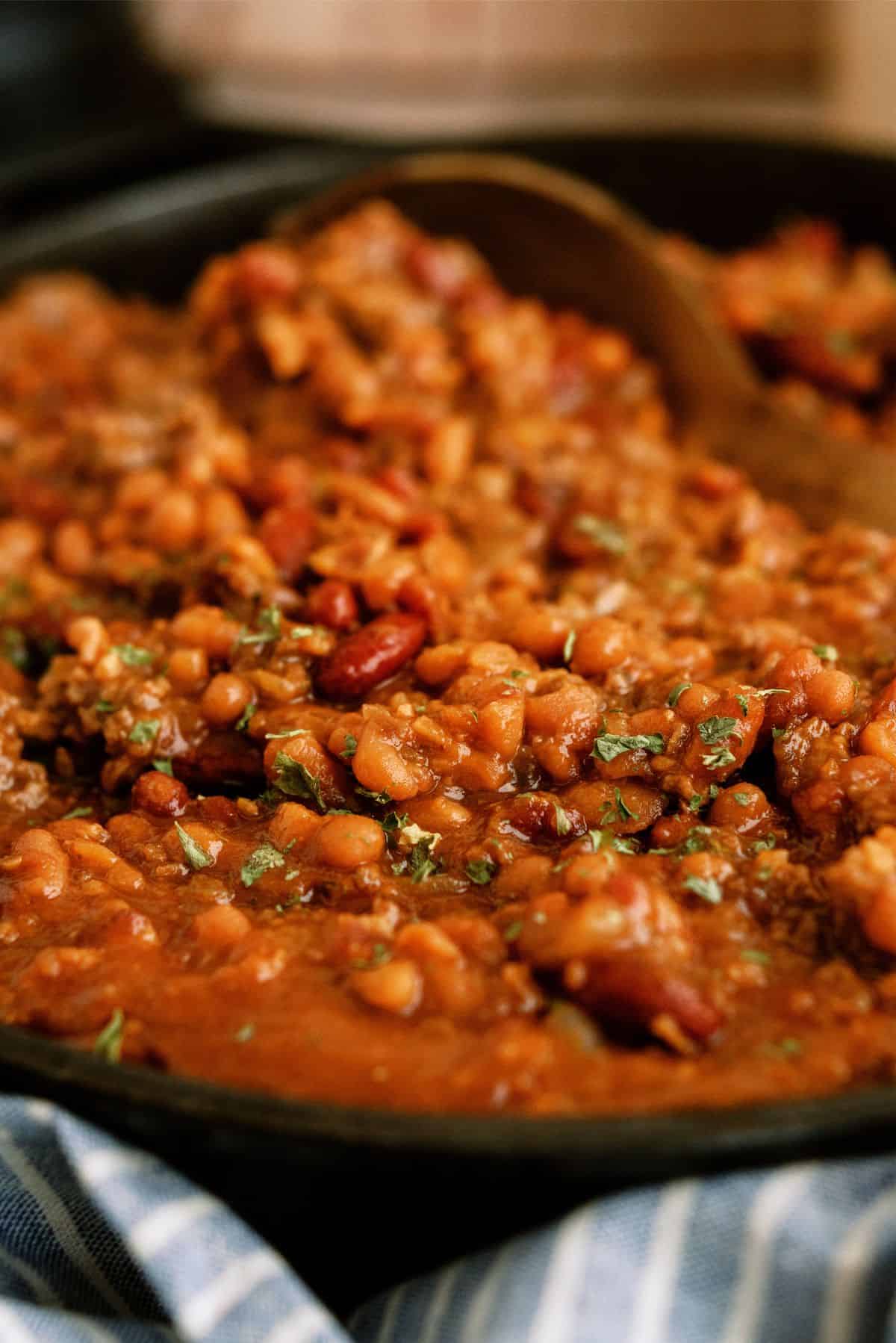 Ingredients You Need to For Our Cowboy Baked Beans Recipe:
Ground beef
Onion, chopped
Bacon, cooked and crumbled
Pork and beans cans
Kidney beans
Ketchup
Brown sugar
Liquid smoke
Salt
How To Make Our Cowboy Baked Beans Recipe: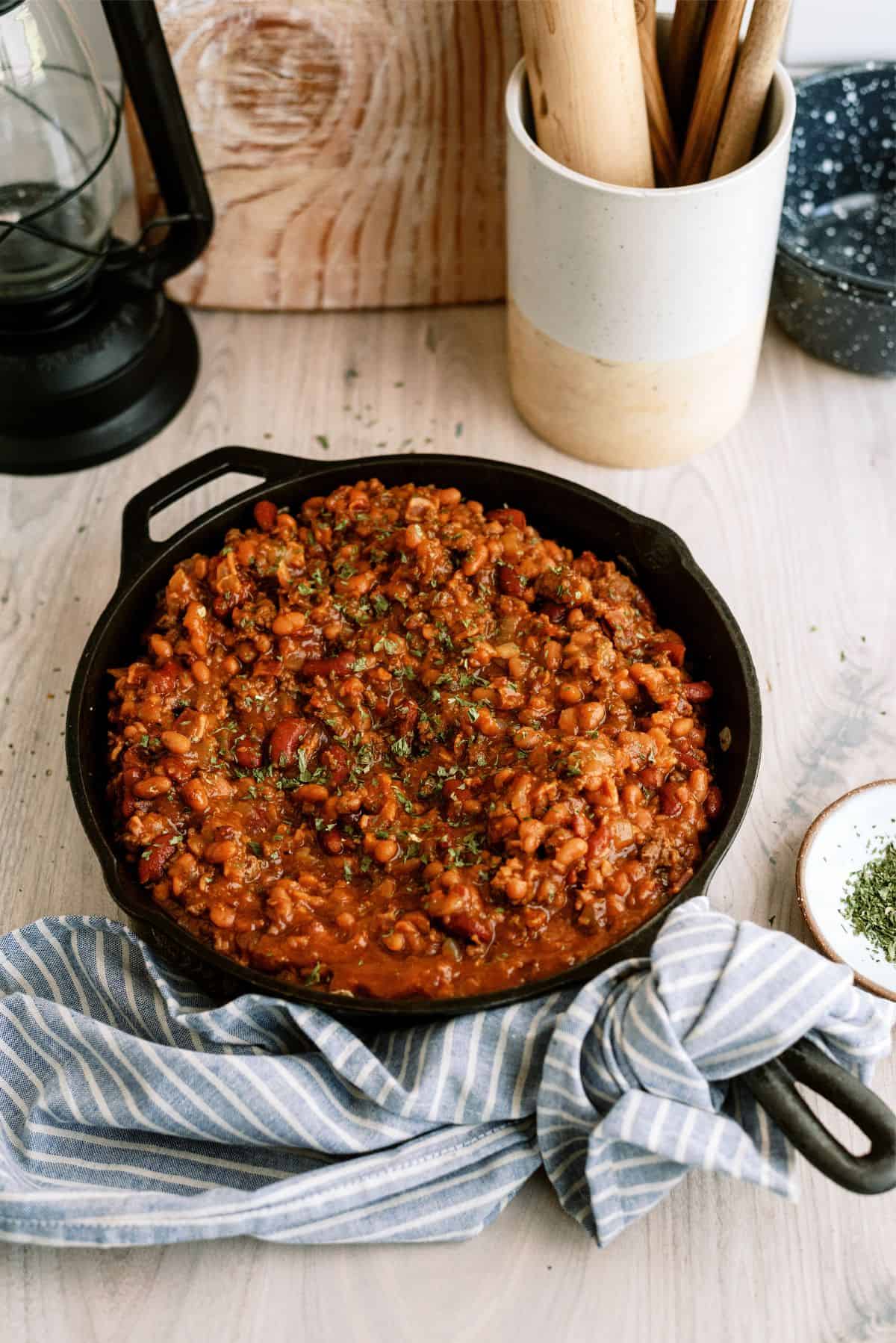 Start by browning the ground beef in a large skillet with the diced onion until it is cooked all the way through over medium high heat.
Then after the beef is cooked, be sure to drain the grease otherwise it will pool when everything is combined.
Now, in another frying pan, cook your bacon and crumble it into small bite sized pieces and then add it into the pan with the ground beef.
NOTE: Be sure to have your bacon cooked as it will not cook all the way through and have that wonderful crispy taste if you skip this step.
Now it is time to add in the cans of pork and beans, drained kidney beans, ketchup, brown sugar, liquid smoke, and a little salt to taste.
Mix everything together and let it simmer for at least 10 minutes to be sure that everything is cooked through and the flavors can marinate together a bit.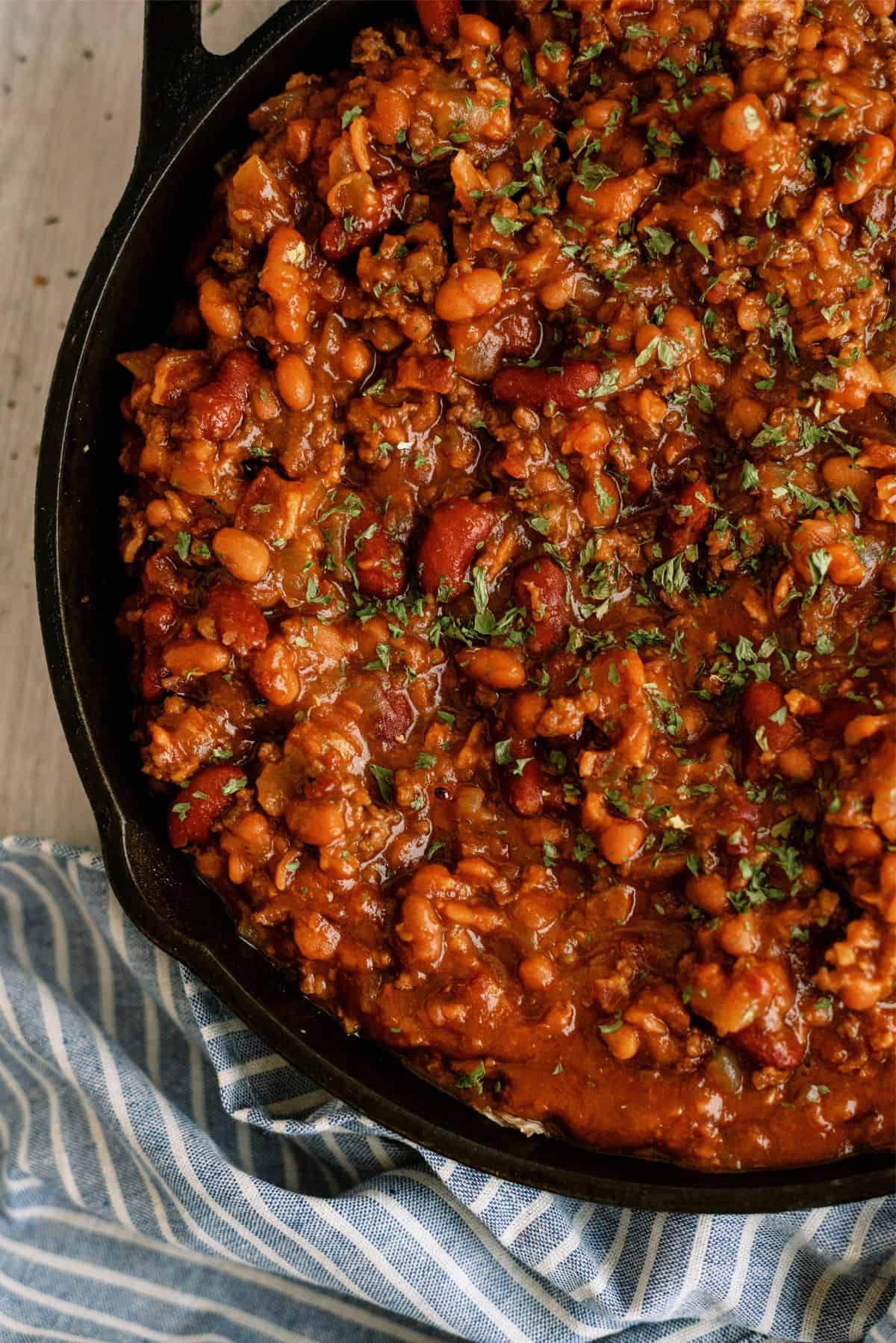 Once it is done simmer, feel free to serve it then, or let it cool down and store it for when you need it.
To Make This Loaded Baked Beans Recipe You Will Need:
Large skillet
Medium skillet
Spatula
Stainer