Our Slow Cooker Perfect Pot Roast Recipe and Homemade Gravy is full of flavor and tastes amazing - it turns out perfect every time!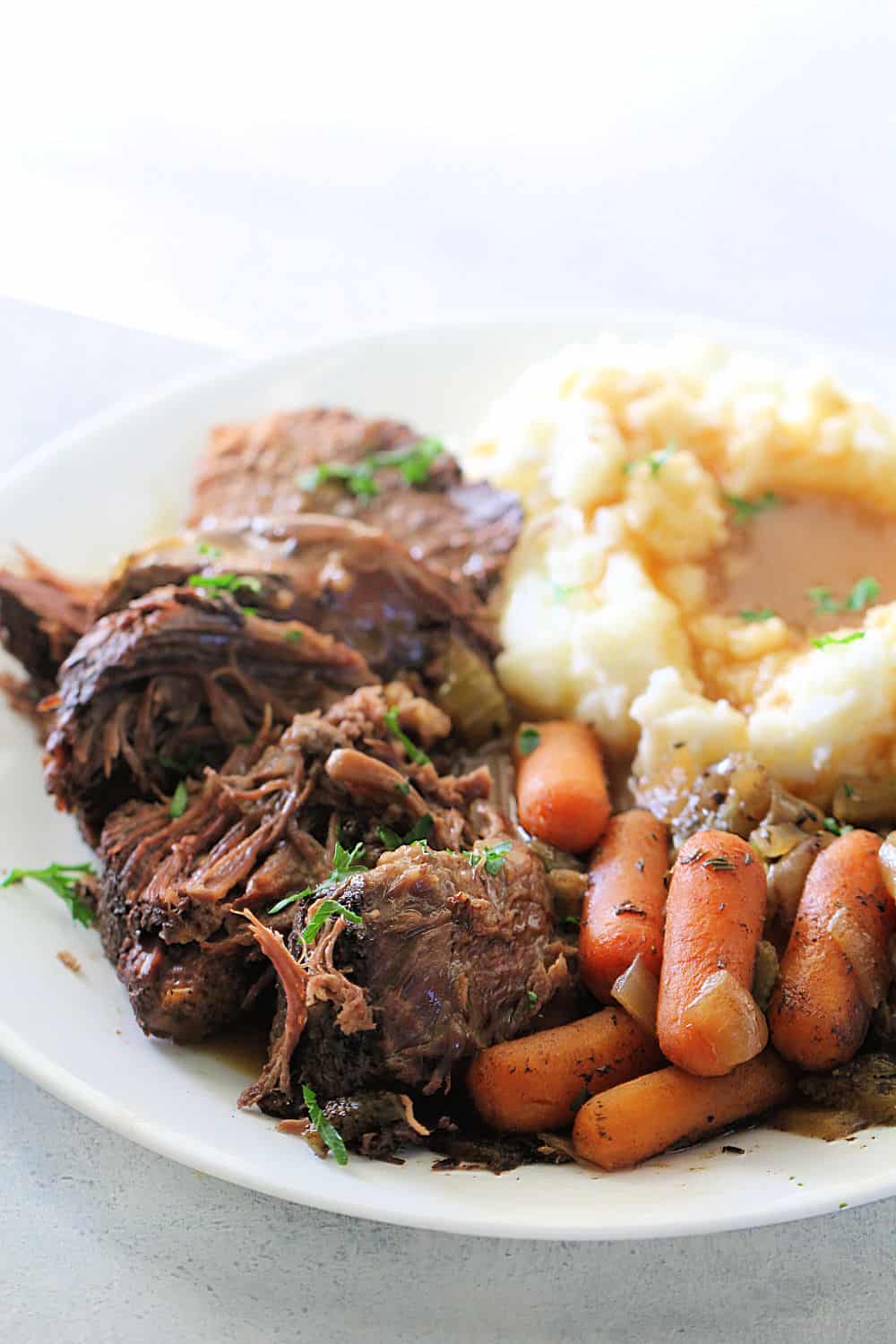 After our youngest sister got married, she mentioned that she wanted to master how to make the perfect pot roast.
As the oldest sister, I took it upon myself to show her my ways and all that I have learned after almost 18 years of marriage . . . this is my go-to Pot Roast that is perfect for Sunday dinner.
So, from one sister to another (and anyone else who wants to make the Perfect Pot Roast) – this recipe is for you!
Serve this roast with our Make-Ahead Mashed Potatoes! To round out the complete dinner, you could make our 30 Minute Homemade Rolls Recipe, this Layered Green Salad Recipe, and a yummy dessert to serve at the end of the meal. 🙂
You can find the Instant Pot Version of this Perfect Pot Roast Recipe HERE!
Ingredients needed for this Perfect Pot Roast:
3-4 pound beef pot roast (I prefer a chuck roast or rump roast, but any kind will work)
3 Tablespoons olive oil, divided
1 teaspoon salt (more to taste – be generous)
1/2 teaspoon black pepper (more to taste – be generous)
1/2 teaspoon garlic salt (more or less to taste)
1 onion, roughly chopped into large pieces
1 pound baby carrots3 stalks celery, roughly chopped into large pieces
3 cloves garlic, minced
2 cups beef broth
3 Tablespoons Worcestershire sauce
2 Tablespoons balsamic vinegar
1 Tablespoon soy sauce
1 teaspoon dried thyme (more or less to taste)
1 teaspoon dried rosemary leaves (more or less to taste)
Gravy:
3-4 cups drippings (liquid) from the slow cooker after roast is done cooking
4 Tablespoons butter
3 Tablespoons flour