The easiest way to cook a pot roast - in the slow cooker! This no-fail recipe turns out an amazing Sunday dinner every single time. Tender, fall-apart roast cooked together with carrots and potatoes, thrown together in the morning and ready to eat when dinner rolls around.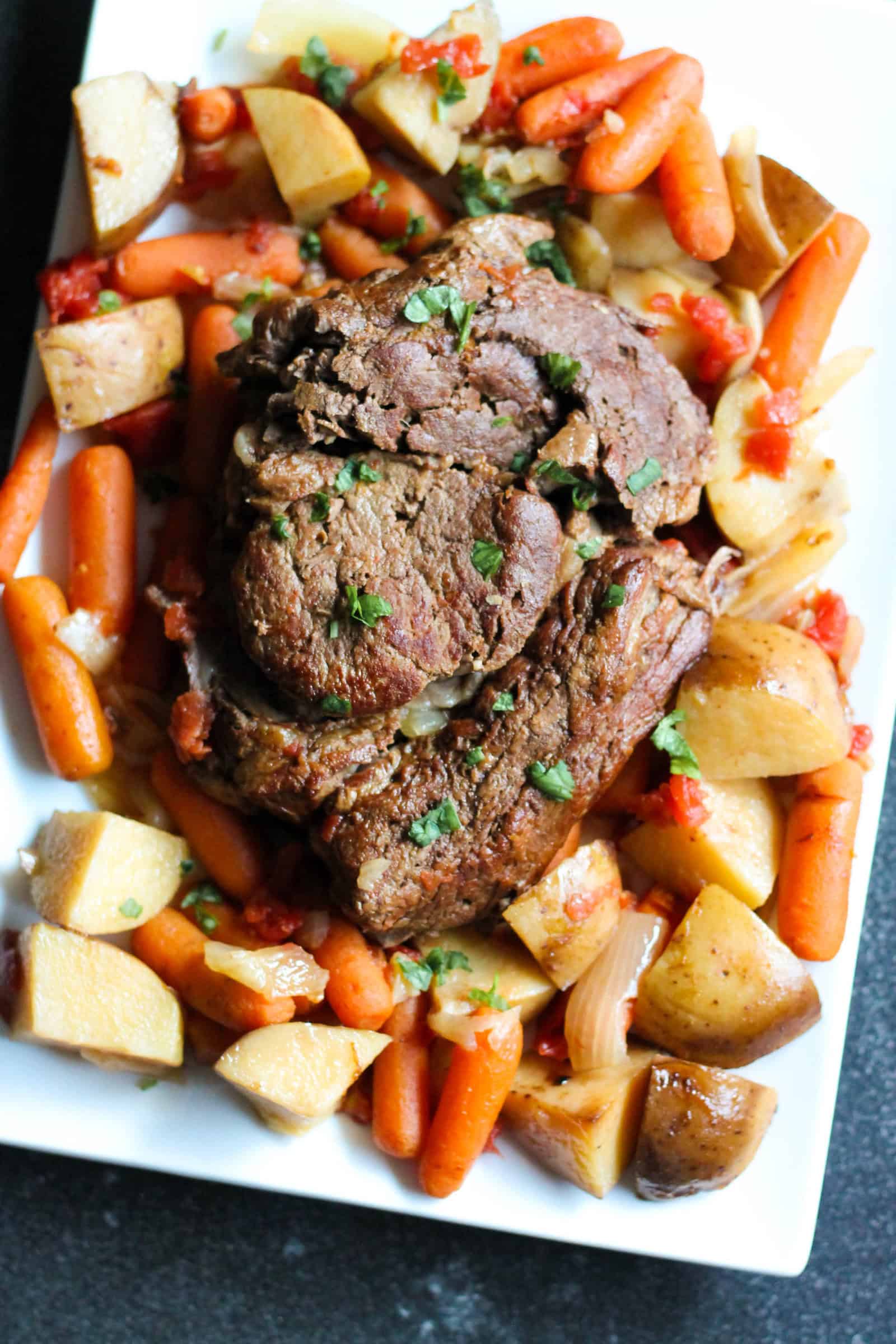 Sunday dinner was always the best meal of the week growing up at my house . . . and this Slow Cooker Sunday Dinner Pot Roast and Gravy was one of our staple Sunday meals.
After I got married and was in charge of Sunday dinner for my own little family, I was super intimidated by pot roast . . . until I discovered that I could make it in my CROCK POT. Hooray!
I promise you, this is the easiest and yummiest pot roast recipe. You just can't mess it up.
And when you feel ready, try the homemade gravy recipe . . . it took me a couple of tries to get it just right. And let's be honest, this is easy enough you really could make this any day of the week.
My husband would think that he had died and gone to heaven if he came home from work and found this waiting for him.
How to make a Slow Cooker Sunday Pot Roast with Gravy:
Step 1: Heat olive oil in a large saute pan over medium high heat. Pat beef with paper towels and season all sides generously with salt and pepper. Sear beef in the saute pan until a nice crust forms (about 3 minutes on each side).
*DON'T SKIP THIS STEP! It makes a nice crust on the meat that can't be beat.
Step 2: Place beef in crock pot. Don't drain the drippings. Add carrots, onions, potatoes and garlic to the pan and saute for about 3 minutes.
Step 3: Pour in the diced tomatoes (with juices) and stir to combine. Arrange vegetables over the beef in the crock pot. Dissolve bouillon cube in beef broth and pour it over the roast.
Step 4: Cook on low for 7-8 hours.
Step 5: Pour all the liquid out of the crock pot into a small or medium saucepan. Let simmer over medium low heat for about 5 minutes. Mix butter and flour together in a small bowl and mash together with a fork until well combined (kind of like a buttery paste).
Step 6: Slowly whisk in the mixture into the liquid until starting to thicken and combine.
Optional step: If you like thick gravy, add the cornstarch as an added thickening agent. Combine the cornstarch with cold water until dissolved and stir into the gravy, whisking until smooth. Season with freshly ground black pepper (I don't normally need anymore salt).