You haven't ever had an easy meal until you make this one. It doesn't get much better than these Sheet Pan Steak Fajitas. They are so easy to make and taste amazing. Your family is going to go crazy over these. They have the best, most juicy meat and flavor, you will ever try.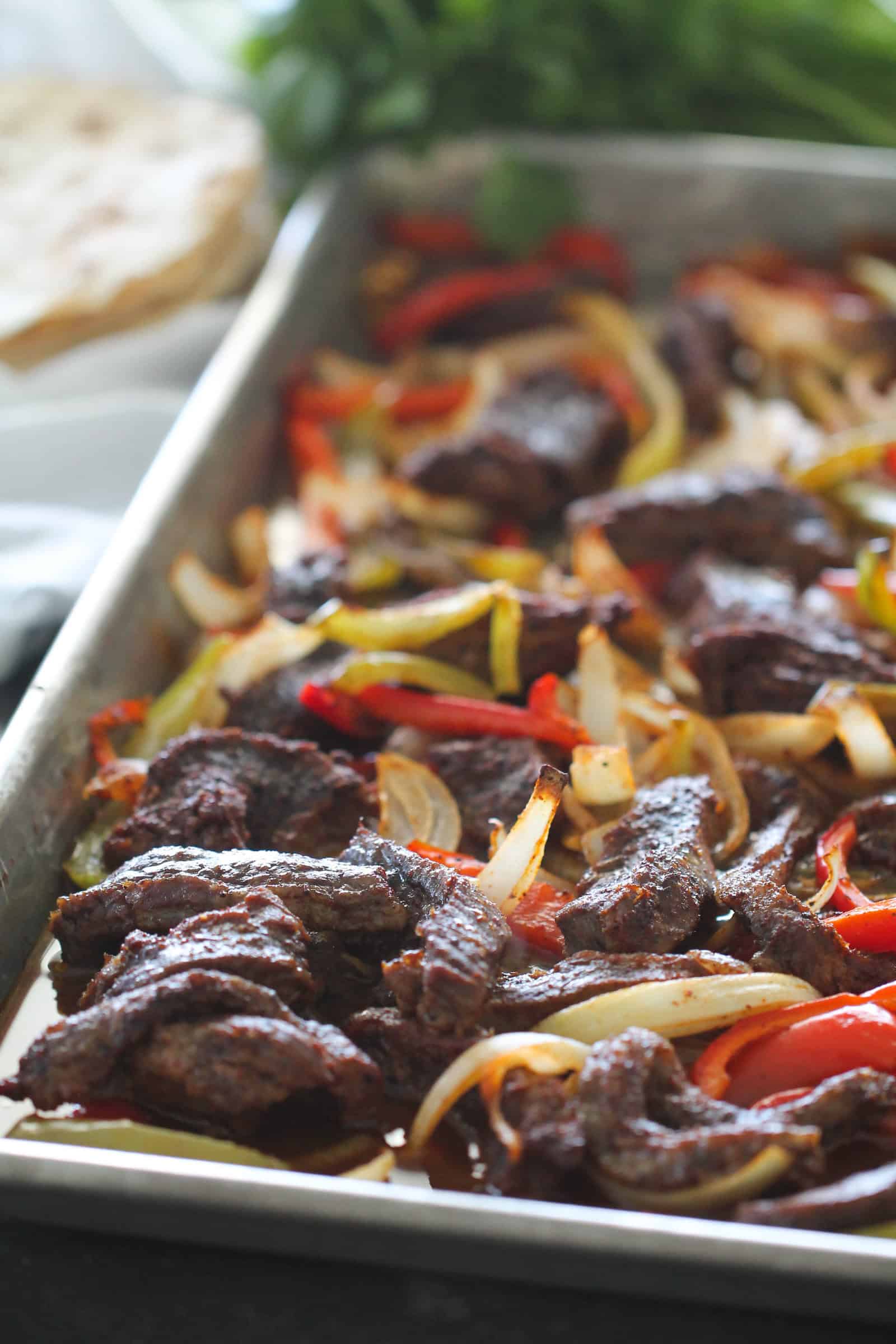 Sheet Pan dinners are our favorite find of meals and these Steak Fajitas do NOT disappoint! I love fajitas and am always ordering them every time we go to a Mexican restaurant.
My husband, however, is not a fan. He said Mexican food just isn't his thing, and never will be. He said he will eat it, but doesn't enjoy it.
He also told me, just recently, that he has never loved fajitas, so I set out to prove him wrong.
This recipe is so simple and I love that it is made in a sheet pan. Quick, easy and delicious. And for the record, my husband approved. 😉
If you are a busy parent like me, you can use all the simple, delicious, and fast meals you can get. This recipe is just that. You are going to fall in love with these Sheet Pan Steak Fajitas.
Related Recipe: Looking for more Fajitas? Try these Marinated Chicken Fajitas!
What steak works best for these Sheet Pan Steak fajitas?
This recipe specifically calls for flank (or skirt) steak. Flank Steak works best for fajitas because of it's texture, fat to meat ratio, and thickness.
It's also very tender, and easy to bite through, which is helpful when eating fajitas, that have loves of filling and topping.
However, you could almost use any steak, and it would still taste delicious. Depending on steak thickness, you may also need to alter the cook time.
What cooking oil, works best when cooking Sheet Pan Steak Fajitas?
Cooking oil can be a touchy subject to some. Some people are way more opinionated about oils, than others. Including me.
I recommend using an olive oil, as the ingredients and instructions explain, in the recipe.
I am a huge fan of the taste and texture it provides when cooking. If you have to use a substitute oil for this recipe, I recommend using an avocado oil.
I wouldn't recommend using canola, or vegetable oil for this one. The taste may be a little strong, when you bake it.