We love this easy slow cooker lemon pepper chicken using chicken drumsticks. Chicken drumsticks are so affordable and we've turned them into an easy and delicious dinner your family will love.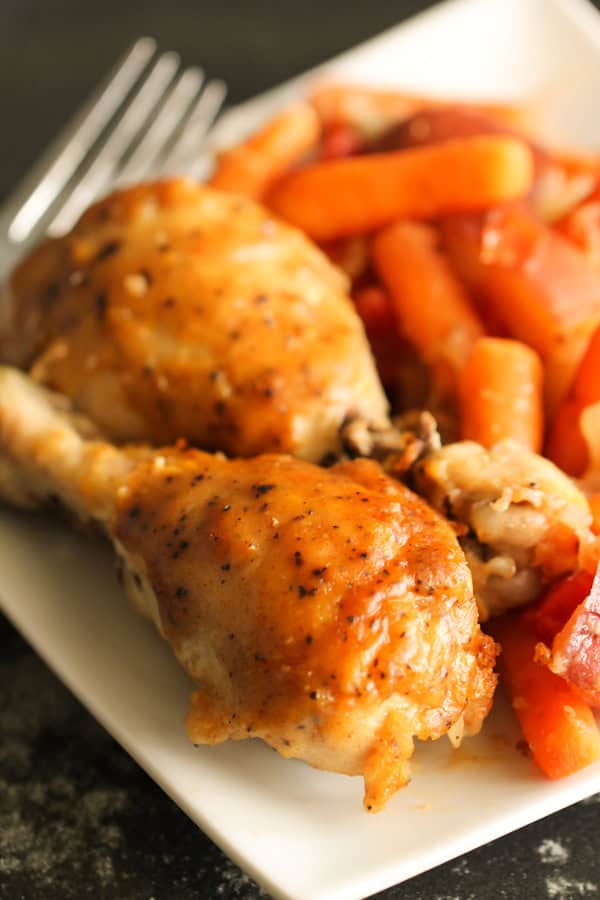 Do you ever get into a rut as you try to figure out what to serve for dinner? We've got you covered with this chicken drumstick slow cooker recipe.
Chicken drumsticks are moist, juicy, and loaded with so much flavor. They are a less expensive cut of chicken which makes it perfect when you are feeding a lot of hungry tummies. We love budget friendly meals.
Slow cooker lemon pepper chicken is the whole meal prepared at once in the slow cooker. Under these moist and juicy chicken drumsticks are all kinds of veggies.
You'll find carrots, onions, and red potatoes. The whole meal is prepared all at once in your slow cooker. Now that's a win for you.
Do you leave the skin on the chicken drumsticks?
We have made slow cooker lemon pepper chicken with the skin on and with it off. It's really what your own personal preference is.
Some of our family loves chicken skin, so they leave the skin on. Those of us who don't really like to eat the skin remove it when coating the chicken in the slow cooker.
It's very easy to remove the skin from the chicken drumstick. Simply run your finger under the skin and then it's very easy to pull back.
Using a paper towel you can get a grip on the skin and pull it off. You can also just pull the skin down to the bottom of the drumstick.