Enjoy a little spice for dinner with this slow cooker Kung Pao chicken recipe. It is such a simple dinner recipe, filled with great flavor and hearty with chicken, vegetables, and served over rice!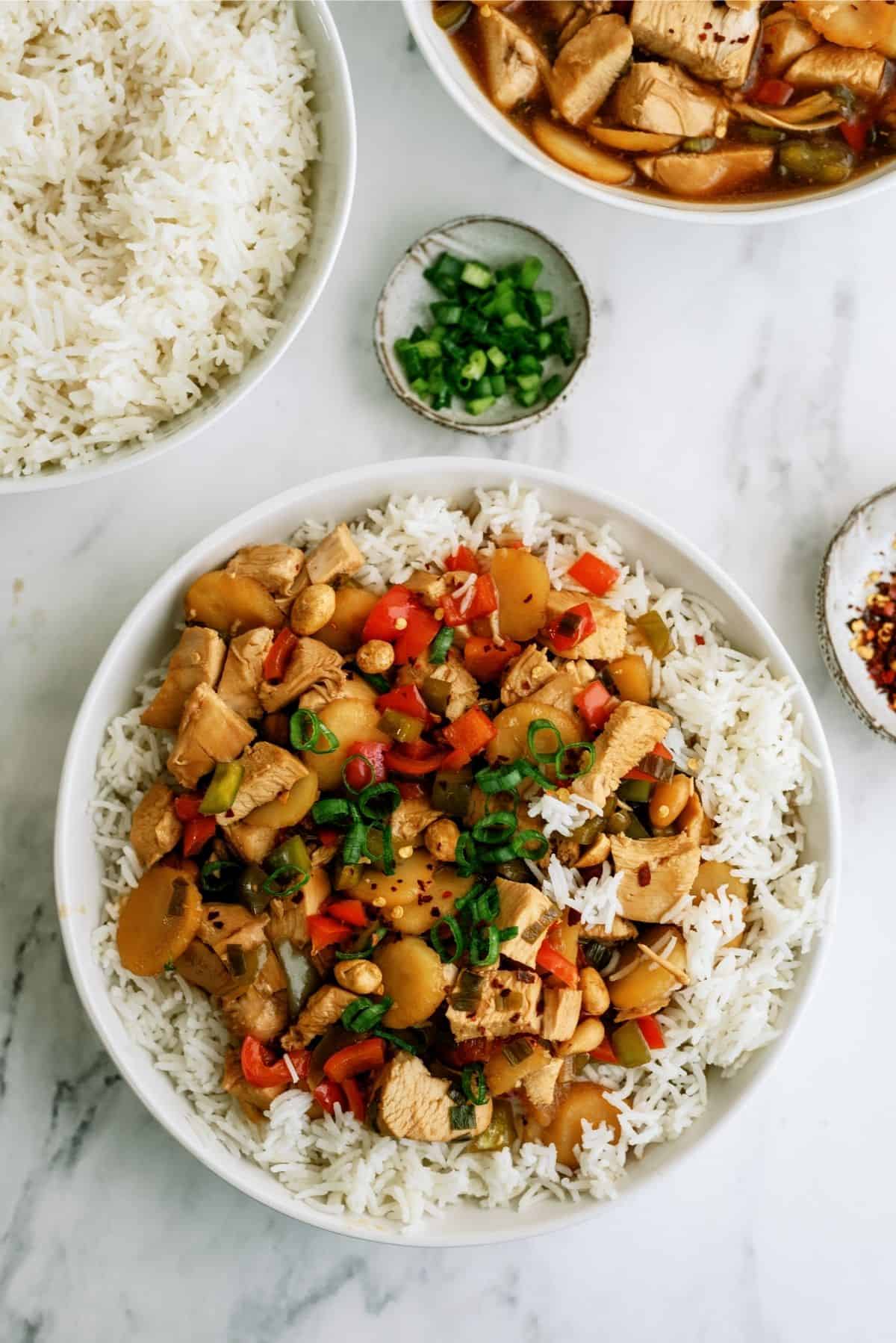 If you love quick and easy dinner recipe, this slow cooker Kung Pao chicken dinner is what you need! It really can not get easier than this slow cooker chicken recipe.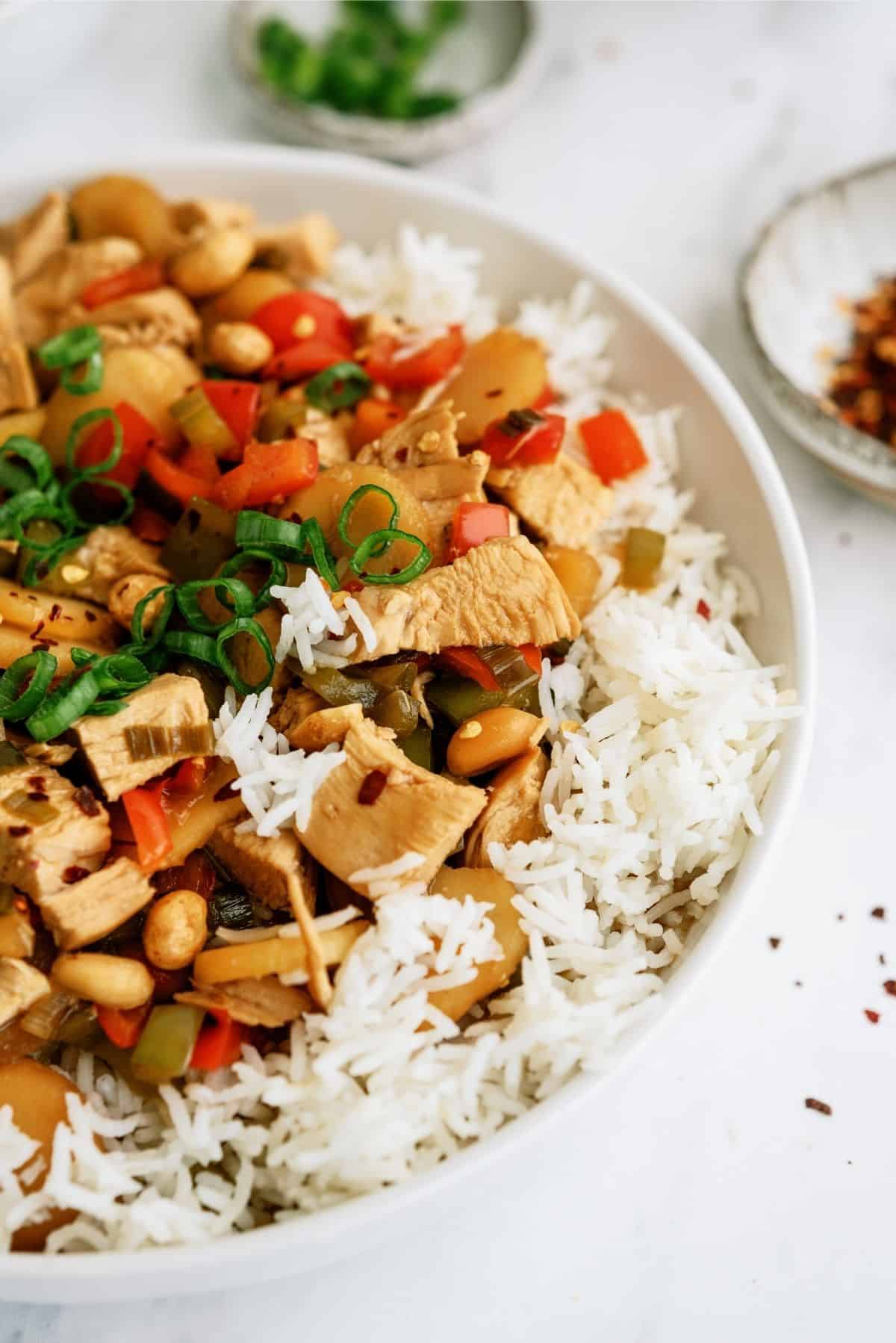 It is perfect for an easy dinner, but you'll feel like you're eating a takeout recipe at home. Basically it's like having Panda Express Kung Pao chicken, but without the price tag and drive thru line.
This easy slow cooker recipe is great for when you want something simple during the weekend when you just want a dinner you don't have to do much for. It does have a little bit of spice, but our kids still like it.
Slow cooker Kung Pao chicken has even become a favorite family dinner recipe, especially when I serve it with some Hawaiian Luau Fried Rice, Instant Pot Steamed Vegetables, and you cannot go wrong with M&M Cookie Pie for dessert!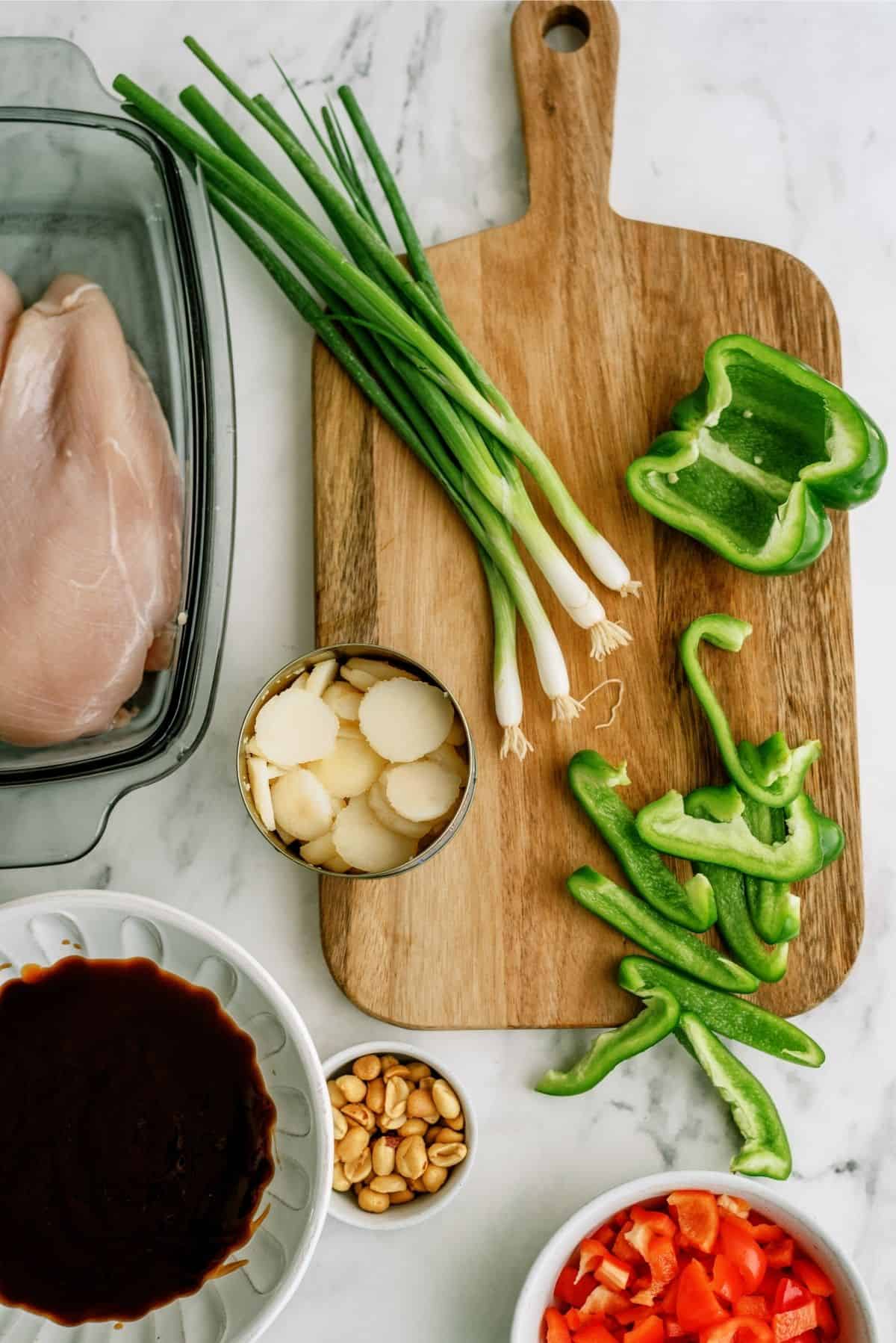 Ingredients Needed For This Slow Cooker Kung Pao Chicken Recipe:
Boneless skinless chicken breasts
Kung Pao sauce (THIS is the kind we used)
Red bell pepper
Green bell pepper
Green onions
Water chestnuts
Peanuts
How To Make This Slow Cooker Kung Pao Chicken Recipe:
Begin by getting out your slow cooker and spray it down with nonstick cooking spray to keep the chicken from sticking to the bottom.
Once the slow cooker is prepped, place the chicken in the bottom of the slow cooker.
Then, pour the bottle of the Kung Pao sauce on top of the chicken in the slow cooker and turn the cooker on low for 5-6 hours or high for about 3-4 hours.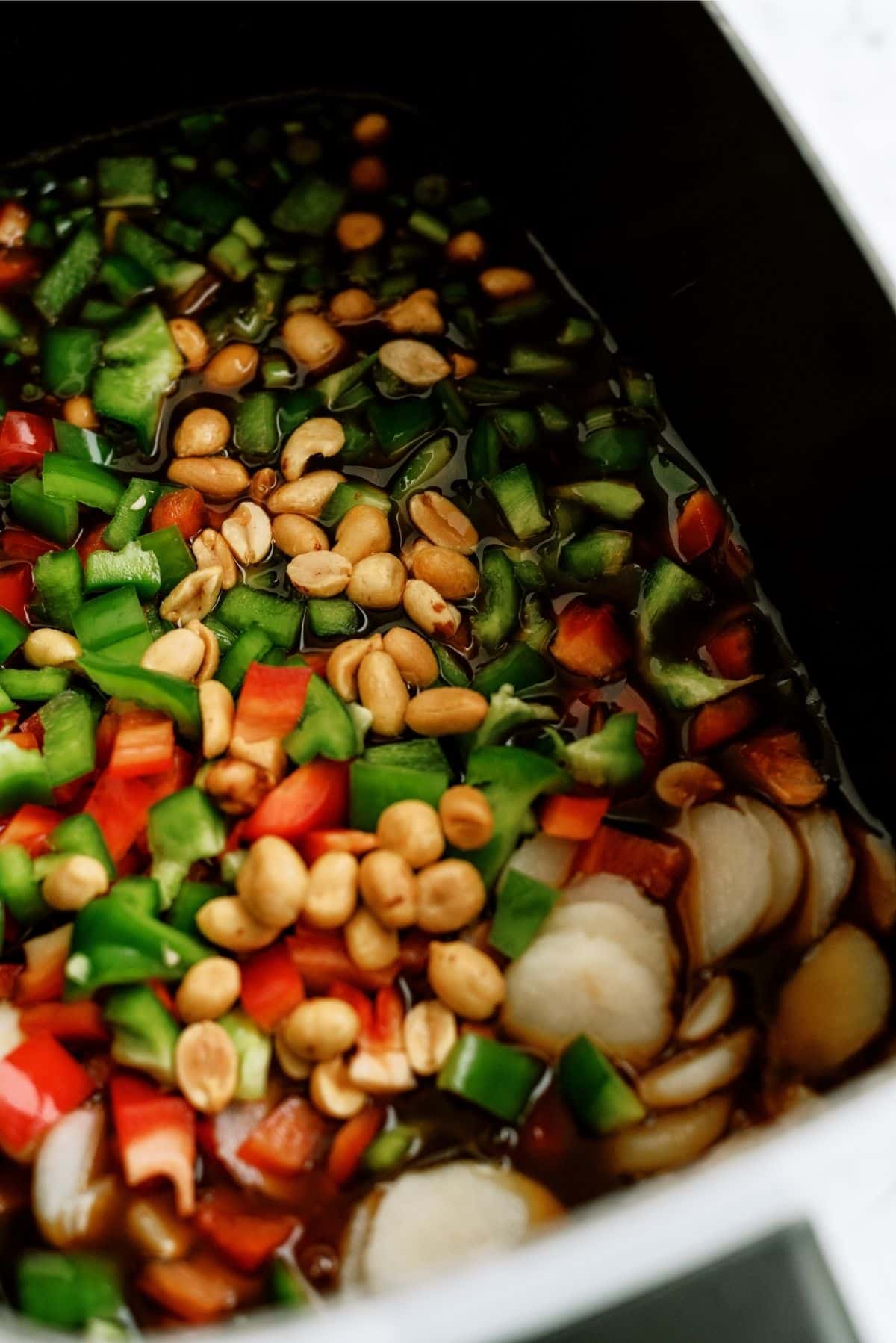 In the last 30 minutes of cooking, turn the slow cooker on high if it isn't already and then add in the diced bell peppers, water chestnuts (drained), and peanuts and mix it all together.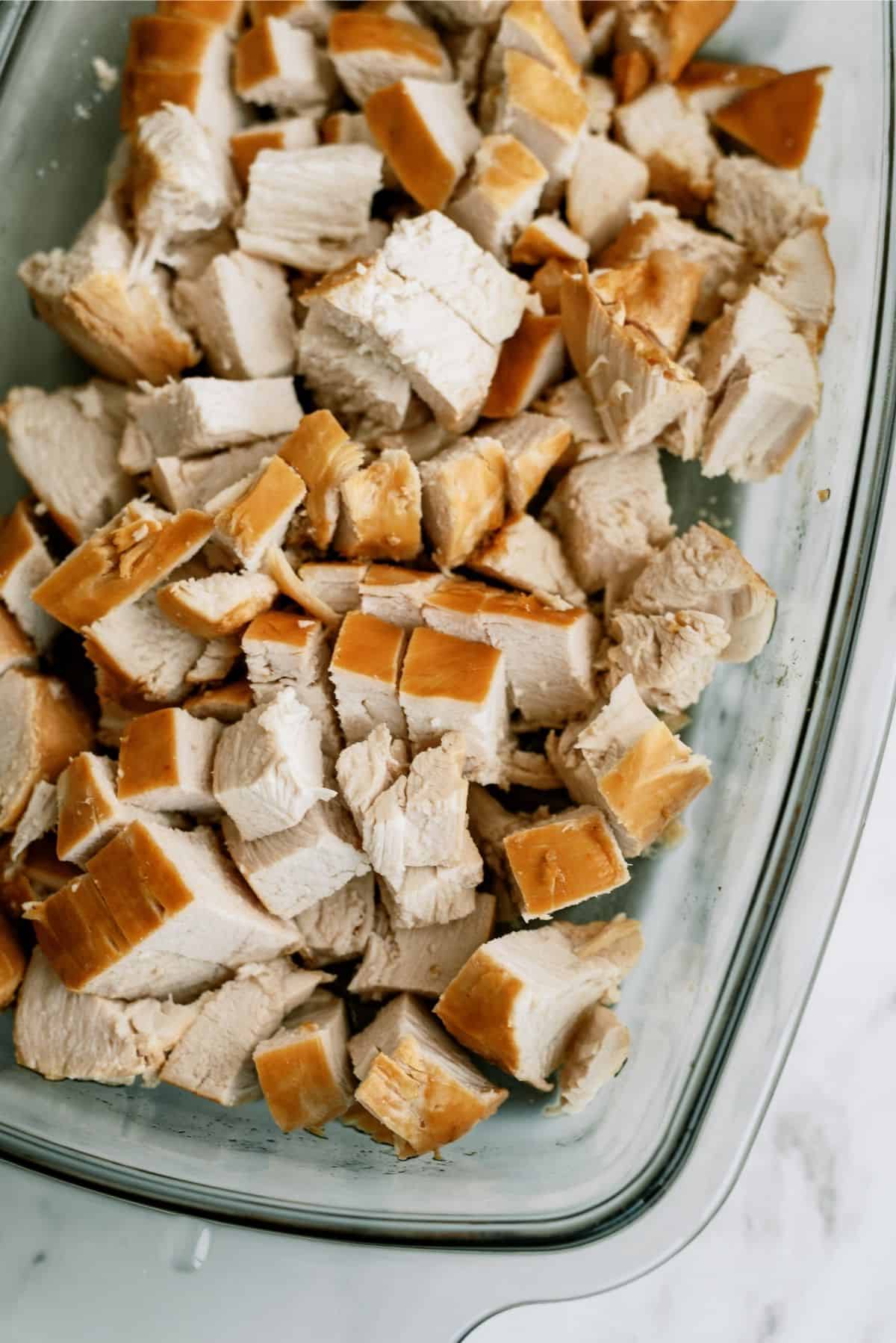 When that is done cooking, remove the chicken breasts from the slow cooker and cut it into bite-sized pieces.
Once all the chicken is cut, return it to the slow cooker and stir it all back together until it is all covered in the tasty Kung Pao sauce.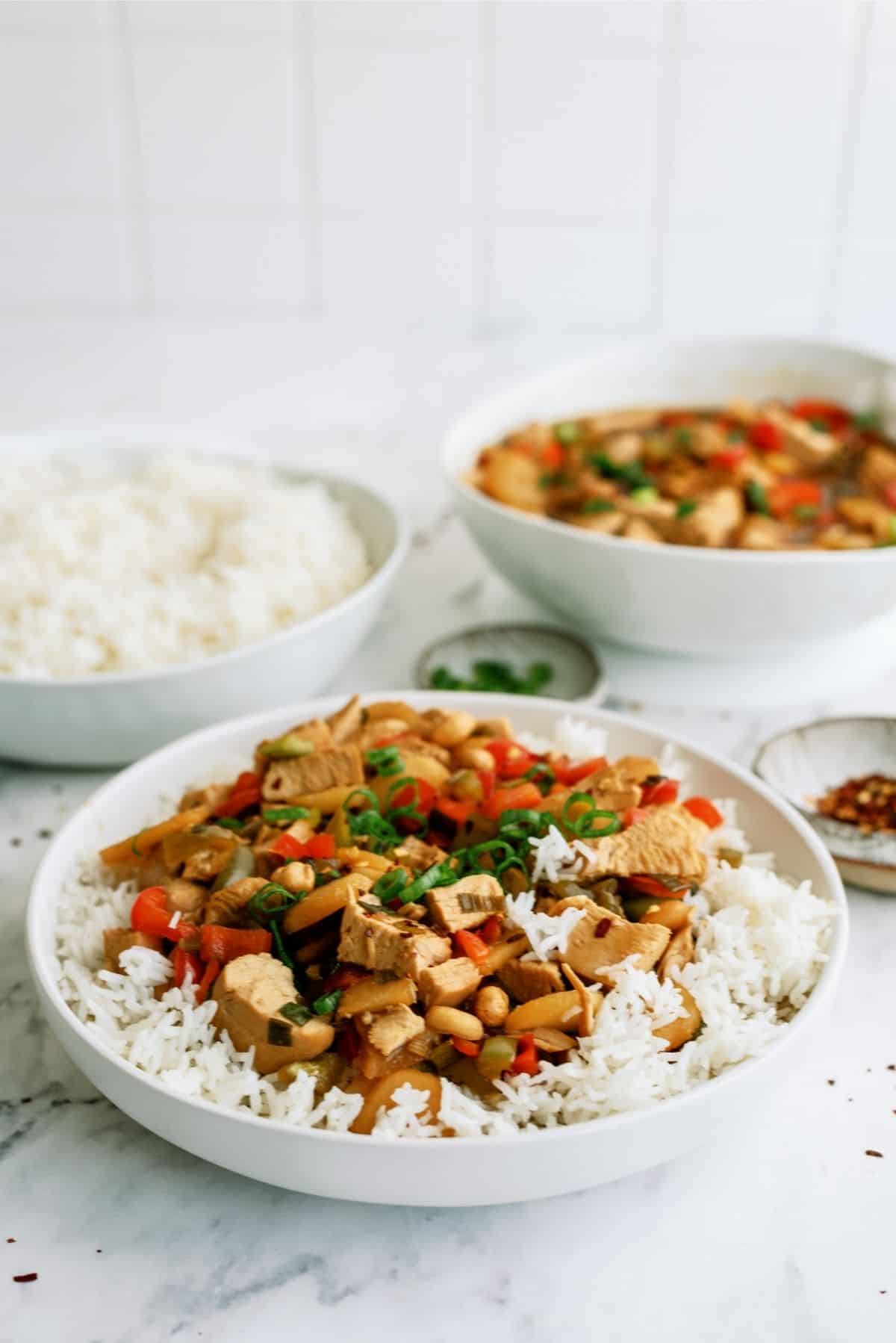 Then serve it over cooked white or brown rice and enjoy!
To Make This Easy Slow Cooker Recipe You Will Need:
Slow cooker
Cutting board
Knife
Serving spoon