This easy Skillet Potatoes recipe is one of my favorites because it comes together so quickly! My kids love it with a little bit of cheese on top . . . but these red potatoes are delicious and flavorful without it.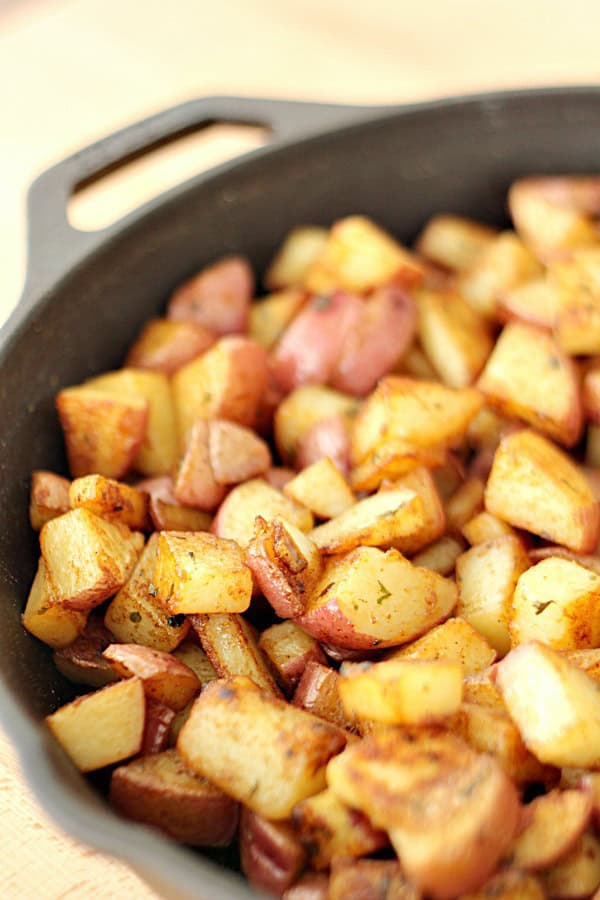 This Skillet Red Potatoes Recipe is SO EASY!
I am the queen of quick and easy side dishes . . . after spending time on making the main dish, the last thing you want to do is spend even more time on sides!
How To Cook Red Potatoes:
For this recipe, I used red potatoes, but you could really use any potato that you prefer.
I love red potatoes and use them often in cooking, usually leaving the skins on (the skin is so thin and it provides some extra fiber, so that is always a good thing!
I learned that red potatoes also have a little less starch and a little less sugar than russet potatoes, which is perfect for the pan-frying that happens in this recipe!
Seasoning Skillet Red Potatoes:
When it comes to seasoning your potatoes, anything goes!! I have yet to find a combination that I don't like.
For this recipe, I included parsley, garlic powder, onion powder, and paprika. If you have it available, fresh herbs would also be delicious.
If you like lots of seasonings, I highly recommend checking out our Roasted Baby Potatoes – this recipe includes dill and chives and is so delicious.
If you love garlic, these Garlic Roasted Potatoes might be your new go-to recipe!
Basil is also a delicious flavor with potatoes and our Pesto Potatoes are always a hit!
How Long To Fry Skillet Red Potatoes:
The time that it takes to cook your potatoes will vary, depending on how big or small your cut your potatoes.
I aim for smaller pieces so that the potatoes cook a little faster (because heaven knows I don't have time to be standing at my stove all day), but any size will taste amazing.
Whatever size you cut your potatoes, just aim to have them all the same size to ensure that they cook evenly.
If you like your potatoes a little more crispy on the outside, turn up the heat just a little bit and let them get those dark crusty spots on the outside – that is definitely my favorite way to enjoy these potatoes!
Items needed to make this Skillet Red Potatoes recipe:
Large Skillet: I personally use a non-stick skillet for this recipe (I love it because it is dishwasher safe and so easy to clean), but a cast-iron skillet also works great!
Cutting board: to chop up the potatoes. I love these cutting boards because they are also dishwasher safe (can you sense a theme here? I love throwing everything in the dishwasher instead of doing it by hand).
Chopping knife: Having a good knife will make all the difference when it comes to chopping potatoes!