A quick, light dinner with a lot of protein, healthy fats, and fresh mango salsa - perfect for busy weeknights in the summer.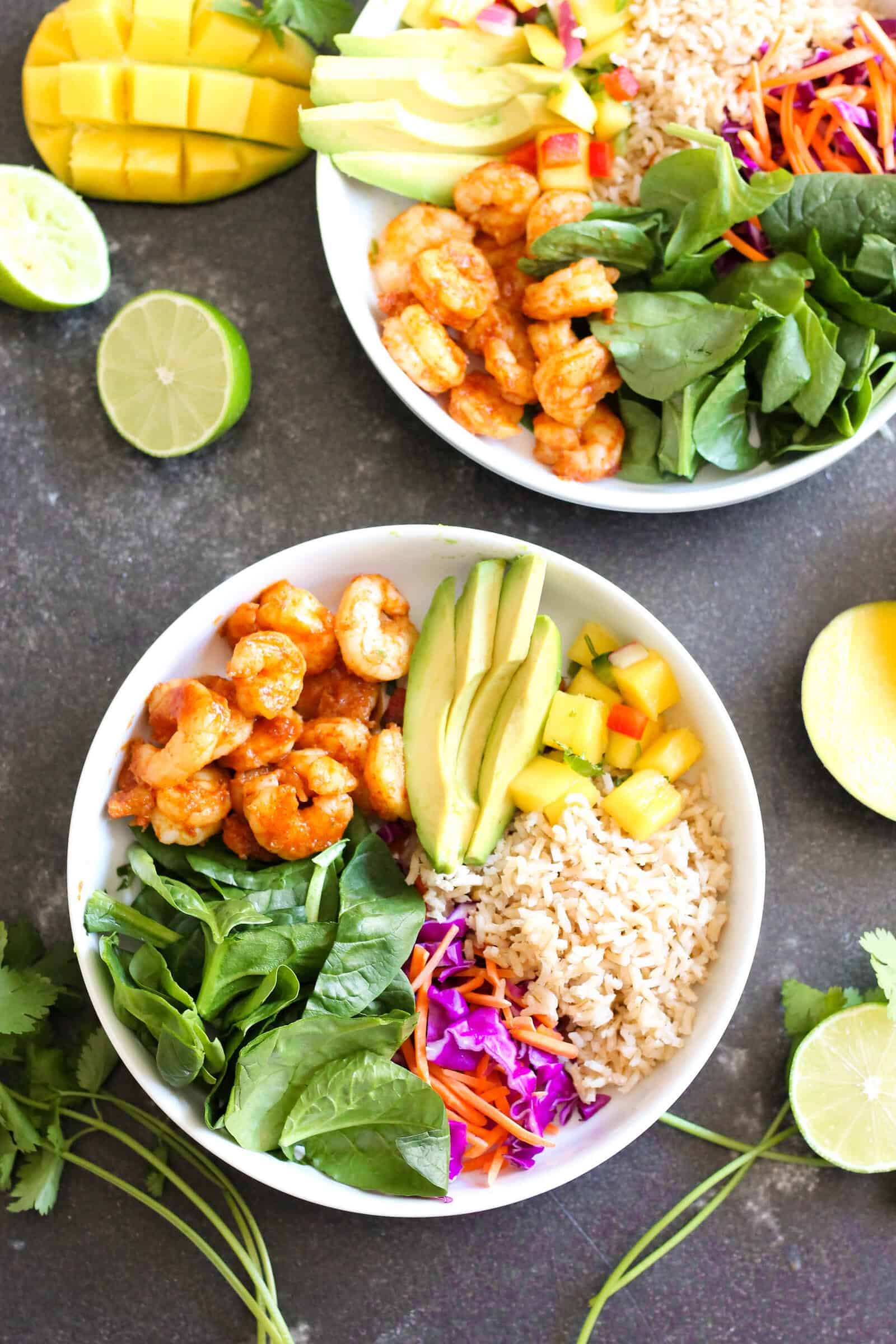 I was inspired by a delicious shrimp protein bowl I picked up from El Pollo Loco while running some errands, and as soon as I had a taste, I knew I had to make this Shrimp Protein Bowl with Mango Salsa at home!
Lately I've been loving protein bowls (like our chicken burrito bowl or our steak burrito bowl) because you can pack a ton of flavor, a ton of veggies, and quite a bit of protein without feeling like you're stuck in the same 'ol salad-for-lunch rut..
You'll be surprised that this delicious shrimp, mango salsa, and avocado goodness has TWO full servings of veggies, too.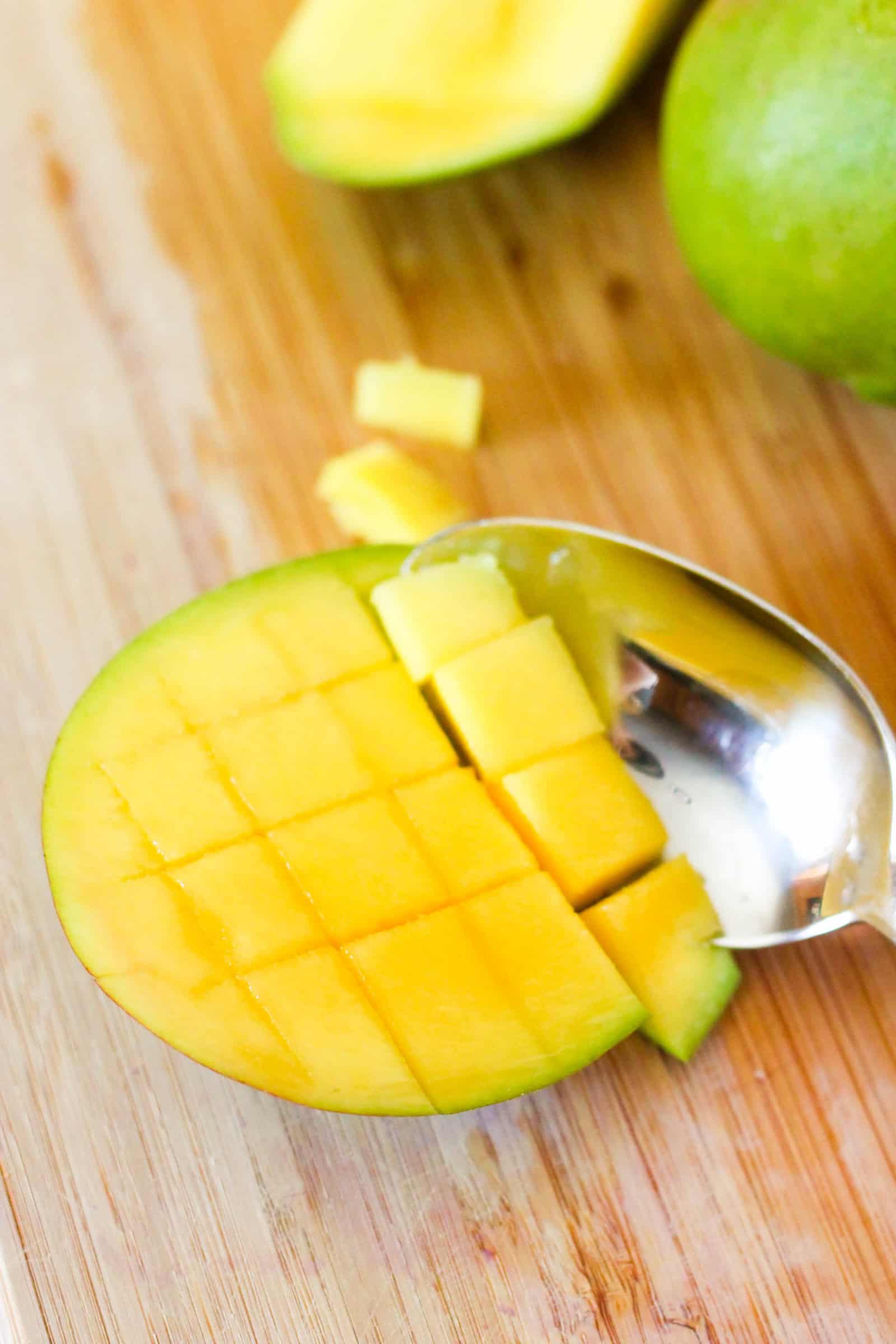 Start with the Mango Salsa:
The first step is to make the mango salsa. While you can buy pre-cut, fresh mango slices for an arm and a leg, it's just as easy (and a lot cheaper) to make your own.
Cut the sides off the mango around the pit (you'll know it's the pit because it's REALLY tough, and not easy to cut).
Then make cross-hatch cuts in the mango without pushing the knife through the other side of the skin. Take a spoon and scoop it across the skin, and you'll have a perfectly diced mango.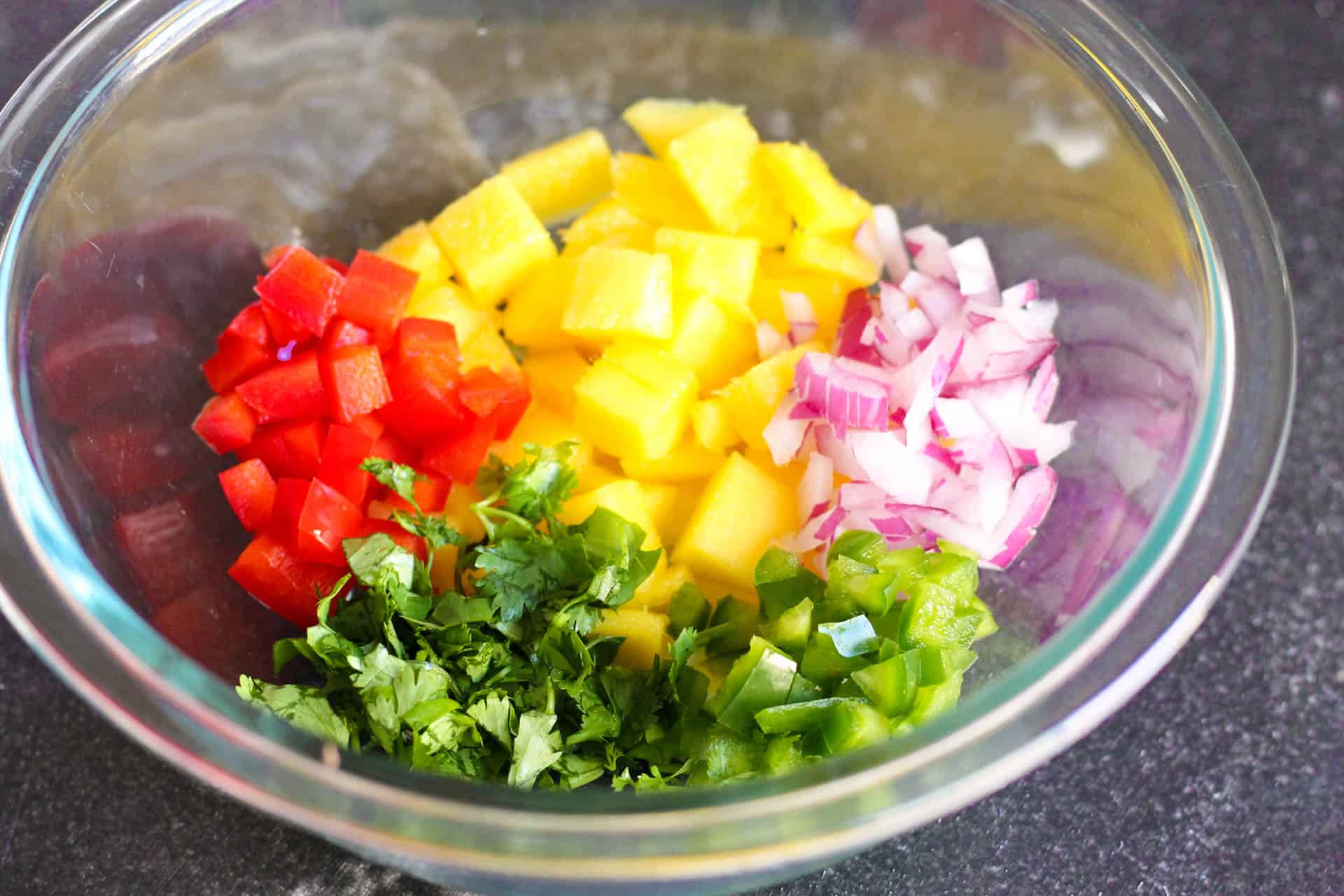 Throw that together with some freshly chopped red pepper, onion, cilantro, jalapeno, and lime juice and WHAM.
You have yourself a super easy mango salsa. I know it can be super tempting to just stop there and eat it immediately with a big bag of chips, but I PROMISE, it tastes SO good thrown together with everything else.
How to put together the Shrimp Protein Bowls:
Assembly for these protein bowls is incredibly simple. After cooking your shrimp, just portion everything evenly into four bowls, starting with the salsa and adding brown rice, carrots, cabbage, spinach, and topping it with sliced avocado.
If you want beautifully sliced avocado, you can use almost the exact same technique for cutting mangoes. Cut around the pit, then twist the two halves and pull the avocado apart.
Take your knife and run it through the pulp, but don't cut through the skin. Take a spoon, run it along the edges, and the slices will just pop right out of the avocado.
You can also try an avocado slicer, but I've found this works just as well.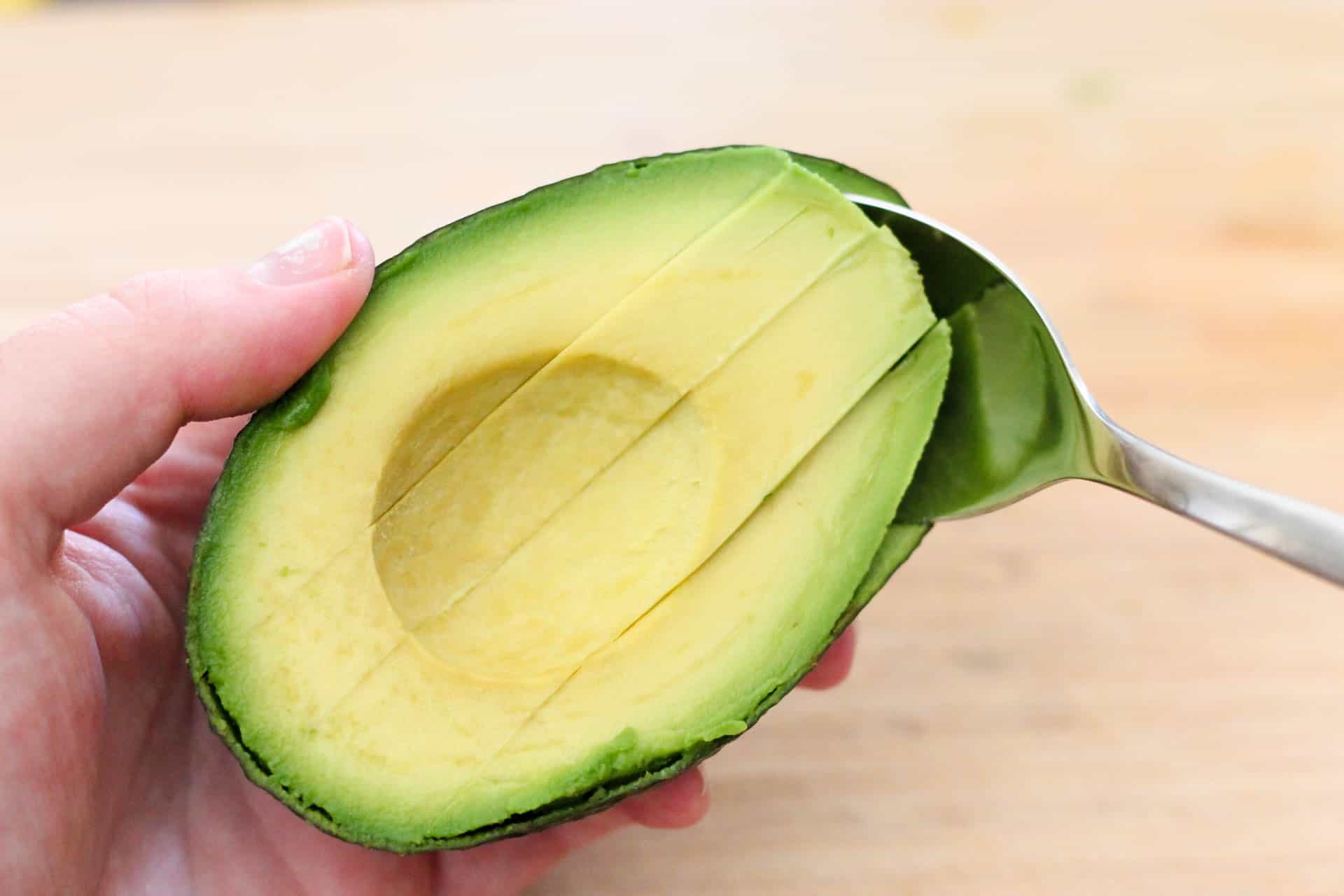 Doesn't it just look so tasty? I love all the colors in this bowl. The protein fills you up without weighing you down, and it just FEELS good putting that many fresh veggies and fruits into your body, you know?
Plus, paired with my favorite Bolthouse Farms dressing (this isn't sponsored, but if you haven't tried it yet – RUN), you're only adding an additional 40 calories for a ton of flavor.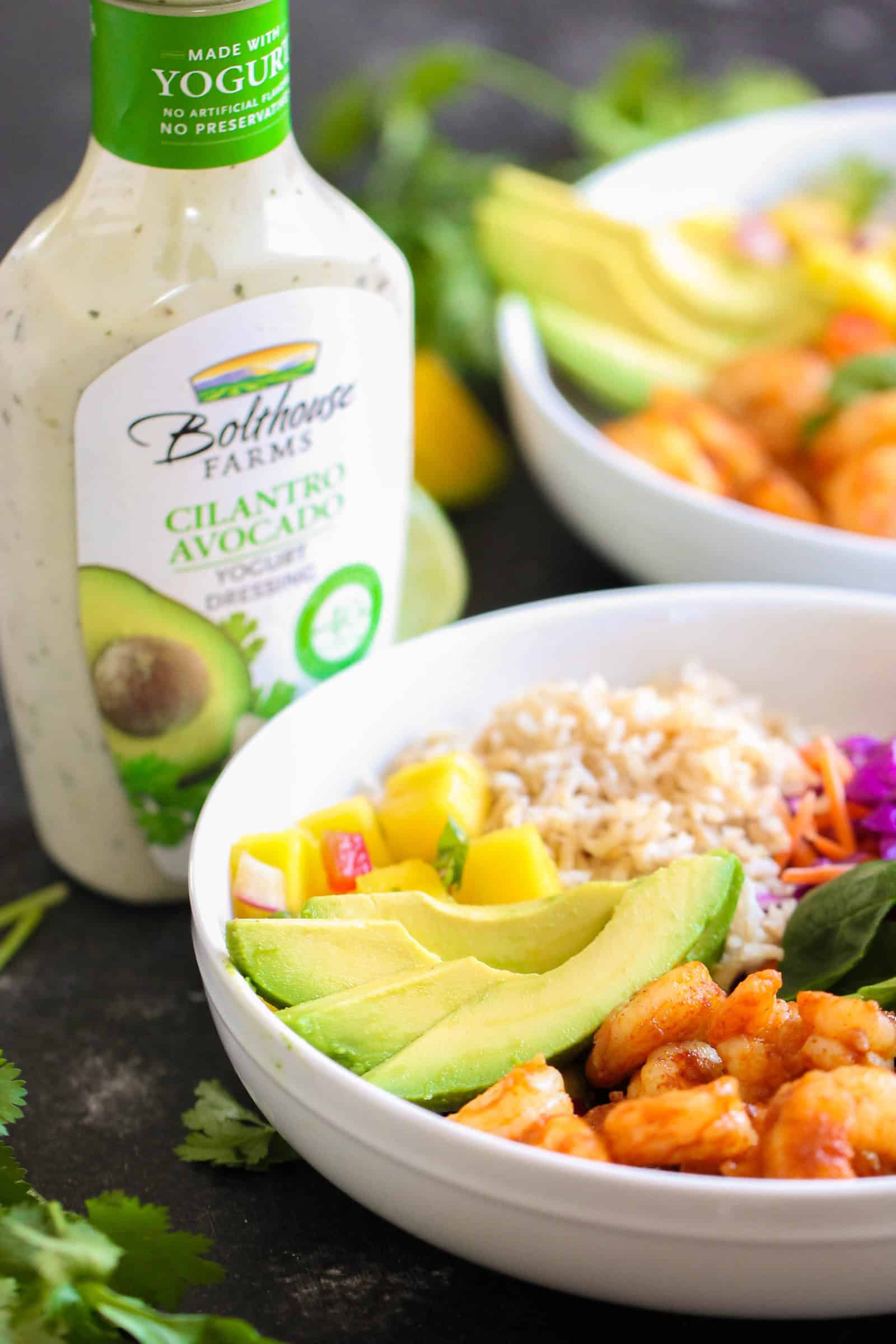 This is also a great recipe if you're looking to meal plan your lunches for the entire week. I got to eat the leftovers for a few days after I made this recipe, and I looked forward to lunch every. single. day.