Our no bake strawberry cheesecake bars are going to be your favorite dessert this summer! They have a tasty graham cracker crust and the delightful cream cheese and strawberry flavors all in one.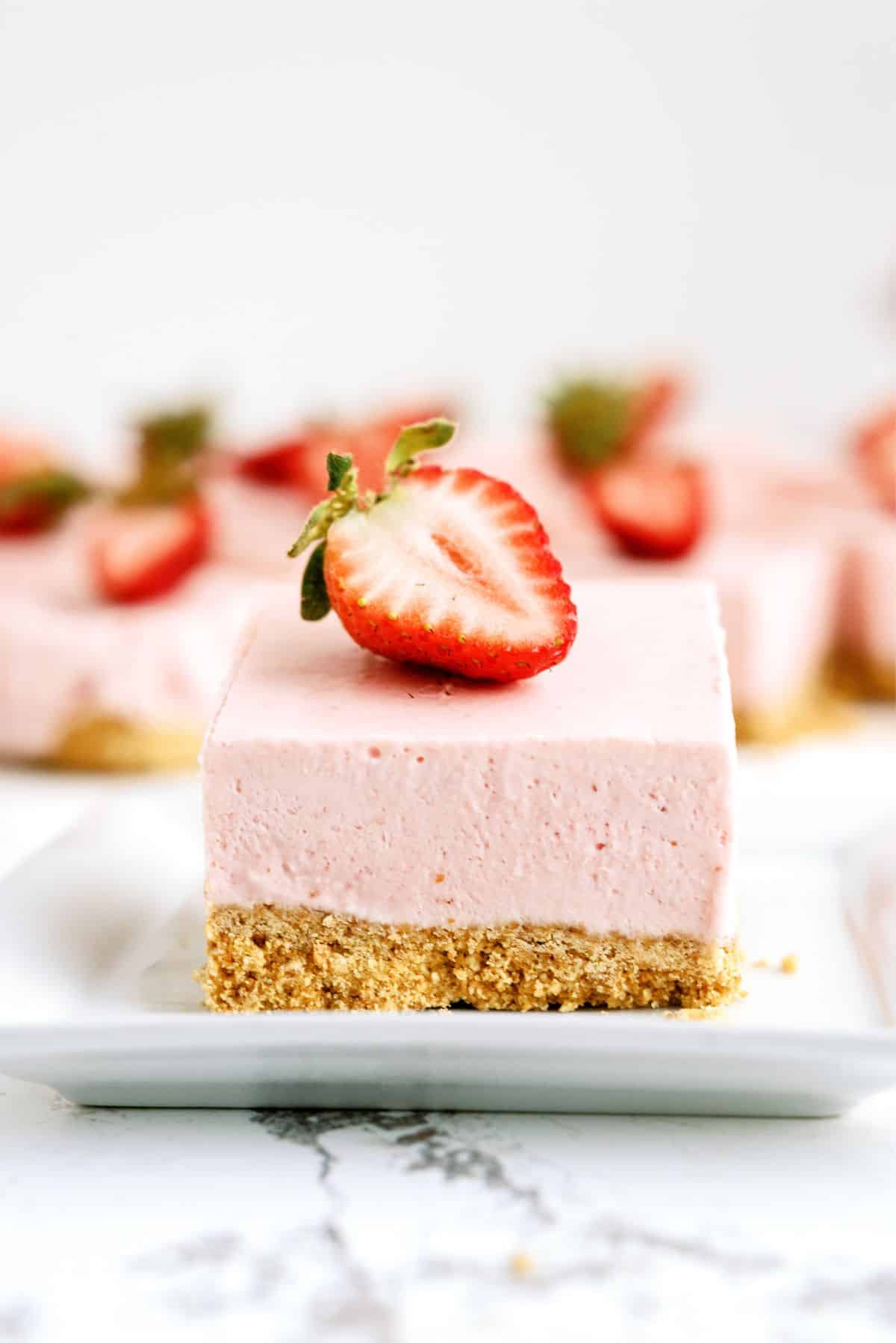 No bake strawberry cheesecake bars are an easy cream cheese dessert that you can make with little effort, but will deliver tons of flavor. I love to even make this as a frozen dessert too, especially on those super hot summer days.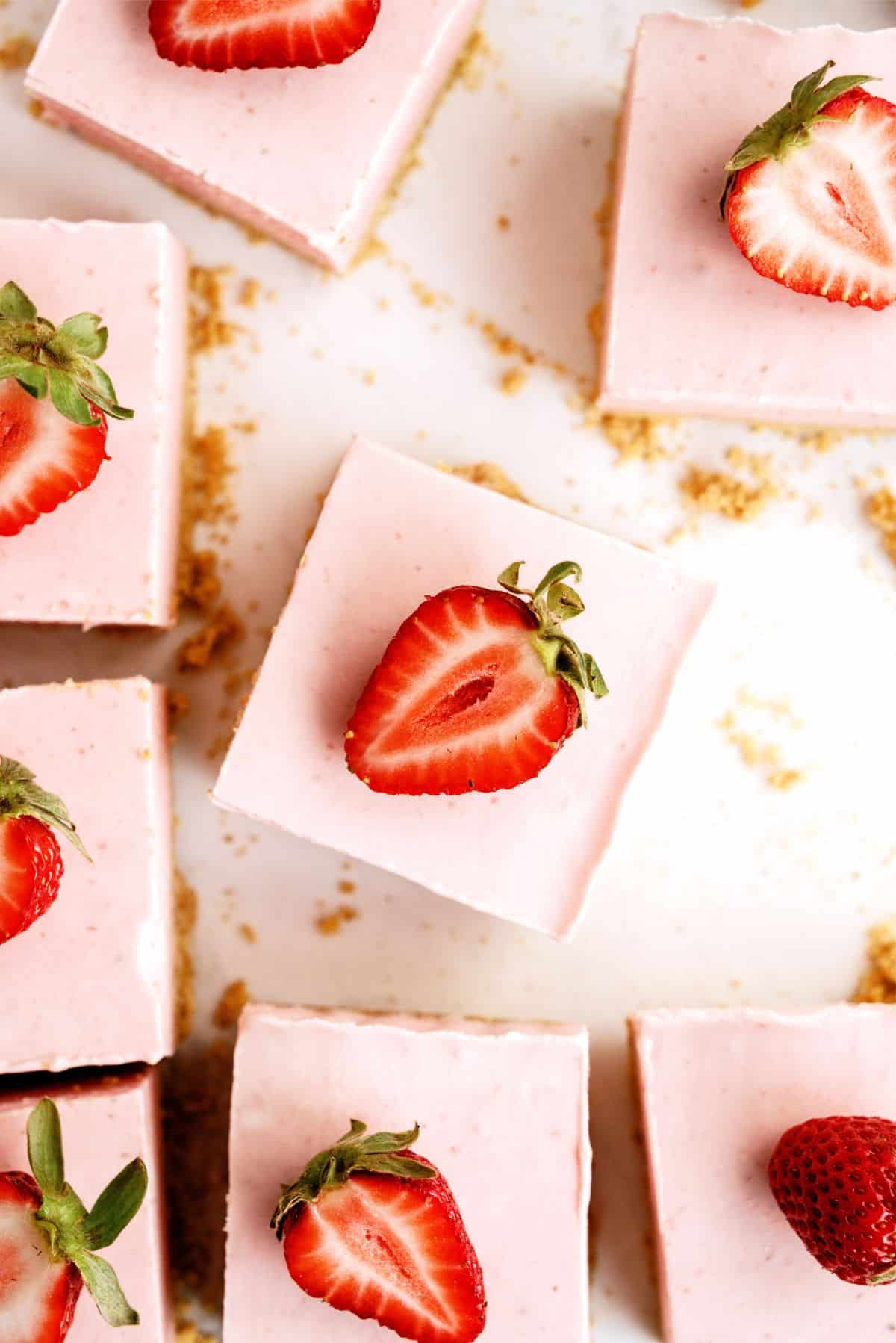 Since these are no bake cheesecake bars, you will have to make sure you have room in your fridge or freezer to let them set up properly, and store any leftovers, if there is any. 😉 They also require a little more time to set up so, make sure to plan ahead!
But, I promise you that these strawberry cheesecake bars with graham cracker crust are WORTH THE WAIT. Once you get one bite of this sweet summer dessert, you will be glad you took the time to let it set up perfectly.
You can make even more no bake desserts that are perfect for summer like our no bake Mississippi mud ice cream pie recipe, no bake lemon ice box cake, or a classic no bake banana cream pie cake recipe. They are all delicious and refreshing on a hot summer day.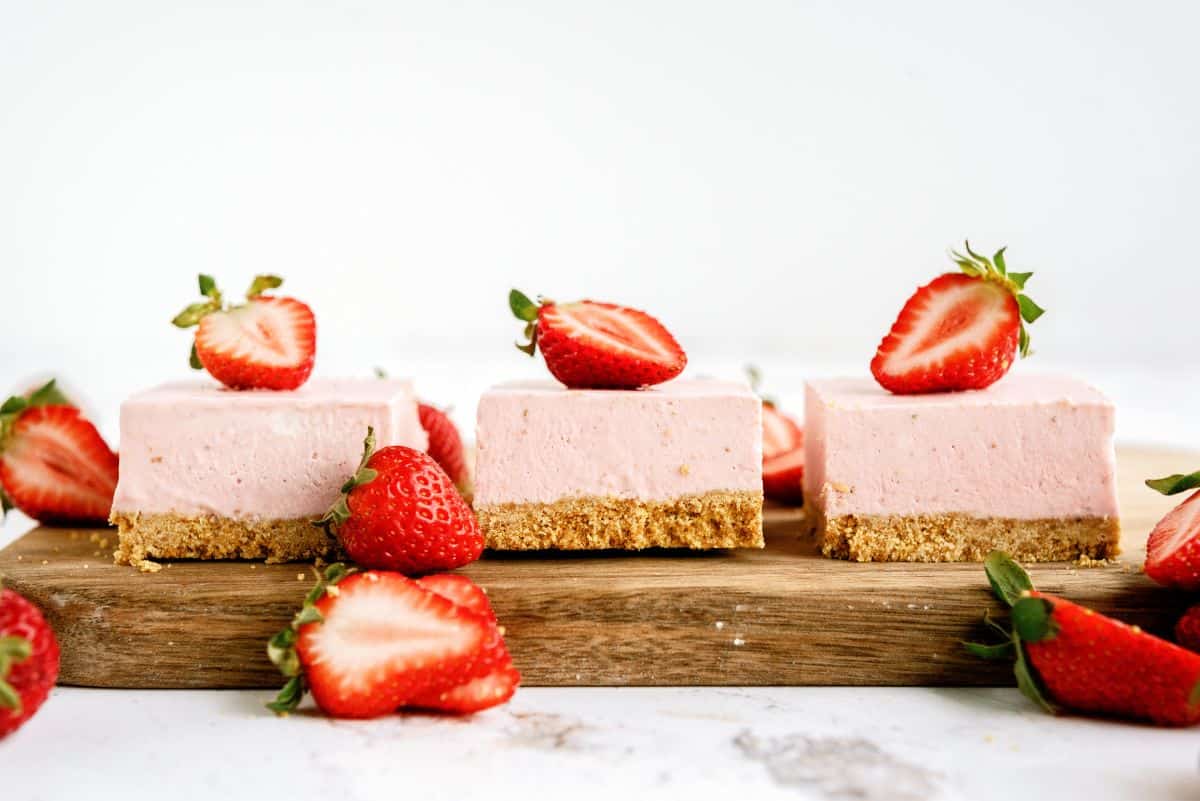 Ingredients You Need to For Our No Bake Strawberry Cheesecake Bars:
Graham cracker crumbs
Butter, melted
Sugar
Cream cheese
Fresh strawberries, thinly sliced
Vanilla extract
Heavy whipping cream
How To Make Our No Bake Strawberry Cheesecake Bars: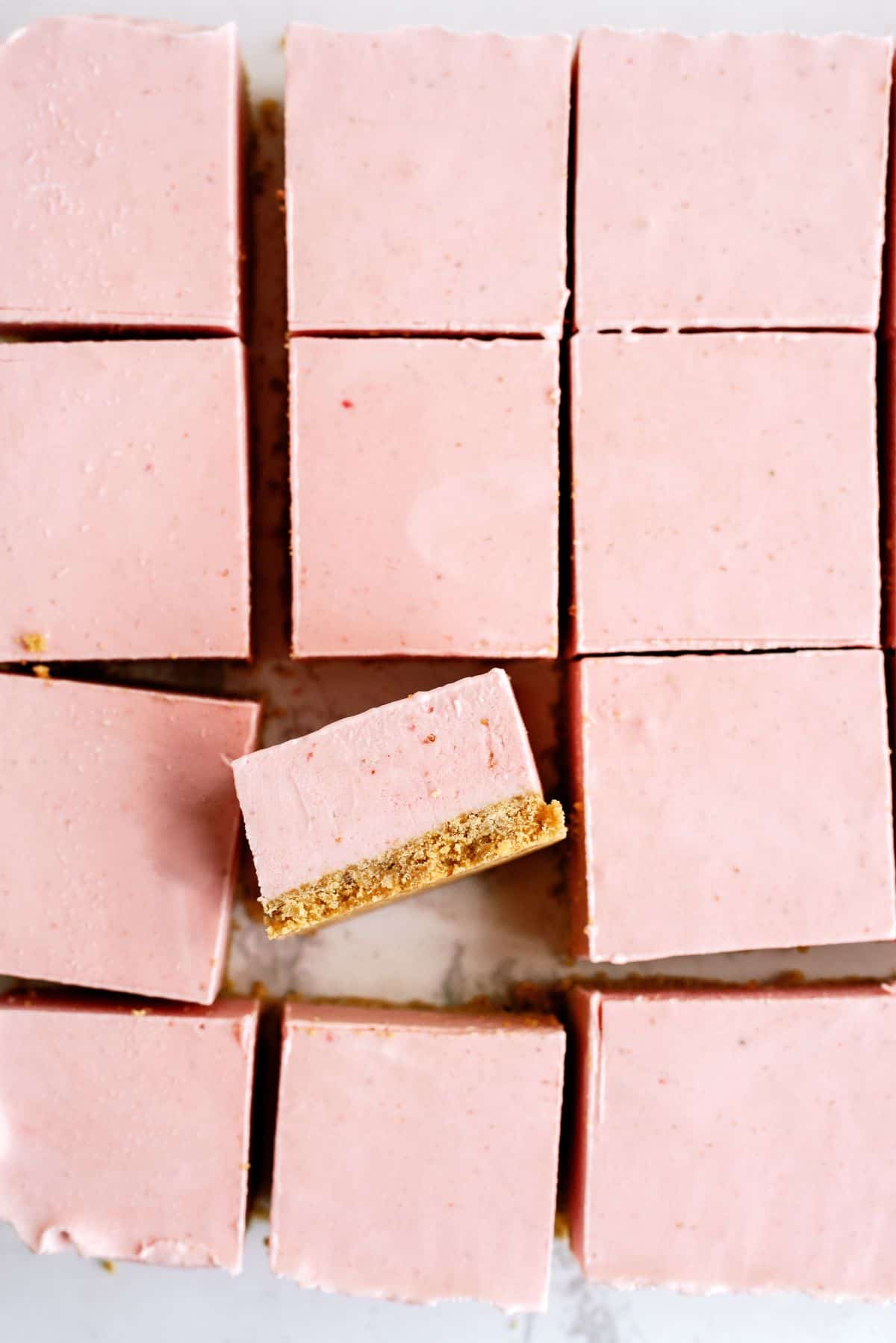 When you are ready to get started, grab a small mixing bowl and combine the graham cracker crumbs, melted butter, and sugar until the crumbs are completely saturated with the butter.
Then line a 8×8 baking pan with wax paper or parchment paper with some of the paper flowing over the sides to make it easy to take the cheesecake bars out.
Now, press the graham cracker mixture into the bottom of the pan to form the crust of the bars.
Once you are done with that, place the pan in the freezer for 15-30 minutes or until the crust is completely cooled down.
Now in a blender, add the cream cheese, sugar, strawberries, and vanilla extract and blend all of the ingredients together until it is nice and smooth.
Pour the mixture into a large mixing bowl and then set it aside.
In another mixing bowl, whip the whipping cream with a hand mixer until it begins to form soft peaks. It will generally take about 3-5 minutes or so.
Now carefully add the whipped cream to the strawberry and cream cheese mixture, folding it in until it is well combined.
When that is ready, spread it evenly and smooth in the pan over top of the crumb crust.
Once the strawberry layer is in the pan, cover the pan with foil and place it in the freezer for at least 4-6 hours to let it set up, but preferably overnight to let it completely harden.
Remove the pan from the freezer for a few minutes before you are ready to serve.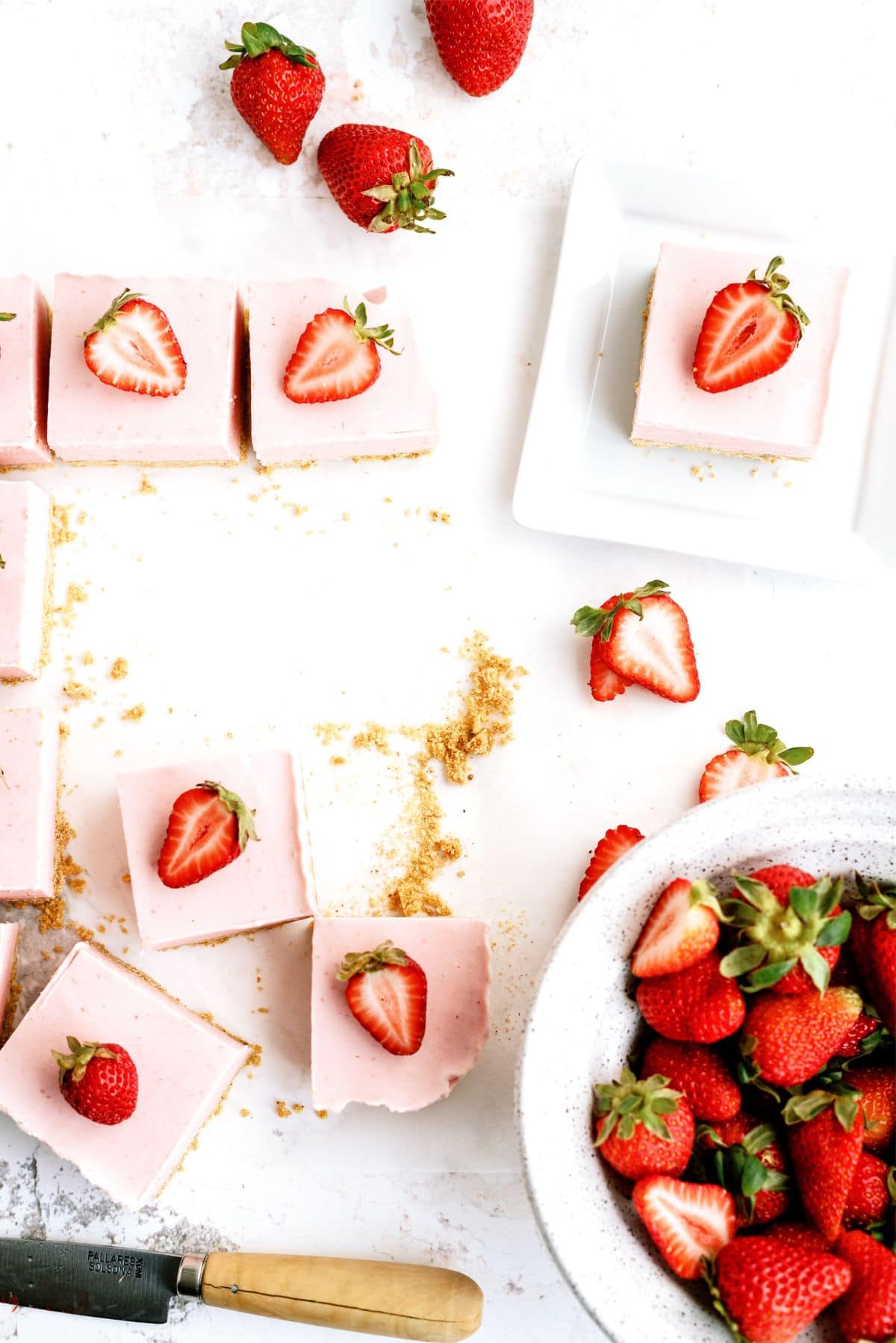 Then simply lift the bars out of the pan, cut it into your desired sized pieces and then top them off with some fresh sliced strawberries and even more whipped cream if you'd like!
If you have any leftovers, return the bars back to the fridge to make sure they don't melt.
To Make No Bake Cheesecake Bars You Will Need:
8×8 inch pan
Small mixing bowl
Medium mixing bowl
Large mixing bowl
Blender (THIS one will work great! It works great for pureeing fruit completely.)
Hand mixer 
Spatula
Wax or parchment paper