Baked Beef Taquitos are the perfect baked meal. No Frying these delicious taquitos. They are so easy to make, and kids love them. Beef taquitos can easily double as a main dish or an appetizer. We love them for parties and game days. They come together so fast and taste absolutely amazing. Kids love to dip them is salsa and guacamole.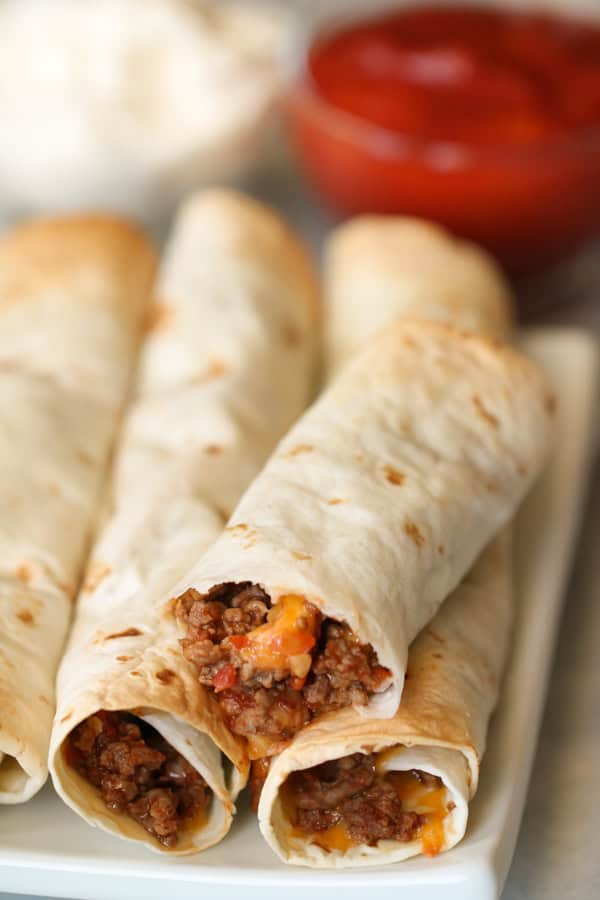 Taquitos are one of the few foods my toddler seems to love. These baked beef taquitos are so much healthier than a fried greasy store bought ones.
This recipe is a meal the whole family loved, even the picky toddlers!
Even though they are baked, they are nice and crispy on the outside. The meat and cheese filling is bursting with flavor. Serve these beef taquitos with sour cream and salsa for dipping. A side of guacamole also goes great with this recipe.
We love that these baked beef taquitos are not fried. They are healthier when baked, and your house won't smell like grease for a week.
Can you use corn tortillas in place of flour tortillas?
Flour tortillas are a favorite when making Taquitos. Mostly because they are so easy to work with and very inexpensive.
If you heat them slightly in the microwave, they bend and fold just like you want them to.
We do the love taste of corn tortillas. When using corn tortillas, they need to be as fresh as possible.
If corn tortillas are not fresh, they tend to crack easily. Then your filling is all over the place.
But you could definitely use them when making taquitos. Just be sure to purchase the freshest ones you can find.
Related Article: These Baked Chicken Bacon Ranch Taquitos are picky eater approved!