I love this Sheet Pan Meatloaf and Green Beans recipe because it only takes 45 minutes, start to finish, and dinner is made. Regular meatloaf takes over an hour to cook, so this is the faster option. Cleaning up is also a breeze because it's only one pan!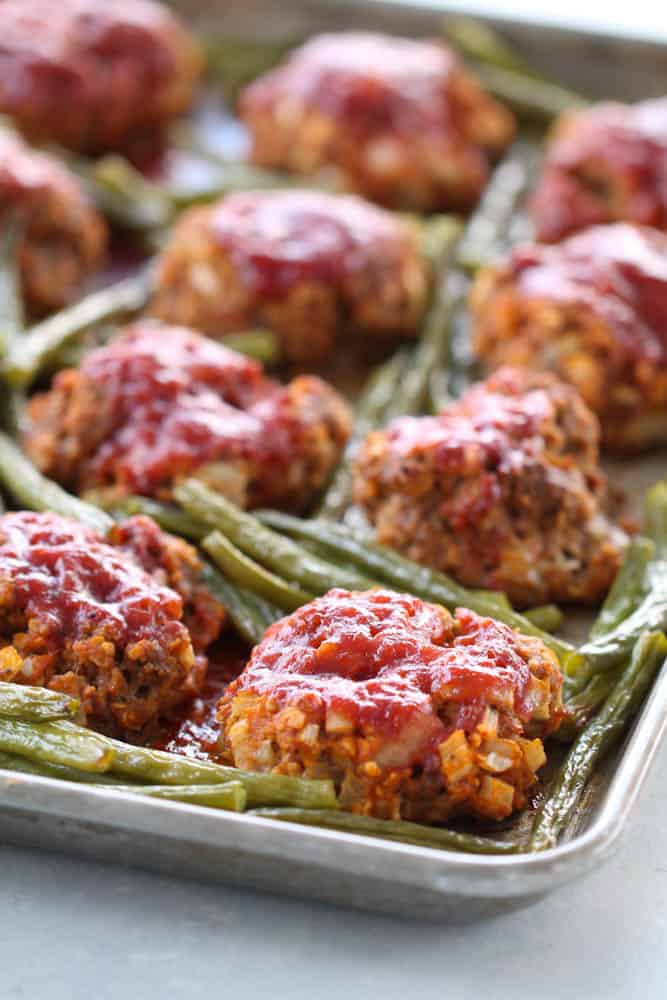 My husband has never been a fan of meatloaf, but it is one of my favorite dinners.
My Grandma makes the best meatloaf (you can find her recipe here) and I was always begging my mom to make it.
I made a few minor adjustments to my Grandma's recipe and adapted it to be made into Sheet Pan Meatloaf and Green Beans, a dinner for easy cleanup.
How to make Sheet Pan Meatloaf and Green Beans:
Step 1: Preheat oven to 400 degrees F.
Step 2: In a large mixing bowl, combine ground beef, eggs, onion, ketchup, salt and pepper, oats, bread crumbs, and half the can of soup.
I mixed mine with a large spoon, but found it easier to use my hands.
The meat is thick so it's hard to combine other ingredients into it.
You could also use a Kitchen Aid, but I'm all about one less bowl or item to clean up, so I used my hands.
Be sure to wash your hands thoroughly both before and after combining the meat with the ingredients.
Step 3: Spray a baking sheet with nonstick cooking spray.
I prefer using olive oil non stick cooking spray, but you could also use a butter based spray.
Step 4: Form meatloaf mixture into 12 patties and place on baking sheet. Again, I used my hands to shape them into thick patties.
I grabbed a fistful of the mixture and shaped it into thick meatloaf patties.
Step 5: In a small mixing bowl, whisk together remaining soup, Worcestershire sauce and brown sugar.
This sauce is really what makes this sheet pan recipe delicious.
Step 6: Spoon some of the soup mixture on top of each meatloaf patty.
Step 7: Toss green beans in olive oil until evenly coated and spread out on baking sheet between meatloaf.
You could even toss the green beans on the pan before you place the meatloaf patties on, just to use one less dish.
Step 8: Bake for 25-30 minutes, or until meatloaf is cooked through and green beans are soft.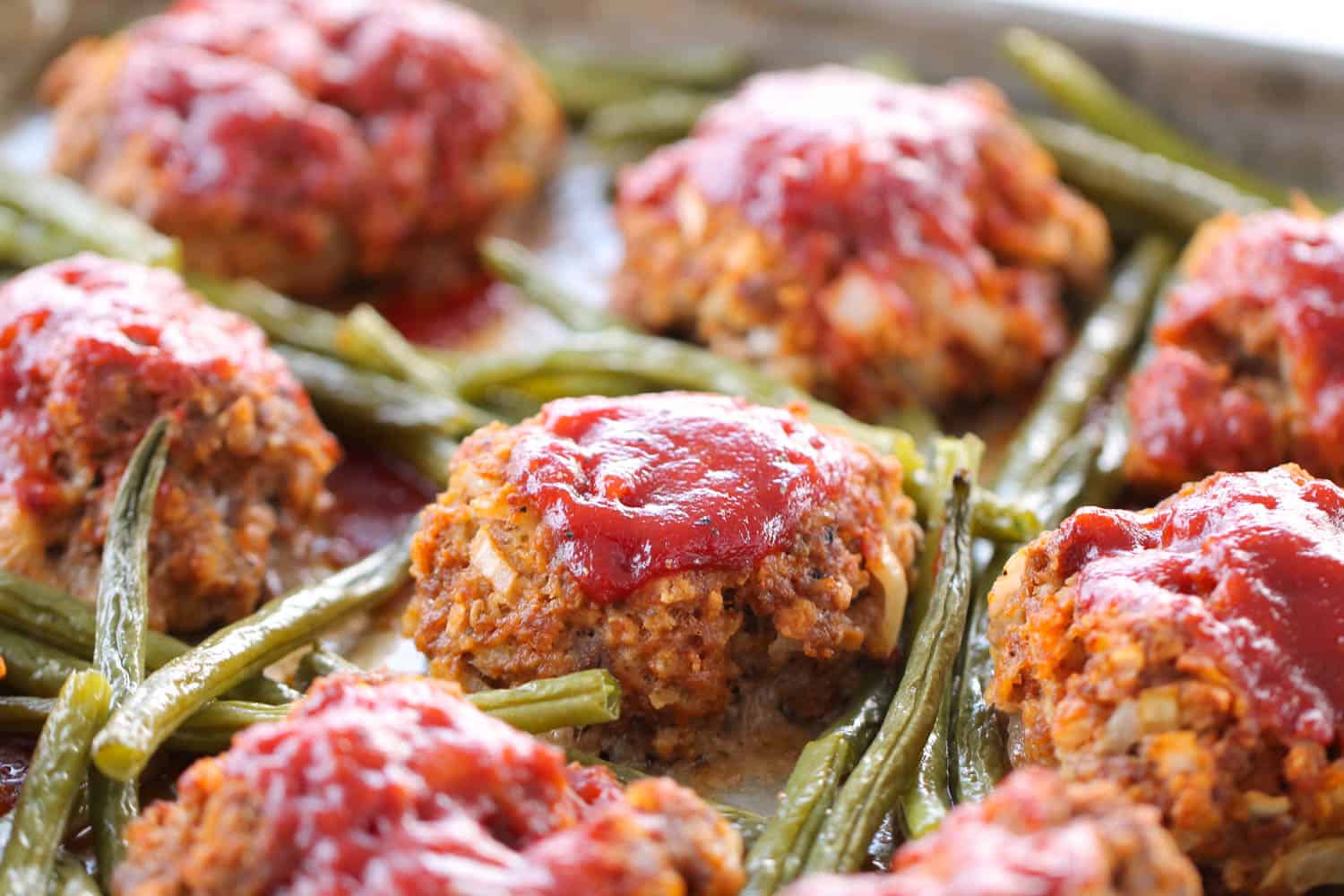 Could I use other vegetables other than green beans?
If you have picky eaters like me, green beans aren't always a hit.
But you could easily switch them out for something your kids will like.
We love using red potatoes when making this meatloaf recipe.
We cut them a little thinner so we don't have to adjust the cooking time, but they taste amazing with the meatloaf.
One of our favorite red potato recipes, that would taste great with this, is our Garlic Roasted Red Potato Recipe.
We have also made this with broccoli, cauliflower, carrots (again they need to be sliced thin because they are a little more dense), zucchini, and sweet potatoes.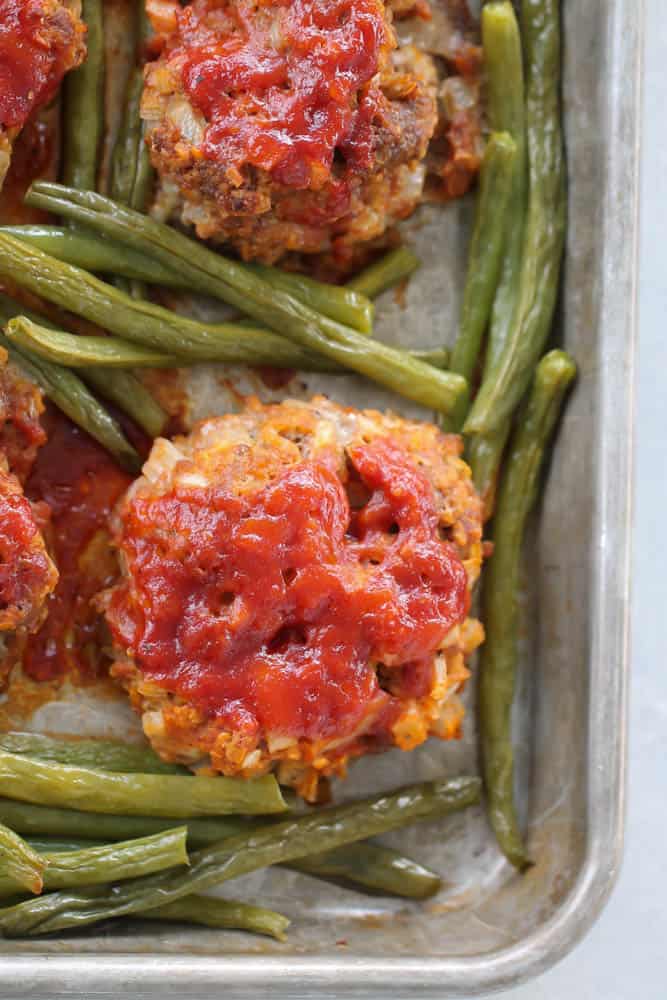 The other thing I love about this recipe, is that meatloaf typically takes over an hour to cook, but this Sheet Pan Meatloaf and Green Beans recipe can be cooked in 30 minutes flat.
This is the perfect meal for those busy weeknights.
Could I make this sheet pan meatloaf with ground turkey?
You can pretty much switch out ground beef for ground turkey in almost every recipe.
You could definitely make this Sheet Pan Meatloaf and Green Beans recipe using ground turkey.
We recommend cooking it the full 30 minutes at 400 degrees F, just to ensure it is cooked all the way through.
It may also have a different taste to it that the ground beef, but once you add all the seasonings and ingredients, you won't be able to tell as much.
We like the taste of the beef better, but the ground turkey is a healthier alternative.