With a perfectly chewy crust, tart lemon filling and powdered sugar topping, these are the best Homemade Lemon Bars you'll ever eat.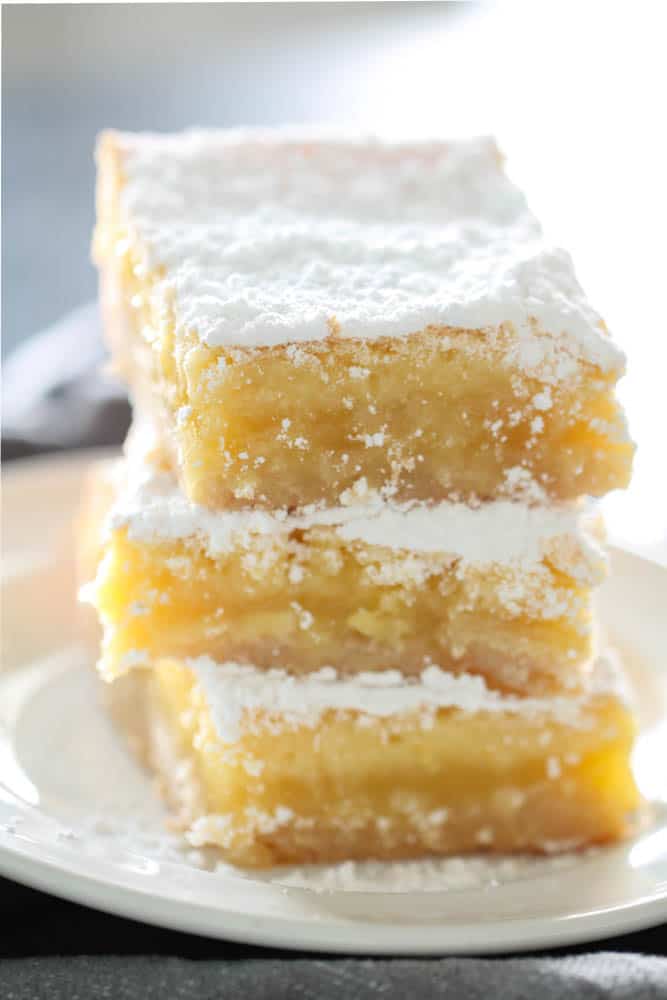 I've never actually read the book about love languages, but I'm pretty sure my husband's love language would be these Homemade Lemon Bars, or as some people call them, lemon squares.
These are the best homemade lemon bars I have ever tasted and I am pretty picky.
I usually give all of my baked good leftovers away to our neighbors so I don't eat all of them, and this is the only recipe my husband forbids me to give away, so you know it's good.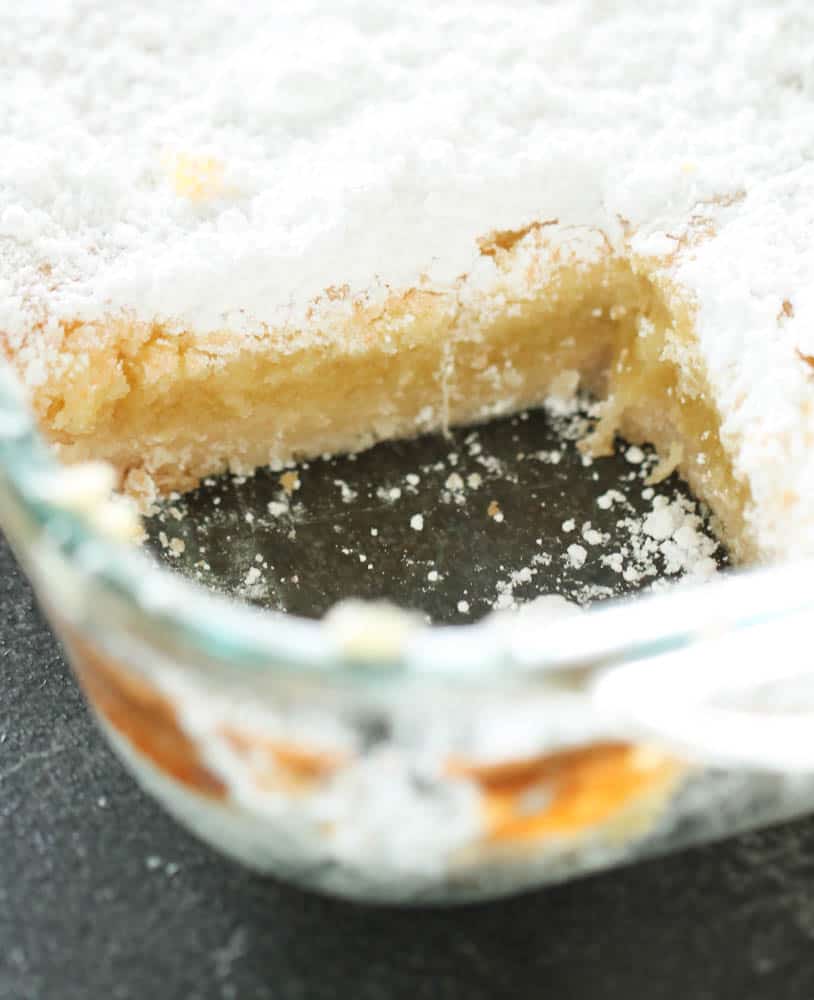 How to make Homemade Lemon Bars:
These lemon bars are made in a 9 x 13-inch baking pan so they are thicker than other lemon bars. While we normally bake these in a 9 x 13-inch glass pan, they can be made in a metal pan as well.
I'm usually not much of a crust person, but the crust on these lemon squares is soft, chewy and absolutely perfect!
This recipe has a simple crust made with all-purpose flour, sugar, butter and a little bit of salt so you probably have all the ingredients you need to make it on hand.
We recommend that you don't use any substitutions in this recipe for the best result.
By baking the crust first, you are ensuring that the lemon mixture doesn't seep through and make a soggy crust.
Bake the crust by itself for 15 minutes, just until it starts to turn a light golden brown (you don't want it too dark, otherwise it will get overcooked in the next step).
While crust is cooking, make the filling by mixing some lemon zest, lemon juice, and a few other simple ingredients and then pour it over the hot crust and bake a while longer.
You'll know they're done when the edges are a very light golden brown – again, don't let them get too dark or they'll be overcooked.
Related Article: If you're a girl scout cookie lover, these Tagalong Bars were made just for you!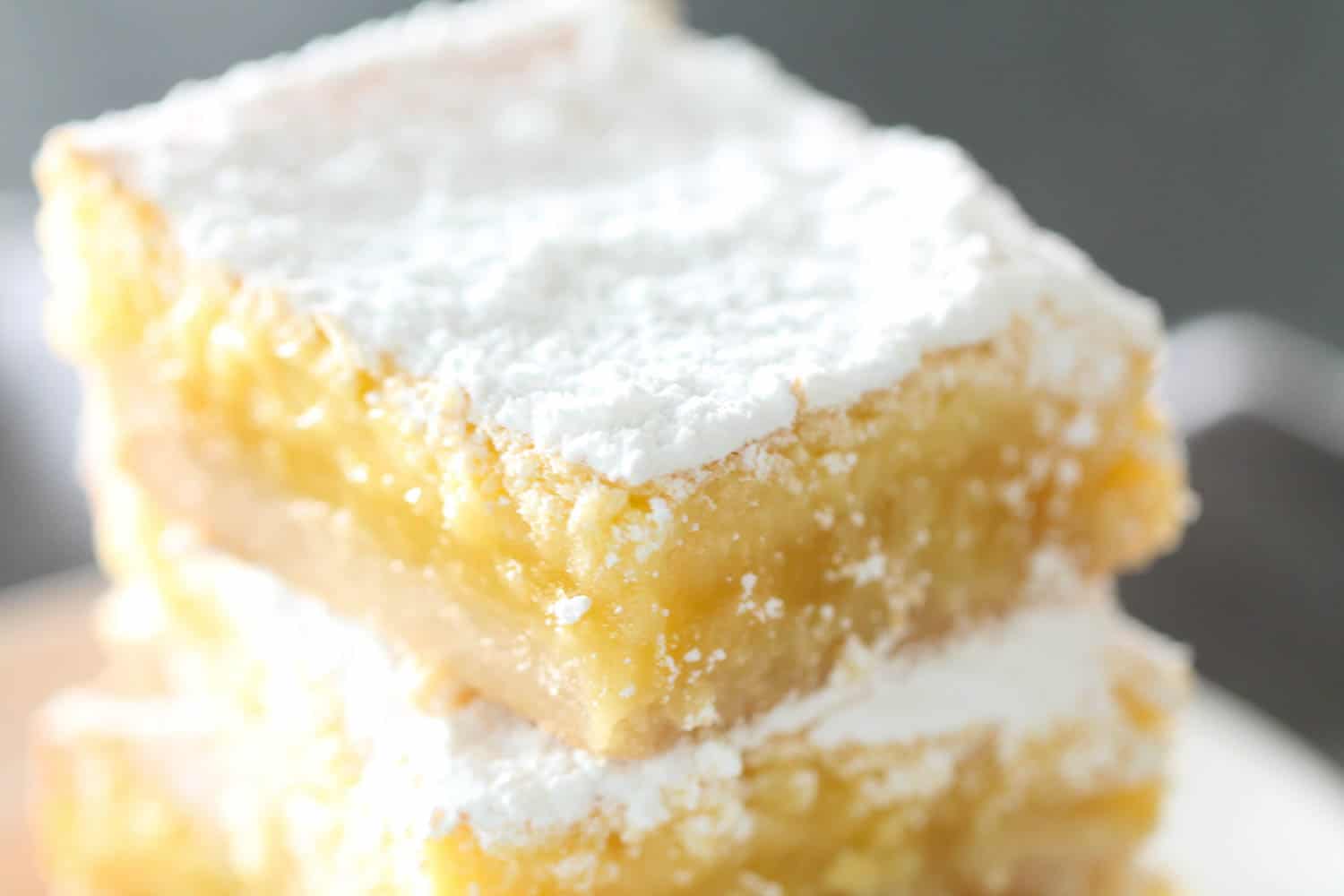 If you're worried about the center being too jiggly, wait for them to cool before cutting. A lot of the time, they just need to set up a little longer outside the oven to get that perfect lemon-bar texture.
To finish, top them with powdered sugar. I'm pretty generous when it comes to the powdered sugar on top, to the point where you can't inhale when you go to take a bite or you might choke. Haha!
For a clean cut, make sure the bars are completely cooled and then cut them with a sharp knife that has been run under warm water.