This lemon meringue pie is the perfect dessert for summer. So creamy with the perfect amount of sweet and tart!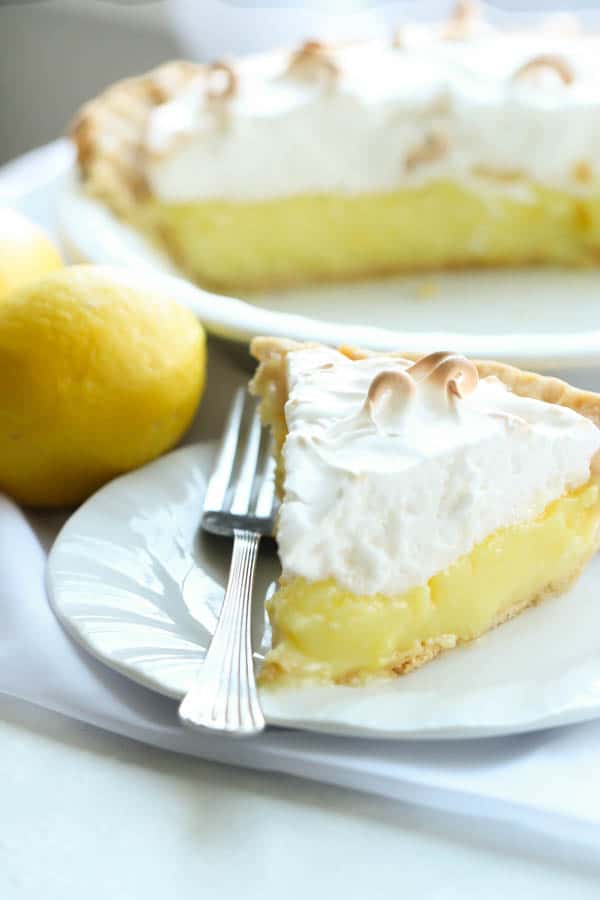 Lemon desserts are so refreshing as the temperatures go up!  This lemon meringue pie is the perfect dessert for a family get together.  You will love the delicious homemade pie crust and the light and fluffy meringue on top.
Related Recipe: In the mood for Lemon? Try our Frozen Lemon Fluff Dessert!
Ingredients needed to make Lemon Meringue Pie:
1 cup flour
½ cup butter flavor shortening
½ teaspoon salt
¼ cup cold water
5 large egg yolks
1¼ cup sugar
½ cup cornstarch
¼ teaspoon salt
1⅓ cups water
½ cup fresh lemon juice
3 teaspoons lemon zest
2 Tablespoons butter
6 large egg whites
½ teaspoon cream of tartar
¾ cup sugar
½ teaspoon vanilla
How to make this light and fluffy Lemon Meringue Pie:
Mix flour, shortening and salt with fingers until it is a crumb mixture. Then add in the cold water and mix until well blended.
Wrap in plastic wrap and chill for 45 minutes.
Then roll out dough on a lightly floured surface in a 12 inch circle. Place in a lightly greased 9 inch pie pan. Flute the edges with the crust that hangs over.
Pierce the bottom of the crust in a few places with a fork.
Bake pie crust at 325 degrees for about 20 minutes until golden. Let the crust cool as you make the lemon filling.
Whisk the egg yolks in a bowl until well blended.
Then in a medium saucepan combine the sugar, cornstarch, salt, water, and lemon juice. Cook and stir over medium heat until it comes to a boil. Stir for about 2 minutes until thickened.
Remove from heat and add in the beaten egg yolks. Stir until well blended and place back on the heat and cook for 2 more minutes stirring constantly. Then remove from heat and add in the lemon zest and butter. Stir until it is well blended and the butter has melted.
Set aside while you make the meringue.
For the meringue beat the egg whites and cream of tartar in a medium/large mixing bowl on medium speed until foamy.
Add in the sugar gradually along with the vanilla and beat on high until soft peaks form. Heat oven to 375 degrees and Pour the lemon filling into the prepared pie crust. Then spoon the meringue over the top. Be sure to have the meringue go all the way to the edges so it won't shrink during cooking time. You can make the peaks in the meringue using the back side of a spoon.
Bake for about 10 – 12 minutes or until the meringue starts to brown and the stiff peaks are golden. Let cool at room temp and then you can place it in the fridge until ready to serve.