If you love lemon, then you are going to love this frosted gooey lemon bars recipe. It is an easy dessert recipe that will satisfy your sweet and tart cravings.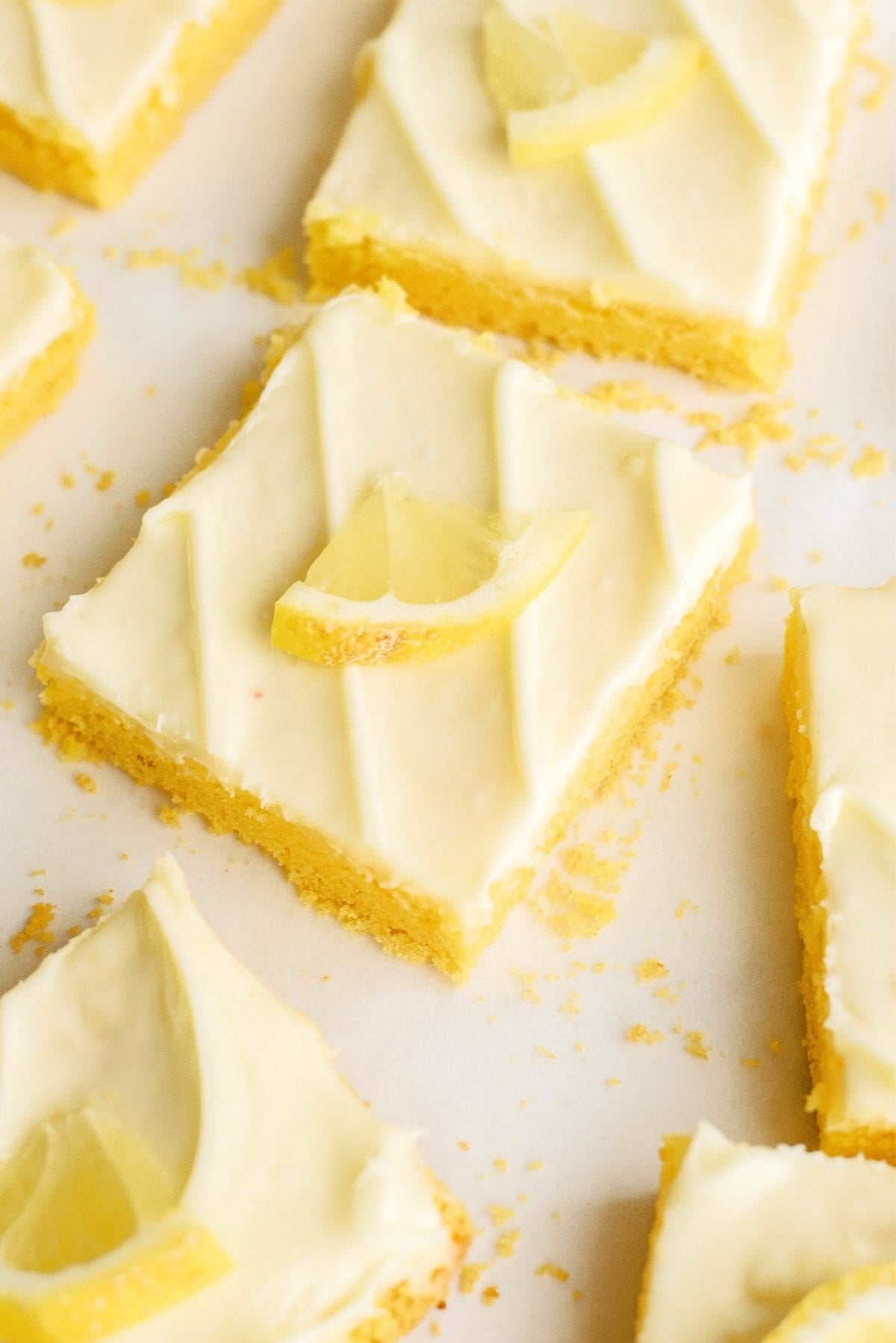 This frosted gooey lemon bars recipe is an all time favorite of mine. I'm not sure if it's the lemon frosting or the perfectly gooey lemon bars, but it is an amazing lemon bars recipe.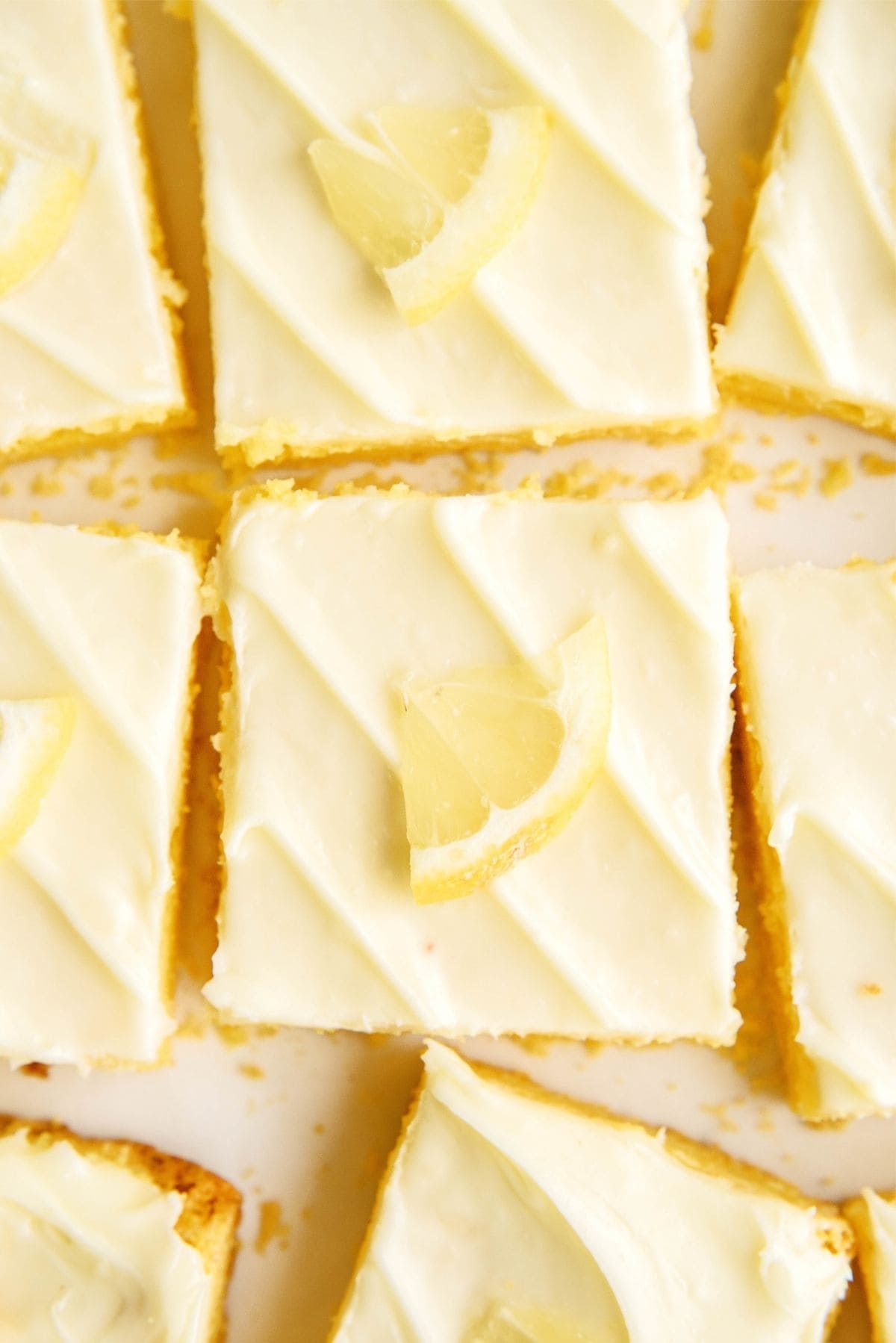 You will make these gooey lemon bars with a cake mix, making it an easy recipe to complete and enjoy in no time! The lemon frosting that is on top is also super simple to make too, so if you are new to baking, this is a great recipe to use.
Be sure to bring the frosted lemon bars to your next BBQ and enjoy all the compliments you will get on them. You also might want to pin or save this recipe so you can either share it with those friends, or just come back next week and make it again. Hahaha.
For all of the lemon lovers, you need to make our other great lemon recipes like the best homemade lemon bars recipe you'll ever have, lemon cookie bar cups, or our famous frozen lemon fluff dessert too. They are all filled with amazing lemony goodness.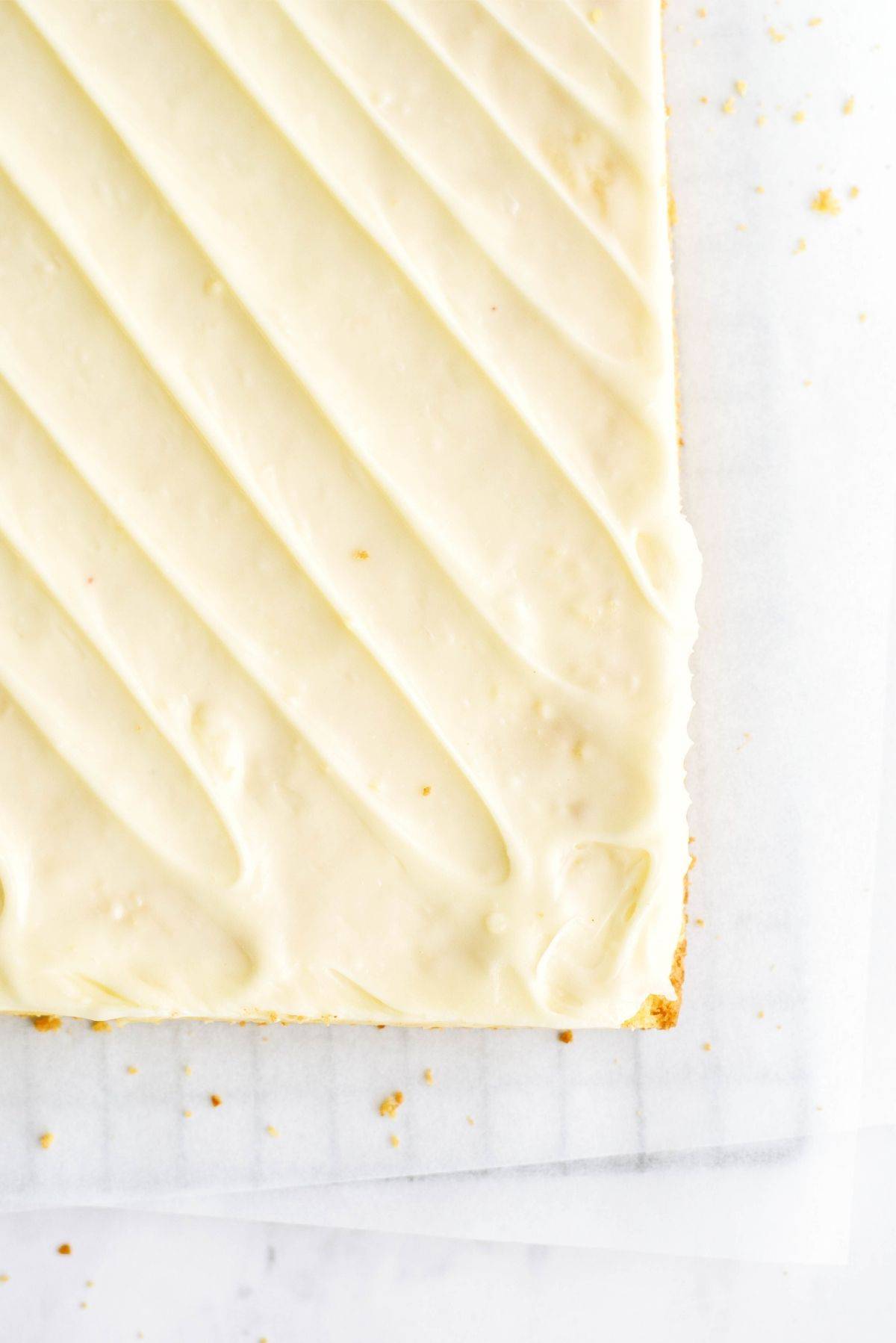 Ingredients You'll Need For Our Frosted Gooey Lemon Bars Recipe:
Lemon cake mix
Butter
Egg
Powdered sugar
Lemon juice
Yellow food coloring
Cream cheese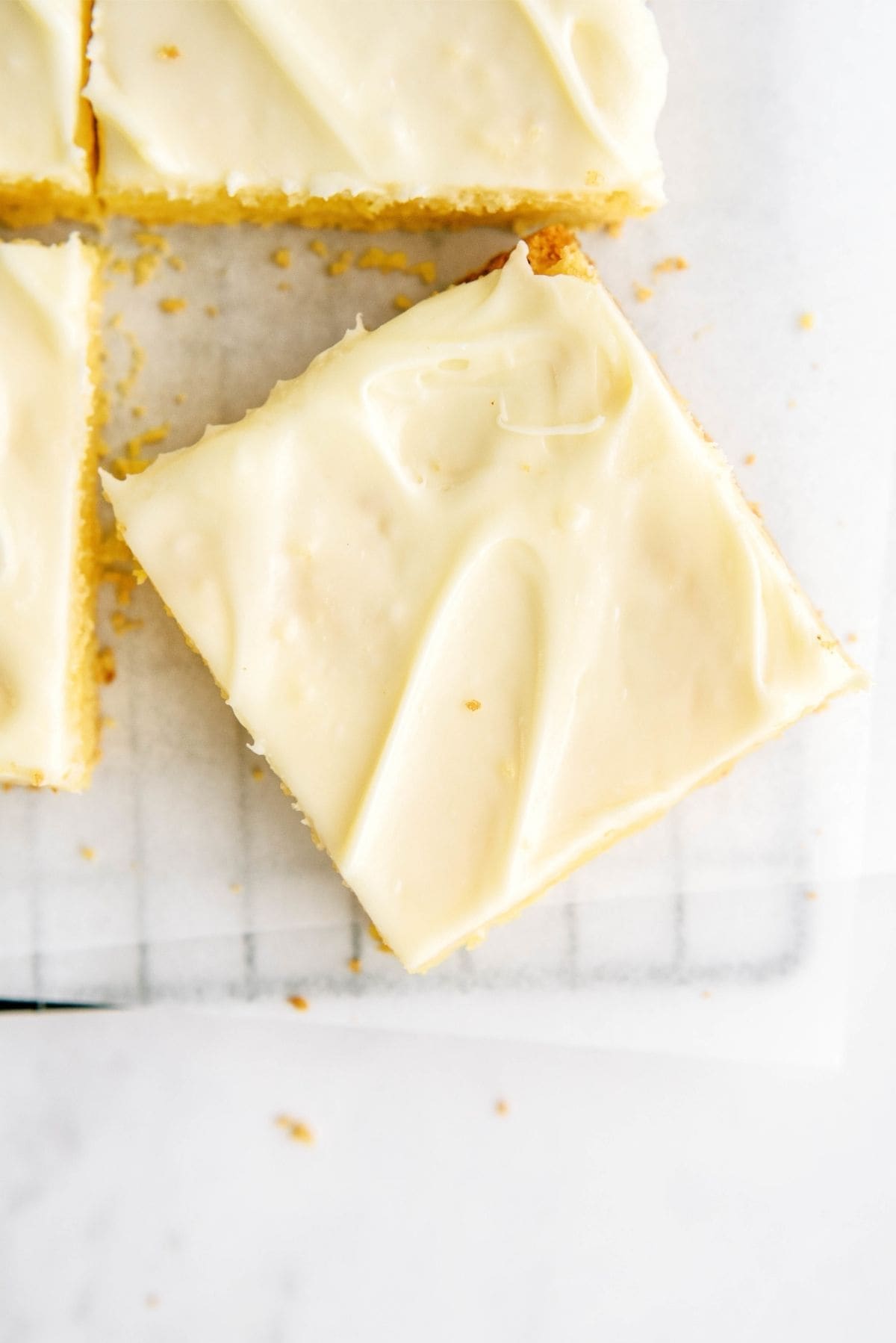 How To Make Our Frosted Gooey Lemon Bars Recipe:
Start by preheating the oven to 350 degrees.
Then in a medium size mixing bowl combine the lemon cake mix, slightly beaten egg, and butter and mix it all together.
Once that is done, get out your 9×13 inch baking pan and spray it with nonstick cooking spray.
After the pan is greased, pour the cake mix layer into the bottom of the pan and press it down to create the gooey cake layer.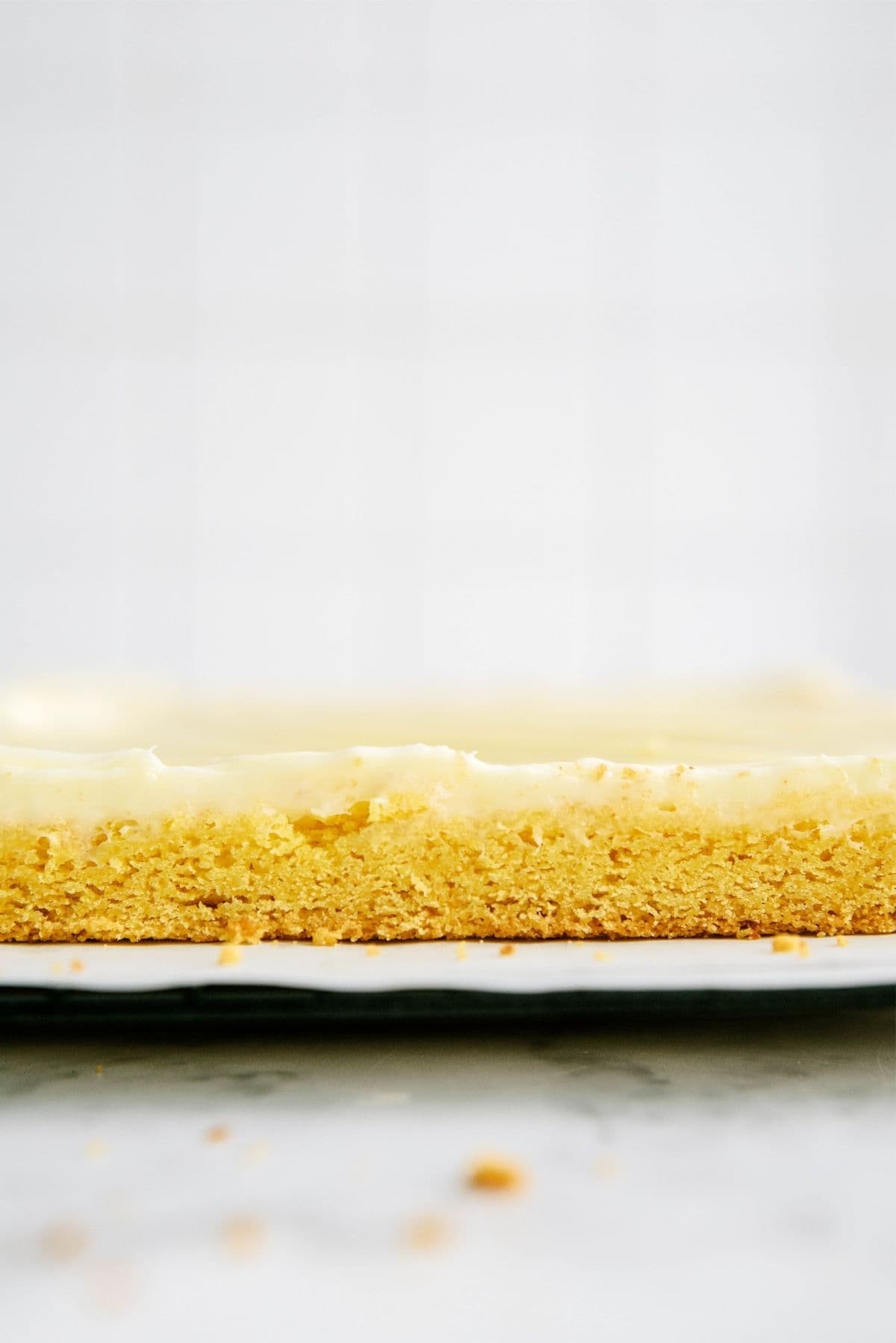 Now in a large mixing bowl combine the powdered sugar and butter.
Then pour in lemon juice and mix it together. Add enough lemon juice to create a thick like frosting consistency.
Next add in the softened cream cheese and yellow food coloring and continue to mix up the frosting until it is well combined.
When you have it all mixed together, take one cup of the frosting and set it aside for later. DO NOT skip this step.
Add eggs to the remaining frosting mixture and beat it all together until it is fluffy.
Once that is done, spread it on top of the cake mix layer and place it in the oven and let it bake for 25-30 minutes or until it is just starting to turn a light golden brown.
When it is done, remove the bars from the oven and let it cook down completely.
After the lemon bars have cooled, spread the reserved lemon frosting on top. Then just cut the bars and serve them up!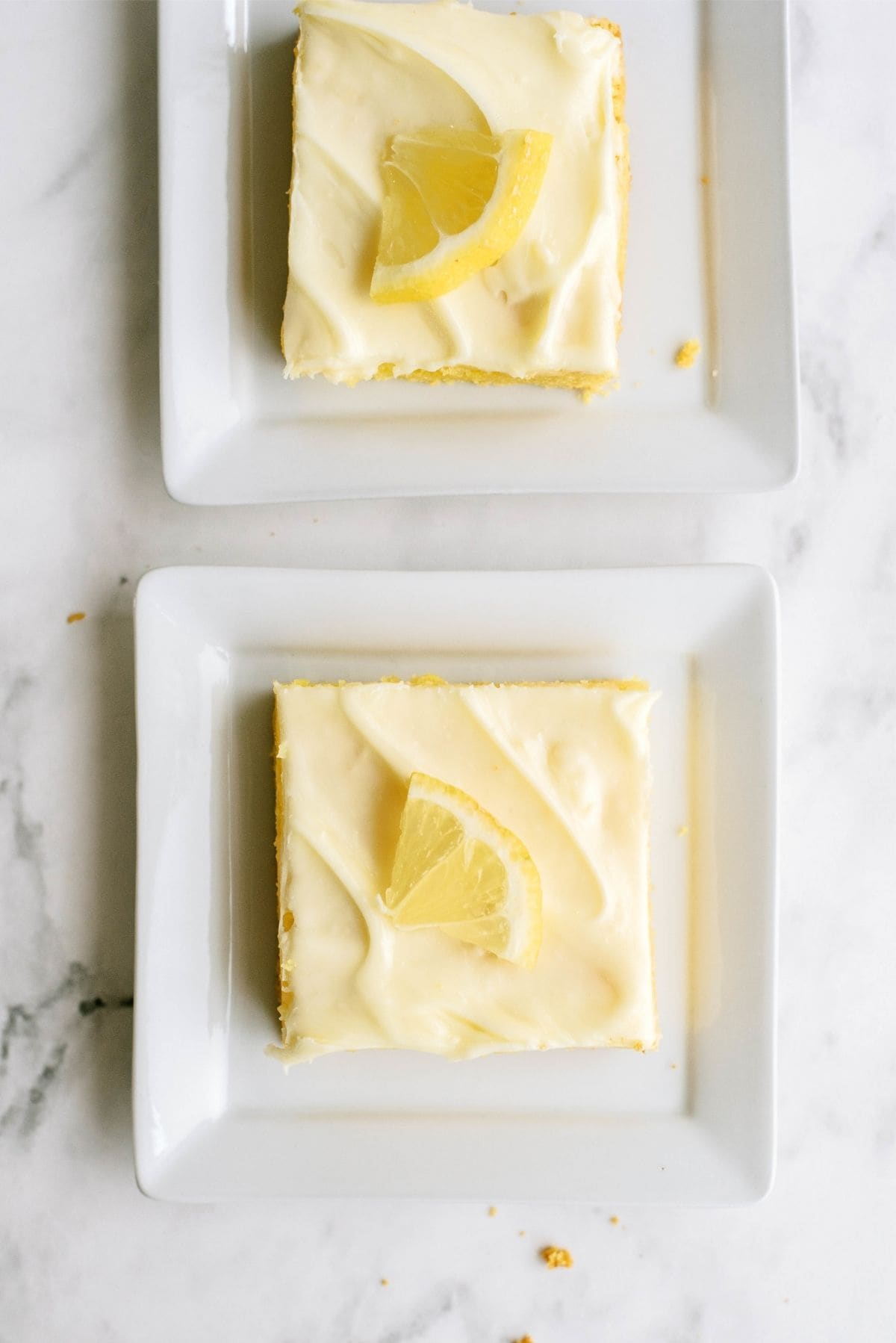 To Make This Easy Dessert Recipe You Will Need:
Large mixing bowl
Hand mixer
Medium mixing bowl
9×13 inch pan (like THIS one)
Nonstick cooking spray